If you thought that Microsoft wouldn't capitalize on its AI opportunity for businesses, think again.
Microsoft will tell its corporate partners this week at Microsoft Inspire that it will charge a whopping $30 per user per month for Microsoft 365 Copilot, Microsoft's AI-assisted features for its Microsoft 365 suite — double what it's charging for Microsoft 365 by itself. Microsoft is also announcing a specialized version of Bing Chat for businesses, Bing Chat Enterprise, that will can be used to ask the AI questions about a company's confidential information without it being leaked outside of corporate firewalls.
Microsoft is clearly betting that enterprises will value Microsoft 365 Copilot enough that they'll want to pay for the additional features Copilot offers, which vary by Office application. In fact, Microsoft isn't even saying when Microsoft 365 Copilot will be available this week at its Inspire conference — just preparing those customers (specifically Microsoft 365 E3, E5, Business Standard and Business Premium customers) that they'll have to pay a ton for the additional AI services.
First announced in March, Microsoft 365 Copilot continues to apply intelligence to enterprise data, the portion of Microsoft's customer base most likely to want to invest in smarter decisions. For years, these smarts were reserved for PowerBI, bringing in third-party sources of data to let users and Microsoft analyze the strengths and weaknesses of their businesses.
Now, AI will be everywhere. We identified Microsoft 365 Copilot as Microsoft's killer app, not only because of its AI capabilities but because how Microsoft 365 Copilot can change your everyday work day: allowing you to actually skip meetings, zip through your email, and author documents and presentations.
Microsoft
Microsoft clearly believes that businesses will pay up. Microsoft actually charges businesses about what consumers end up paying for Microsoft 365. Microsoft 365 Apps for Business is the most comparable plan, and Microsoft charges $8.25 per user per month for the desktop versions of the Office apps plus a terabyte of OneDrive cloud storage. Microsoft 365 Business Standard ($12.50/user/mo) and Business Premium ($22/user/mo) cost more for additional data controls. Put another way, Microsoft is charging more per user per month for AI — double, in some cases! — than Office itself.
"The comparatively high price point for Microsoft 365 Copilot will likely mean that most early adopting customers will focus on equipping employee roles that have high-value use cases for generative AI, such as marketing, sales and customer service, rather than just roll it out enterprise-wide to all Microsoft 365 users," said Jason Wong, a vice president and analyst at Gartner, in an email. "With all the hype for generative AI, organizations expect equal value in return."
How much will Microsoft charge consumers for Microsoft 365?
What Microsoft hasn't done, however, is disclose anything about what the company will charge everyday Windows users for adding AI to its consumer Microsoft 365 subscriptions. Microsoft currently charges $69.99 per year for Microsoft 365 Personal ($6.99 per month), and $99.99 per year (or $9.99 per month) for a Microsoft 365 Family Plan for between two to six people. If Microsoft plans to charge an additional $30/user/mo for Microsoft 365 Copilot, will consumers end up footing a similar bill?
We don't know. A company representative replied that Microsoft has "nothing more to share" about what, if anything, it will charge consumers for Microsoft 365 Copilot.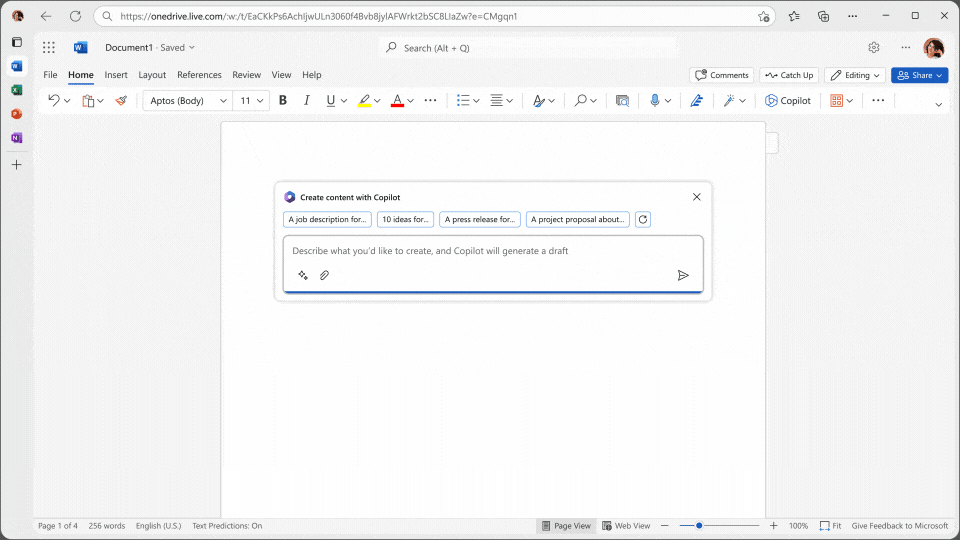 Microsoft
We do know, of course, that Microsoft loves subscriptions. Just this week, Microsoft revamped its Games with Gold program (which gave you free Xbox games) to rename it as Game Pass Core, which allows you access to a small subset of games within of the main Game Pass Ultimate subscription. Windows is the "socket" for subscriptions, Microsoft chief executive Satya Nadella has said. Meanwhile, more and more Windows apps quietly hide subscriptions, and that's before you arrive at Microsoft 365's overt monthly payment. Microsoft wants you paying for Office, and probably AI, like your water bill — grumble all you want, but just put it on autopay and budget it in.
Introducing Bing Chat Enterprise
To sweeten the deal, Microsoft is adding the Bing Chat Enterprise to the same Microsoft 365 business plans that are receiving paid access to Microsoft 365 Copilot, but at no additional cost. What Microsoft is doing, however, is making Bing Chat Enterprise available to those businesses who do not want to pay for Microsoft 365 for an optional $5 per user, per month.
"Just like Bing Chat, Bing Chat Enterprise is grounded in web data and provides complete, verifiable answers with citations, along with visual answers that include graphs, charts and images," Microsoft said in a blog post. More importantly, the information a business customer enters is not sent into the Microsoft cloud, but remains protected.
On Windows, Windows Copilot is essentially a front door to Bing Chat on the Web, a somewhat unimpressive anticlimax to months of Microsoft hype. But it is free, at least for now, and Microsoft is adding a new feature: visual search. That's a response to Google Bard, Google's own AI engine, which added visual search last week.
In search, though, the race between Google and Microsoft is a tight one. Consumers will benefit as each company tries to entice you with free features. Google's Workspace is fighting to increase its market share in the enterprise, but Microsoft clearly feels that Microsoft 365 has the upper hand — and will demand businesses pay for the additional AI capabilities. How the company eventually prices Microsoft 365 for consumers, though, will be a major tell in how it believes average users perceive Microsoft 365 versus Google Workspace. Right now, it looks like Microsoft expects you to open your wallet.