If you keep your direct messages open on Twitter, you may have noticed an unnatural quietness in your notifications lately. But it's not related to rate limiting. Instead, Twitter began rolling out a settings tweak last week—and made it the new default.
Previously, Twitter's direct message settings offered these three choices: Allow message requests from everyone (aka open DMs), Allow message requests only from people you follow (aka closed DMs), and Allow message requests only from Verified users (which also allowed messages from people you follow). All of these messages went straight to your inbox.
But as announced last Thursday by the Twitter Support account, the verified users option has now changed to Allow message requests from Verified users and people you follow only. Though it may sound at first like a mere difference in wording, choosing this method of screening will filter your incoming messages into separate inboxes. Those from users you follow will go to a primary inbox, while DMs from Twitter Blue subscribers will go to a message request inbox. And as part of this update, all users who previously had their DMs open got migrated to this new third setting.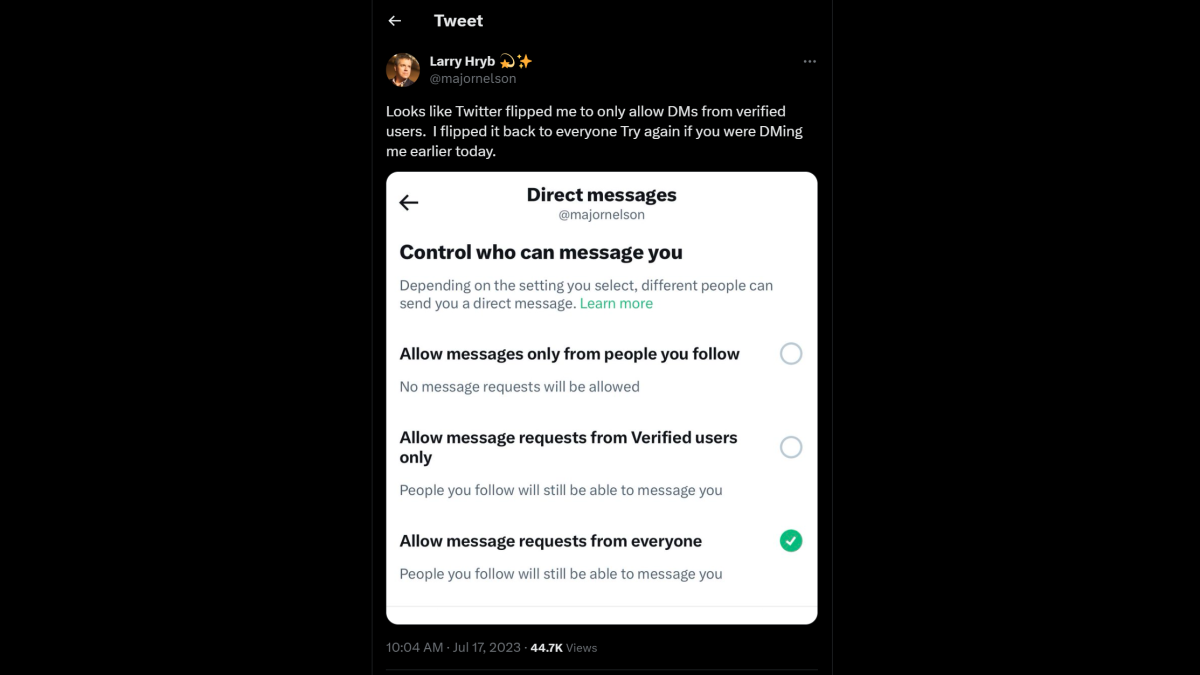 Twitter / PCWorld
While this change is explained as designed to help reduce the amount of spam received in DMs, it also blocks messages from users who do not subscribe to Twitter Blue. Fortunately, you can easily undo this new (and likely unwanted) default. Head to Settings > Privacy and Safety > Direct Messages, then re-select the option for Allow Message Requests from everyone.
With recent reports of Twitter's revenue being down by 50 percent, this move appears to be a way to enhance the perceived appeal of Twitter Blue for potential subscribers. If a user with previously open DMs doesn't know to change their settings, getting verified through Twitter Blue would be the only way to get their attention via DM. Judging by the comments from users on Twitter, the move is not a popular one, however—which could possibly enhance the appeal of rivals like Meta's newly launched Threads.