At a glance
Expert's Rating
Pros
Incredible RGB lighting
Good media controls
Included wrist rest
Cons
No optical switches
Fixed USB wire
slippery keycaps
Our Verdict
While it's not the best gaming keyboard in terms of raw capability or value, Roccat's Vulcan II simply can't be beaten for giving your desk an RGB light show.
Price When Reviewed
$149.99
Best Prices Today: Roccat Vulcan II keyboard
The Roccat Vulcan line of keyboards is all about one thing: being really, really, really, ridiculously good-looking. I called the Vulcan II Mini the "shiniest little keyboard around," but Roccat seems to have outdone itself with the new full-sized variant. The Vulcan II, particularly in the white-on-aluminum colorway seen here, is so gosh-darned pretty that it could make a Macbook Air jealous.
Fortunately the keyboard's charms don't end with its looks. Some decent switches and extras, plus a price that's at least competitive, means that its appeal is more than skin-deep. The Vulcan II isn't the best gaming keyboard on the market…but if you're looking for a way to bling up your battlestation, you might not care.
Further reading: See our roundup of the best gaming keyboards to learn about competing products.
Roccat Vulcan II: RGB splendor
The Vulcan II is so big, so bright, and so beautiful it's actually distracting. Like the smaller version, it utilizes "floating" keycaps with minimal sidewalls that let the ultra-bright RGB LEDs shine through. Combine that with the white tops, transparent switch housings, the super-reflective brushed-aluminum deck, and the best animation for lighting on the market, and this keyboard is the one to buy if you're nostalgic for laser light shows at your local planetarium.
(If you don't know what a laser light show is, ask your parents, and then get off my lawn.)
Everything about the board is set up to show off the lighting, and it doesn't disappoint. I'm not just talking about pure lumens, either. Roccat's boards also have the smoothest and most aesthetically appealing light animations I've ever seen. By default the Vulcan II will gently transition between shades (lava lamp-style), but also react to individual keypresses. Normally I disable this kind of thing, but the animations on this board are so fluid and so variable that I left them be. They're that pretty. Even the status indicators, illuminated just below the arrow cluster, look gorgeous.
Michael Crider/Foundry
What are the Roccat Vulcan II's specs?
So what else does the keyboard have going for it? Well, it's a full-sized, 108-key layout, so fans of the num pad will be happy. It includes a radial dial and dedicated media keys just above that, in the most natural spot. Said dial is very "clicky," like an old-fashioned RCA TV channel selector (man, I'm really showing my age with this review), but can also be pressed in to activate mute by default.
The smaller sibling
Roccat Vulcan II Mini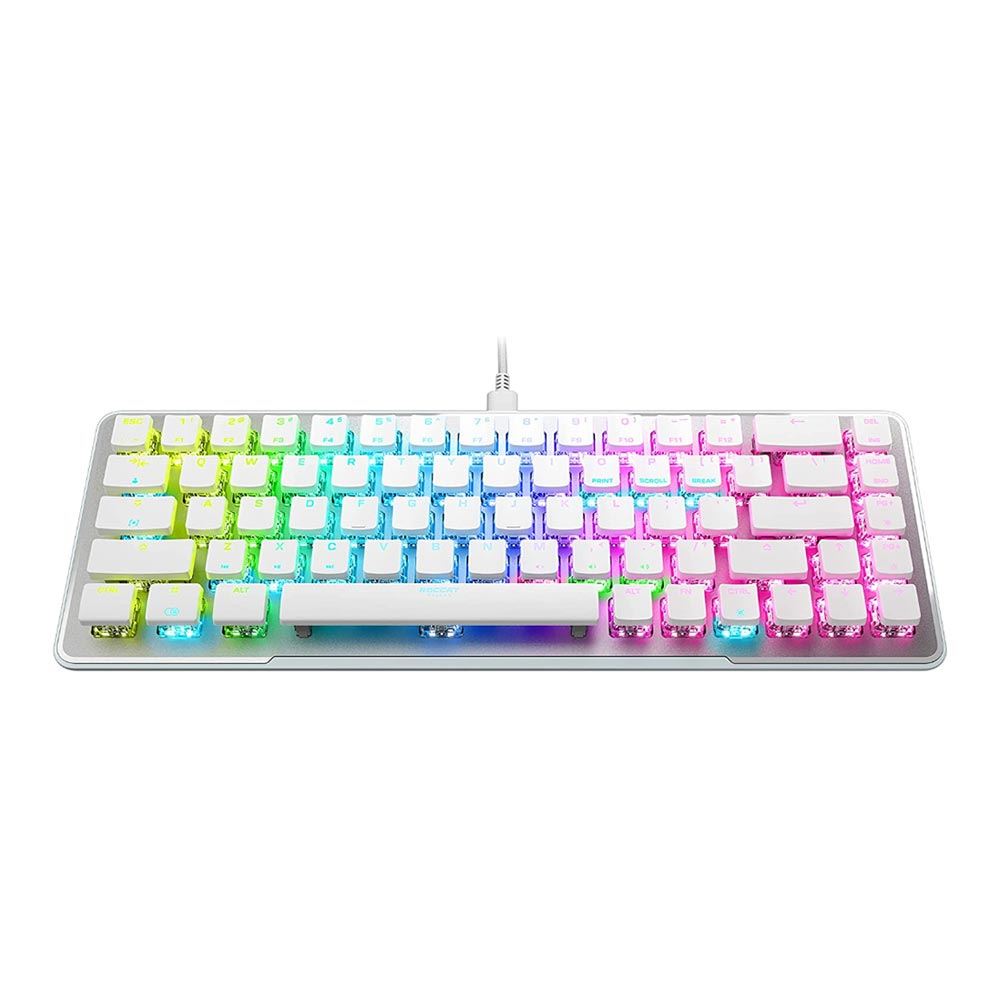 Price When Reviewed:
$150
The keyboard includes a wrist rest in the box, an all-too-rare feature for premium full-sized boards. It clicks into the main board's body but has an unfortunate tendency to sag in the middle under intense typing. The appealingly textured bottom (you, in the back, stop that giggling) has plastic feet with just one stage, but are fairly high-profile for that. And the braided USB cord is, regrettably, fixed—an odd choice when the less-expensive Vulcan II Mini's is detachable.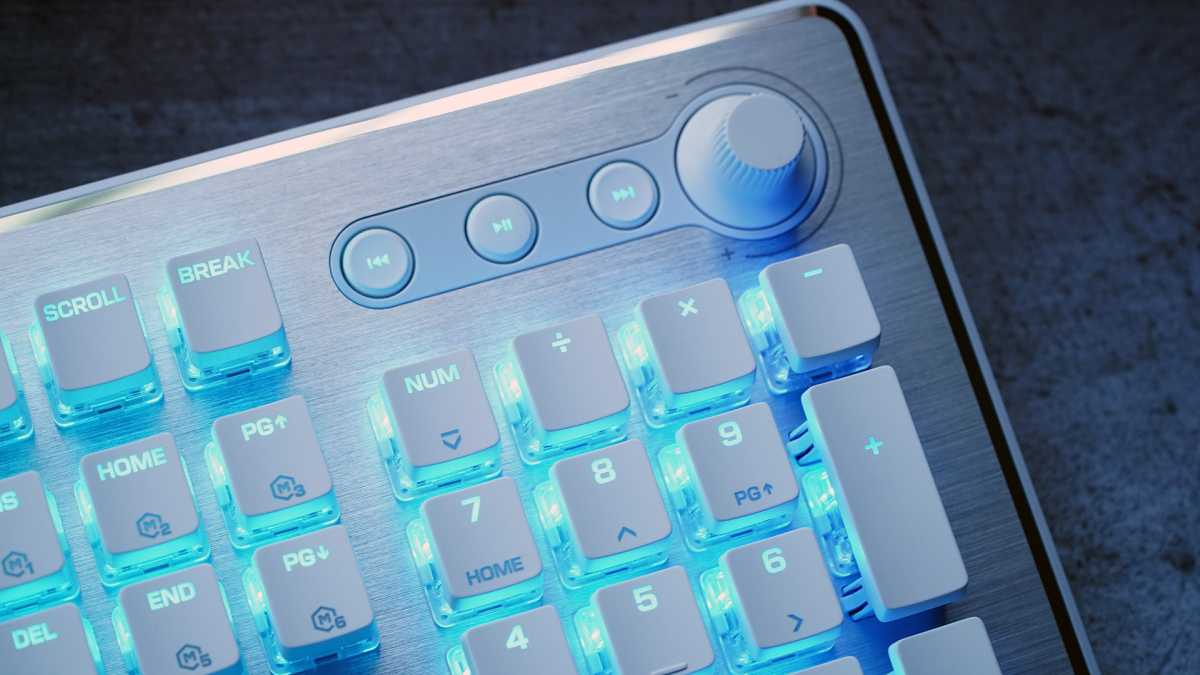 Michael Crider/Foundry
In terms of pure gaming chops, the Vulcan II offers full N-key rollover, 1,000Hz polling (not great in terms of competition, but admit it, you don't have literal millisecond reflexes anyway), and onboard storage for up to four profiles. Unfortunately you can't program it without Roccat's Swarm software, which is exclusive to Windows.
What's it like to type and game on the Roccat Vulcan II?
Roccat's floating keycaps take some getting used to. They're ABS instead of the more premium PBT, which is starting to become standard even on midrange boards. But I'll give the designers the benefit of the doubt and assume the material choice is yet another decision to make the Vulcan II as shiny as possible.
That said, the keycaps have a flat profile that, combined with the slick finish, made my fingers slip around a bit for the first few days. I was able to adjust, but this keyboard definitely takes a little getting used to, and I can't help but feel like the keycaps are undermining the gaming focus a bit. Of course, nothing stops you from replacing the keycaps with a set of regular ones…aside from the tears of the engineers who spent so much time making this keyboard a disco ball you can type on.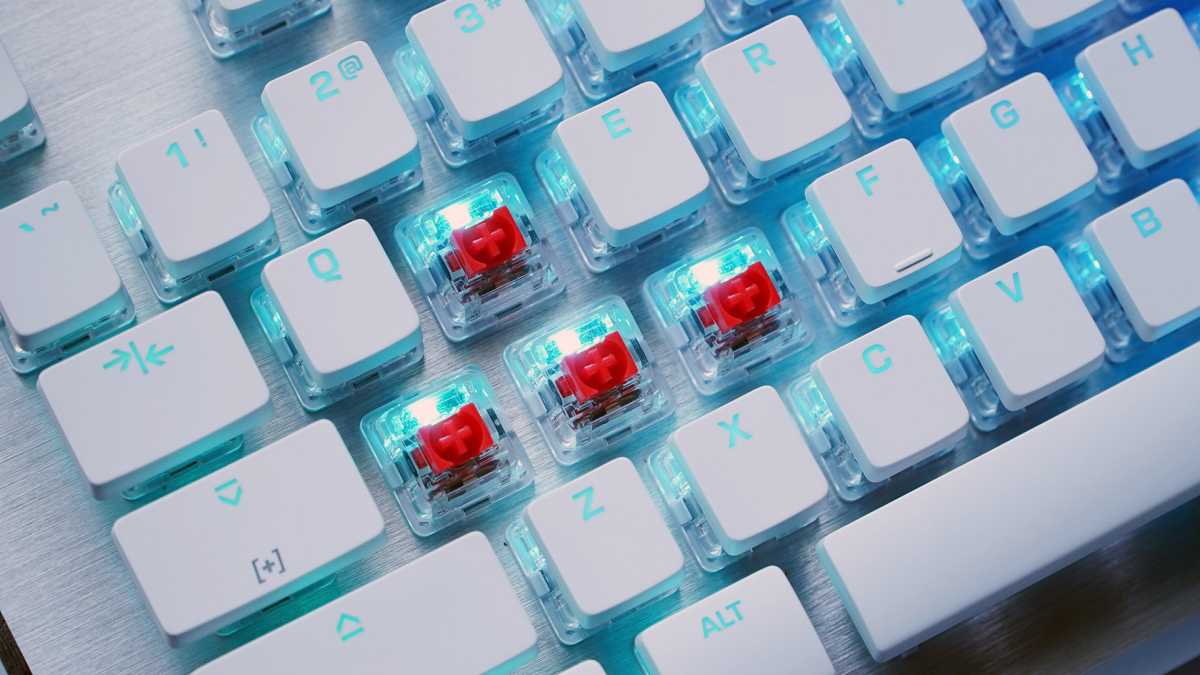 Michael Crider/Foundry
Strangely, the Vulcan II does not get the custom optical switches featured on the Vulcan II Mini, the new II Mini Air, and the somehow even shinier Vulcan II Max. Instead it has to make do with the slightly less-fancy standard switches, which actuate with old-fashioned electrical contacts. It's an odd omission that makes this keyboard the least advanced in Roccat's entire line…but it's also far less expensive than the similarly sized Max, so I'm inclined to be forgiving.
The linear switches on my review unit are serviceable, if nothing special. With the contacts at the actuation point they're noticeably "bumpier" than the optical switches of the Vulcan II Mini, but still fairly premium with a less chattery sound and press. The hall effect (the walls on the side of the stem) also lend a little more stability that the floating keycaps take away from the other Vulcan boards. Roccat says these "Titan II Red" switches come pre-lubed, and indeed they're pretty smooth, but not as nice as the super-fancy Kailh switches in the Keydous NJ80-AP.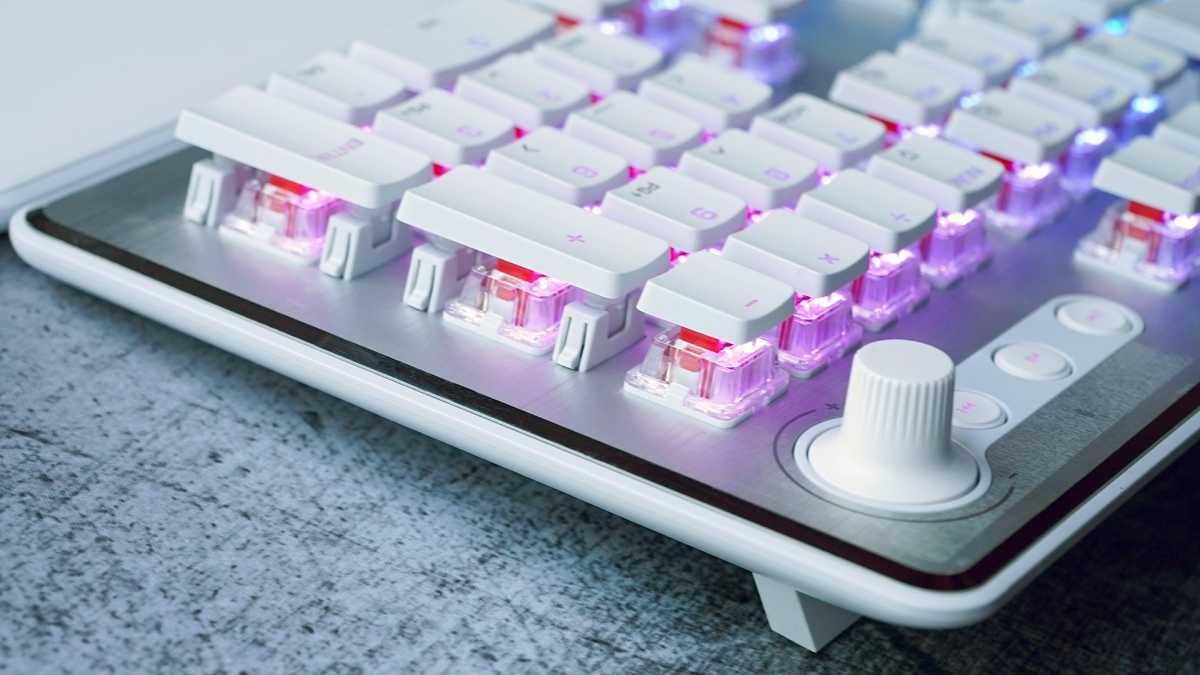 Michael Crider/Foundry
Despite being standard mechanical, the keyboard's switches are not hot-swap, so you can't replace them. But again, if you're buying this board for the light show, that's probably not a deal-breaker. All things considered, I have to ding the keyboard for going with standard instead of optical switches, since it's branded as a gaming board.
Roccat Vulcan II software
Roccat Swarm is fairly middle-of-the-road as far as gaming software goes. On the one hand, it's using the ultra-dark color scheme they all seem to favor that makes everything twice as hard to find as it needs to be. On the other hand, it's not trying to get me to use coupons.
Michael Crider/Foundry
Swarm does have the most annoying feature I've ever seen in one of these: the ability to add software sounds to each key press. If you work in an office and genuinely loathe your coworkers, buy a Roccat keyboard and set it to play Star Wars pew-pew laser noise through your PC speakers every time you hit a key. If you can type a hundred words per minute, someone will attempt to murder you by lunch, guaranteed. But this "feature" is disabled by default, so any harm it does is entirely on you.
The software does fine at managing custom bindings and macros, though once again, you can't re-bind the f'n Fn button (or the left Windows key, weirdly). By default, Caps Lock activates "Easy Shift," which is essentially a second function layer. Roccat makes a big deal out of this, but since VIA and QMK have been doing it for years, you can color me unimpressed. Yes, you can set it back to Caps Lock if you want, but not anything else.
Michael Crider/Foundry
The lighting section offers a series of pre-programmed options, which are all gorgeous and far more fluid than the usual fare. But some are, frankly, overwhelming. I dare you to set the keyboard to "Ripple," watch a full light show activate with each key press, and be able to get work done. But they're easy to both apply and customize, and you can fully program your own if that's what you want. All in all, not bad, especially considering how light-focused many buyers will be.
Should you buy the Roccat Vulcan II?
At $150 the Vulcan II ain't cheap, especially for a board that foregoes some premium features like ultra-fancy switches, hot-swapping, or internal sound dampening. There are also some corners cut in terms of materials, like the fixed USB cable and a somewhat plasticky build, which can't be overcome by the admittedly nice inclusion of the wrist rest.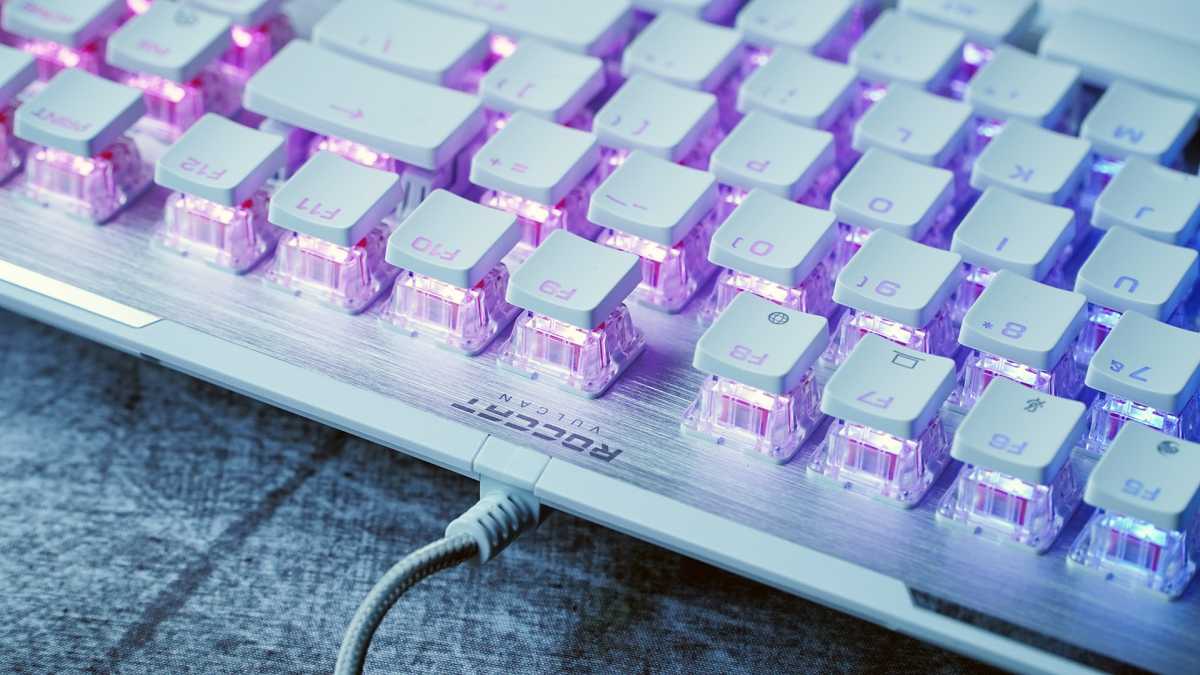 Michael Crider/Foundry
But even at this high price, it's not the most expensive wired-only board around — the Razer BlackWidow V4 is $80 more without any huge technical advantages aside from ridiculously quick polling, for example. Corsair wants $200 for the K95 RGB Platinum SE, and its only advantage is five extra keys. Both those keyboards offer a better fit and finish, but not by such a huge margin that they can justify the higher price on that alone.
If you're interested in the Vulcan II, you want it for the insanely flashy light show it's providing. I suppose that's a recommendation.
Best Prices Today: Roccat Vulcan II keyboard