At a glance
Expert's Rating
Pros
Great price and value, even at MSRP
4K120 display capabilities open up gaming possibilities
Stable performance
Excellent charging capabilities
Cons
Thermal issues during prolonged loads
Storage tests across the dock were lower than average
Our Verdict
Some performance concerns don't mar what is otherwise a very attractively priced USB4 docking station that's designed for the future.
Price When Reviewed
199.95
Best Prices Today: Plugable USB4 Dual HDMI Docking Station (UD-4VPD)
Plugable's UD-4VPD, formally known as the USB4 Dual HDMI Docking Station, promises two potentially welcome trends: a push into 120Hz 4K display capabilities, and a startling reduction in price. Be warned, though, as this dock has some thermal issues.
Why consider the Plugable UD-4VPD?
Most Thunderbolt docks offer the option of connecting to two 4K displays at 60Hz. That's perfectly fine for office use. Higher-rate 120Hz displays, though, are the minimum threshold that gamers favor, opening a potential new world of possibilities for these docks. And this dock drives a pair of 4K displays at 120Hz, according to Plugable! Alternatively, the same dock should drive a single 8K display.
As we point out in our roundup of the best Thunderbolt docks, USB4 and Thunderbolt 4 are functionally equivalent. Because of what we suspect are licensing issues, Thunderbolt docks seem to be common on Intel laptops, while AMD Ryzen laptops use USB4. A Thunderbolt laptop should work just as well with a USB4 dock. Be aware, though, that according to Plugable founder and CTO Bernie Thompson, a laptop with a Thunderbolt 3 connection probably won't work with this dock.
The Plugable UD-4VPD is still dramatically cheaper than most Thunderbolt or USB4 docks, without trying to cut corners, and shakes up what a "budget" dock really is.
The Plugable UD-4VPD specs
Unfortunately, we lack the resources to test the dock with a pair of 120Hz 4K monitors at the moment. (Most 4K monitors at 120Hz or above cost about $600 or so.) We do have a 1440p widescreen monitor to test, which can run at up to 144Hz, plus two 4K displays, which is as close as we can get.
Plugable's UD-4VPD is an 11-in 1 dock, with the two HDMI ports, two 10Gbps USB-A (10Gbps) ports, a legacy 5Gbps USB-A port, and a single 10Gbps USB-C port which can supply up to a rated 20W of charging power for a phone. There's also a microSD and SD slot rated at UHS-II (312MB/s) speeds, plus an audio/mic jack.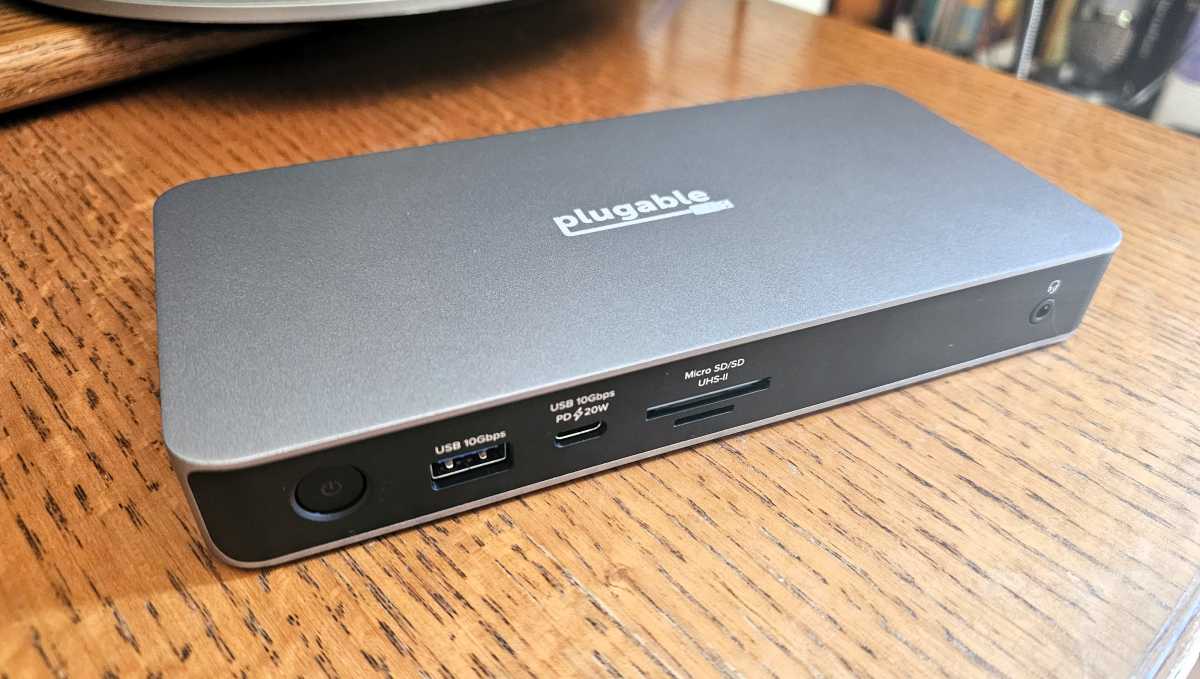 Mark Hachman / IDG
The two HDMI 2.1 display ports reflect HDMI's popularity, but their performance will vary. Here's the problem: Not only do this dock's ports require your laptop to support an HDMI 2.1 output, but the chipset inside it is required to support both HBR3 (High Bitrate 3) and DSC (Display Stream Compression). The latter technology is like a DisplayLink dock: It uses some compression to enable the higher display capabilities. If your laptop lacks both of these latter features, you'll get a more standard 4K60 experience instead. You do not have the option of plugging in an HDMI-to-DisplayPort cable into this dock, either.
How do you know your laptop includes HBR3 and DSC? Chances are you don't, and your laptop maker may not even tell you. According to Thompson, one clue may be whether it's Intel Evo certified, as Thompson claims that those all meet the HBR3/DSC requirements.
Otherwise, the lack of available information makes purchasing this dock a bit of a crapshoot, unfortunately. On the other hand, you can make the argument that investing in this dock is an investment in the future, when 4K120 displays become cheaper and more commonplace.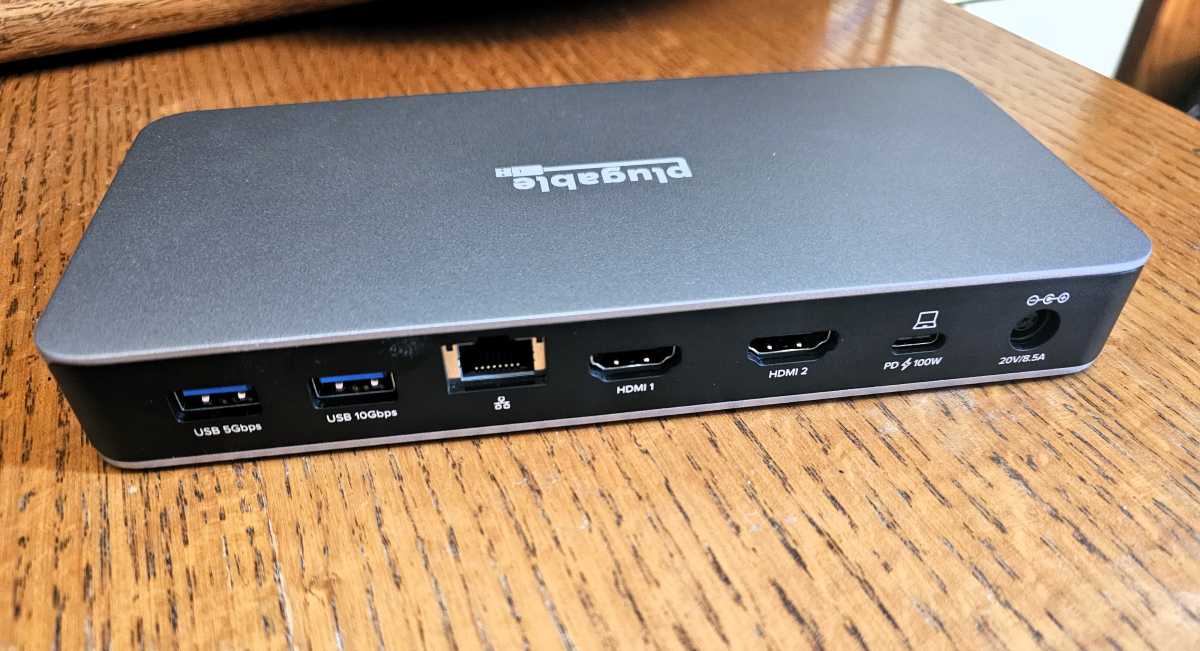 Mark Hachman / IDG
How did the Plugable UD-4VPD perform?
We weren't able to test all of the dock's display features, but some of the aspects that we were able to test were a bit disappointing. The first is a nitpick: While Thunderbolt cables are clearly labeled with the lightning-bolt logo and either a "3" or "4" to distinguish them, Plugable's 3.3-foot cable was jet black, and connected to the rear of the dock, not the front. It would be handy if the cable community or Plugable could better label these cables.
Second, the dock warmed surprisingly under load, to the point that it grew a little alarming. (If you're concerned, Plugable's dock ships with a two-year limited parts and labor warranty.)
(Editor's Note: We're adding some additional details to this review as of August 30, 2023. After an informal session of PC gaming where we included Plugable's dock to drive a PC, the dock heated up enough to the point that it overheated and shut down. The dock refused to drive both displays until it cooled down.
It's important to note that our performance testing does ask the dock to transfer intensive amounts of data and drive displays, but over short periods of time. The shutdown occurred after about 90 minutes of gaming. During our normal experiential testing, we use the dock in an office environment (for email, web browsing, Teams/Zoom calls, and the like) over the course of a day or more. Plugable's dock didn't have any performance issues in this environment.)
Finally, the dock's performance was a bit mixed. When writing to an external test SSD, the drive's bandwidth clocked in at about 122MB/s, about 11 percent less than the 137.51MB/s that rival-dock Anker 568 generated. On the other hand, running the same test while streaming a 4K video — a task we perform to see if there's any data congestion — passed with flying colors. Anker's dock also showed occasional instability; the Plugable UD-4VPD was rock-solid in our tests.
rival dock
Anker 568 USB-C Docking Station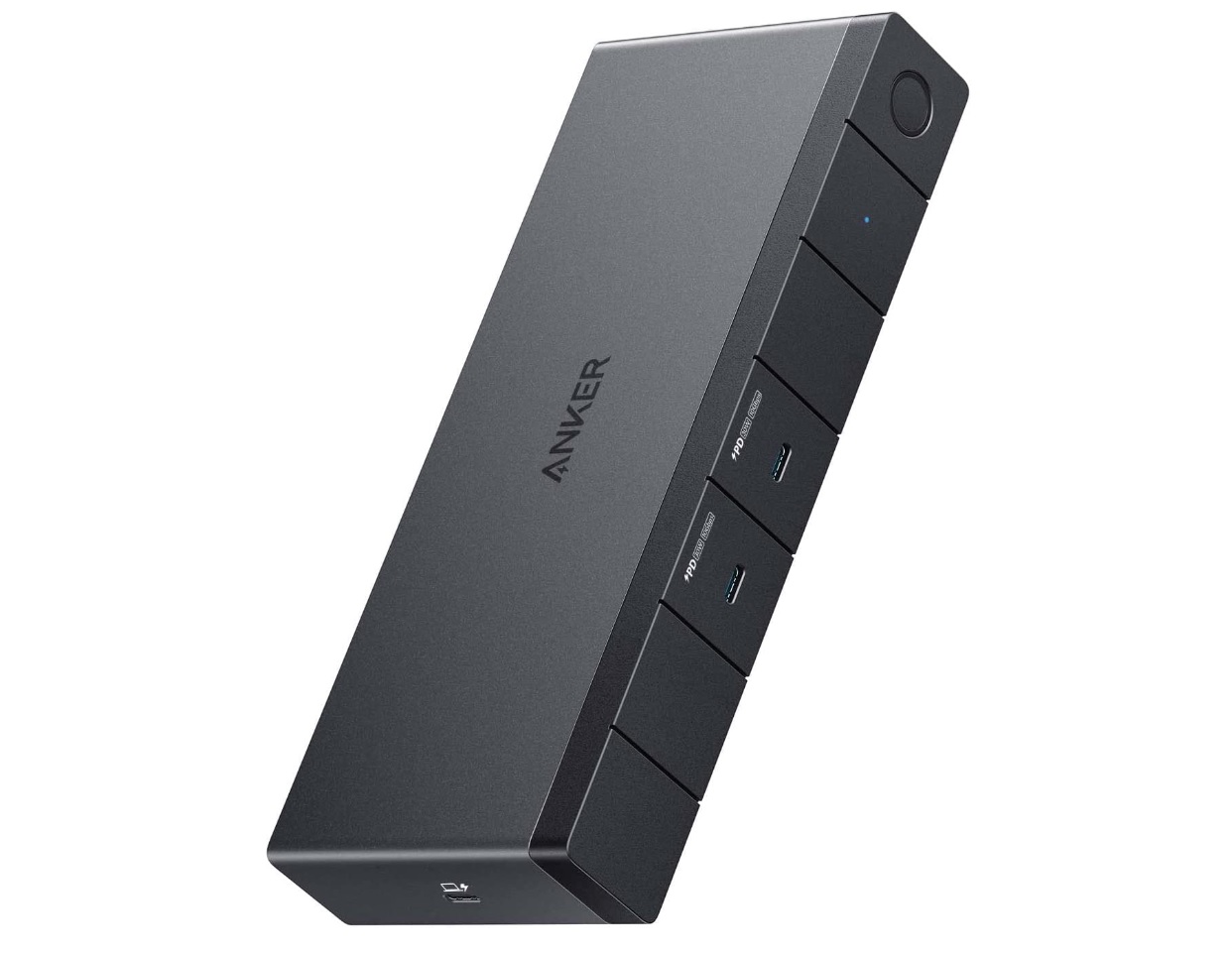 Price When Reviewed:
$299.99
Plugable basically lived up to its charging claims, too. While the dock's logo claims that the front 10Gbps charging port can deliver 20W of power to charge a smartphone, our tests showed that it delivered about 18.7W under load. That's enough to fast-charge a smartphone.
Should you buy the Plugable UD-4VPD?
Plugable, though, offers a huge advantage: It's essentially $100 less than the competition, and that's before any discounts. Plugable's Thompson says that the costs of mandatory Thunderbolt testing raise the prices of Thunderbolt docks, and here the reduced costs are passed along to the consumer. The Plugable UD-4VPD is still dramatically cheaper than most Thunderbolt or USB4 docks, without trying to cut corners, and shakes up what a "budget" dock really is. That's a key selling point, even before you start talking about its advanced display capabilities.
Editor's Note: On Plugable's site, this dock is referred to as the PLUGABLE USB4 DUAL MONITOR DOCKING STATION WITH 4K 120HZ HDMI. We have updated this review on August 30 to note some performance issues.
Best Prices Today: Plugable USB4 Dual HDMI Docking Station (UD-4VPD)