Three years after the pandemic, it feels like we've reached the endgame for funny Zoom backgrounds. Google has begun testing AI-generated backgrounds in Google Meet, something that Microsoft inevitably will follow in Teams.
Not everyone has this feature turned on. Google has only made AI backgrounds available to those who are currently part of its Workspace Labs program, the beta program to test out new features in Meet and other Google apps. But the support document with instructions has already hit the web, with the implication that it will publicly debut before long.
In 2000, creating a funny Zoom background became the rage for a short time, followed by making an animated GIF — including looping the background GIF to make it seem like, Mission: Impossible-style, that you were actually there when you weren't. Two years later, AI art became the new fad, with innovations like Bing Image Creator allowing you to create custom illustrations on the fly. Google, somewhat oddly, has been behind the curve.
Until now, that is. According to the Google support document, it looks like you'll be able to "create" a background, just like you're able to use a custom background in Meet today. If you review the Meet backgrounds (when joining a Google Meet meeting, click the "sparkle" tab to adjust your background) you'll already see a host of slightly animated backgrounds that look like they've been generated from AI, like so:
Mark Hachman / IDG
What Meet is adding to this is simply a window to create your own background, using AI. Instead of selecting an existing background, you'll have the option of typing in a scene, such as a magical forest, and selecting a style from the drop-down menu. There is a "3D animation" option that appears in the drop-down menu box in Google's example, but it's unclear whether the result will actually be animated, as some of Google's current Meet backgrounds are.
Naturally, you'll still have the opportunity to use your standard "real world" background, including the option to blur it, too. Here's what Meet's AI backgrounds will look like, compliments of Artem Russakovskii of Android Police: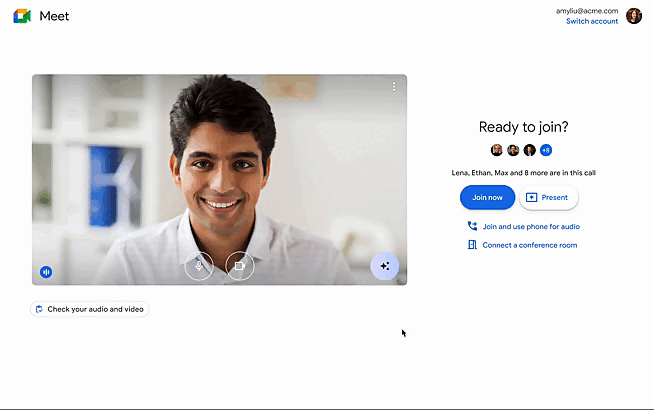 Google
Google's new AI backgrounds in Meet certainly feel like something Microsoft accidentally passed over, so you should expect that Google's rivals will follow suit. In a few months, it's likely that an AI-generated custom background will be a standard option in video chats.