At a glance
Expert's Rating
Pros
Extraordinarily thin and light for its size
OLED display provides punchy contrast and color
Solid battery life
Cons
Plain design with unimpressive build quality
Modest CPU performance
No discrete graphics option
Our Verdict
The LG Gram SuperSlim is the most portable 15.6-inch laptop you can buy right now, but shaving down the profile hurts performance.
Price When Reviewed
$1,999.99
Best Prices Today: LG Gram SuperSlim
LG's Gram laptop line is known for its low weight and slim design, but it seems the company's engineers felt they could do better. The result is the LG Gram SuperSlim, a 15.6-inch laptop that's no more than .49 inches thick and weighs a mere 2.18 pounds. It's the thinnest, lightest 15.6-inch laptop sold right now, but prioritizing portability over performance isn't for everyone. Read on to learn more.
Looking for more lightweight laptops? Check out PCWorld's roundup of the best 2-in-1 laptops available right now.
LG Gram SuperSlim: Specs and features
LG's Gram SuperSlim isn't a spec sheet superstar. It packs an Intel Core i7-1360P and sticks with Intel integrated graphics, which is bad news for anyone looking to play PC games or use a GPU to accelerate productivity. The 1080p OLED display also merely whelms, though it does perform well in real-world use.
CPU: Intel Core i7-1360P
Memory: 32GB LPDDR5
Graphics/GPU: Intel Iris Xe
Display: 15.6-inch 1080p 60Hz OLED
Storage: 2TB PCIe Gen4 SSD
Webcam: 1080p
Connectivity: 2x USB 4 with Power Delivery, DisplayPort Alternate Mode, Thunderbolt 4, 1x USB 4 with Power Delivery.
Networking: WiFi 6E, Bluetooth 5.2
Biometrics: IR Camera for Windows Hello facial recognition
Battery capacity: 60 watt-hours
Dimensions: 14 x 8.95 x .49 inches
Weight: 2.18 pounds
MSRP: $1,699.99 base MSRP, $1,999.99 as-tested
The entry-level LG Gram SuperSlim, which retails for $1,699.99, packs an Intel Core i7-1360P processor, Intel Iris Xe integrated graphics, a 1TB solid state drive, and 16GB of RAM. That's likely the best configuration for most people, but my upgraded review unit crammed in 32GB of RAM and a whopping 2TB of solid state storage (in the form of two 1TB PCIe SSDs), which inflates the price to $1,999.99.
LG Gram SuperSlim: Design and build quality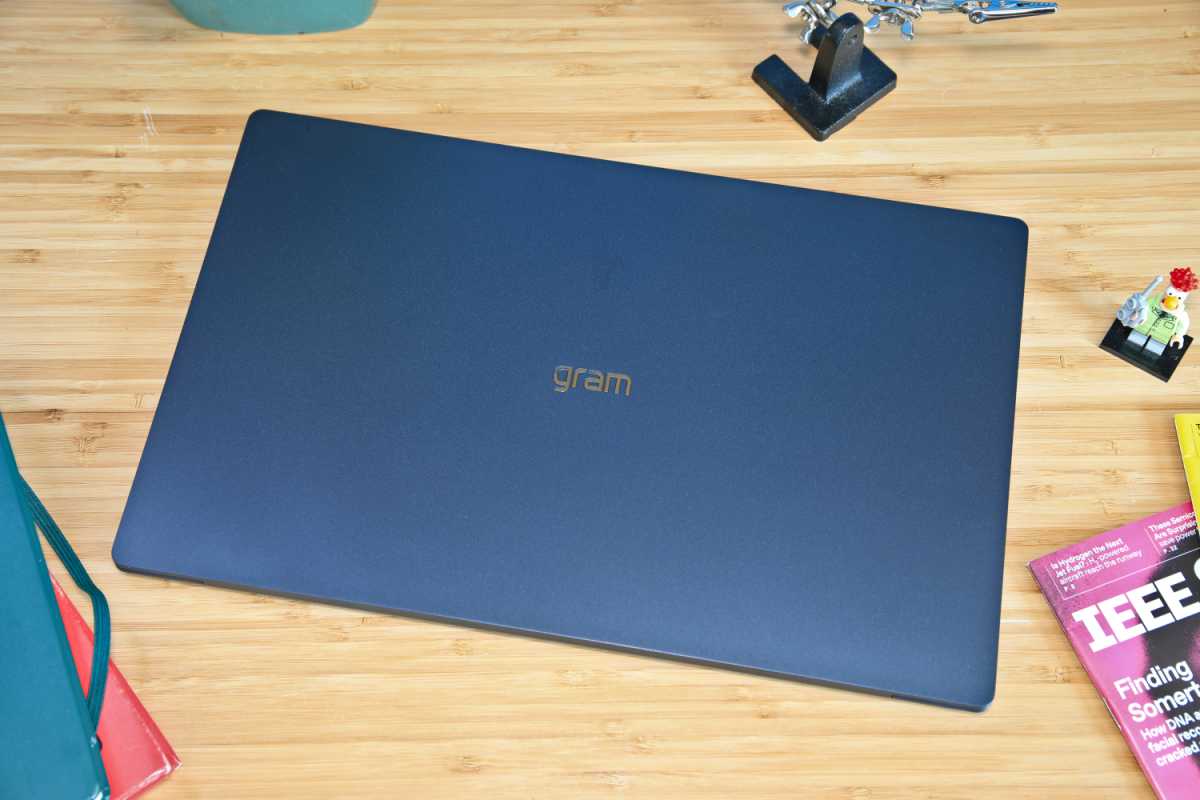 IDG / Matthew Smith
The LG Gram SuperSlim has a navy blue magnesium alloy chassis that's unadorned aside from a small silver Gram logo in the center of the laptop's lid. The materials feel as plain as they look, lacking any texture that might help the laptop stand out from the crowd. I like the navy blue colorway, at least.
There is one element of the design that stands out: The aspect ratio. The laptop has a 15.6-inch, 16:9 widescreen instead of the taller 16:10 aspect ratio popular among recent laptops. As a result, the laptop looks and feels wide relative to its depth. Its physical measurements, however, show it's slightly smaller than most 15.6-inch and 16-inch laptops.
As mentioned, the laptop's chassis uses a magnesium alloy. It's a remarkably durable and light material that helps the Gram SuperSlim achieve its low weight of 2.18 pounds. Magnesium alloy isn't particularly rigid, however, the laptop's slim profile, which measures just 0.49 inches thick, leaves little space to add reinforcement.
Shoppers interested in the Gram SuperSlim must accept a compromise. This laptop is light and thin, which makes it ideal for travel, but lacks the heft and luxury you'll enjoy from an Apple MacBook Air 15, Dell XPS 15, or Razer Blade 16.
LG Gram SuperSlim: Keyboard, trackpad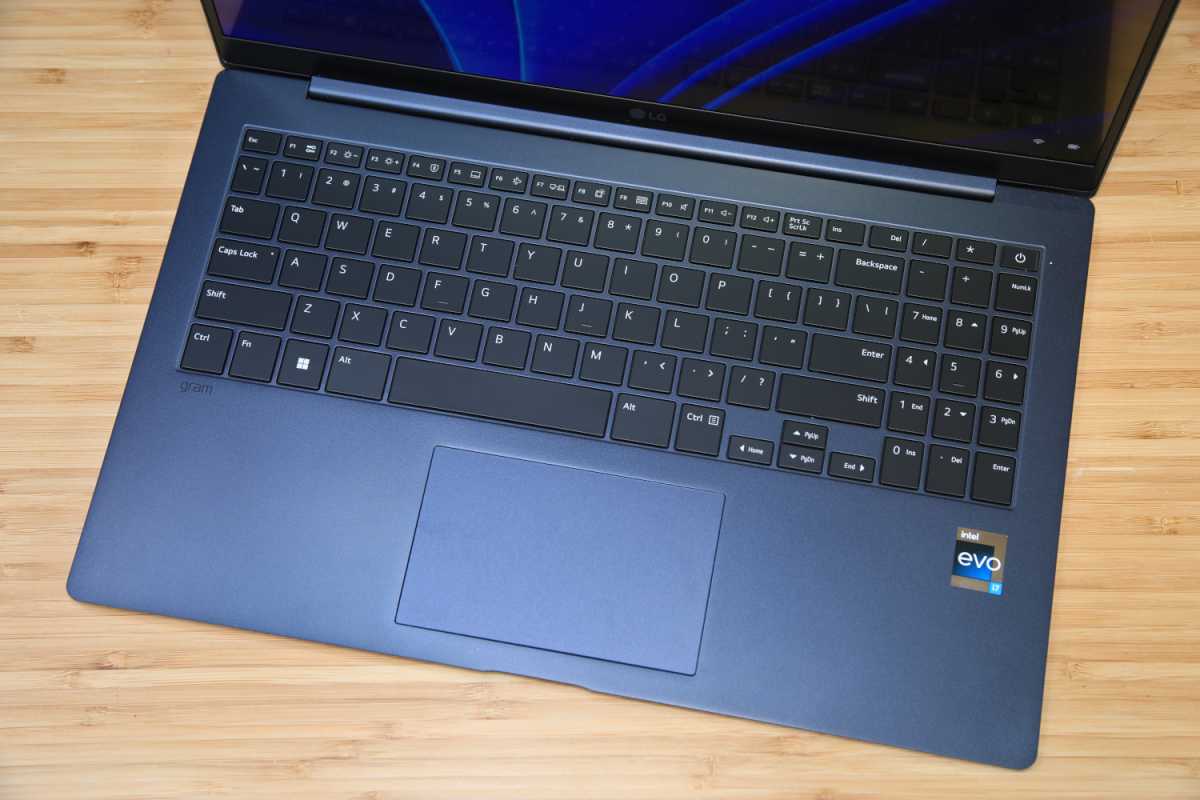 IDG / Matthew Smith
The LG Gram SuperSlim has room for a spacious keyboard with large keys and a numpad on the right-hand side. Technically, the numpad keys are not quite full-sized, but they're so close that the difference is tough to notice. There's plenty of space along the palm rest, too, so your palms won't be left dangling off the edge of the laptop.
However, the laptop's slim chassis means there's a lack of space for key travel. Key action is short and firm, which leads to a wooden feel that lacks tactile feedback. The keyboard is extremely quiet (which some users might prefer), but I like a little more response when I activate a key. The typing experience is acceptable overall, but alternatives like the Dell XPS 15 and Lenovo Slim Pro 7 outperform the LG.
White LED keyboard backlighting comes standard and is controlled with a keyboard shortcut. It does the job but is otherwise unremarkable. There's no color customization and just two brightness settings (aside from off).
A small touchpad measuring four inches wide and three inches deep is centered below the keyboard. It's tiny by the standards of modern 15 and 16-inch Windows laptops, most of which have a touchpad measuring 5 or 6 inches wide. The lack of space might be an issue for those who enjoy Windows' multi-touch gestures. Fortunately, the touchpad otherwise feels responsive and smooth. I also appreciate that the touchpad is centered on the laptop instead of pushed towards the left side, which is usually the case with laptops that have a numpad.
LG Gram SuperSlim: Display, audio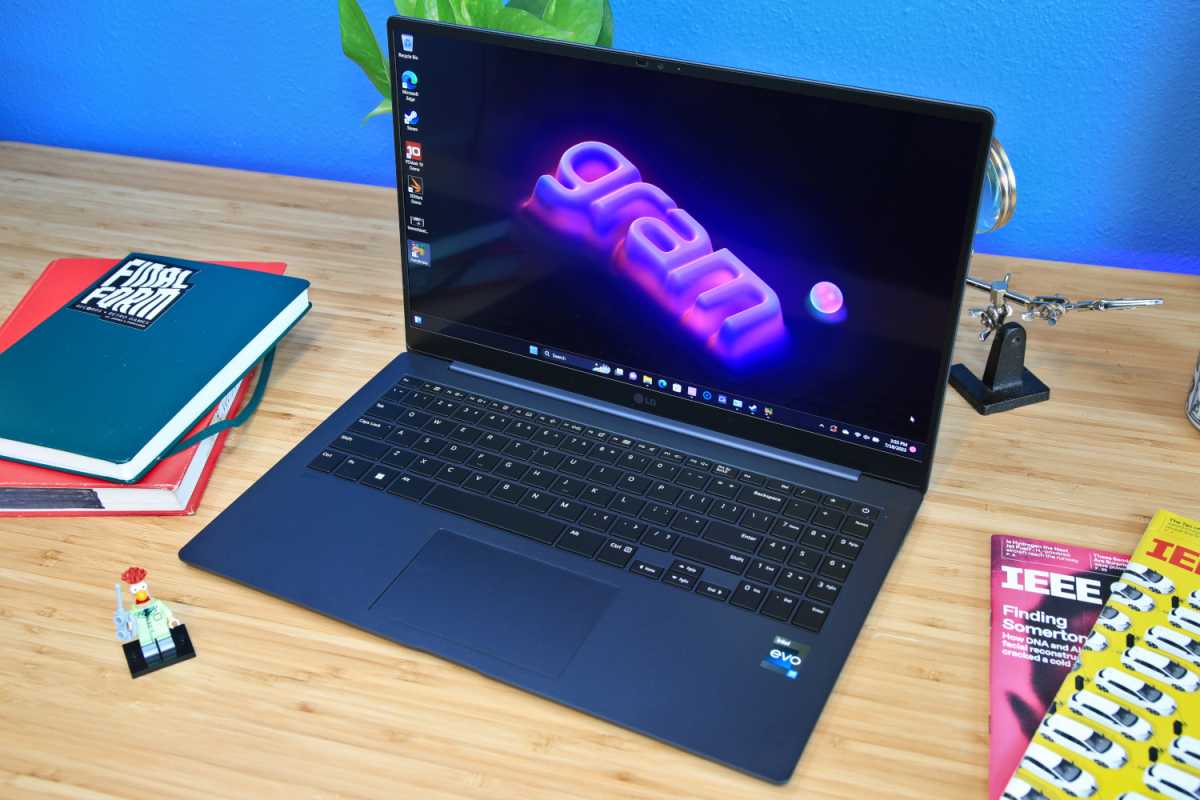 IDG / Matthew Smith
Every LG Gram SuperSlim has a 1080p 60Hz OLED non-touch display. It doesn't look impressive on a specification sheet, mostly due to its 1080p resolution, but it looks fantastic in real-world use.
The display's 1,920 x 1,080 resolution works out to 141 pixels per inch, which is a bit lower than a 27-inch 4K monitor's pixel density of 163 pixels per inch. Still, the Gram SuperSlim packs enough pixels to deliver sharp visuals. YouTube videos look crystal-clear and tiny fonts and rendered with minimal pixelation.
The OLED panel adds punch with an effectively infinite contrast ratio and superb color gamut. It delivers rich and vivid visuals, rendering dark scenes with convincing shadows alongside saturated colors in brighter content. The Gram SuperSlim is great for watching a movie or streaming Netflix. The display's excellent color performance also proves handy when editing photos or video.
Gamers will be disappointed to learn the display has a 60Hz refresh rate. That's somewhat surprising, as many competing laptops that have an OLED panel deliver a 90Hz or even 120Hz refresh rate. However, given the absence of discrete graphics on this laptop, gaming performance clearly isn't a priority.
While the display is solid, the Gram SuperSlim's audio is adequate at best. Maximum volume is loud enough to fill a small room with sound, but the speakers have a thin, hollow quality and a muddy mid-range. Even acoustically simple content, like a podcast, can introduce distortion that makes listening unpleasant. Headphones or earbuds are recommended.
LG Gram SuperSlim: Webcam, microphone, biometrics
LG conceals a great 1080p webcam in the Gram SuperSlim's thin display bezel. It delivers a sharp image with good color reproduction, and while I wouldn't recommend it for professional video content creation, it performs well for video conferencing on platforms like Zoom.
The webcam is accompanied by a microphone array that captures strong, robust audio. You'll rarely hear outside noises, too, as the microphones in the Gram SuperSlim seem to filter out background noise more aggressively than most laptops. This will reduce the volume of your voice if you're not directly facing the laptop during a call, however.
Windows Hello facial recognition login is supported by the webcam and works flawlessly, providing a quick and easy way to log into the laptop the moment you sit in front of it. As is typical of Windows Hello facial recognition, it works well even in low-light environments.
LG Gram SuperSlim: Connectivity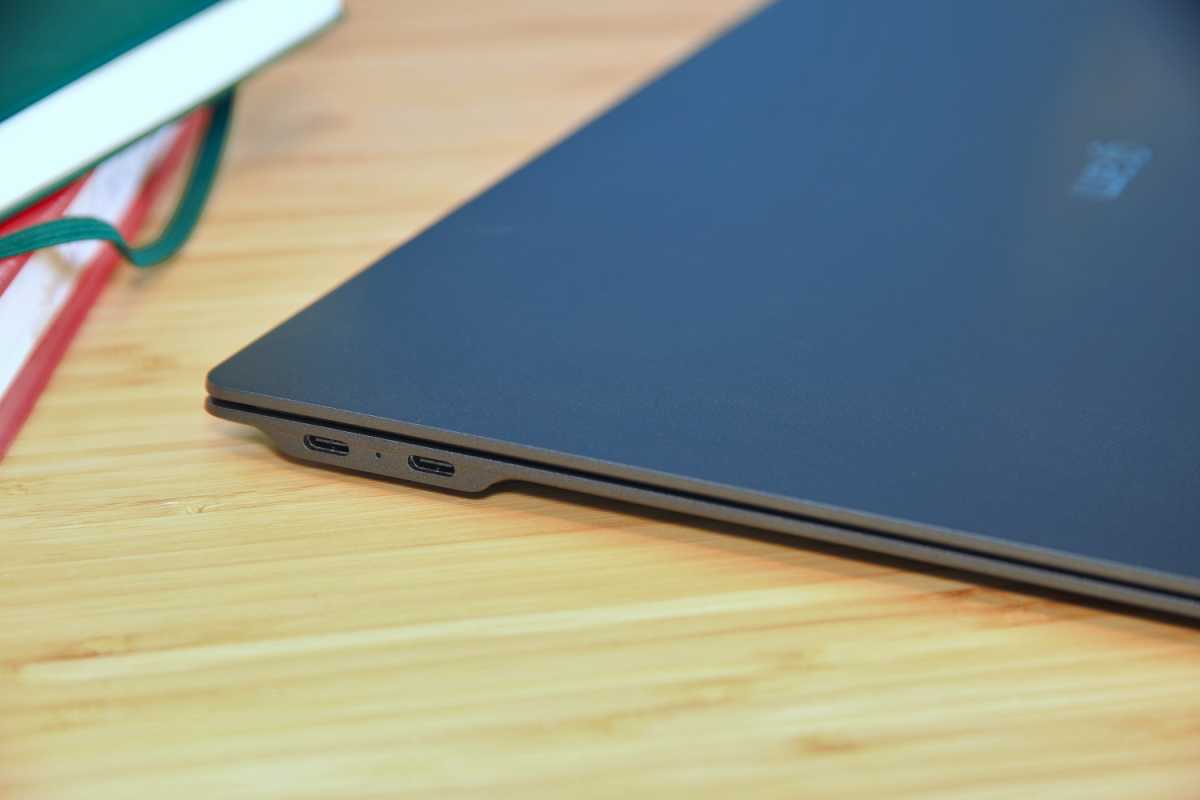 IDG / Matthew Smith
The LG Gram SuperSlim is focused on USB-C connectivity with three USB 4 Type-C ports, two of which support USB Power Delivery, DisplayPort Alternate Mode, and Thunderbolt 4. The third USB 4 port only supports USB Power Delivery.
This has its benefits. All USB-C ports provide high data transfer rates and connectivity is easily improved with a USB-C hub. I also like that all three USB-C ports can charge the laptop. On the other hand, the laptop will require an adapter or hub for use with older monitors, external hard drives, and most webcams, which is annoying if you use these peripherals frequently.
There is one additional port to mention: a 3.5mm combo audio port. It's included on nearly all modern laptops, of course, but I'm happy to see LG didn't sacrifice it in the name of portability.
LG's decision to rely on USB 4 isn't unique. Dell takes a similar tact with the Dell XPS 15 (though it does provide an SDcard reader). Apple's recently released MacBook Air 15 has even less connectivity, offering just two USB 4 / Thunderbolt 4 ports. But other potential alternatives, like the Lenovo Yoga 7i 16-inch, have USB-A and HDMI-out.
The Gram SuperSlim's wireless connectivity picks up slack for the slim port selection with support for Wi-Fi 6E and Bluetooth 5.2. The laptop's Wi-Fi remained strong and reliable even when using the laptop 50 feet away from the router in a detached office.
LG Gram SuperSlim: Performance
LG's Gram SuperSlim sits in an odd position between larger and more powerful 15-inch and 16-inch laptops, such as the Dell XPS 15, and more portable 14-inch laptops like the Lenovo Yoga 9i or Slim Pro 7. All Gram SuperSlim configurations ship with the Intel Core i7-1360P, a 12-core processor with four performance cores and eight efficient cores, and all rely on Intel Iris Xe integrated graphics.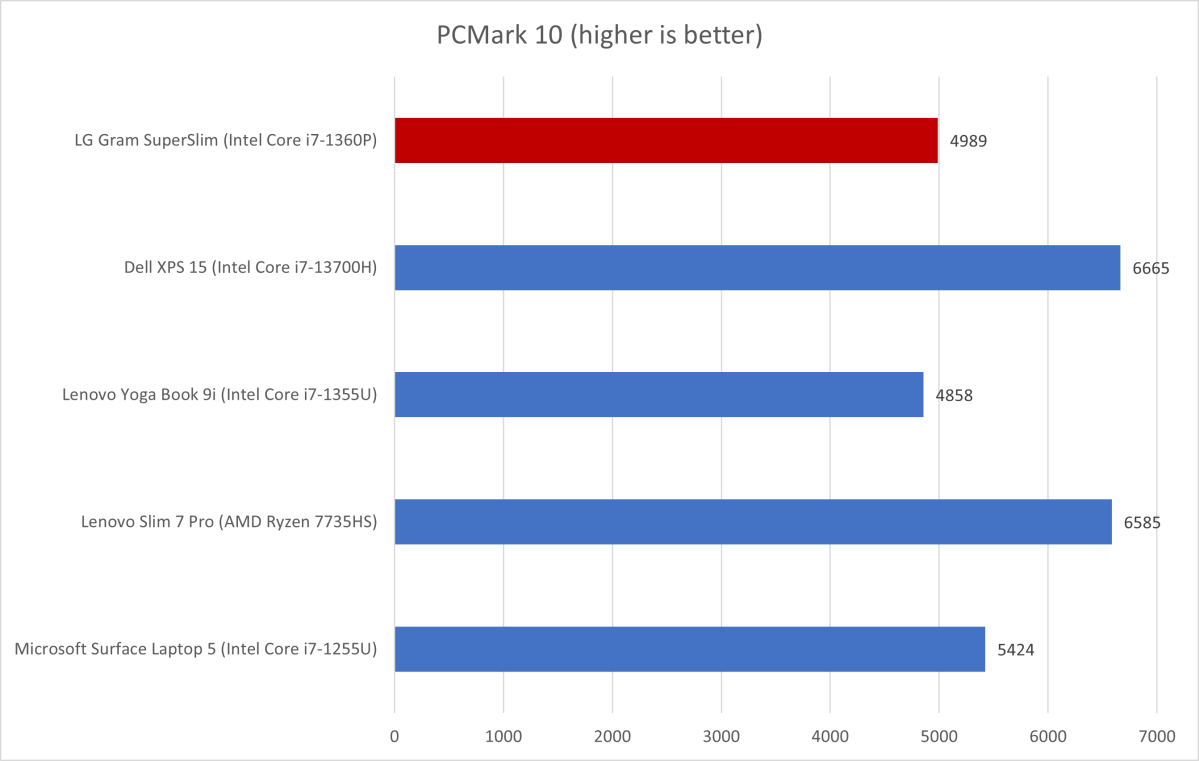 IDG / Matthew Smith
Our tests begin with PCMark 10, a benchmark suite that judges a laptop based on a variety of tests. The LG Gram SuperSlim has trouble here, reaching a total score of just 4,989. That's a tad better than the Intel Core i7-1355U but otherwise falls behind similar laptops.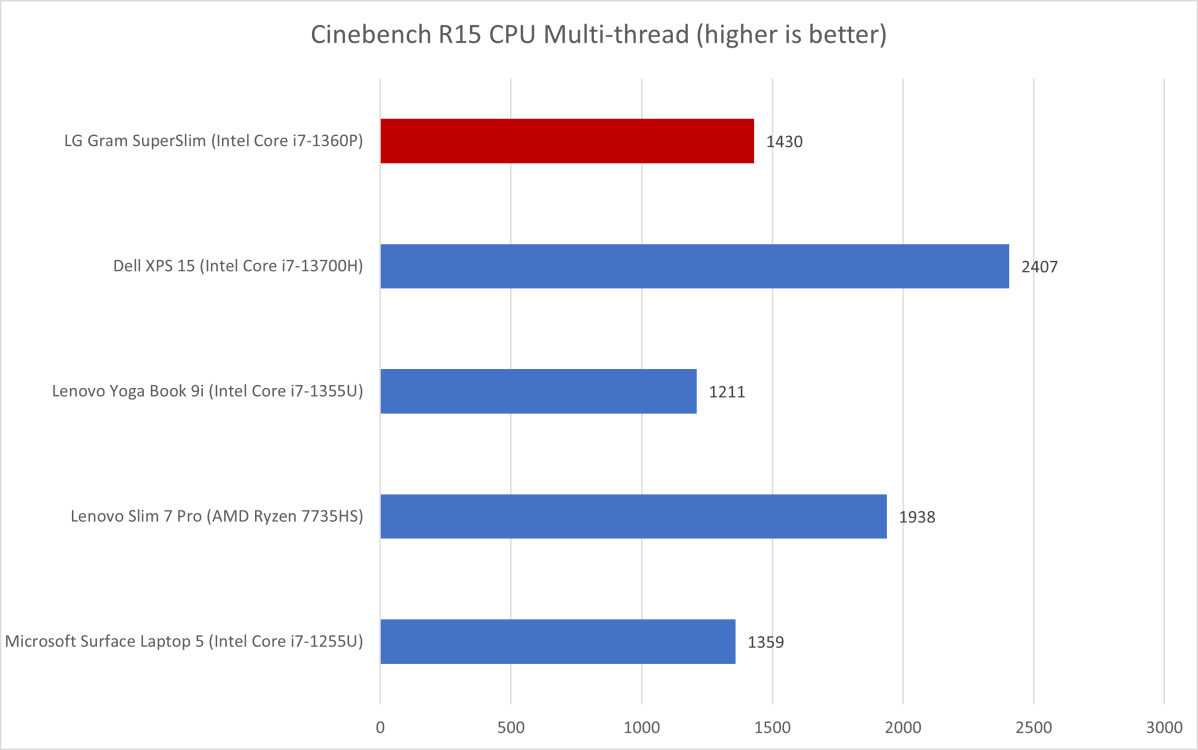 IDG / Matthew Smith
The Gram SuperSlim hit a Cinebench R15 multi-core score of 1,430. That's a reasonable score for a laptop with an Intel Core i7-1360P processor and enough to place the LG above the Lenovo Yoga Book 9i and the Microsoft Surface Laptop 5. However, it clearly loses to the Lenovo Slim 7 Pro's new Ryzen 7735HS and the Dell XPS 15's more power-hungry Intel Core i7-13700H.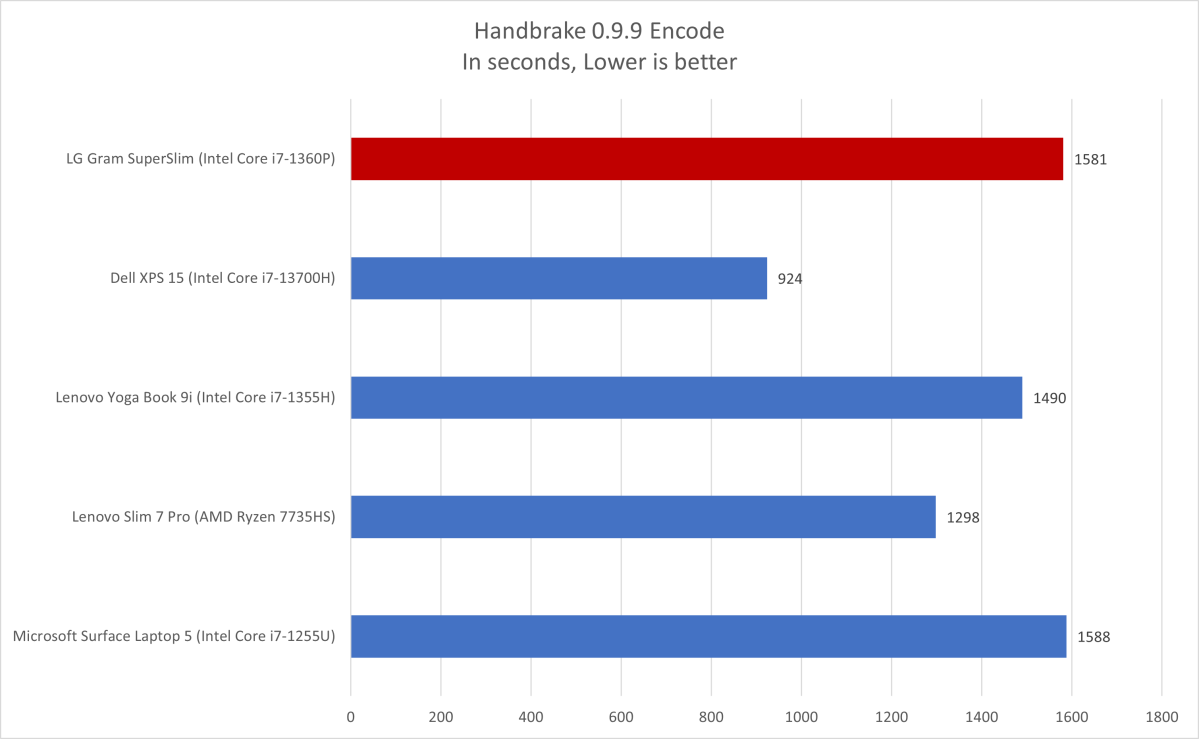 IDG / Matthew Smith
Our Handbrake test wasn't the Gram SuperSlim's finest moment. It transcoded a 30GB video file into an Android-friendly 1080p .MKV format in 26 minutes and 21 seconds.That's barely quicker than a Microsoft Surface Laptop 5 packing a last-gen Intel Core i7-1255U processor.
What gives? Blame the Gram SuperSlim's thermal management, which prioritizes quiet operation over performance. That's good news if the whirr of fans annoys you—the laptop isn't silent, but it's quiet and fan noise only becomes noticeable during heavy, sustained loads. It quickly becomes hot, however, reaching external temperatures of up to 107 degrees.
IDG / Matthew Smith
Graphics performance is arguably the Gram SuperSlim's most serious limitation. Intel Iris Xe is capable of playing many modern 3D games at low framerates and detail settings, but it doesn't keep pace with the latest AMD Radeon graphics integrated into Ryzen 7000-series processors, and even the most basic discrete graphics solutions will leave Intel Iris Xe in the dust.
That's a problem for 3D games, of course, and might hold the laptop back in productivity workloads. Many modern applications can use a GPU to accelerate video encoding or AI tasks, but that's not an option on the Gram SuperSlim.
The LG Gram SuperSlim's performance is easy to sum up: it's not great, Bob. Performance is more than adequate for day-to-day use and easily tackles moderately demanding tasks, like editing large photos or a 1080p YouTube video. Still, it's clear the LG Gram SuperSlim's performance is more in line with 13 and 14-inch laptops and falls behind many similarly priced than 15-inch and 16-inch competitors.
LG Gram SuperSlim: Battery life
The LG Gram SuperSlim packs a meager 60 watt-hour battery. That's small for a laptop in this category—the Dell XPS 15, by comparison, provides an 86 watt-hour battery.
IDG / Matthew Smith
It's a bit of a surprise, then, to see the Gram SuperSlim outlast many alternatives. The LG endured our battery test, which loops a 4K clip of the short film Tears of Steel, for 12 hours and 51 minutes. That defeats the Dell XPS 15 and Microsoft Surface Laptop 5 and comes close to the Lenovo Slim 7 Pro.
Credit the laptop's meager hardware. The LG Gram SuperSlim's performance is modest for the price, but the lack of power-hungry hardware helps squeeze maximum life from every watt available. The Gram SuperSlim should handle an eight-hour workday of light to moderate use.
The laptop charges over USB-C, as well, and will happily suck power from any half-decent 65-watt power adapter. That further aids its portability, as frequent fliers can easily charge the laptop with a compact third-party power adapter.
LG Gram SuperSlim: Should you buy it?
The LG Gram SuperSlim is a laptop designed for a particular niche. It offers a big 15.6-inch display, lots of memory, and gobs of solid state storage, but lacks the CPU and GPU performance most people will expect in a large laptop with a base price of $1,699.99. The LG Gram SuperSlim could make sense if you want a large laptop only because you prefer a big screen, or if you want a large laptop that feels smaller than it is. If you want performance, however, you'll be happier with a larger, thicker laptop like the Dell XPS 15 or Asus Vivobook 16X OLED.
Best Prices Today: LG Gram SuperSlim