It's never easy to decide what to pack for a trip. Whether you're packing light for some quick business or heading out on the next big family vacation, it's important to bring the right tech. Here at PCWorld we're continually testing the latest gadgets to sort the good from the bad. This means we've had the opportunity to find the best tech gear and accessories built for travel.
From voltage converters to nose-cancelling headphones, we've curated a list of the very best tech gear to optimize your next travel experience. The items below are worthy of any packing list and will help you prepare for anything you may encounter on the road—or in the sky.
Manage electrical needs with a voltage converter
SOKOO 230-Watt Step Down 100-220V to 110V Voltage Converter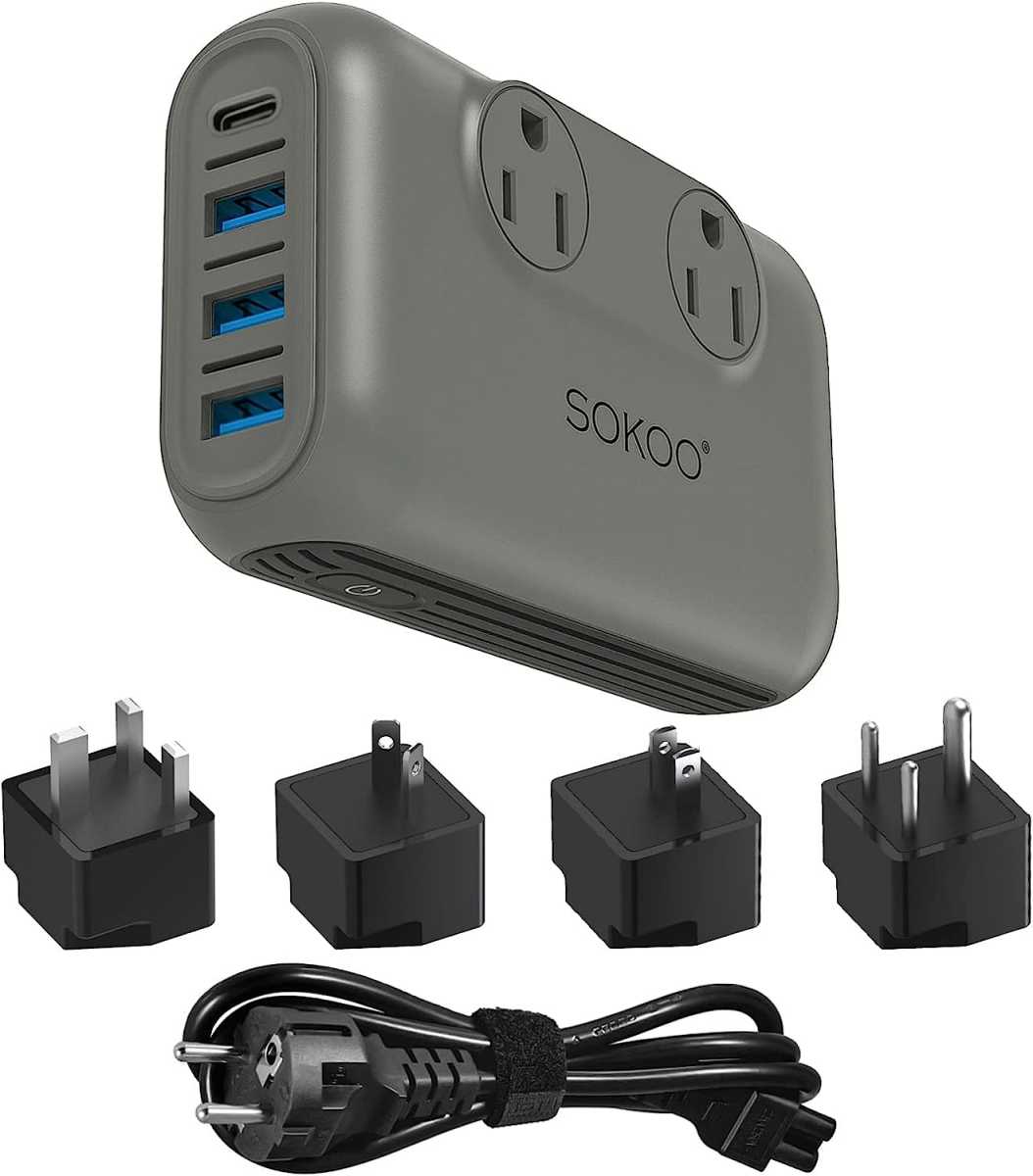 Sokoo
Something that's easy to forget when traveling to other countries is that their electrical outlets may not support your devices. This is either because of a different outlet orientation or different voltage rating. To make sure you're always prepared no matter where you travel, grab a converter such as the SOKOO Step Down Voltage Converter which is just $39.98 on Amazon. Not only does it come with a variety of plug orientations and voltage conversion, but it also has ports for USB and USB-C.
Take control of tangled cords
Rolling Square inCharge 6 Portable Keychain Charger Cable
Rolling Square
If you're like most travelers, you bring multiple electronics to make the most of your experience—we're talking cameras, phones, laptops, headphones, etc. But along with all of these items, you'll need to carry all of their charging cables. That can take up space and lead to a tangled web of cables in your bag if you're not careful. With the Rolling Square inCharge 6 Portable Charger Cable for $19.90 on Amazon, you have the option of USB-C or USB-A inputs and Micro USB or USB-C outputs all in a cable that is small enough for your keychain.
Keep your devices charged with a portable power bank
Anker Powercore Fusion 5000 2-in-1 Portable Charger and Wall Charger
Anker
While traveling you may not always have access to an outlet to charge up your gear. With a portable power bank such as the Anker Powercore Fusion 5000, you won't have to worry about your devices running out of juice in the middle of nowhere. This handy power bank/wall charger combo won't take up much room in your bag and is exceedingly convenient. The Powercore Fusion 5000 can be found for just $29.99 on Amazon.
Never lose your valuables again
Apple AirTag or Tile Pro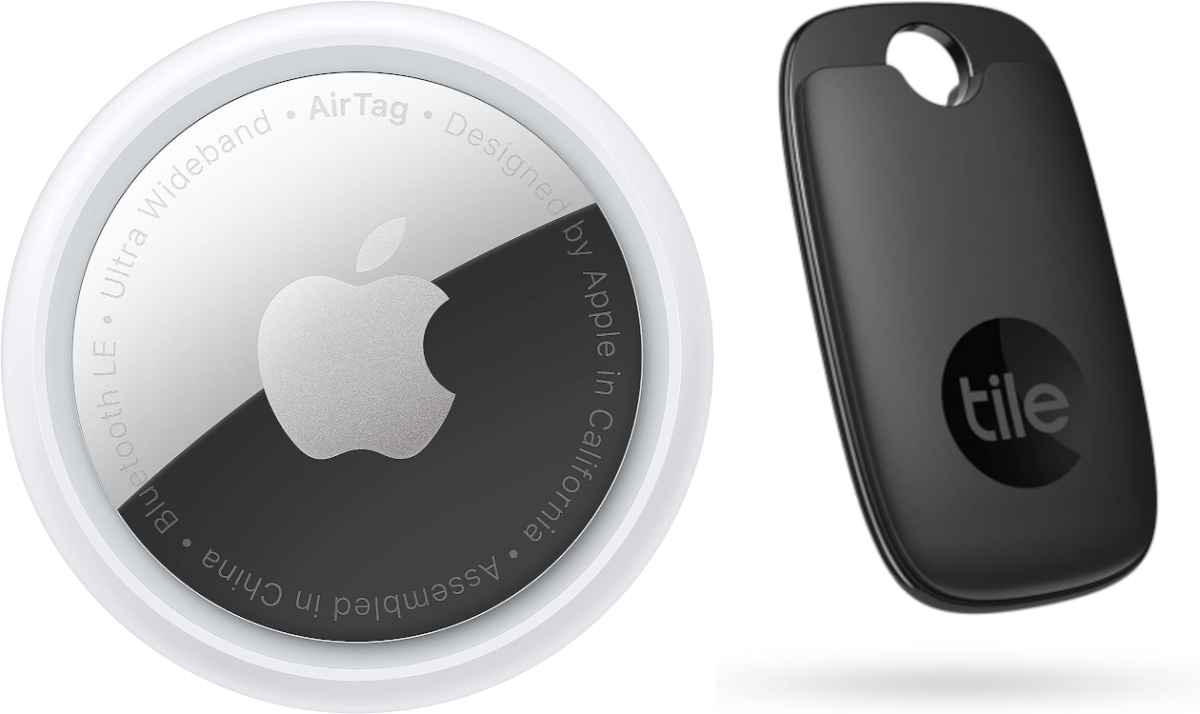 Apple/Tile
We've all been there. You arrive at your destination and you're waiting for your checked bag to show up on the carousel, but it never does. Baggage handling is at it again. With a Bluetooth tracker you can easily keep tabs on where your bag is and maybe even help TSA locate it, should it be lost. The two best Bluetooth trackers on the market are the Apple AirTag or the Tile Pro. Both can be found on Amazon with the Apple Airtag going for $28.99 and the Tile Pro for $31.54. Go with the Apple AirTag if you have an iPhone or the Tile Pro if you have an Android device.
Enjoy an in-flight movie without annoying headphone cables
Twelve South AirFly Pro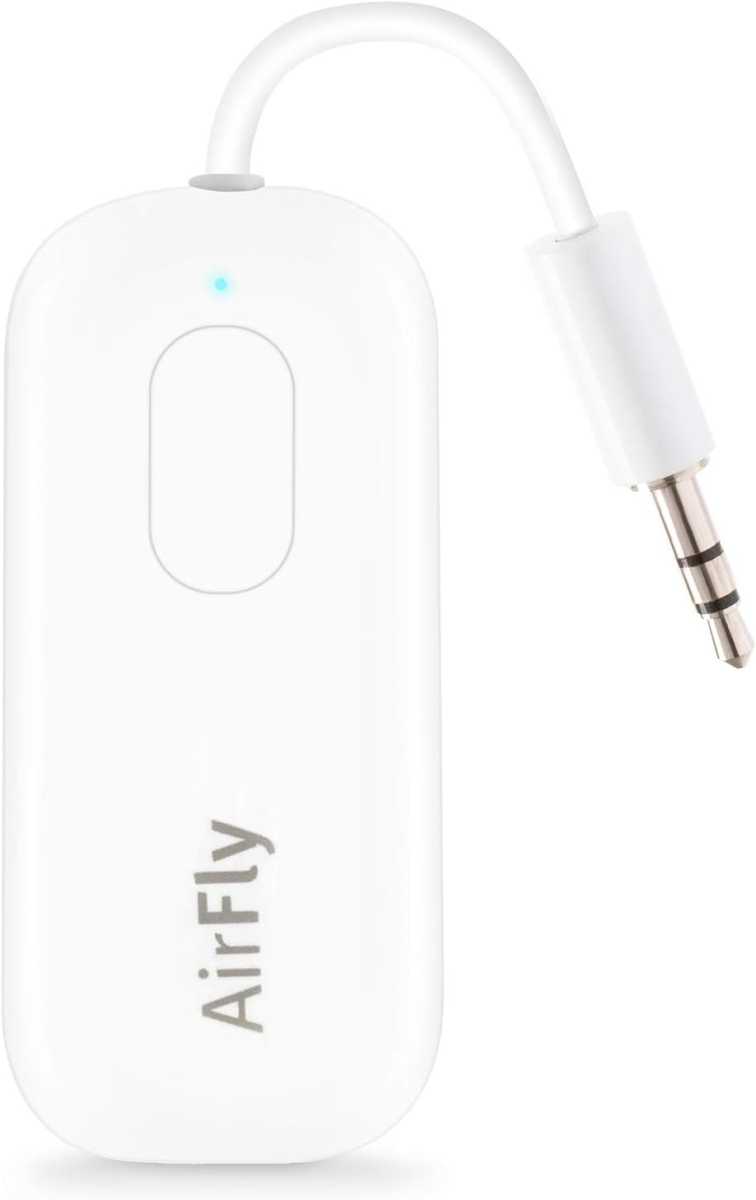 Twelve South
Twelve South's AirFly Pro Bluetooth wireless audio transmitter for $54.99 on Amazon allows you to turn any audio jack into a wireless Bluetooth transmitter. Simply plug in the device to the headphone jack on the back of the airplane seat and connect your wireless headphones. Then sit back and relax while you enjoy the in-flight entertainment on your sweet noise canceling headphones.
Drown out noise with noise-canceling headphones
AirPods Pro (2nd Generation)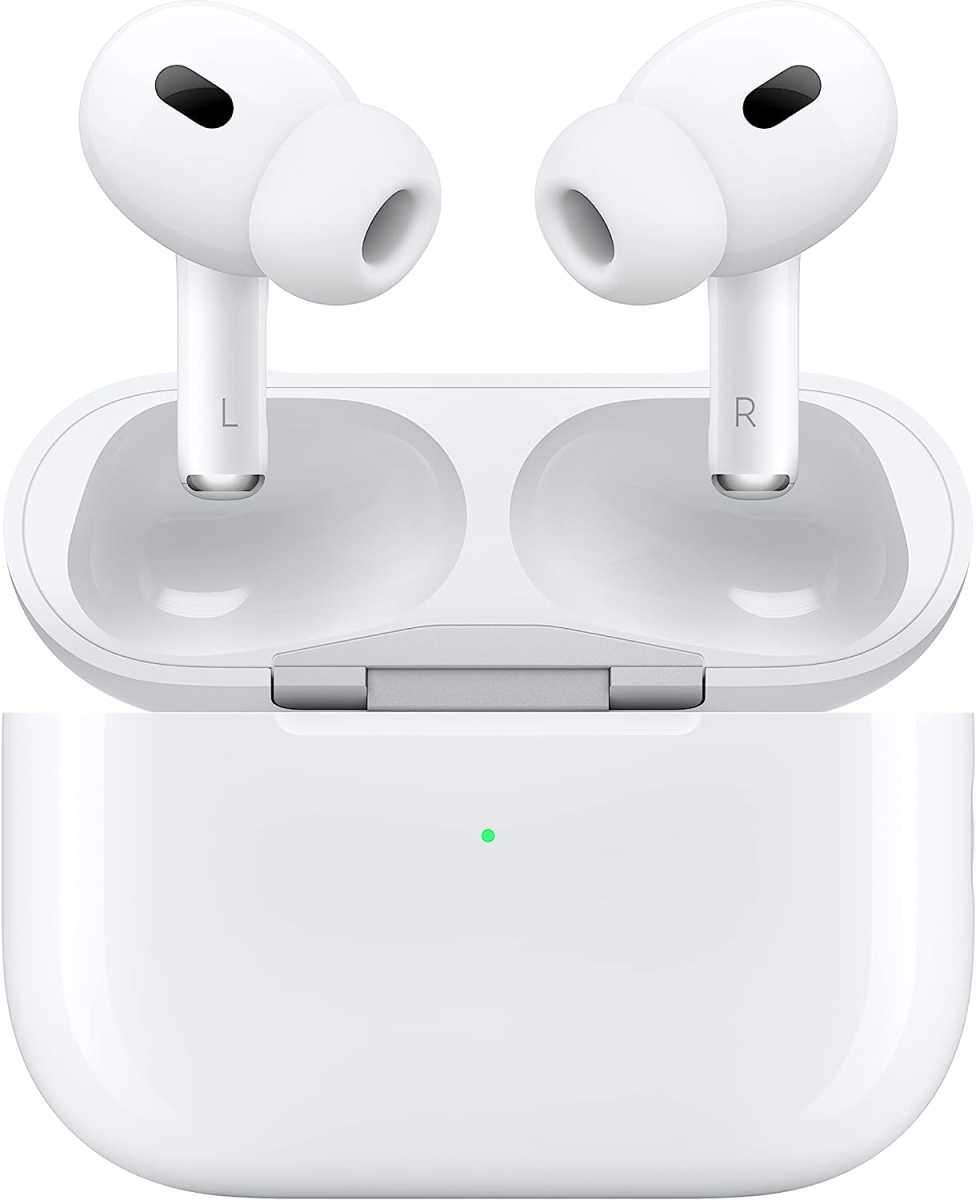 Apple
Flying on an airplane is loud. Engines roar, babies cry, passengers snore. That's why you need noise canceling headphones, which have become essential tools in making your flight as easy as possible. And because you're traveling and bag space is a premium, your headphones need to be small. Not just for iPhone users, but for anyone who needs good headphones, the AirPods Pro for $225.00 on Amazon continue to be the best choice due to their convenient size and noise canceling capability.
Capture and print your favorite memories
Fuji Instax Mini 12 instant camera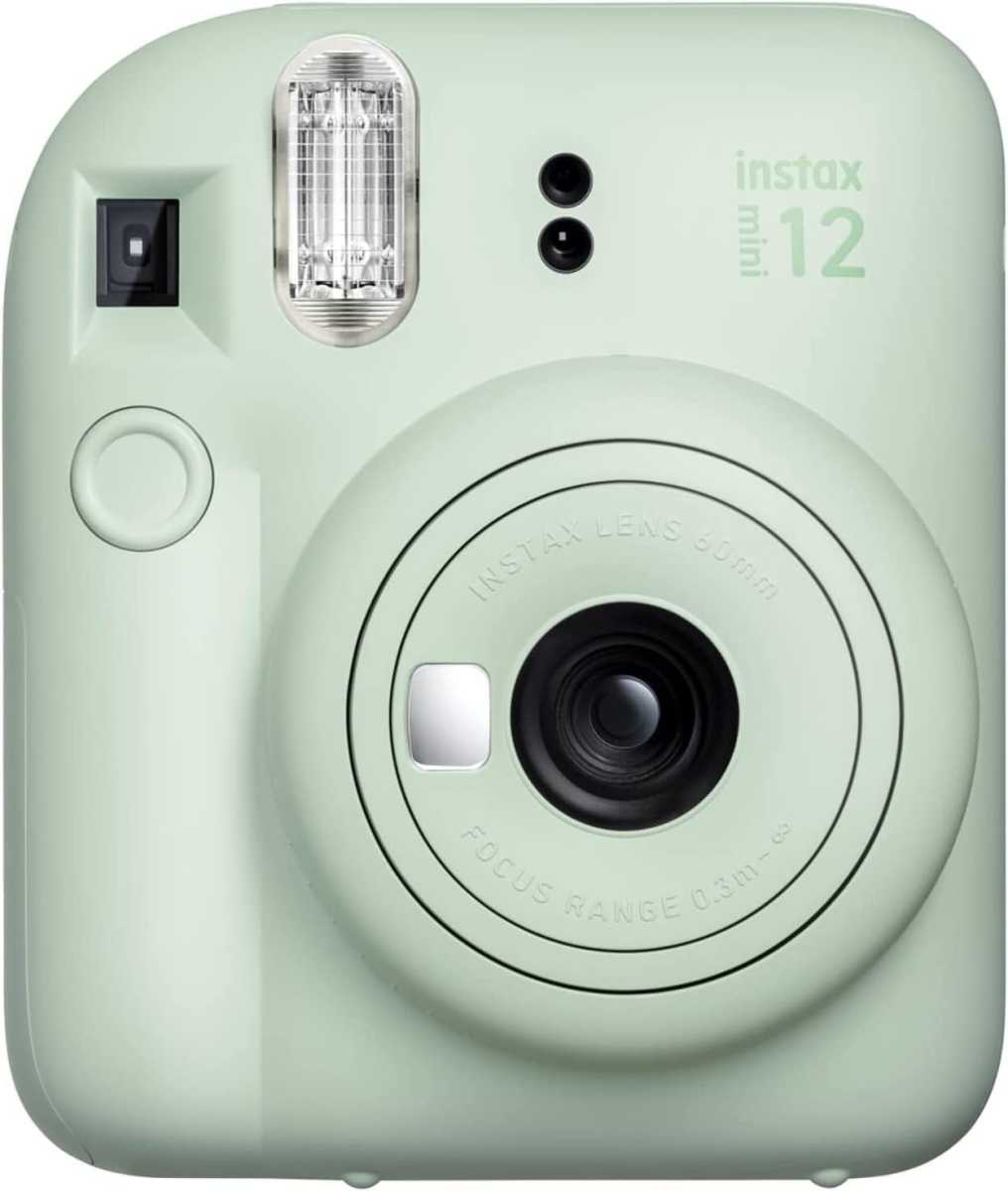 Fujifilm
Sure, you could bring a giant SLR camera with multiple lenses and an extra special carry-on bag to store everything. Or for those who aren't professionals, you can opt for a small, retro instant camera such as the Fuji Instax Mini 12 for $143.95 on Amazon. Just like an old-school Polaroid, you can take a picture and instantly print it out to capture the moment. Just be aware that you'll need to purchase and carry the film separately.
Keep your wires from getting crossed
Bellroy Tech Kit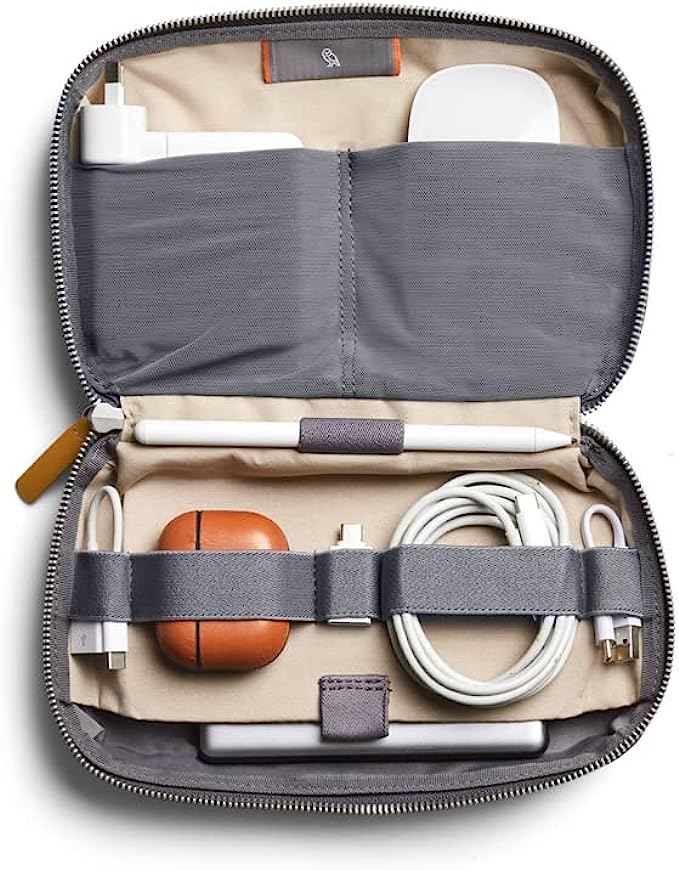 Bellroy
Bellroy is known for making great tech cases and kits, and the Bellroy Tech Kit for $59.00 on Amazon is our favorite. This well designed, travel-friendly bag allows you to keep all of your cables and small peripherals stored and organized with ease. The folio style means that you can open the entire kit out flat for easy access to everything stored inside. Plus, the fabric is waterproof so you shouldn't have to worry about a little liquid spilling on your precious gear.
Game in-route to your destination
Steam Deck
Willis Lai / Foundry
The Steam Deck for $399.00 on the Steam store is a great handheld gaming system that allows you to play your favorite PC games on the go. It wasn't so long ago that the Steam Deck was sold out everywhere and people were clamoring to get one. Thankfully, Valve has increased its supply and it's easier than ever to get your hands on this excellent gaming portable. Play games from your Steam library on the go or load up on new titles for your next vacation. Gaming makes those long-haul flights a breeze.
When you get your Steam Deck be sure to check out our 22 tips and tricks to master your Steam Deck.
Keep your hands and wrists happy while typing
Logitech MX Keys Mini
Logitech
Laptop keyboards are cramped and can lead to some serious wrist pain if you type on them for long enough. Save yourself the carpal tunnel and grab a wireless keyboard like the Logitech MX Keys Mini. This compact keyboard is not only easy to travel with, but offers convenient features such as a semi-customizable layout, multi-device switching, and more. And the most important part is that it offers a great typing experience with comfortable and quiet keys that won't bother your fellow travelers. The MX Keys Mini is currently $99.99 on Amazon.
Carry a library everywhere you go
Kindle Paperwhite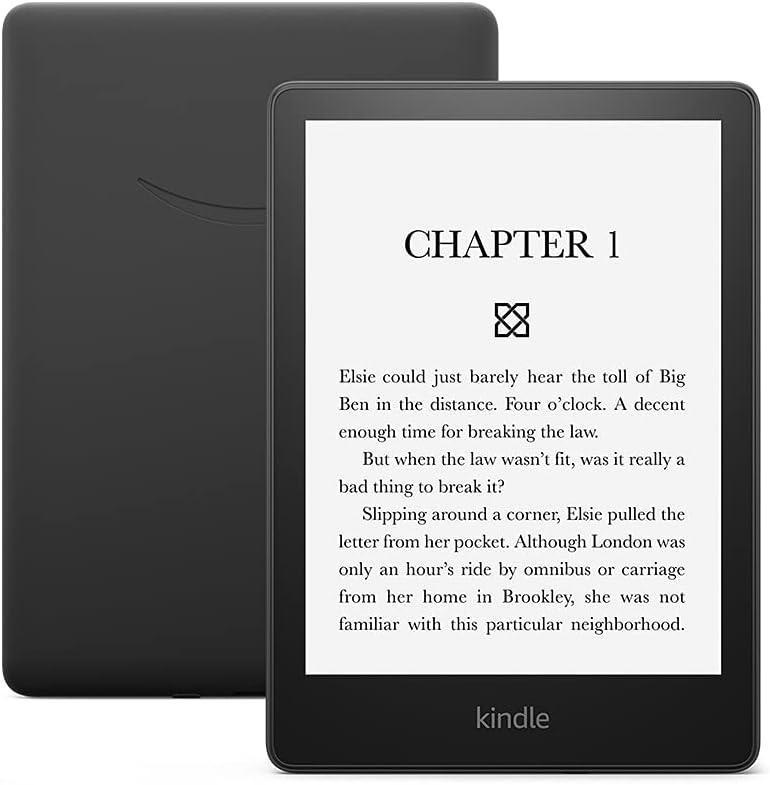 Amazon
Books are a great thing to have around on vacation, but they're heavy and they take up precious space in your luggage. Instead opt for an e-reader like the Kindle Paperwhite for $139.99 on Amazon and bring an entire library worth of books in this lightweight tablet. Plus the Paperwhite version comes with an anti-glare screen and adjustable brightness settings making it perfect for a bright beach or dark airplane.
Not sure which Kindle to buy? Check out our handy Kindle buying guide to help you make the right choice.
Grab a mobile hotspot to stay in range of WiFi range
Solis Lite 4G LTE WiFi Mobile Hotspot
Solis
Those who travel a lot know WiFi is essential. From being able to work online while on the road or just looking up restaurant recommendations in another country, it's an invaluable tool to get the most out of your travel experience. There are quite a few services nowadays offering pocket WiFi for travelers, but Solis is one of the best with reliable global coverage across 135 countries. Plus, it has flexible plans depending upon your needs. You'll need to purchase the Solis Lite Mobile Hotspot for $139.99 on Amazon before registering for a WiFi plan, but it's only a one time fee and you can then use it on all of your future trips.
Never worry about safe tap water again
CrazyCap self-cleaning water bottle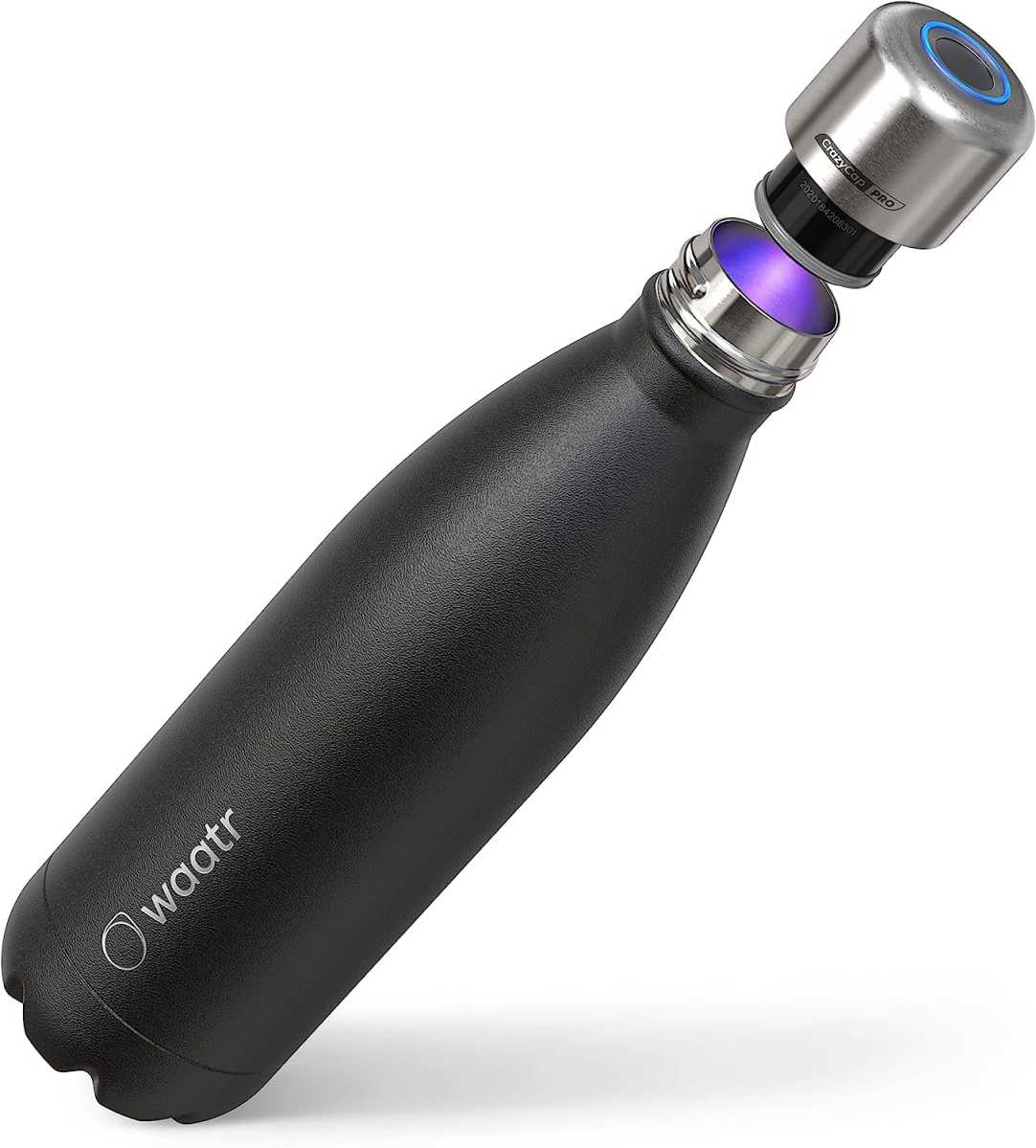 CrazyCaps
Whether you're traveling to a new country for the first time or just out camping, you should always have access to clean, potable water. You might not know if the tap water in the country you're in is safe to drink or not. So instead of trying to figure out the answer, or worse just drinking it anyways, take a self-cleaning water bottle like CrazyCap for $99 on Amazon with you and never bother again. In just 60 seconds, or 2 minutes for full purification, the CrazyCap uses UV rays in the cap to purify your water to 99.9996%. Plus, it's double-wall vacuum insulated meaning your drinks will stay hot or cold for most of the day.
Mount your smartphone on anything
Universal in flight airplane phone holder mount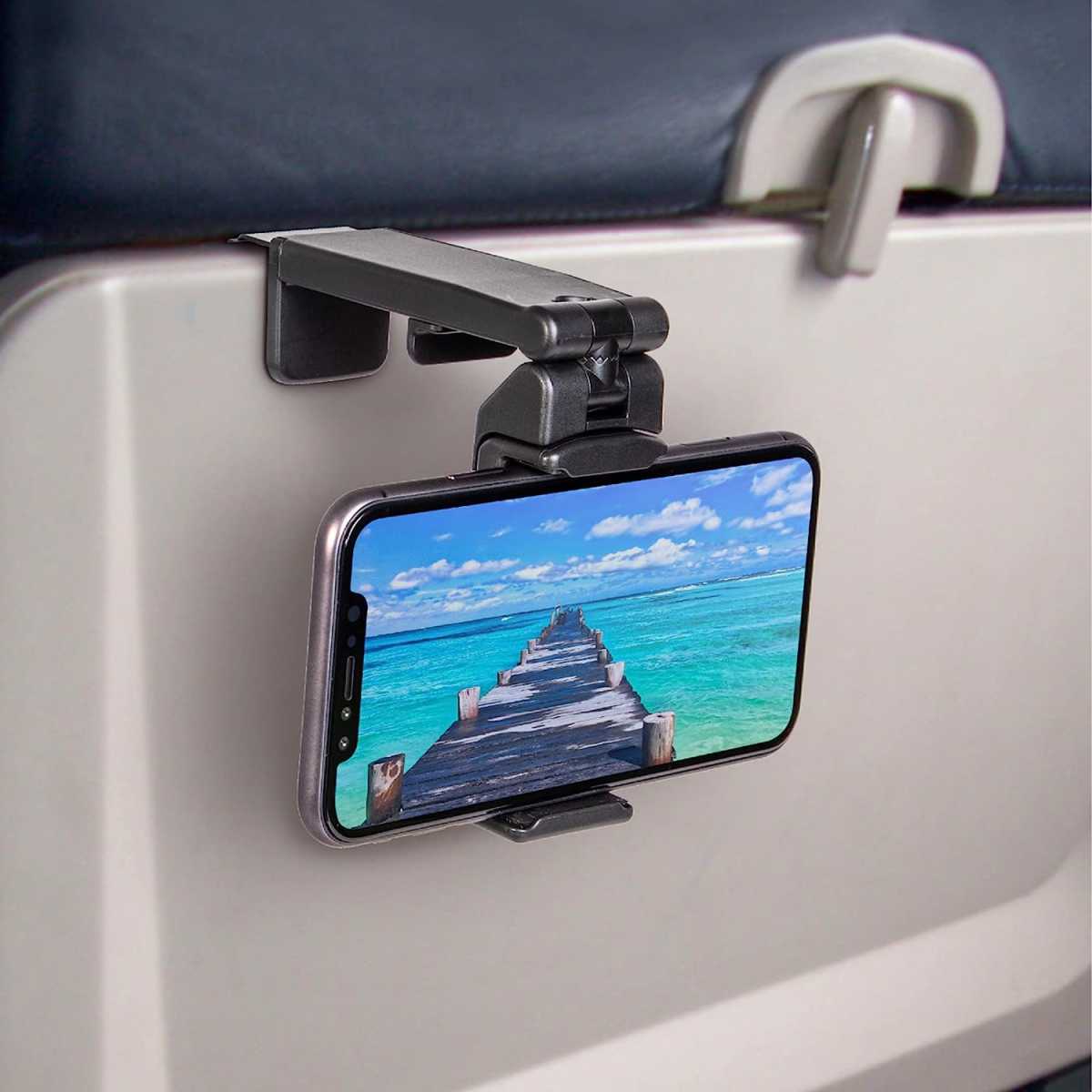 Perilogics
This Universal in flight airplane phone holder mount for $12.97 on Amazon allows you to easily clip your phone onto an airplane seat for hands-free convenience. Maybe you loaded up that latest season of your favorite show or have a game to occupy that long haul flight. Either way, holding your phone with a craned neck for hours and hours is bound to give you a strain. Just hook this bad boy up to the back of the seat in front of you on the airplane then sit back, relax, and enjoy.
Travel with an ultraportable laptop
Dell XPS 13 Plus
Adam Patrick Murray/IDG
When traveling for business or pleasure, the last thing you want is to have to haul around a giant workstation laptop that doubles as a brick. You need something that is lightweight, portable, and doesn't compromise on features like the Dell XPS 13 Plus. We named it our best ultraportable and for good reason. It's only 0.6-inches thick and weighs a featherlight 2.71 pounds. Plus it has a gorgeous 13.4-inch OLED display and strong performance features. It comes with everything you need to take your work on the road or enjoy a movie on vacation. The Dell XPS 13 Plus can be found for $1,849.99 on BestBuy's website.
You can also check out our other best ultraportables or our best laptop roundup for even more options.
Or opt for a 2-in-1 for even more versatility
Microsoft Surface Pro 9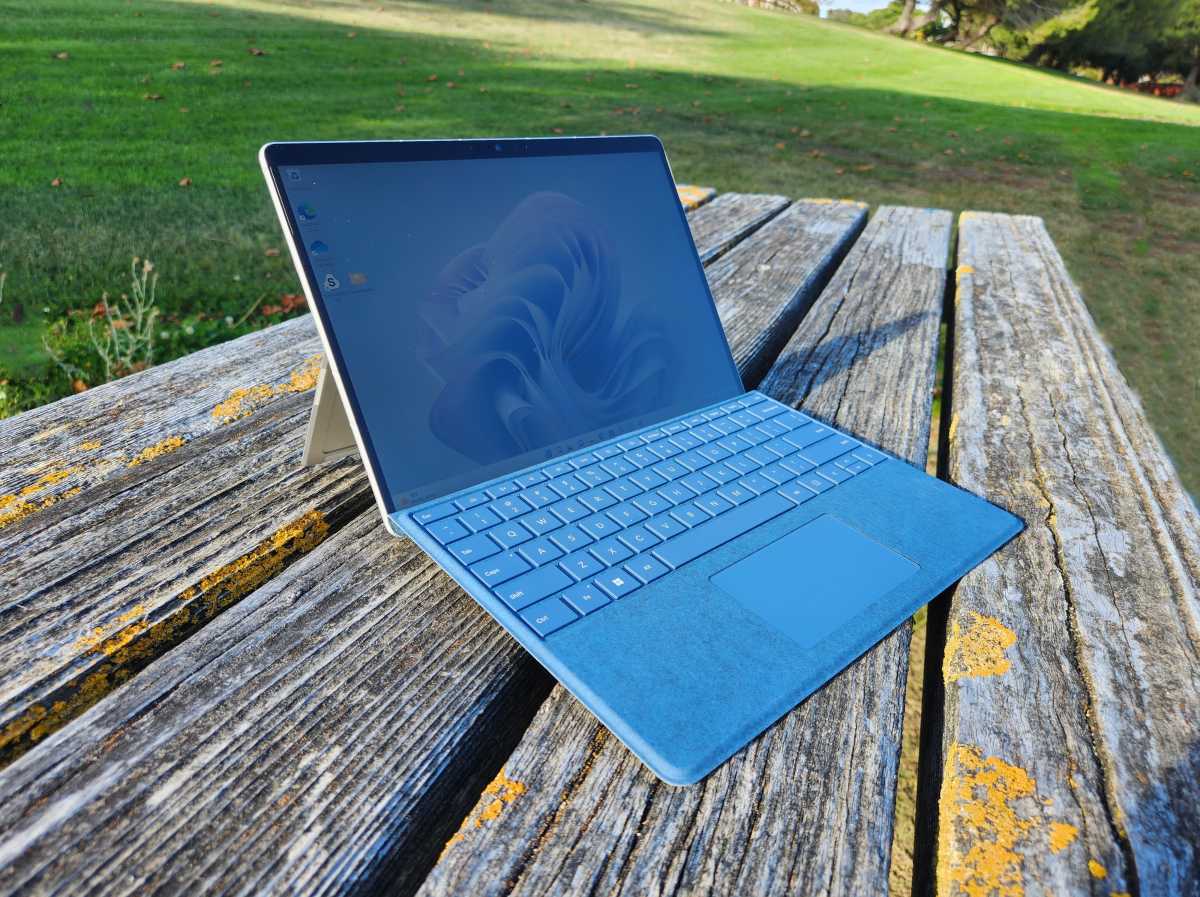 Mark Hachman / IDG
If you need more versatility than a standard clamshell, then you'd do well to consider the Microsoft Surface Pro 9. You'll still get solid performance features such as the 12th-gen Intel Core i5, but you'll also have the option of using it as a laptop or a detachable tablet. It comes with a vivid and bright screen and fantastic battery life, too. Plus it's only 0.37-inches thick and weighs less than 2 pounds—which if that doesn't scream travel ready to you, we don't know what will. You can grab the Surface Pro 9 for $899.99 on Amazon.
You can also check out our other recommendations for great versatile options in our best 2-in-1 laptop roundup.
Increase your screen real-estate with a travel monitor
Azorpa A1 Gamut
Matt Smith
Sometimes you just need a second monitor, even when you're traveling. The extra screen really helps productivity for business travelers and it makes for a great way to play your portable games on a larger screen while on the road. We really like the Azorpa A1 Gamut which delivers good image quality for an extremely budget friendly price—the A1 Gamut is only $95.99 on Amazon. It also comes with useful connectivity options and a solid build quality that will stand up the rigors of travel.
There are more great options for travel-friendly displays in our roundup of the best portable monitors.