At a glance
Expert's Rating
Pros
The cyberpunk styling looks very appealing
The laptop makes excellent use of its performance hardware
The display looks brilliant and handles motion well
Cons
A cluster of left side ports won't suit left handers
Battery life is middling
There's more plastic in the chassis than some rivals
Our Verdict
The Asus ROG Strix G16 is a great all-round 16-inch gaming laptop, being powerful, exceptionally stylish and packed with useful features.
Price When Reviewed
1379.00
Best Prices Today: Asus ROG Strix G16
Asus's ROG Strix G16 has grunt and personality in equal measures. Not only does it benefit from a powerful CPU and GPU combination, but also boasting an irresistible gamer-centric, cyberpunk aesthetic that hits all the right notes. To those positive features, the G16 also adds excellent connectivity, a spacious keyboard with useful shortcut keys, and a portable chassis that you can easily lump into a backpack. Even the price looks appealing up against some rivals. Let's take a look at this 16-inch laptop's best features…
Looking for other options? Check out PCWorld's roundup of the best gaming laptops available today.
Asus ROG Strix G16: Specifications and features
The Strix G16 is available in CPU configurations up to Intel Core i9-13980HX with varying RTX 40 Series GPUs and either a QHD+ 240Hz display or FHD 165 Hz display. Asus's e-store is where to go for models featuring Intel's Core i9-13980HX CPU. Here, prices start at $1,599.99 for the most basic configuration that drops a GeForce RTX 4050 GPU.
Alternatively, on Amazon you can find a selection of Asus ROG Strix G16 models featuring Intel's Core i7-13650HX processor, with the most affordable shipping for just $1,379 with an RTX 4060 GPU. Compare that to Razer's most affordable Razer Blade 16 model which costs $2,699.99. The specification of our review unit is as follows:
CPU: Core i7-13650HX
RAM: 16GB DDR5 / 4800 MHz
GPU: Nvidia GeForce RTX 4060
Display: 16-inch, QHD+ (2560 x 1600), 240 Hz refresh rate, IPS-level, anti-glare, 16:10 aspect ratio, DCI-P3 color, 3ms response time, G-Sync
Storage: 1TB PCIe Gen 4 SSD
Ports: 2 x USB-A 3.2 Gen 2, Thunderbolt 4, USB-C 3.2 Gen 2 (supports DisplayPort, power delivery and G-Sync, HDMI 2.1, RJ45 Ethernet port, 3.5mm audio jack
Networking: Wi-Fi 6E (802.11ax), Bluetooth 5.3
Weight: 5.51lbs (2.50kg)
Dimensions: 13.94 x 10.39 x 0.89 inches
Battery: 90WHr
Price: Starting at $1,379 at Amazon
Asus ROG Strix G16: Design and build
Road-testing Asus's Zephyrus M16 back in May this year was a real treat, but as a gamer there's something to be said for playing on a laptop that's unashamedly styled for gamers. With that being the case, sending the M16 back to Asus and receiving the Strix G16 felt like trading a perfectly nice Mercedes Benz for a hotted-up Dodge Viper. Yes folks, when two laptops are almost as powerful as each other and with similarly gorgeous visuals, it can all come down to styling, which the G16 has in spades.
As you can tell, that gamer-centric aesthetic got me in hook line and sinker. What impressed me the most? I really dug the cyberpunk look, especially the transparent ASDF, QWER keys and spacebar, which were not only see-through, but they were also all nicely illuminated by RGB.
The RGB lightbar along the bottom front looks brilliant too, as it produces a sublime under glow that lights up your tabletop. Then there's the neat cutlines with ROG type and a large unmissable Asus logo on the lid, all of which offer a depth to the laptop's overall aesthetic. Large ROG type on the right-side of the keyboard provides even more flair from in front.
The G16 comes in two color variations: grey and green. I usually try to avoid grey laptops that feel too much like productivity rigs. They just make me feel like I should be wearing an outdated op-shop tweed suit or something. But the grey color isn't your average dull metallic grey this time. No, it even looks a tad black from afar, so it oozes sophistication.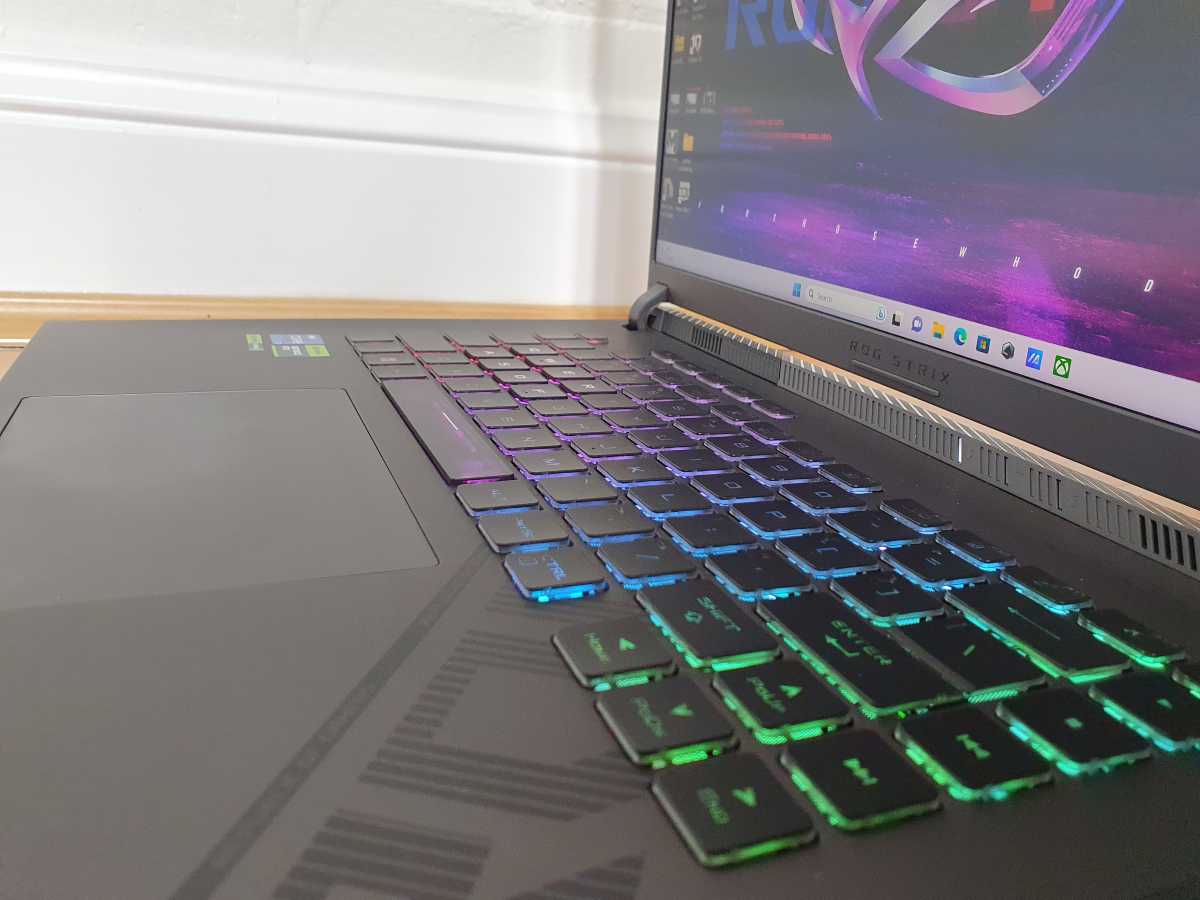 Dominic Bayley / IDG
The laptop's dimensions make it reasonably portable, too. It measures 13.94 x 10.39 x 0.89 inches, which is a lot smaller and easier to carry than its giant 18-inch cousin the Asus ROG Strix G18. That compares with the Razer Blade 16's longer, but slightly thinner chassis which measures 13.98 x 9.61 x 0.87 inches. I didn't mind the slight extra chunkiness, especially since I know laptops with a bit of extra thickness tend to have thermal benefits when things heat up.
Of course, the chassis is just the right size to deliver you a gorgeous 16-inch ROG Nebula display. Asus has achieved no mean feat in making it the main course to be enjoyed at least three times a day. Indeed, the G16 delivers an impressive 90 percent screen-to-body ratio, so there's plenty of it to see. This generous screen-to-body ratio is achieved mostly thanks to ultra-thin bezels, which are less than 4 mm thin.
Meanwhile, a 16:10 contrast ratio means the display is decadently taller than laptops with 16:9 formats – so quite simply, you can just see more action in your games.
Although you can't see the G16's internal componentry in our images, it deserves a shout out too. Asus claims the G16 benefits from 15 percent cooler CPU and GPU temperatures thanks to an overhaul from predecessor models. A redesigned chassis constitutes the biggest of those changes; it's been especially engineered to accommodate the laptop's new heatsink.
This heatsink has three sections and is built around the motherboard to maximize airflow and the pathing for hot air to escape. An extra fan has been added to make a Tri-Fan system, which works alongside the seven heat pipes and Conductonaut Extreme liquid metal that cools the CPU and the GPU in the RTX 4080 variant.
Are there any compromises in the design? You'll need to look hard to see any, but I was a little concerned at first by the base of the chassis, which contains a little more plastic than some rivals.
After a while, though, I was convinced that despite that being the case, it's actually quite solid. There was no such doubting the lid, however, which feels exceptionally strong. It's obviously made with a good dollop of metal to prevent flex. The whole chassis also has a very tough finish that, for the month or so I had it, held up nicely to bangs and prods without racking up any damage.
Asus ROG Strix G16: Keyboard and trackpad
The Strix G16's keyboard and trackpad are just ideal for competitive gaming. You get a full-sized keyboard with full-sized arrow keys, as well as dedicated hotkeys at the top. The hotkeys are all programmable, but in their default setting they allow you to control the laptop's fan settings, volume, microphone and to quickly access Asus's companion software app. which is called the Armoury Crate.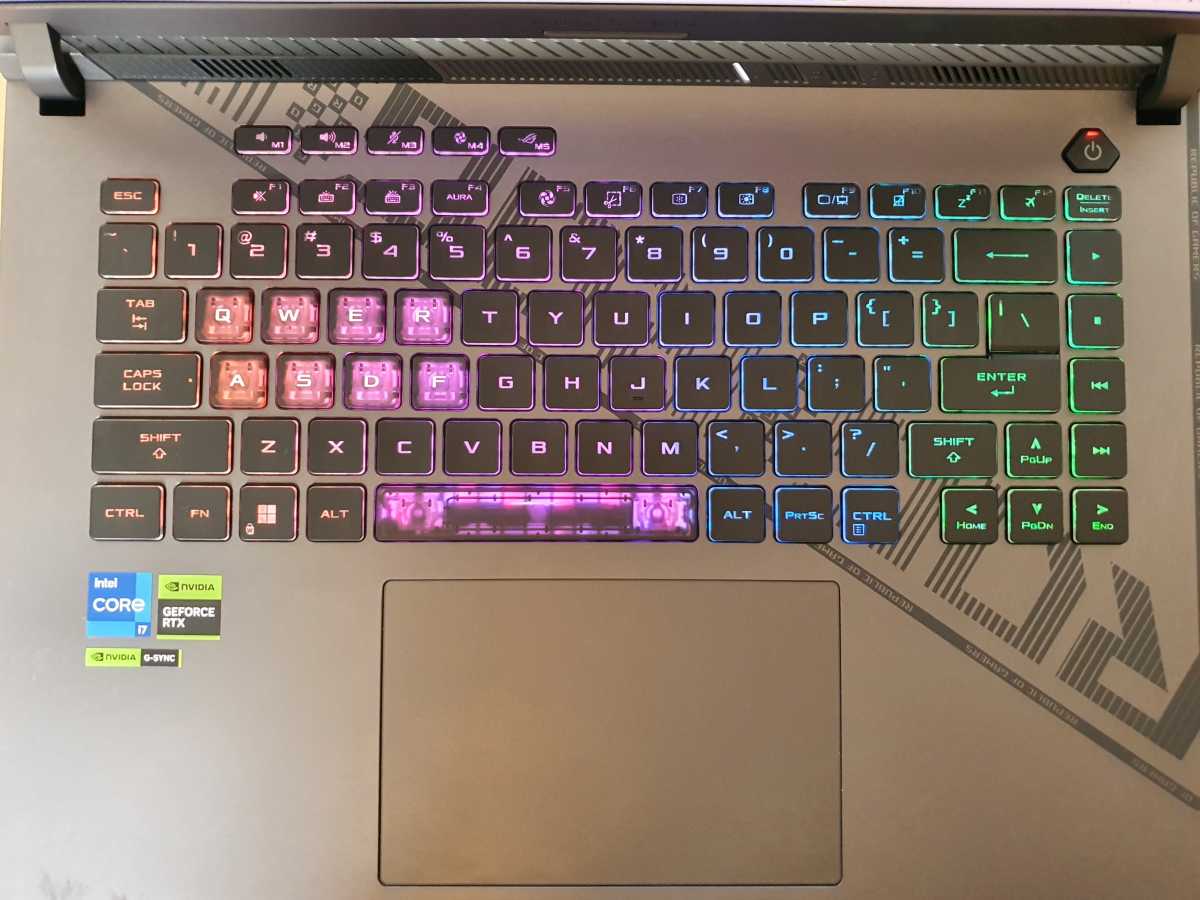 Dominic Bayley / IDG
My review unit didn't have a numpad, which I found a little inconvenient at times, but you can get a model that illuminates a numpad in the trackpad itself, which wins Asus some points for creativity. The keys also feel quite springy. They provide a generous 2 mm of travel. Programmable per-key lit backlighting makes them a delight to play on at night.
I found the laptop's trackpad to be large and spacious. It also felt reasonably quick. Although you will find quicker and smoother trackpads out there, Razer's Precision Trackpad is one that comes to mind. Still, with the trackpad merely a secondary thought in competitive gaming these days, what you get here is perfectly suitable for an occasional frantic swipe and tap.
Asus ROG Strix G16: Display and webcam
Asus's ROG Nebula branding conjures up imagery of deep space, but it simply refers to the G16's QHD+ display with 240 Hz refresh rate and three millisecond response time.
In my view, this resolution/refresh rate/response rate combination is one of the best you can currently get, usually producing nicely detailed images but without the glitching or tearing. It's a lesser-known fact that perfectly smooth performance on 4K displays can still be a bit beyond the hardware capabilities of some laptops right now.
Mentioned in this article…
Asus ROG Zephyrus M16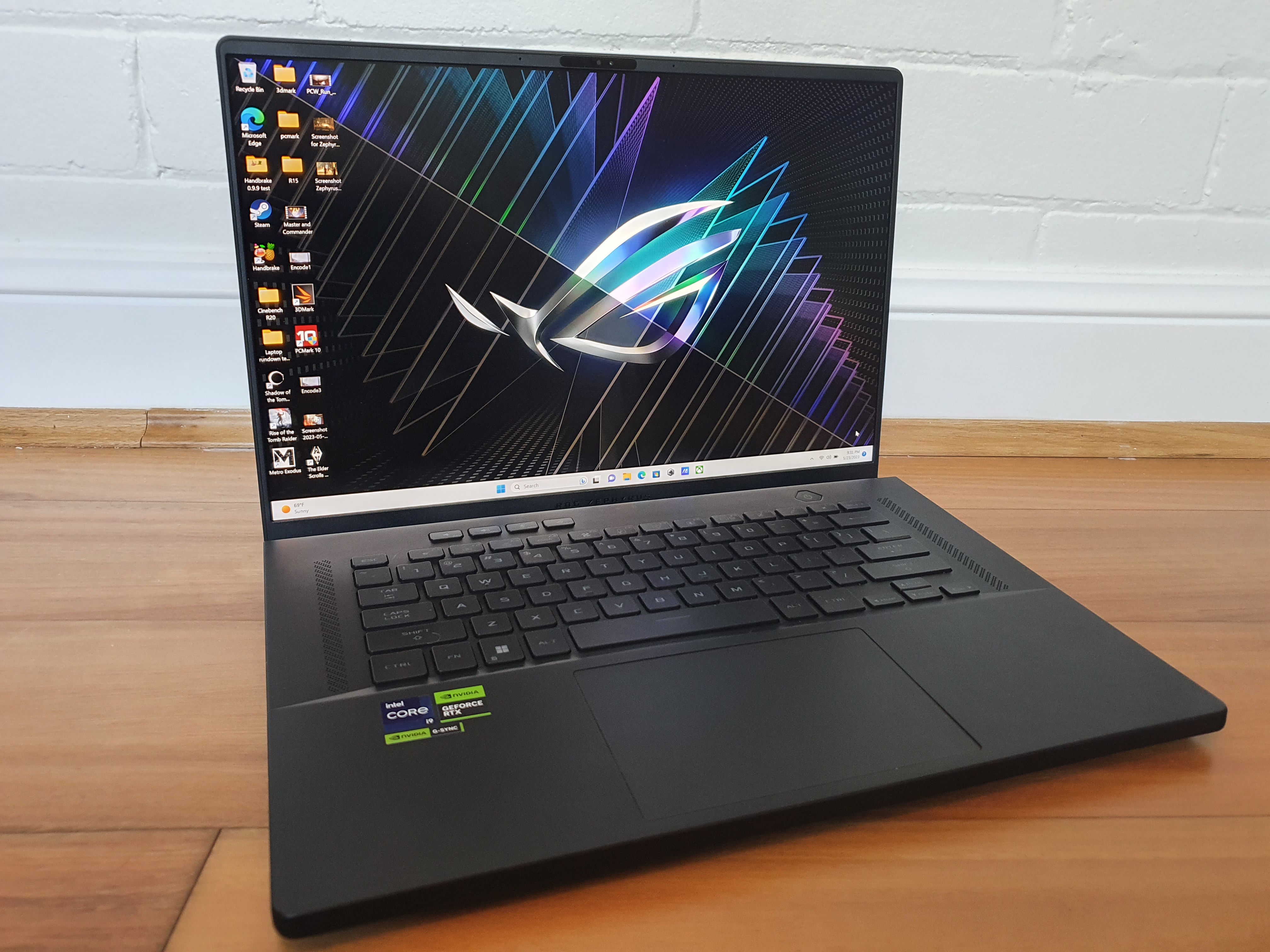 Price When Reviewed:
1949.99
In any case, the G16's display has been honed for exceptional performance. The backlighting provides a decent 500 nits of peak brightness and looks very bright. In fact, the panel did a fine job rendering colors – I particularly noticed vivid reds and greens in the games I was trialing.
The contrast was perfectly fine too, with the dark areas of maps looking very menacing in games like Sniper Elite 5 and Red Dead Redemption 2. Plus, Nvidia's G-Sync support seemed to all but eliminate screen tearing so I could simply enjoy video and gaming in splendid uninterrupted motion.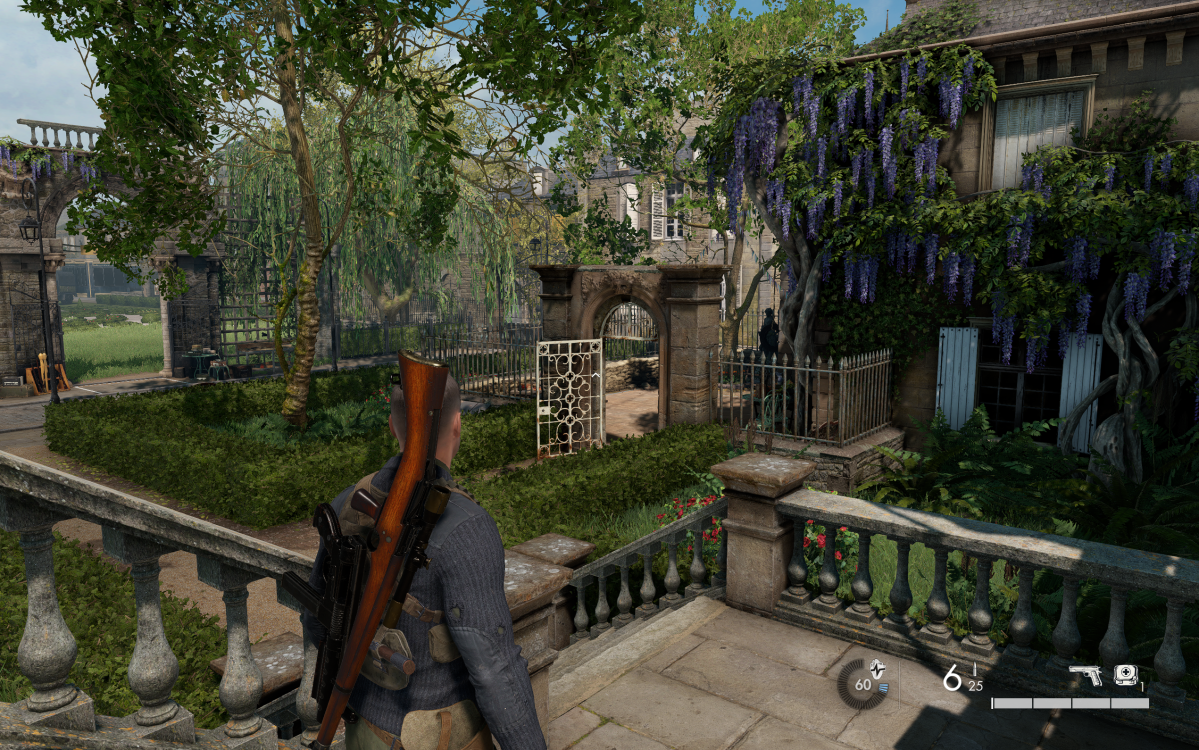 Dominic Bayley / IDG
The G16's display is also Pantone Validated for those who might want to use it for design work. As we'll see in the performance section, the laptop is certainly powerful enough for this kind of work. Although, to me, it seemed like the Strix G16's panel doesn't quite render images as accurately as Asus's ROG Zephyrus Duo 16, which is a little more fine-tuned for creators.
A 720p webcam fits into the top bezel in a specially designed alcove. It produces images sufficiently, but they're generally of a lower quality than I would have liked. I didn't find myself taking too many screenshots while in video chats. Still, something is better than nothing and so long as you don't need to do any important Zoom calls where video quality is critical, it will do the trick nicely.
Asus ROG Strix G16: Connectivity and audio
The large majority of the Strix G16's connectors are located on the left-hand side of the laptop which means if you're a left hander it's going to get mighty cluttered there and may interfere with your mouse hand. Asus could have remedied this by placing some of the ports along the back side, like we see in the Alienware X15 R2. But alas any such creative port placement seems to have become a casualty of the air vent which comprises the laptop's whole posterior length.
Mentioned in this article…
Asus TUF Gaming A16 Advantage Edition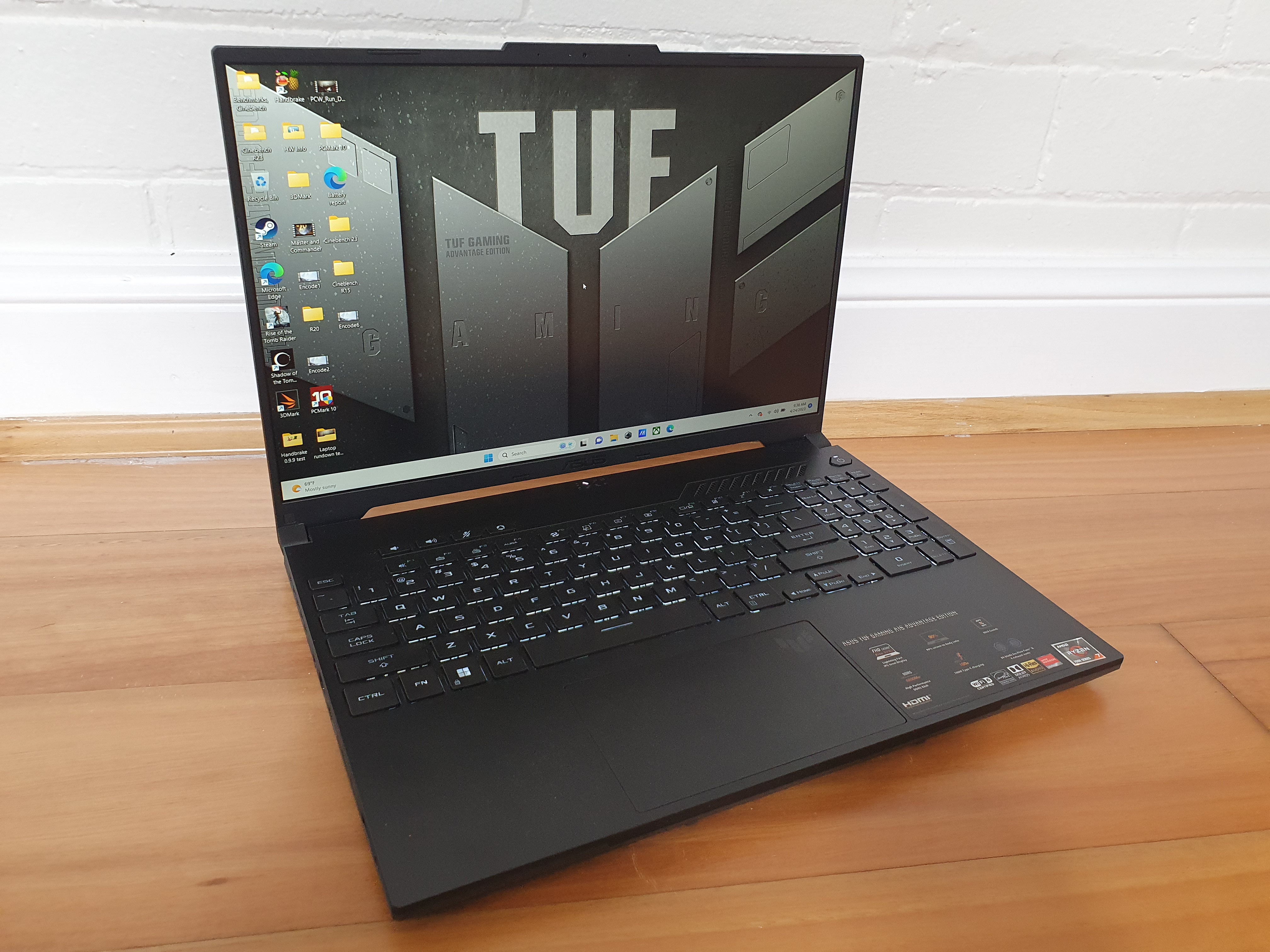 Price When Reviewed:
$1,099.99
Still, the port selection is very generous. You get multiple USB-A ports, a USB-C port and Thunderbolt 4 port for ancillary gadgets like your mouse, phone and an external SSD. Counting the display-capable ports reveals three, so there are plenty of options to stream games or videos at LAN catch ups too.
When it comes to audio, the Strix G16's two bottom-facing speakers do a passable job creating a rich and varied tonal landscape when you're playing music from an audio app or listening to music in games.
However, in some games I did notice that vocals in the lower tonal range sounded a little hollow. That's most likely because the acoustics from the downward facing speakers have to bounce off my tabletop before hitting my ears. Still, Dolby Atmos support is an asset to the G16's audio offering, really elevating the sound experience, especially in dramatic scenes.
Asus ROG Strix G16: CPU performance
My review unit came with an Intel Core i7-13650HX CPU, part of Intel's new Raptor Lake mobile CPU lineup. This processor, which is built using a 10-nanometer manufacturing process, integrates six Performance Cores (P-cores) and eight Efficiency (E-cores) and has a maximum of 20 threads. It benefits from a higher maximum frequency of 4.9 GHz (that's all-core (P-core) performance) and also has a bigger cache compared with its Alder Lake equivalent, the Intel Core i7-12650H.
To test our laptop's CPU performance against the silicon in other high-performance gaming laptops, I put together a list of comparisons. This lineup included gamer-centric laptops like the Alienware X15 R2 and the 2023 Razer Blade 16. The recently released Asus ROG Zephyrus M16 was also added to the comparisons, providing a useful yardstick against another 16-inch laptop in Asus's 2023 lineup.
Looking first at the results of the Cinebench R20 Multi-threaded benchmark and in the graph below you can see the G16 topped the field of seven, beating both the Asus ROG Zephyrus M16 and the Razer Blade 16. This is an excellent result, thereby proving this laptop can easily handle CPU-intensive applications that utilize all the cores of the laptop's CPU like AAA games or video editing.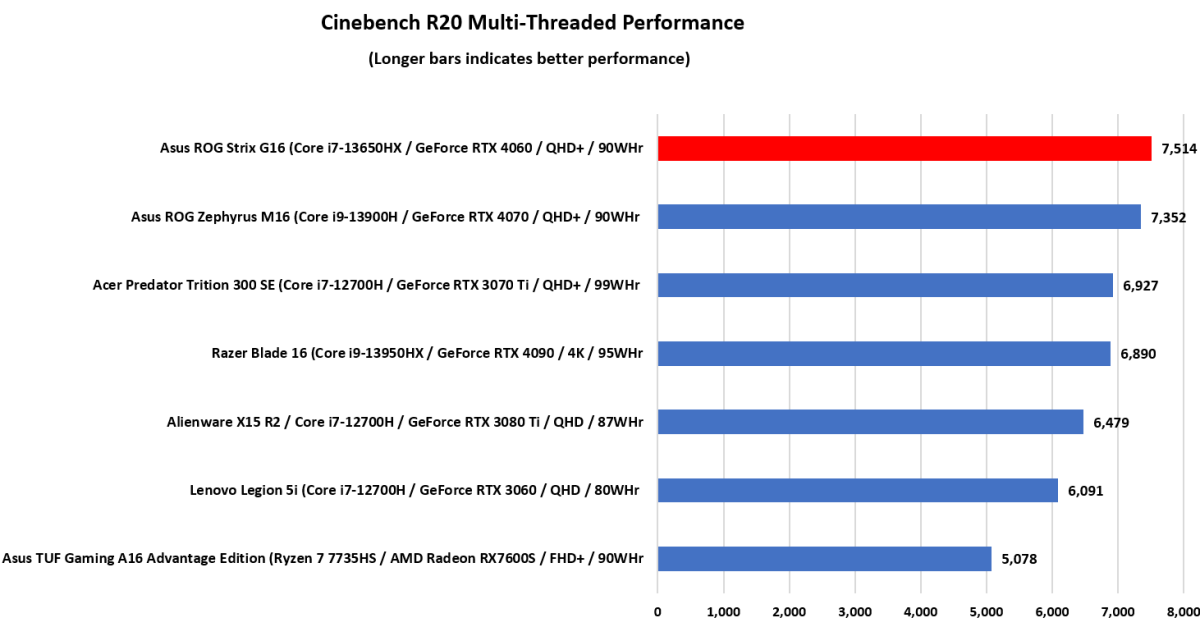 Dominic Bayley / IDG
Moving on to the Handbrake test and the results are similarly impressive. This time the G16 finished encoding a 30GB MKV file to MP4 using the Android Tablet preset in just 746 seconds.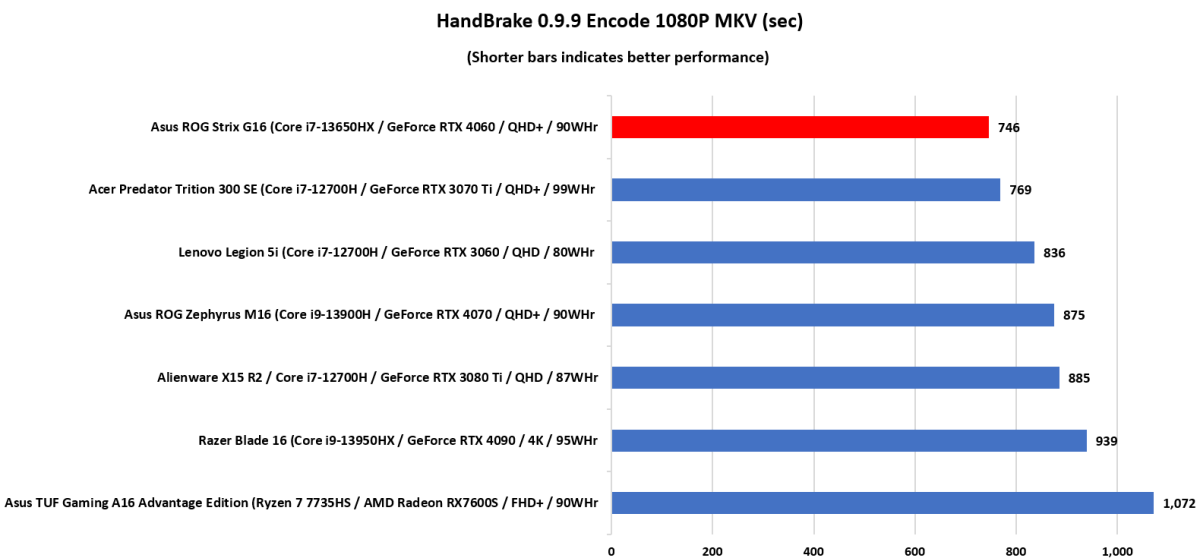 Dominic Bayley / IDG
This is one of the quickest scores we've seen this year and proves the Strix G16 is exceptionally good at keeping its thermals in check while powering through a CPU-intensive task. While other laptops needed to throttle performance sooner in this task, our review unit was better able to control and dissipate its heat load to continue encoding with gusto.
These results bide extremely well for gamers. Without me having to boost CPU performance in Armoury Crate, the Strix G16 managed to outclass a field of gaming laptops whose CPUs are all a class act. The result is definitely food for thought… If that's what our model with i7-13650HX CPU can do, one can only imagine what the models sporting Intel's zippier Core i9-13980HX CPUs can do!
The results are also a testament to the performance capabilities of Intel's new 13th generation HX Series CPUs. Intel places its HX CPUs above its H Series enthusiast processors to offer gamers and creators what it claims is 'the best possible performance currently available in laptops.'
Suffice to say, gamers can be confident that the Strix G16 won't just run their AAA games, indeed it will deliver some of the best performance they can currently find in a 16-inch laptop.
Asus ROG Strix G16: Gaming performance
The GeForce RTX 4060 discreet GPU in our review model is a step-up from the entry-level GeForce RTX 4050 in Nvidia's mobile GPU lineup. One of its biggest drawcards for gamers for this new video card is its 24 ray-tracing cores, which kind of supercharge the rendering of light and shading in games and 3D applications, allowing for more realism than was ever possible before.
The GeForce RTX 4060 also supports DirectX 12 Ultimate, which is the latest version of the DirectX API and the one that will ultimately power a whole new generation of AAA games. It's a decent piece of hardware with some good future proofing support. This particular RTX 4060 GPU was tuned to a TGP of 140 watts, which is the maximum possible.
To get a general gauge of the graphics processing power on offer, I ran the 3DMark Time Spy benchmark on our review unit. Again, the result was very favorable. While the Razer Blade 16 with its premium RTX 4090 GPU stood head and shoulders above the pack, the Strix G16 with its more modest RTX 4060 GPU was only slightly off the pace of the Asus ROG Zephyrus M16, which packed a sportier RTX 4070 GPU.
Furthermore, the Strix G16 demonstrated comparable graphics performance to the Alienware X15 R2, whose RTX 3080 GPU was considered one of the most powerful in 2022. This is a terrific result considering the lowly placement of our laptop's GPU in the hierarchy of Nvidia's RTX 40 Series graphics cards.
Dominic Bayley / IDG
When I ran the Rise of the Tomb Raider benchmark, the Strix G16 averaged 155 frames per second. This result placed it third among our group of comparisons behind the Razer Blade 16 and the Asus ROG Zephyrus M16.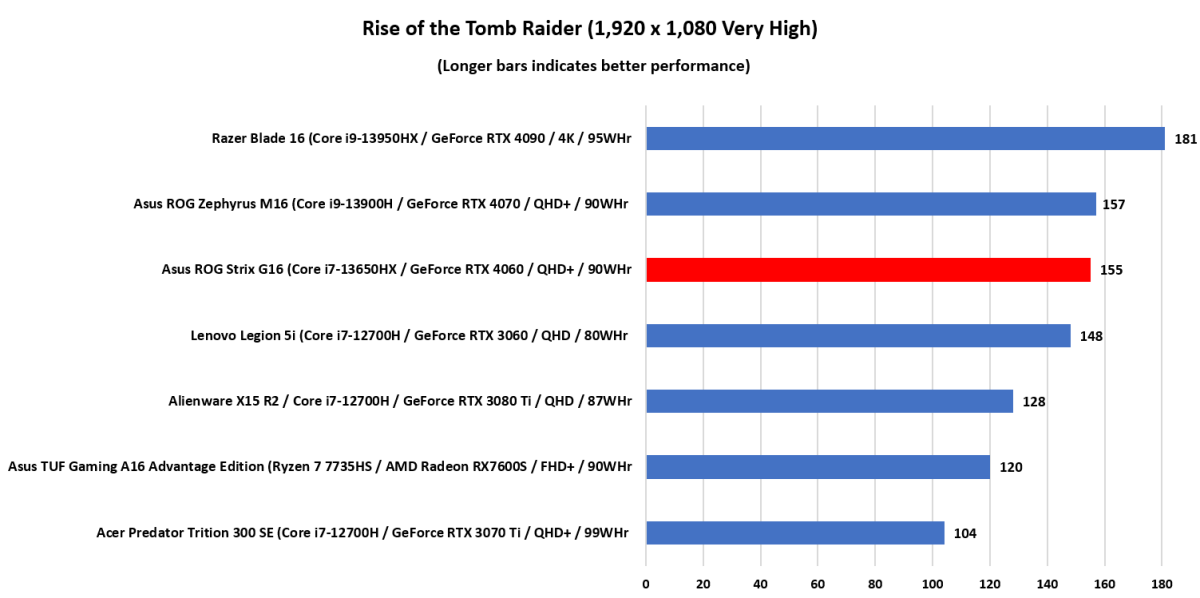 Dominic Bayley / IDG
Finally, we ran the benchmark for the game Shadow of the Tomb Raider. Here again, the G16 placed third in the performance results. Again, we can say it comfortably outpaced the Alienware X15 R2, confirming its dominance of this laptop in our games benchmarks.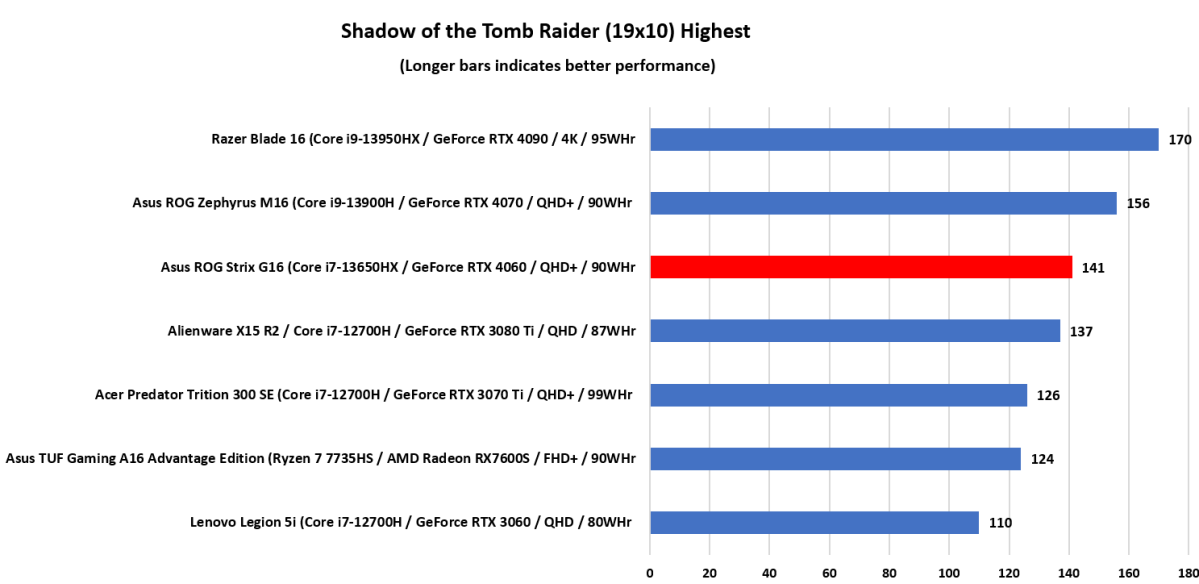 Dominic Bayley / IDG
What do these results mean? Overall, they're very encouraging. They show the G16 can hold its own against laptops with more powerful GPUs and also produce faster frame rates than laptops with older, but more premium GPUs.
In summary, this suggests not only is the Strix G16 powerful enough to simply run AAA games, but rather gamers can expect competitive standard performance even if they opt for a less expensive model with an RTX 4060 GPU.
Asus ROG Strix G16: Battery life
The Strix G16 impressed me in my laptop testing, but not so when it came to evaluating the laptop's battery life. To test the battery, I set a 4K Hollywood movie to repeat, after adjusting the sound to 50 percent and switching off the keyboard backlighting. Wi-Fi was also switched to airplane mode to prevent any disruption to the video.
In the graph displayed below, you can see the Strix G16 lasted just 448 minutes before it ran out of juice and shut down. That's just over seven hours of video playtime.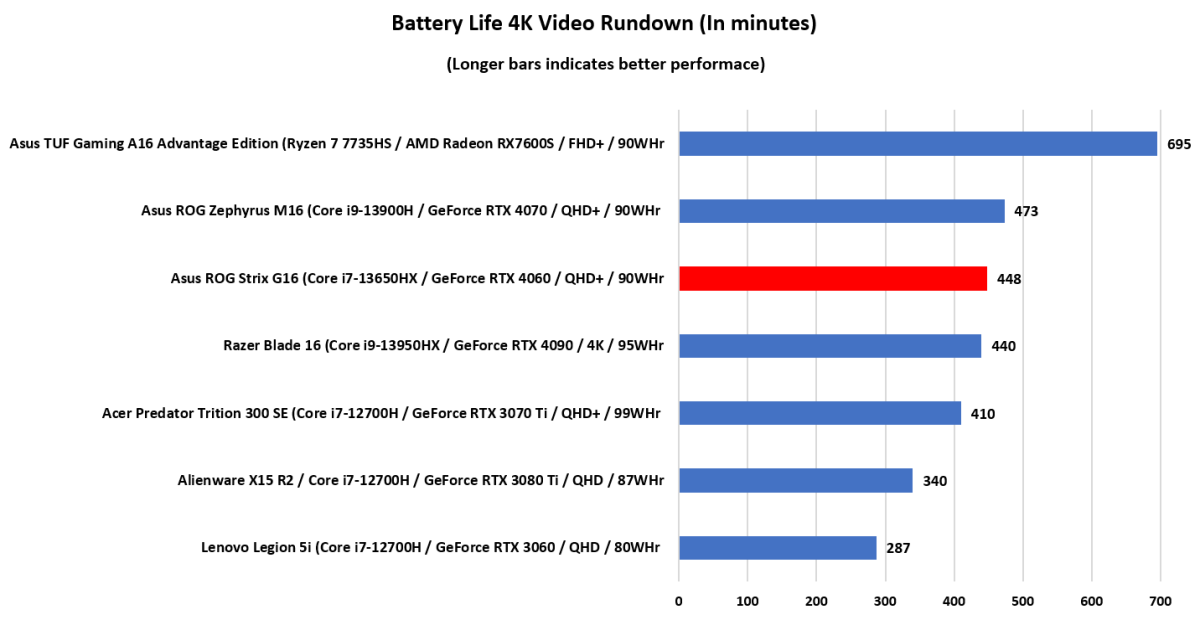 Dominic Bayley / IDG
This result implies that the G16 is just an average performer when it comes to battery life and suggests it's likely to last only three to four hours while gaming away from an AC outlet, which is nothing to write home about.
Asus ROG Strix G16: Should you buy it?
On balance the Asus ROG Strix G16 hits all the right notes for performance, functionality and style. Not only does it deliver excellent CPU and GPU performance, all the ports you need, and a slick cyberpunk attitude, but it also has a gorgeous display and is priced considerably lower than at least one key rival.
Sure, it has some shortcomings, like the average battery life, more plastic in its chassis than some competitor laptops, and a low-resolution webcam. But with performance this good, those quirks fall by the wayside.
Best Prices Today: Asus ROG Strix G16