At a glance
Expert's Rating
Pros
Great 1080p and esports speed
Surprisingly good battery life
Plenty of ports
More affordable than many rivals
Cons
Middling AMD processors
Screen lacks brightness
No Thunderbolt 4 or biometrics
Our Verdict
The Asus TUF Gaming 15's 2023 incarnation ticks the main boxes with great 1080p and eSports power, solid processing, reasonable design and great battery life – all at the right price. It's not particularly refined and it doesn't have many desirable extra features, but it's still a steal thanks to its great value.
Price When Reviewed
From $1,199
Best Prices Today: Asus TUF Gaming A15 (2023)
If you're hunting for a gaming laptop it's tempting to assume your portable of choice will be far too expensive but that's not the case with the Asus TUF Gaming A15 for 2023.
This year's version starts at only $1,199/£1,049 and rises to a reasonable $1,399/£1,499 so you won't have to spend big money.
The model I've reviewed costs $1,399 in the US but a more palatable £1,199 in the UK. That gets you an Nvidia GeForce RTX 4060 GPU and a 144Hz, 1080p display – the exact hardware you'll need to run almost every game smoothly for the next few years.
On paper, that's great. But there's more to success than components. Let's dig in.
Further reading: The best PC laptops for any budget
Design & Build
Familiar military design and MIL-STD-810H testing
A solid port selection, albeit without some future-proofed options
Slimmer and lighter than its key rival
The Asus TUF range takes inspiration from military hardware, and this 2023 edition still looks like a supply crate. Make of that what you will.
Get beyond that – and the promotional stickers – and you'll find a notebook with MIL-STD-810H testing to ensure it can withstand shocks, drops, temperature changes and water spillages.
That said, there's significant movement in the screen, base and keyboard, so I'd still recommend a protective sleeve if you frequently deploy the A15 out of the house.
More impressively, the A15 weighs 2.2kg and is 25mm thick, so it's slimmer and lighter than the Acer Nitro 5. This is not a slim and light laptop in the grand, but it's significantly easier to manage.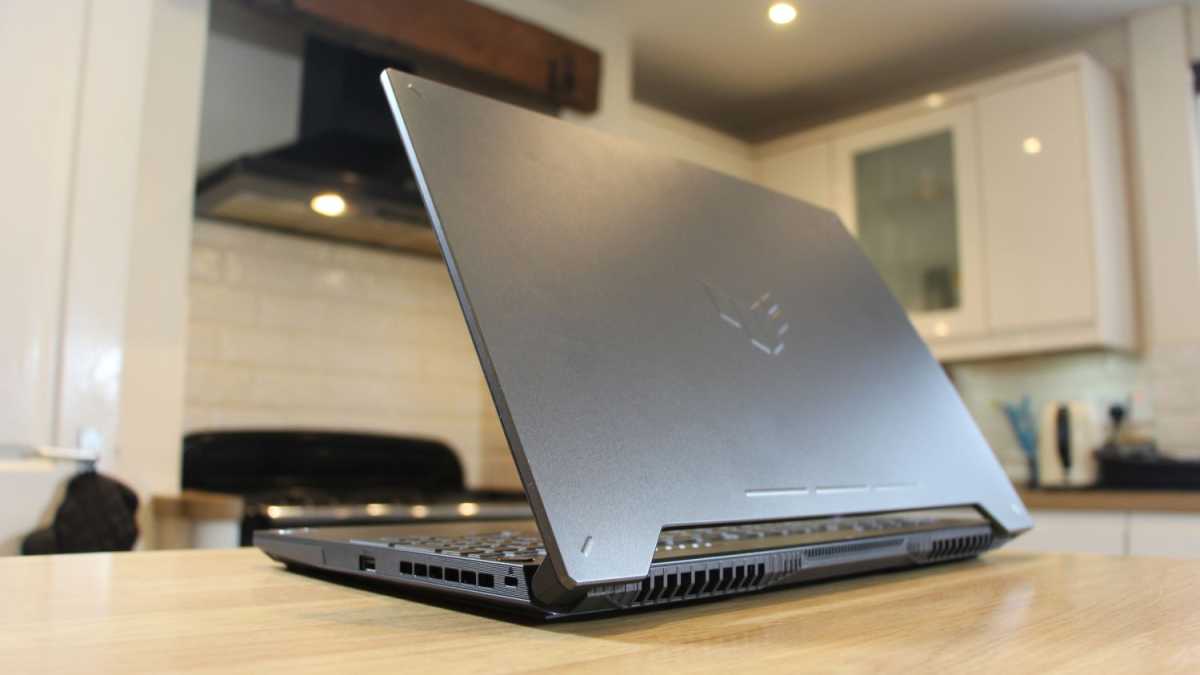 Mike Jennings / Foundry
There are full-size USB 3.2 Gen 1 ports on either side, but the USB 4 Type-C port, USB 3.2 Gen 2 Type-C connector and the HDMI, audio and Ethernet outputs are all clustered on the left edge, which may not be handy for your cable-routing or for left-handed users.
The moves to USB 4 and HDMI 2.1 are the only upgrades from the 2022 A15, and the AMD chipset means no Thunderbolt. You'll find that, and one extra USB port, on the Acer.
Elsewhere, the A15 has Wi-Fi 6 rather than 6E, a blurry 720p webcam with no Windows Hello sign-in and no fingerprint reader. There's Gigabit Ethernet but not faster 2.5Gbps. That's expected for an affordable gaming notebook and it won't hinder daily use – and the Acer suffers similarly.
Keyboard & Trackpad
A good layout with extra buttons and RGB LED lighting
A soft, squishy typing action that won't satisfy many gamers
An inconsistent trackpad means you'll be better off with a mouse
The keyboard could use a little more refinement, too. The buttons may have 1.7mm of travel, but they're soft, without the snappy feel you'll find on the best gaming notebooks.
It's not a disaster; you can use the A15 for gaming and typing. But if you want a robust keyboard to hammer through frantic sessions, you won't get it here.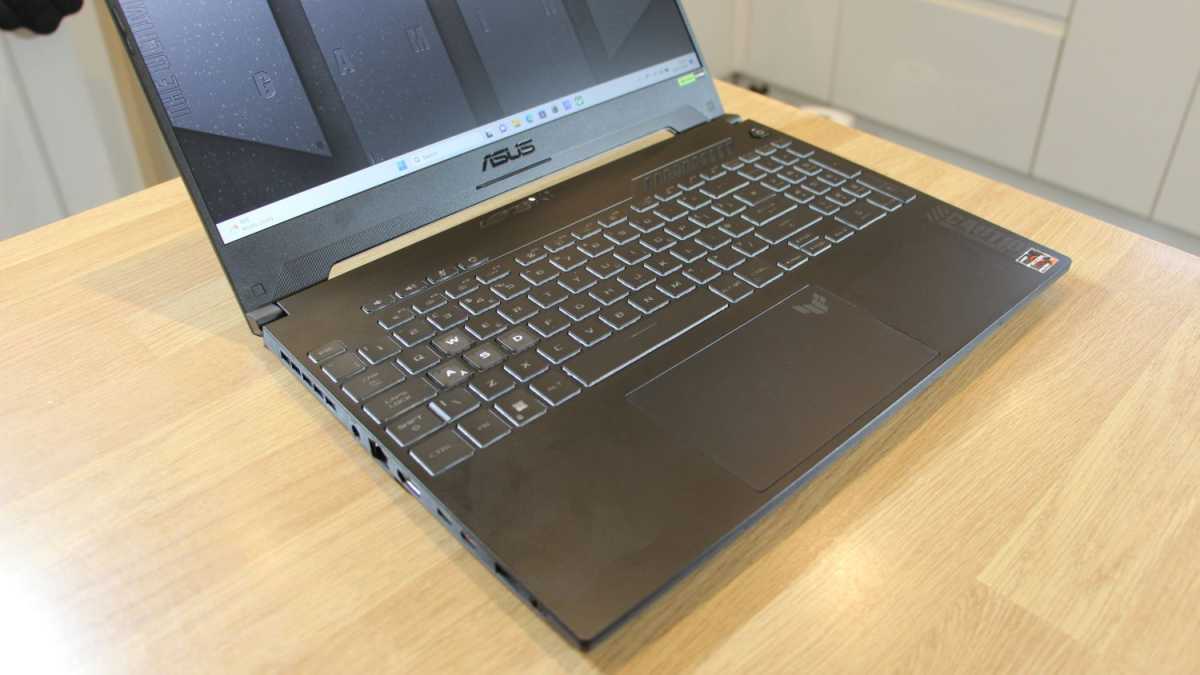 Mike Jennings / Foundry
The trackpad is also soft and its buttons are inconsistent, with differing levels of force required across the pad.
Ergonomically the A15 is ok but not brilliant. The layout is better, with a numberpad, extra audio buttons and single-zone RGB lighting. There's hardly any difference between the Asus A15, the Asus A16, and the Acer – they're all fine but not amazing.
Screen & Speakers
A 1080p IPS panel at 144Hz means you've got the pixels and pace for mainstream games
A lack of brightness means outdoor play is a no-go
Mediocre speakers
There are no big additions to the display on this year's A15 – the 1080p IPS panel with 144Hz refresh rate reappears. You also get G-Sync support alongside Nvidia Advanced Optimus and a MUX switch so it's easy to use the laptop on mains and battery power.
That's fine for mainstream gaming and esports, but this screen isn't fast enough for high-end competition. It doesn't have the extra immersion you'll get from 16:10 panels or screens with higher resolutions.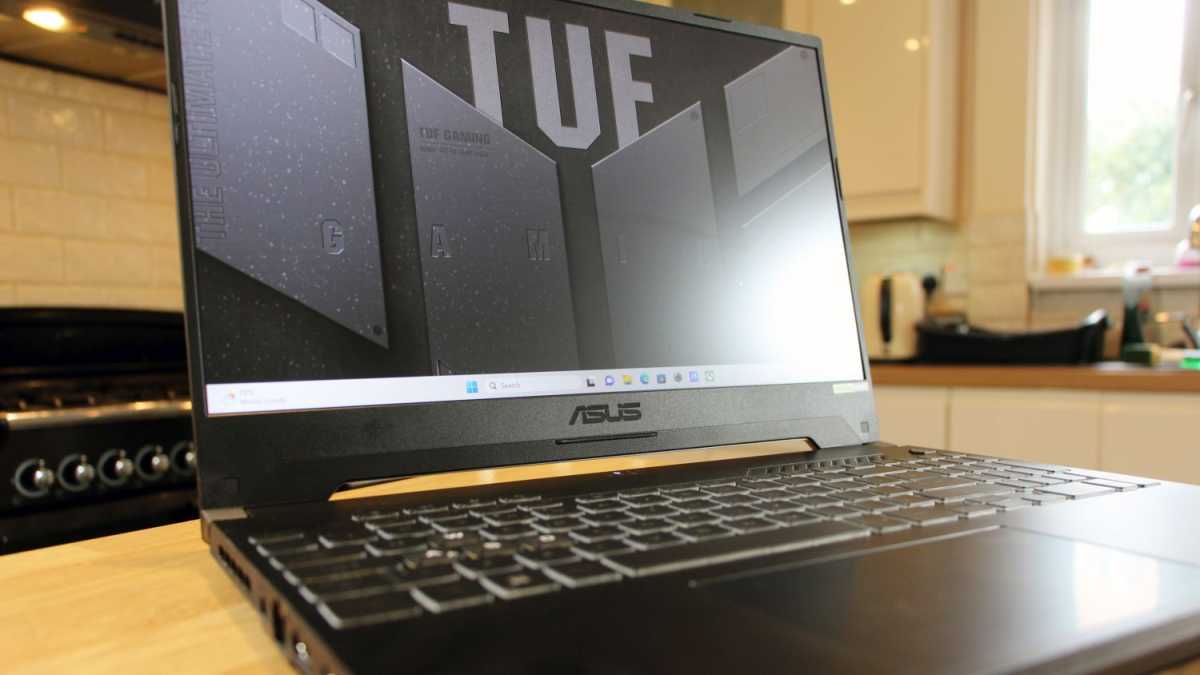 Mike Jennings / Foundry
In terms of quality, there's good and bad news. Positively, the A15's delta E of 1.46 means colors are accurate and the contrast ratio of 935:1 is fine for gaming – mainstream games will look good here.
Negatively, though, the maximum brightness of just 290 nits is not high enough for outdoor use. And it's always quite annoying when other specifications aren't available – the 2022 model could sometimes be found with 1440p panels and 300Hz refresh rates but there's no sign of that this year.
Unsurprisingly, you get mediocre speakers on this unit, with non-existent bass and a tinny top-end. Use a headset instead and you'll have a far better time.
Specs & Performance
AMD Ryzen 7 or Ryzen 9 processors
Nvidia GeForce RTX 4050, 4060 or 4070 graphics
16GB DDR5 memory and 512GB SSD
The Nvidia GeForce RTX 4060 GPU has 8GB of memory and a TDP of 140W, which is right at the top of the GPU's thermal envelope. Asus has deployed an AMD Ryzen 7 7735HS processor with eight multi-threaded cores and a boost speed of 4.75GHz.
You'll find that processor in the TUF A16, too, but it's odd when most other gaming laptops – including the Acer Nitro 5 – include Intel chips.
The A15 has 16GB of dual-channel memory and a 512GB SSD. That memory is fine, but the SSD is small considering the size of modern games. Thankfully there's a second SSD slot inside.
The Asus played CyberPunk 2077 at Ultra settings with an 88fps average, and returned a still-playable result of 55fps with Ray Tracing and DLSS. A 1080p average of 85fps in Far Cry: New Dawn and a mighty 247fps result in Rainbow Six Siege continued the A15's good form.
You have enough pace to handle any top single-player game for the next few years, especially if you don't want to run the top settings. There's easily enough speed for any eSports game too.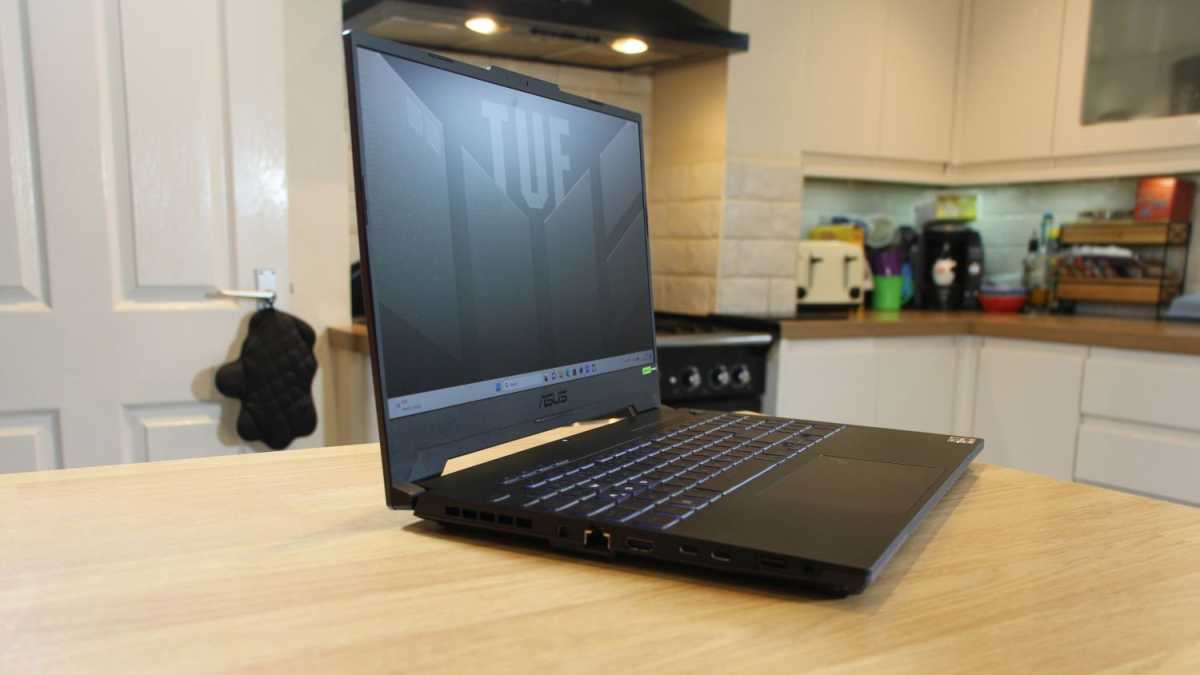 Mike Jennings / Foundry
In 3D Mark Time Spy, the A15 scored 10,020 points – nearly 1,000 beyond the RX 7600S inside the A16. That result rose by 600 points in Turbo mode. That's as good as it gets for the laptop version of the RTX 4060.
AMD's processor does a decent job against Intel's chips. In PCMark 10 the AMD CPU scored 7,132, which outpaces the 6,926 scored by the i5-12500H in the Acer and the i7-12700H, which has actually proved a little slower in PCMark 10. The i5-13500H and i7-13700H don't make a huge difference here, either.
In Cinebench R20's single- and multi-threaded tests, the A15 scored 579 and 5,241, with the former behind Intel and the latter ahead.
The Ryzen chip's Geekbench 5 score of 9,291 is about 3,000 points shy of the Core i7-12700H and not far beyond the i5-12500H. Its Geekbench 6 result of 10,120 sits behind the i7, which is more than 1,000 points better in that test.
For everyday browsing, photo-editing, multi-tasking and office tasks the AMD chip is great, but if you want true content creation ability you'd be better off with Intel i7-12700H.
More positively the Asus never proved too hot or loud. Its fans only produced a tiny whirr in everyday Performance Mode and the noise wasn't much more intrusive in Turbo Mode.
You even get decent battery life. I got two hours of gaming from the TUF A15 – twice as much as the Nitro 5. Remarkably, the A15 lasted for almost nine hours when working with the display at full brightness and twelve hours when running a film with the brightness reduced to our normal test setting.
The A16 exhibited similarly lengthy results, so there's clearly something good happening in the 90Wh power pack and this is a laptop that's certainly usable for a full working day.
Price & Availability
In the US and UK, the TUF A15 comes with RTX 4050, RTX 4060 and RTX 4070 graphics. The first two GPUs come with the Ryzen 7 7735HS processor, while the RTX 4070 is paired with a Ryzen 9 7940HS.
The RTX 4050 version costs $1,199 and £1,049, the RTX 4060 model costs $1,499 and £1,199, and the RTX 4070 rig arrives at £1,499 but isn't available in the US at the time of writing.
In the US, you'll find the A15 at Walmart, Newegg and in the Asus Store at varying prices, and in the UK, head to Amazon, Box, Currys and the Asus UK Store.
Mike Jennings / Foundry
These prices align with the A16 and are competitive with the Acer. The Nitro 5's RTX 4050 model costs $999 in the US but it's currently at £1,264 in the UK, so the A15 is better value in the UK. The Acer's RTX 4060 version costs $1,299 and £1,399, so the A15 is more affordable.
Check out our chart of the best cheap gaming laptops and take a look at the best gaming laptop backpacks if you'd like robust, reliable storage.
Verdict
Alongside that better value the A15 delivers great 1080p and eSports power, superb battery life, a screen that's good enough for indoor, smooth gaming and a decent selection of ports inside a relatively manageable chassis.
The lack of future-proofed connectivity, screen brightness and a genuinely great keyboard reign the A15's ambition in, and the AMD processor is fine – but Intel remains better in many scenarios.
At these prices, though, the A15 glosses over its faults. It's a competent, reasonably fast gaming laptop with no huge flaws, so it's ideal if you want solid gaming power without spending silly money.
Specs
Model tested
OS: Windows 11 Home
Display: 15.6in IPS, 1920 x 1080 144Hz
CPU: AMD Ryzen 7 7735HS
Memory: 16GB onboard
Graphics: Nvidia GeForce RTX 4060 8GB
Storage: 512GB PCIe NVMe M.s SSD
Webcam: 720p
Connectivity: 1 x USB-C 4/DisplayPort, 1 x USB 3.2 Gen 2 Type-C/DisplayPort/Power Delivery, 2 x USB 3.2 Gen 1, 1 x HDMI 2.1, 1 x audio
Networking: Wi-Fi 6, Bluetooth 5.2
Battery capacity: 90Wh
Dimensions: 251 x 354 x 25mm
Weight: 2.2kg
Warranty: 1yr RTB
Editor's note: This article originally appeared on TechAdvisor.com.
Best Prices Today: Asus TUF Gaming A15 (2023)