Microsoft is moving several significant features into its latest Windows 11 Insider Beta Channel release today, a sign that it's committed to updates like RGB lighting controls, an updated File Explorer, and a subtle but nifty improvement in inking.
Microsoft released Windows 11 Insider Preview Build 22621.2050 and Build 22631.2050 to the Windows Insider Beta Channel today. Shipping them to users in the Beta Channel has historically been the first official signal that Microsoft has signed off on the features to eventually ship them. (The "631" build includes all of the features for testing, while the other holds some back.)
The "new" features may seem familiar, especially if you've been following releases in the experimental Canary or Dev Channels, where Microsoft doesn't always bring new features to market if they test poorly. Microsoft hasn't said when these new features would be available, but with mentions of "23H2" already bubbling up, it seems likely that they'll appear in September or October.
Here's a look at what Microsoft is promising:
A (new) modernized File Explorer
Microsoft has revamped the File Explorer app previously—adding tabs, a pizza icon, better visibility into available OneDrive storage, and deeper insights into file previews in the preview page. It's heading further down this path, in part because the new WinUI framework allows additional customization, Microsoft says.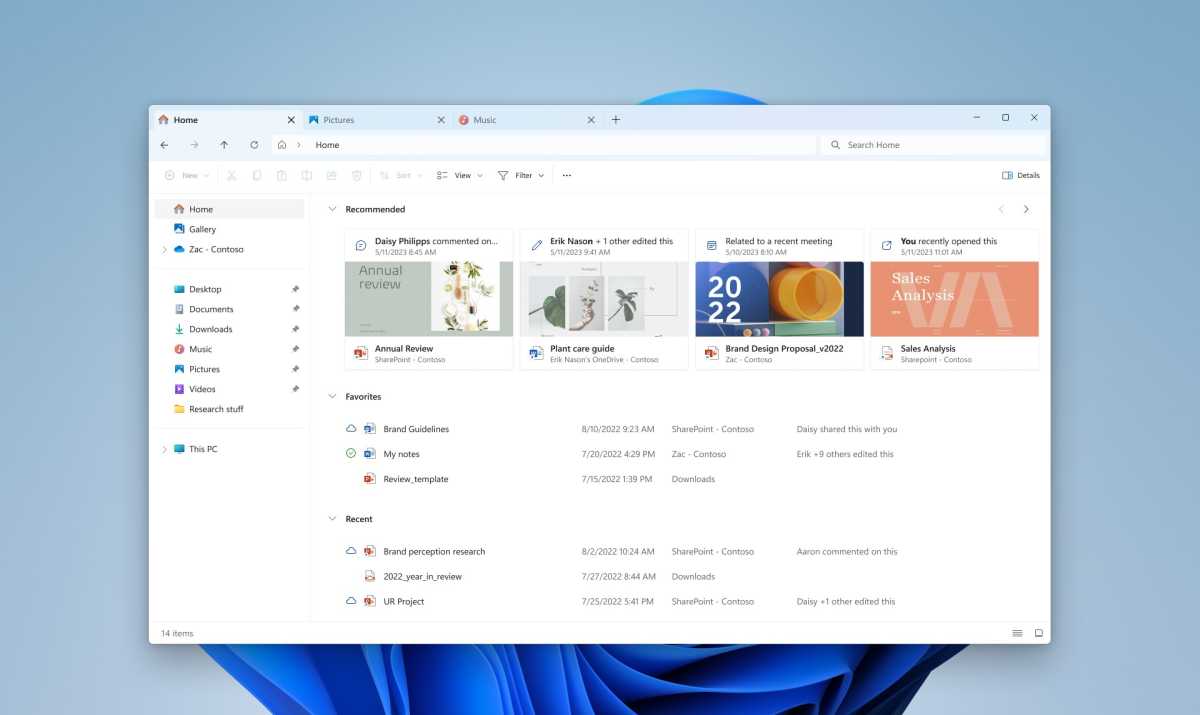 Microsoft
File Explorer will show Recommended files in a carousel view from the Home view. You'll also see your OneDrive status integrated into File Explorer, and any cloud folders will be better integrated into Windows. Finally, the Details pane in File Explorer (Alt+Shift+P) will even show you related content and show recent activity on a file if it's been shared and/or modified.
Specifically, when a user selects a file in File Explorer and enables the pane, a modern pane will display contextual information about the file including file thumbnail, share status and button, file activity, related files and e-mails, and other information, Microsoft said.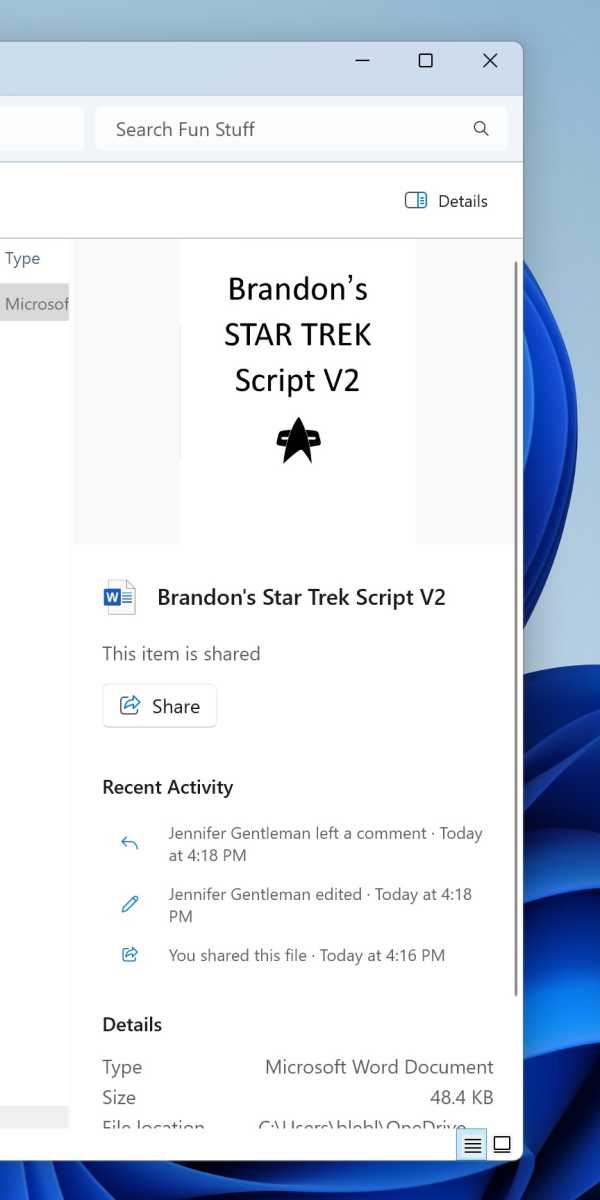 Microsoft
Passkey management
Last month, Microsoft began building in passkey support within its Windows Insider Dev Channel. Passkeys replaces passwords on sites like BestBuy.com with the biometrics on your PC or phone—if a Web site like Amazon adds passkey support for the Web, you won't need to enter (or remember) your password. Instead, you'll use Windows Hello.
Microsoft is adding a Settings page (Settings > Accounts > Passkeys) where you can manage all of the passkeys for sites you've visited.
This is a fantastic step forward for ease of use, but it will need industry support to move further ahead.
Unsafe password warnings
If you do use passwords, though, as we all do, Microsoft is also warning you not to copy your password using cut and paste. Microsoft is adding a feature to Windows Security under App & browser control > Reputation-based protection > Phishing protection to warn you on the unsafe habit of copying a password via copy and paste.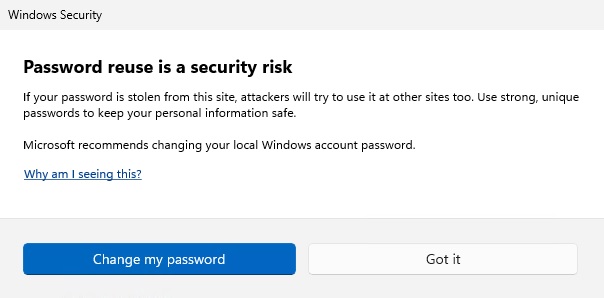 Microsoft
Dynamic Lighting gets a stamp of approval
Given that Microsoft has already chosen to work with several PC accessories companies that include RGB, it seemed inevitable that the overarching controls for PC RGB lighting, known as Dynamic Lighting, would appear in Windows. Normally, vendors often provide their own RGB lighting control software. Third-party apps also try and provide umbrella access.
Microsoft decided to bring it all within Windows, so you can make your PC as sparkly as possible. A new Dynamic Lighting settings page will provide a one-stop shop for all of these controls.
Microsoft
While Microsoft maintains an up-to-date list of hardware compatible with Dynamic Lighting, at press time it was still dominated by Razer hardware.
Direct Inking
Inking finally works like you'd expect it to. On Windows, inking has traditionally meant one of two things: drawing freehand with a pen or scrawling text inside of a dedicated box. If you needed to input text inside of a particular field, you could either ink it (like a signature) or write it inside of a separate input box, where it would be translated into text.
In the real world, you can write on a piece of paper such as a field-trip permission slip and our brains interpret that as text. Now Windows does too. If Windows presents a search box, for example, you can simply write in the search box and Windows will translate your inked handwriting into typed text and enter it in the proper field. Only English is supported, though.
Microsoft
Windows Spotlight tweaks
Windows Spotlight has been one of my favorite features within Windows for years: a simple, gorgeous photo of the natural world which serves as that day's background. Microsoft's tweaking Spotlight further to offer more information about what you're seeing, so you can learn more about it or even potentially plan a visit.
To enable Windows Spotlight on your PC today, right-click on your desktop and choose "Personalize" and then choose the new Spotlight theme, Microsoft says. Microsoft has never said whether all of its backgrounds are formatted for 4K displays, though I'm seeing more and more high-resolution photography on my screen.
Updated Volume Mixer
Microsoft has added an updated volume mixer (Win+CTRL+V) where you can configure the volume and source of the audio on a per-app basis, which it showed off earlier. Microsoft is also trying to make it easier for users to find its Windows Sonic spatial sound in addition to other audio enhancement technologies (Dolby DTS and so on) that may be available.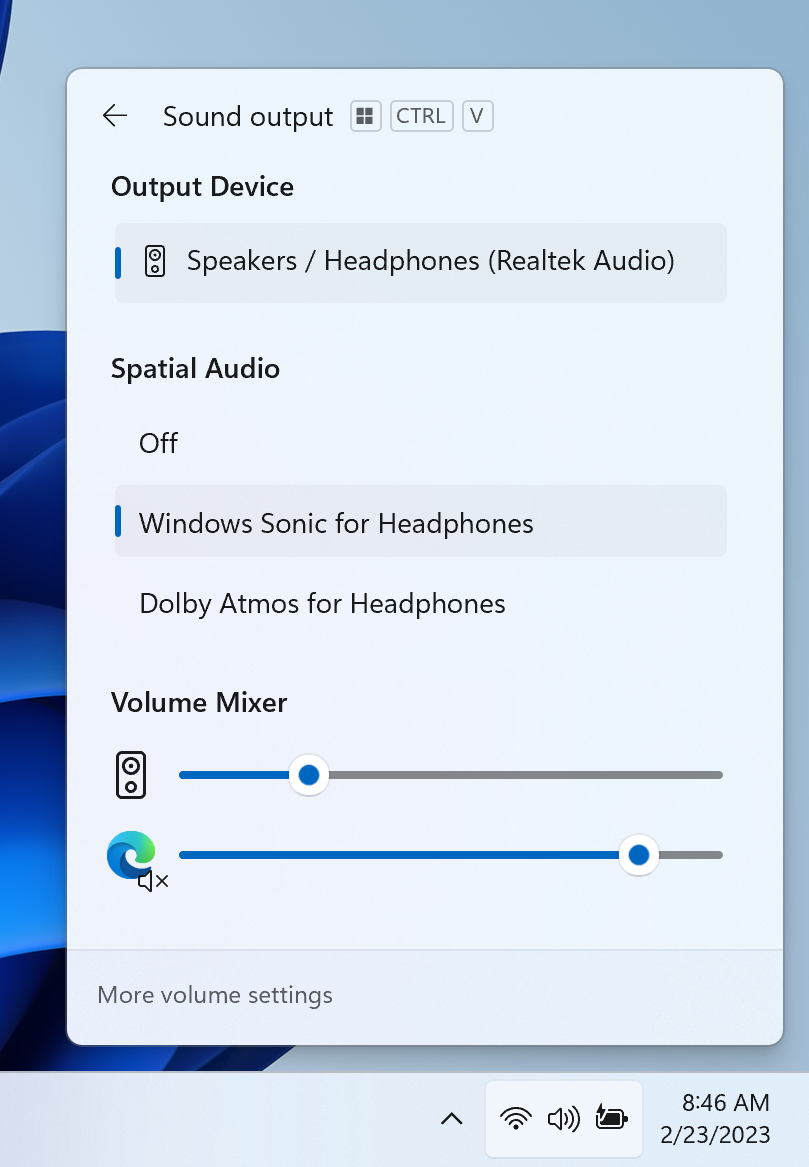 Microsoft
Local file sharing updates
File sharing within Windows has always been a bit of a pain. Now, if you right-click on a file to share it, you'll receive new options. You'll see a button to turn on nearby sharing, for example.
Everyone will now be able to email their files through Outlook directly within the Windows share window and you'll see a search box to type in contact names. Windows will now return suggestions as you do.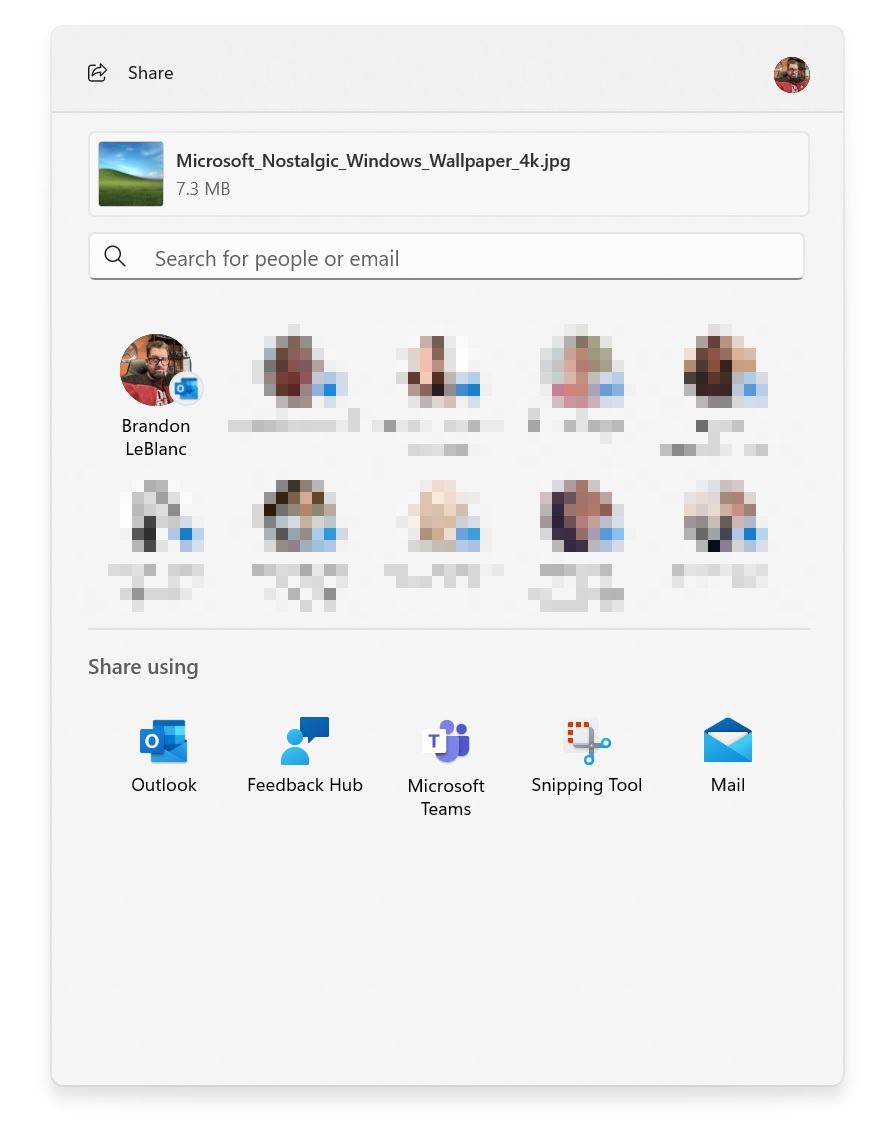 Microsoft
Other tweaks:
If you accidentally closed your camera shutter and are beginning a meeting, you'll see a warning that your shutter is closed.
Windows now has new, more natural Narrator voices in Chinese, Spanish (Spain and Mexico), Japanese and English (United Kingdom).
Urgent notifications that are set to break through "Do Not Disturb" will hide their contents for privacy's sake.
Unicode Emoji 15 is beginning to roll out with new hearts and animals.
When navigating between desktops in Task View (WIN + CTRL + left or right arrows), labels will be shown to show you where you're headed.
Microsoft is adding a new Settings page (Settings > System > Power & battery > Energy recommendations) to help save power by lowering the refresh rate of your display.