A Wi-Fi standard is like a blueprint for technology companies. It defines the specifications according to which Wi-Fi routers and networking gear transmit wireless data to PCs, smartphones, and more. Each standard intends to achieve two goals: Faster Wi-Fi speeds for every connected device and a smooth connection to as many devices as possible.
The new Wi-Fi 7 (with an official name 802.11be Extremely High Throughput) aims to achieve this by building on the groundwork of the last two WI-Fi standards and extending them. From Wi-Fi 6, it borrows functions such as OFDM (Orthogonal Frequency-Division Multiplexing) and BSS Coloring, which ensure that even in very large networks every device can transmit data without delay. Wi-Fi 6E also contributes the 6 GHz transmission frequency, which enables Wi-Fi WLAN speeds.
The advantages of Wi-Fi 7 are already wooing device manufacturers; many companies already offer Wi-Fi 7 devices on the market. Some, such as AVM in Germany, are even skipping Wi-Fi 6E and immediately opting for Wi-Fi 7 in new products.
We explain the advantages of the new Wi-Fi 7 standard, present the first devices, and say for whom and when the switch to 802.11be will prove worthwhile.
This article was translated from German to English, and originally appeared on pcwelt.de.
Intel
The advantages of Wi-Fi 7
The IEEE standardization body has been working on Wi-Fi 7 since 2019. The new standard is scheduled to be ready in May 2024, but manufacturers of Wi-Fi chips and the routers, repeaters, and modules equipped with them aren't waiting for the official release. The first Wi-Fi 7 products are based on a highly developed preliminary version of Wi-Fi 7, and the manufacturers will deliver details that are still changing via later firmware updates.
Wi-Fi 7 is compatible with the predecessor standards so you can be sure that all existing devices in your home network will connect to a new router. In many cases, it also provides faster speeds for Wi-Fi connections than Wi-Fi 6 or Wi-Fi 5 because it uses better antennas or more powerful hardware than your current router.
Every new Wi-Fi standard promises faster data transfers and more stable connections: These improvements seem more urgent than ever because even in private homes, more and more devices rely on a powerful wireless network — not only mobile ones like smartphones and notebooks, but also PCs and peripherals as well as devices for smart homes, TVs, and audio systems.
And all those connected devices need ever greater bandwidth for current and future applications; to be able to use an internet connection with gigabit speed or more without breaking, for example, or for uninterrupted video calls in the home office and the wireless connection of AR and VR glasses. Fast, low-latency Wi-Fi also enhances cloud gaming or virtual collaboration on large files in real time.
To achieve all this, Wi-Fi 7 offers a comprehensive set of tools: Wider radio channels, more and faster MIMO streams, as well as numerous features that ensure that many devices transmit simultaneously without interfering with each other.
More space: 6 GHz with 320 MHz channels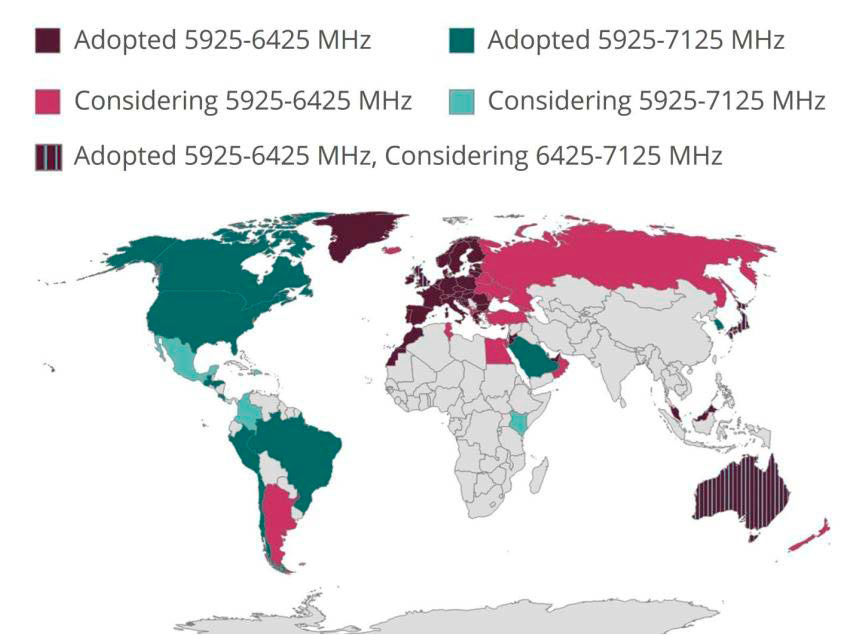 IDG
As with Wi-Fi 6E, Wi-Fi 7 allows devices to use a third frequency for wireless transmission: In addition to 2.4 GHz and 5 GHz frequencies, they also operate at 6 GHz. Since only a few Wi-Fi products have been designed for this frequency so far, a 6 GHz connection usually runs without interference and thus faster.
Wi-Fi 7 accelerates the 6 GHz frequency by allowing radio channels with 320 MHz over this frequency — twice as wide as the 160 MHz channels over 5 GHz, and thus twice as fast. Devices for the European market can use a single 320 MHz channel because the EU has only released the frequency range from 5945 to 6425 MHz for 6 GHz wireless. In the USA, the spectrum is wider at 5925 to 7125 MHz, which is why three Wi-Fi connections with a 320 MHz channel can transmit side by side over 6 GHz without interference.
An advantage of the European solution? Since no other radio technologies operate in this frequency range, a Wi-Fi 7 router can use 6 GHz without restriction and does not need DFS (Dynamic Frequency Selection).
Routers with Wi-Fi 7 must support a channel bandwidth of at least 160 MHz over 6 GHz: This means that three Wi-Fi products can transmit simultaneously on this frequency without interference, even in Europe. At 5 GHz, only two 160 MHz channels are possible — if a router supports this channel bandwidth at all.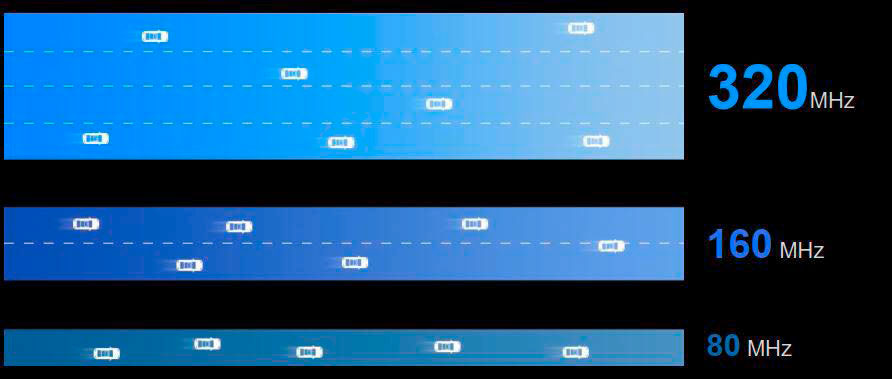 IDG
Wi-Fi 7 transmits up to 46 GBit/s
The speed of a Wi-Fi connection depends primarily on the number of data streams (MIMO streams) going from the transmitter to the receiver. With Wi-Fi 5 and Wi-Fi 6, there are a maximum of eight per frequency; Wi-Fi 7 offers twice as many. This results in a theoretical transmission rate of around 46 GBit/s if a Wi-Fi 7 connection uses 16 MIMO streams and a 320 MHz channel over 6 GHz — almost five times as much as with Wi-Fi 6.
Don't expect to see other Wi-Fi 7 devices try to hit those maximum throughput speeds, however; even with Wi-Fi 5 and 6, manufacturers did not develop routers with eight streams per frequency. Some providers claim that their top models support eight or even twelve streams. Similar to advertised Wi-Fi speeds, however, this information refers to the sum of the streams over all frequencies — for example, in the case of a tri-band router with four streams each for 2.4, 5, and 6 GHz frequencies.
In practice, this information is irrelevant, because wireless transmission between two devices only takes place over one frequency, not simultaneously over several. So far, in any case, because that too is changing with Wi-Fi 7 — more on that later.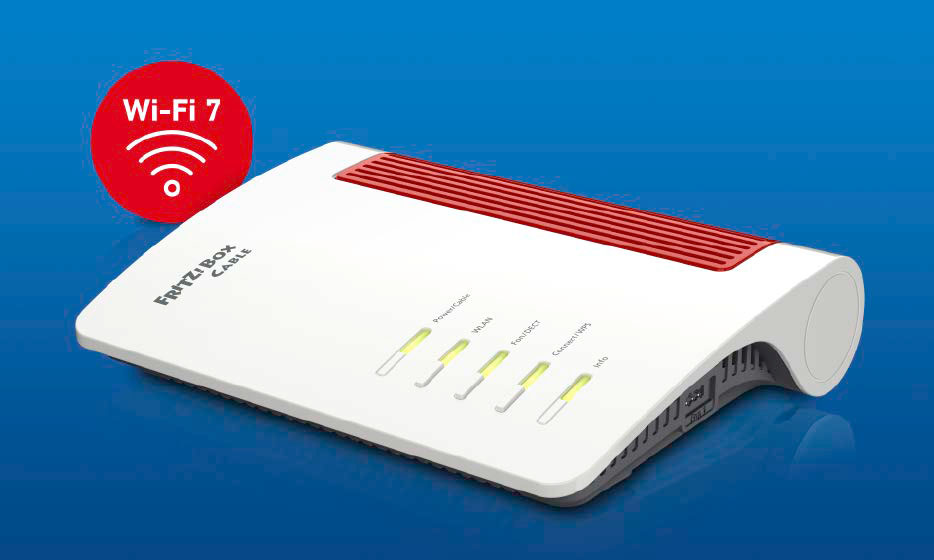 IDG
As with previous Wi-Fi standards, the top routers for Wi-Fi 7 therefore support a maximum of four MIMO streams per frequency, and notebooks and smartphones will mostly be equipped with Wi-Fi modules that use two MIMO streams.
Compared to similar Wi-Fi 6 devices, however, the new Wi-Fi 7 products can be more than twice as fast in the best cases. For one thing, they can use the 320 MHz channel over 6 GHz, which is twice as wide. In addition, Wi-Fi 7 works with the improved 4096-QAM modulation. This allows data that passes over the radio link to be packed more tightly, which increases the transfer rate. A MIMO stream from Wi-Fi 7 therefore also works faster than a Wi-Fi 6 or Wi-Fi 5 stream with the same channel width.
But the higher the modulation, the better the radio quality must be for the tightly packed data to arrive reliably. Wi-Fi-7 devices can therefore only use 4096-QAM in practice under optimal conditions and at short distances.
Top routers with Wi-Fi 7 manage a maximum data rate of 11.5 GBit/s with four MIMO streams (4×4) and the 320 MHz channel. In contrast, the fastest routers with Wi-Fi 6 achieve only up to 4.8 GBit/s with 4×4 MIMO and 160 MHz channel.
Wi-Fi 7 clients in smartphones and notebooks achieve a similar speed advantage. They work with 2×2 MIMO streams and a 320-MHz channel, which results in a maximum data rate of 5.8 GBit/s. That's more than twice as much as the 2.4 GBit/s of Wi-Fi 6 clients with 2×2 and a 160-MHz channel.
Multi-Link Operation
With Multi-Link Operation (MLO), Wi-Fi 7 debuts a completely new feature never been seen before in any Wi-Fi standard.
MLO overrides a basic rule that used to apply to every Wi-Fi transmission: data transfer between two devices takes place via exactly one connection (link), i.e. a specific radio channel on a specific frequency.
If, for example, you have given the Wi-Fi connections over 2.4 and 5 GHz different names on a dual-band router, you can only select one for a client like your notebook, although both radio networks establish a connection between the same devices — router and notebook. This also happens if the client only displays a Wi-Fi SSID because you've activated functions such as mesh or band steering in your router. In this case, the router decides whether the link to the client is via 2.4 or 5 GHz.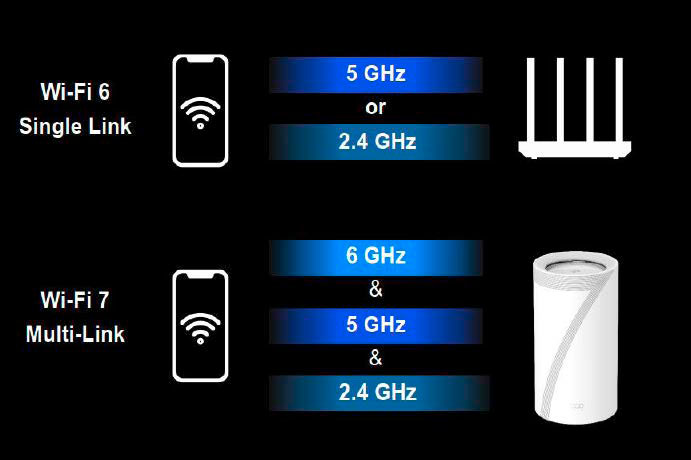 IDG
With MLO, both devices can establish multiple links at the same time. Two tri-band devices, for example, then communicate in parallel over the frequencies 2.4 GHz, 5 GHz, and 6 GHz. To use MLO, both devices must support this function.
Then they can send data simultaneously over all links to increase the overall Wi-Fi speed. Alternatively, MLO reduces latency and stabilizes the Wi-Fi connection because the devices can flexibly switch to the link with the least interference. If the sender sends the same data over each link, it arrives at the receiver with greater reliability and without interference. If router and client have several radio units, they can also send and receive data simultaneously via MLO: The router then sends data via 5 GHz to the notebook, for example, which in turn sends other data to the router via a 6 GHz link.
Multi-RU: Wi-Fi even more efficient
If the Wi-Fi on your smartphone or PC seems slow, this is often not because it cannot transmit faster, but because it should not transmit faster. That's because Wi-Fi transmission only takes place when the radio channel is free: the devices fight for access to it, and whoever doesn't get it first has to wait. Since these waiting times are only fractions of a second, this is hardly noticeable for extensive downloads, normal web surfing, or sending e-mails.
On the other hand, it becomes problematic if many Wi-Fi devices in your home network always have to transfer only small amounts of data, but in the shortest possible time — like for for video calls, for online gaming, for smart home devices, or for working together on files via Teams, One Drive, or Google Docs.
Wi-Fi 6 already addressed this problem with the OFDMA function: This allows the router to divide the radio medium into small units — so-called resource units (RU) — which it assigns to different clients. With this, it transmits data to several clients at the same time to make efficient use of the Wi-Fi connection. Think of it like a mail-order company that doesn't deliver orders from three customers in three barely filled trucks, but packs all the orders into one truck.
Wi-Fi 7 improves OFDMA with multi-RU: Routers with the new standard can then assign more than one RU to individual clients. This increases the transfer rate for these clients and the radio channel can be used even more efficiently.
Power-saving Wi-Fi operation
Devices with a battery or rechargeable battery can use a wireless connection even more economically with Wi-Fi 7. Here, too, the new standard extends a function of Wi-Fi 6: 802.11ax introduced the Target Wake Time (TWT), which the router uses to agree on fixed transmission times with mobile devices. They must only be reachable at this time. Otherwise, they remain in the power-saving sleep state.
Wi-Fi 7 introduces the Restricted Target Wake Time to ensure that the radio channel is always free for transmissions that absolutely must take place at a fixed time. It stipulates that only the designated client may transmit at this time, all others must vacate the radio channel.
New routers with Wi-Fi 7
To be able to use the numerous innovations packed into Wi-Fi 7, you need fresh hardware — i.e. routers and repeaters with Wi-Fi 7 as well as notebooks and smartphones that have a suitable radio module. Numerous manufacturers have announced routers and mesh systems for Wi-Fi 7, and you can already buy some. The available offerings will increase significantly by the end of 2023, including for repeaters as well as notebooks and smartphones.
Switching to Wi-Fi 7 is particularly worthwhile if you rely on high Wi-Fi speeds– for gaming, for example, but also if you frequently transfer large amounts of data in your home network for backups or video editing. Since Wi-Fi 7 also makes Wi-Fi transfers more stable, devices with the new standard are also a good choice if you have a home network with a large number of Wi-Fi clients or want to cover a large home wirelessly.
Last but not least, a router with Wi-Fi 7 is also a prerequisite for bringing online connections beyond the gigabit limit into your home network without restrictions: Most models have a WAN connection with 2.5 or even 10 GBit/s for this purpose.
TP-Link router with Wi-Fi 7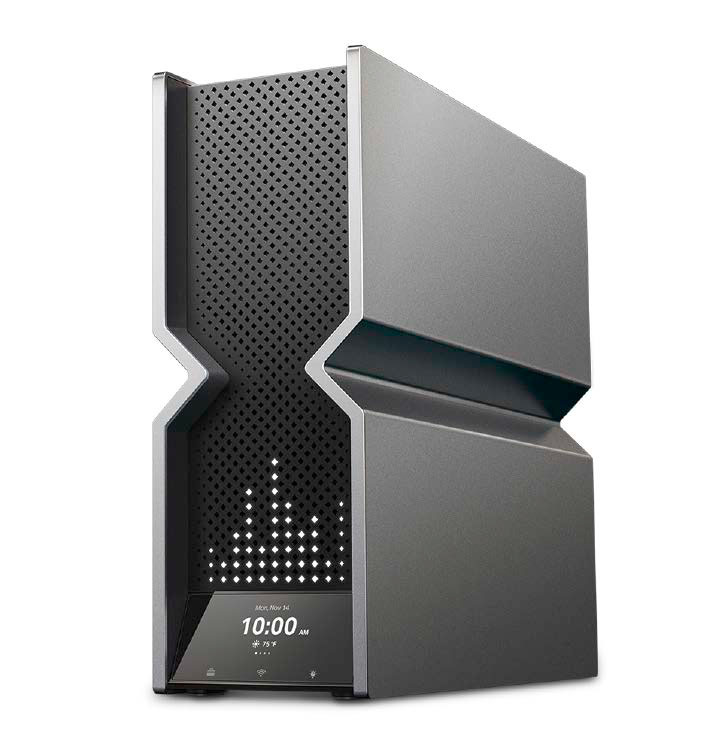 IDG
TP-Link announced seven mesh systems and routers with Wi-Fi 7 earlier this year, and two models are already available: The $700 Archer BE900 is a quad-band router that can establish four Wi-Fi connections over 6 GHz, twice 5 GHz and 2.4 GHz. It can use four MIMO streams on each frequency, which allows data transfers with up to 11.5 Gbit/s over 6 GHz, just under 5.8 Gbit/s each over 5 GHz, and just under 1.4 Gbit/s over 2.4 GHz.
Its two 10-GBit ports can be used for wireless or LAN connections; you can equip one with an adapter module (SFP+) to connect a fiber optic cable for internal networking. Other extras include an LED display that can show the time, Wi-Fi speed, or self-created graphics, among other things, as well as a small touchscreen that shows visitors the QR code for accessing the guest Wi-Fi network.
The $900 Deco BE85 is a mesh system for Wi-Fi 7 with two base stations. Each has two 10-GBit and two 2.5-GBit connections, which can be used for Wi-Fi connections to a modem, for LAN connections to home network devices, and for direct connections between the stations (backhaul). Wi-Fi transfer takes place via four MIMO streams per frequency (6 GHz, 5 GHz, 2.4 GHz), resulting in maximum data rates of around 11.5 GBit/s, 5.8 GBit/s and 1.4 GBit/s respectively. According to TP-Link, the high-end mesh system achieves around 9 GBit/s over the 6 GHz link in practice, provided the stations use the 10 GBit link for backhaul. TP-Link also promises a firmware upgrade in autumn that will upgrade the smart home standard Matter.
The Deco BE85 will be followed by cheaper TP-Link mesh systems, such as the Deco B75 and the Deco BE65. Both are tri-band systems. The B75 uses four MIMO streams over 6 GHz and two over the other frequencies, while the BE65 uses two MIMO streams for all three frequencies and uses Wi-Fi 6 instead of Wi-Fi 7 over 2.4 GHz.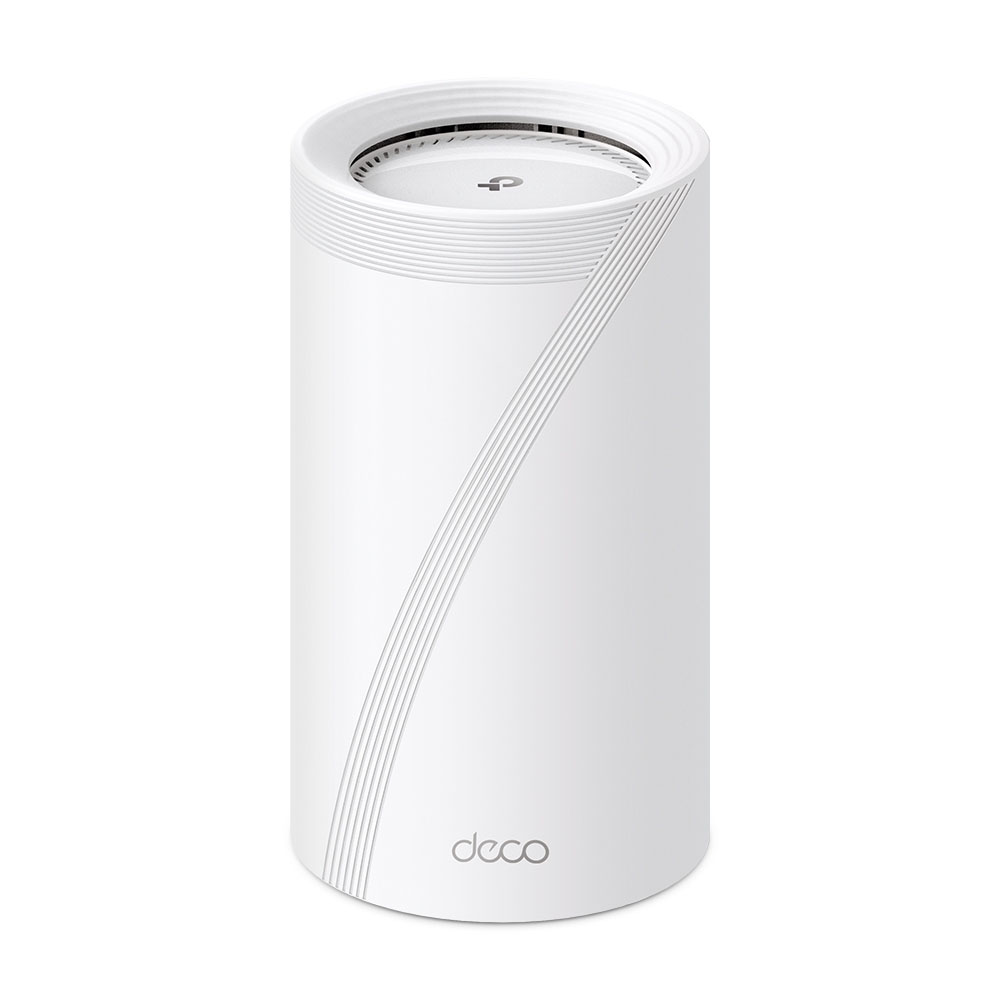 IDG
TP-Link also offers two top routers with tri-band support and four MIMO streams each: the $600 Archer BE800 and the Archer GE800 with additional settings for gamers. Less expensive will be the Archer BE550, which also transmits over three frequencies, but only with two MIMO streams each. According to TP-Link, all routers with Wi-Fi 7 support the Easy-Mesh standard: this allows a mesh Wi-Fi network to be set up even with Wi-Fi routers from different manufacturers.
Wi-Fi 7 routers from Asus and Netgear
Asus' first two Wi-Fi-7 routers, the ROG Rapture GT-BE98 and RT-BE96U, are aimed primarily at gamers and network professionals who want to benefit from higher WI-Fi speeds. Both use all three frequencies with four MIMO streams each, and thus come to maximum data rates of around 11.5 (6 GHz), 5.8 (5 GHz) and 1.4 GBit/s (2.4 GHz).
The GT-BE98 gaming router offers four LAN ports with 10 GBit/s, the RT-BE96U two, and both also have four gigabit ports each.
Netgear's Nighthawk RS700 Wi-Fi 7 router also aims for maximum speed, with three frequencies and four MIMO data streams each as well as two 10-GBit ports.
Smartphones and notebooks with Wi-Fi 7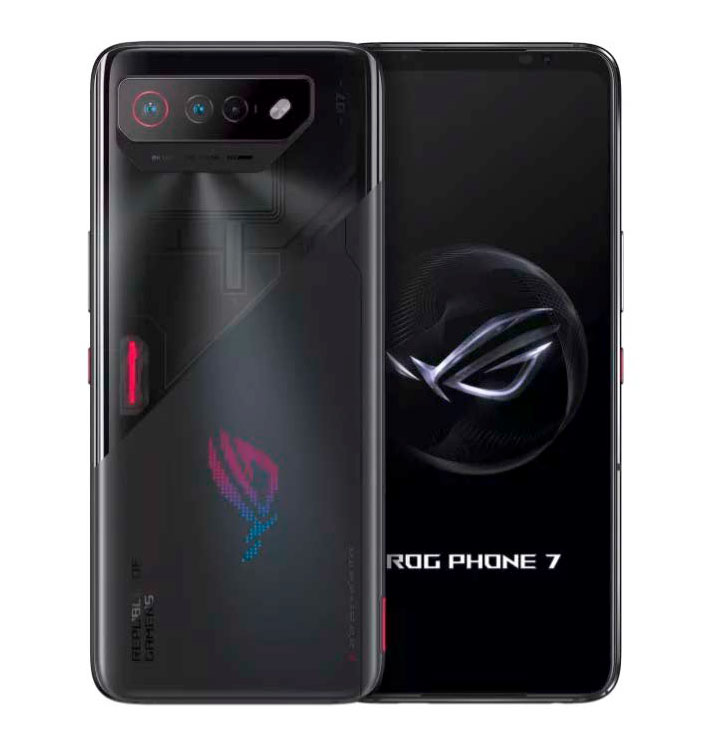 Asus
The advantages of Wi-Fi 7 can only be fully utilized if your client devices support it, too But you still have to be patient.
There are already some high-end smartphones available with suitable hardware for Wi-Fi 7, such as the Samsung Galaxy S23 Ultra, the Asus ROG Phone 7, and the OnePlus 11.
They use Qualcomm's Snapdragon 8 Gen 2 processor, which understands the new standard. That said, until recently, Wi-Fi 7 was not activated on any smartphone. Some manufacturers promise to activate the new standard soon via firmware upgrade, while others haven't committed to doing so. The range of Wi-Fi 7 smartphones will increase by the end of the year, as CPU manufacturer Mediatek has also announced Wi-Fi 7-compatible hardware in the form of the Dimensity 9200.
The first notebooks with Wi-Fi 7 should also be available for purchase at the turn of the year. Intel will probably present a suitable Wi-Fi module together with its 14th Core generation Meteor Lake processors, possibly under the model name BE200.
The Wi-Fi standards are still to come
It takes a long time to develop Wi-Fi standards, so it's not surprising that the corresponding working groups at the IEEE already have many plans for the successors to Wi-Fi 7. The next standard, for example, should include multi-AP operation, which was already planned for Wi-Fi 7. It should enable several routers or access points to transmit data jointly to a Wi-Fi client. This would make data transfer significantly faster and more stable. Furthermore, data rates of over 100 GBit/s are being discussed for a possible Wi-Fi 8 standard, as well as the additional frequency 60 GHz, on which extra-large radio channels with 640 MHz could be used.
The 802.11bf standard is currently being developed as "Wi-Fi Sensing." It's intended to evaluate the propagation and deflection of Wi-Fi signals in order to detect, for example, whether people are in a room or moving around. This technology could be used to build Wi-Fi-based alarm systems or smart home devices that automatically switch on or off when someone is nearby or leaves.