While shopping for back-to-school deals, it can be easy to focus on the discounted price, ignoring all else. A recent change to Google's Chromebook support page meant that we briefly considered a back-to-school Chromebook deal when it was a bad bargain instead. Here's how to avoid making the same mistake.
We recommend back-to-school deals on Chromebooks based upon what we know. Not only are we guided by our reviews of the best Chromebooks, but we look at the specifications, the price, and advertised discount. We also double-check to see where the Chromebook appears on Google's list of supported Chromebooks. They're all important.
One Amazon vendor has priced the Acer Chromebook 315 at $235, 8 percent off as of this writing. That's not great, but the $235 price tag at least made us consider it. One check you can make is to input the URL on camelcamelcamel, an oddly-named website that professes to track prices on Amazon. It doesn't always work — when considering a similar Chromebook 315 model, for example, the vendor claimed an eye-popping discount of 66 percent, to $205.80, off of a $599 MSRP.
Both vendors, then, throw up some red flags. But, looking back at some historical launch information, the MSRP for the Chromebook 315 should be about $279.99. But there's another problem.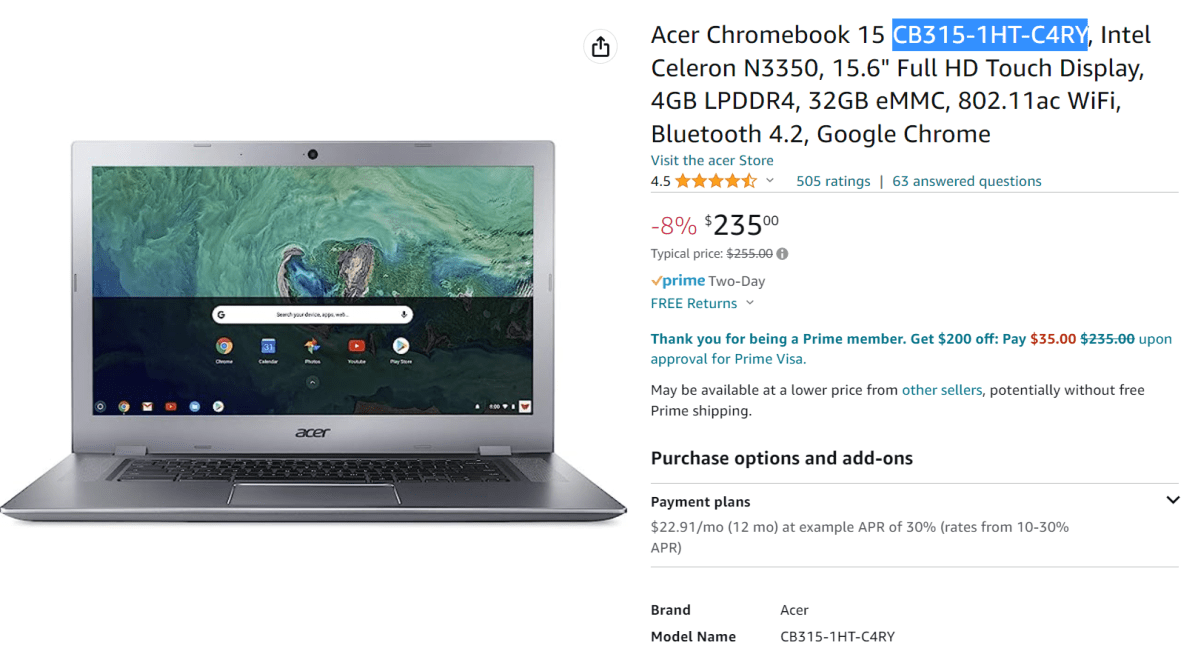 Mark Hachman / IDG
To its credit, the first Amazon vendor listed the $235 Chromebook 315 as model CB315-1HT-C4RY, with a Celeron N3350 inside. The $205.80 Chromebook is listed as a CB315-3HT, with a Celeron N4020 inside. It's not always true that a higher number equals a better processor, but in this case it's true: the N3350 was launched seven years ago in 2016, and Intel is phasing it out in September.
That's a tipoff that you should buy the $205.80 Chromebook 315, but it's not the real black mark against it: the support window. Google only supports Chromebooks for a limited time, and publishes the Chromebook lifecycle information on its website. Once a Chromebook reaches end-of-life, Google will stop supporting it, just like an out-of-date version of Windows or an Android phone. It will work, but Google won't publish any updates or security patches for it.
We checked both the CB315-3HT and CB315-1HT-C4RY against this list. While the first model appeared, the second did not. So that's good, right?
Unfortunately, Google appears to have updated its support lifecycle page, eliminating models that it apparently believes have been taken off the market. That can leave even a savvy shopper thinking oh, I don't see it on the list, so it's probably fine. In this case, it's not! Luckily, in 2020 we made a list of the Chromebooks expiring soon, and the Chromebook 15 (CB315-1HT) appears on this list. Support for the CB315-1HT is scheduled to run out in less than a year, or June 2024.
While this isn't illegal — the vendor has every right to sell this Chromebook, which is viable and completely supported by Google for now — we think you'd agree that it does feel a bit slimy. And if you walk away from this article thinking, wow, what a mess — well, welcome to our world. If you don't see a deal on the site, that means we've generally excluded the deal for a particular reason. But you may sometimes think you've found a diamond in the rough, too.
To recap, here's what you should look for in evaluating a Chromebook deal:
The price and discount. Use camelcamelcamel or another site to gauge whether it's an actual deal, based on historical pricing.
Vendor name and model. Some models (especially Chromebooks) have similar names.
The hardware specifications. We prioritize larger, higher-resolution (1080p and above) screens, and preferably 8GB of RAM. We look for a modern CPU, but it's not a deal-breaker.
Double-check it against the Google Auto Update Policy, aka the support lifecycle.
Of course, you can simply check our back-to-school deals on Chromebooks, which we try to update almost daily during the summer season. But smart shopping is a good strategy any time of the year.