Samsung has launched its new Galaxy Tab S9 series of tablets at its Unpacked conference in Korea, with an updated Qualcomm Snapdragon chipset and the Dynamic AMOLED 2X display that has graced Samsung's Galaxy line of PCs. But there's a potential feature that got our hopes up: remotely controlling your PC via the new Tabs.
Let's be clear: though Samsung executives implied that the new Galaxy Tab S9 series would be able to remotely-access your PC, they unfortunately don't. But it prompted us to wonder: why not?
Samsung launched the Galaxy Tab S9, S9+, and S9 Ultra at its Unpacked event in Korea. The 11-inch Tab S9 will be priced at $799.99 on up; the 12.4-inch Tab S9+ will start at $999, and the 14.6-inch S9 Ultra will be priced at $1,199.99 and up. (If you preorder a Samsung Tab S9 Ultra or S9+ with 256GB of storage, you'll get a 512GB upgrade.) Samsung will also offer an S9+5G, a 5G-connected tablet that will be priced starting at $1,149.99.
For years Samsung has tried to assemble the Galaxy lineup of watches, tablets, Galaxy PC laptops and phones into a coherent ecosystem, with apps and services connecting them together. Though all of the devices save the PC lineup use the Android operating system and can tap Google's own apps, Samsung has authored its own Galaxy software to connect them together, including Multi Control, Samsung Flow, connecting your Tab to your PC via Second Screen, Quick Share, and more.
Being able to connect a second screen to your PC has been a feature of Windows for years dating back to Windows 8. People can use it to connect to a projector — or, in this case, a tablet. To date, though, it's usually been a one-way street: you can connect your tablet to your PC, and use the tablet as a second screen for your PC. According to a presentation by Tabitha Baltimore, senior director of product management for Samsung Electroncis America, though, it initially appeared Samsung might allow you to go in either direction.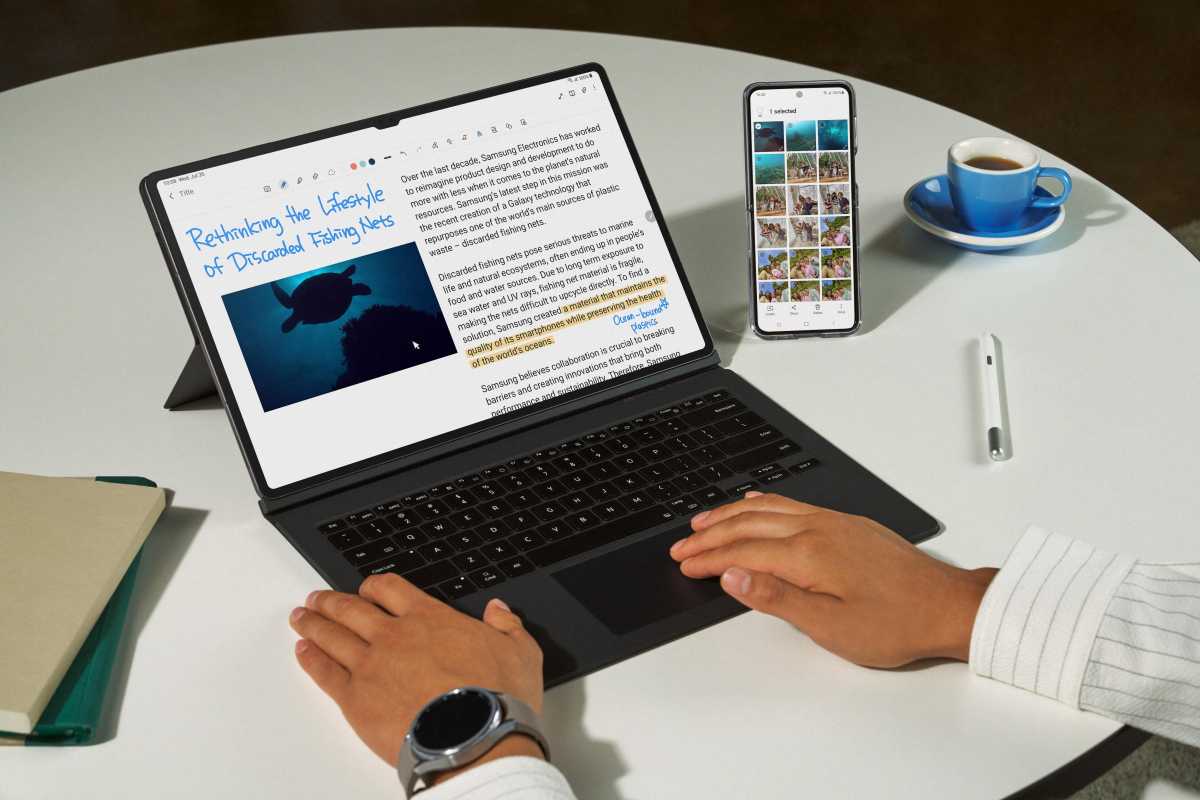 Samsung
"And now, [a] one-click Second Screen makes it even easier to pair with your devices," Baltimore said. "Easily launch and view your PC on Tab S9 without the need to toggle on both devices."
That certainly sounded to us like Samsung might be designing its own remote-access control for the PC, but…nope. A Samsung representative clarified that Samsung's Second Screen feature normally requires the user to toggle on the service on both the Galaxy Book PC and the Tab tablet. Now, the new Tabs don't require Second Screen to be switched on, as it can all be controlled via the PC.
But it does beg the question: why can't you?
There have been apps that allow you to do this: Chrome Remote Desktop, for example, or the Microsoft Remote Desktop app for Android that Microsoft debuted during the Windows 8.1 era. But Samsung hasn't really thrown its hat in the ring. And that's sort of crazy, because even if you've never used any of the Samsung-authored sharing apps on its Galaxy Phones, tablets, or PCs, there are just a ton of them. A Galaxy Remote Desktop app kind of sounds like a no-brainer.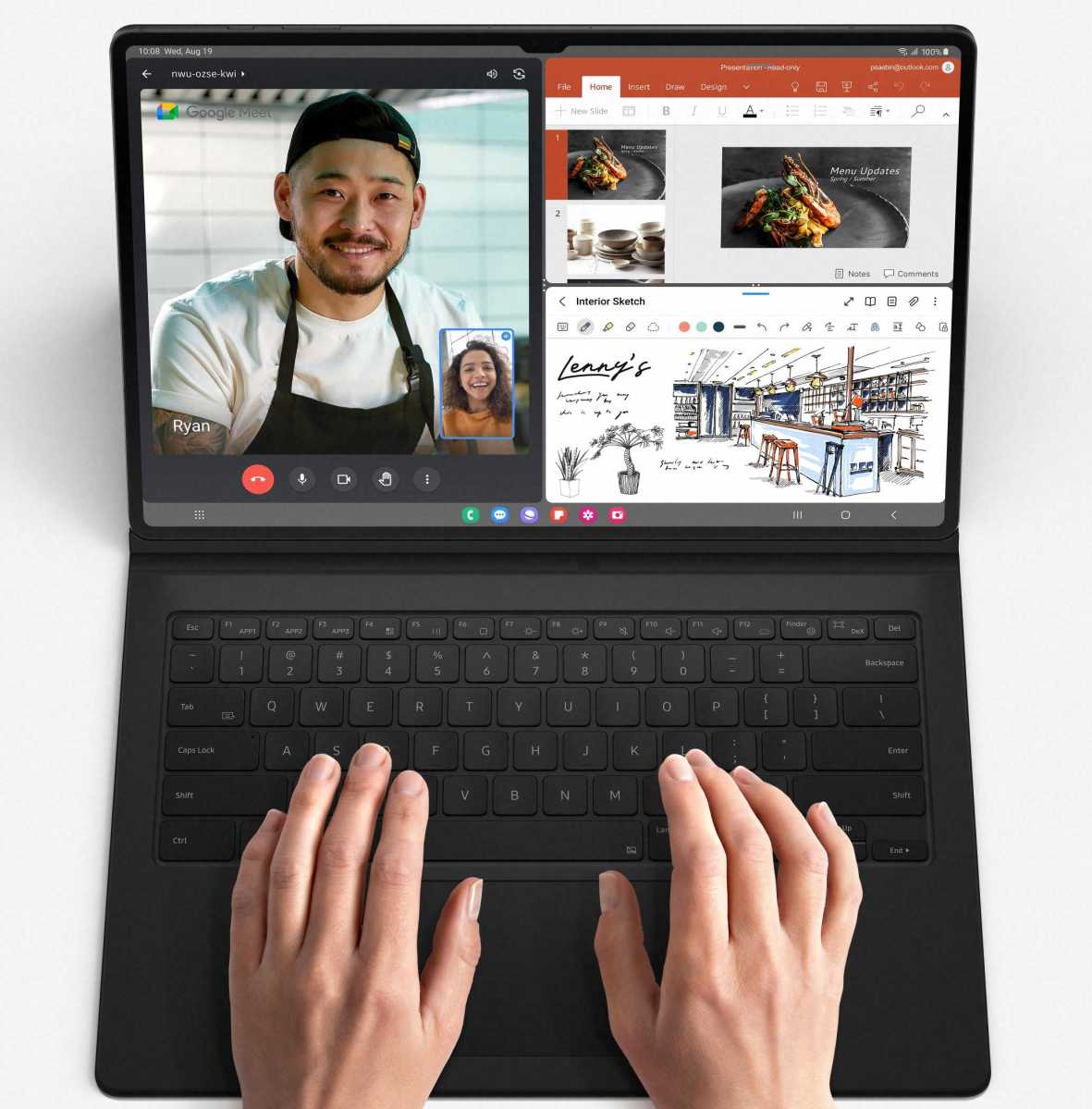 Samsung
Otherwise, Samsung doesn't seem like it's improved sharing content between devices by that much; Baltimore claimed that "it's now easier" to initiate Multi Control, which allows you to treat your tablet and phone(s) as screens that you can control with your PC. you can drop items like texts or images directly between devices.
On the plus side, maybe Samsung's enthusiasm for sharing apps will provide a remote-access app sooner than later?
What's new in the Galaxy Tab S9 series
Samsung's new Galaxy Tab S9 lineup includes Qualcomm's Snapdragon 8 Gen 2 for Galaxy, which offers slightly higher CPU and GPU clock speeds compared to the "normal" version Qualcomm offers other vendors. Android 13 is also standard across all of the variants as well, as is quad stereo speakers, on-screen fingerprint authentication, and the option to buy each tablet in either Beige or Graphite.
The new Tab tablets also support Wi-Fi6E, the faster Wi-Fi alternative. Samsung ships an S Pen inside the box, which can charge as it's magnetically connected, in either orientation.
For more details of the Dynamic AMOLED 2X OLED display, see PCWorld's Samsung Galaxy Book3 Ultra review.
Samsung
Here are the specifications for all of the new Galaxy Tab tablets:
Galaxy Tab S9 specifications:
Display: 11-inch Dynamic AMOLED 2X (60-120Hz)
Dimensions: 10.01 x 6.53 x 0.23in., 1.10lbs
Camera: 13MPixel AF (rear), 12MP ultrawide
RAM: 8GB/12GB
Storage: 128GB/256GB, plus microSD up to 1TB
Battery: 8,400 mAh
Galaxy Tab S9+ specifications:
Display: 12.4-inch Dynamic AMOLED 2X (60-120Hz)
Dimensions: 11.23 x 7.30 x 0.22in., 1.28lbs
Camera: 13MPixel AF+ 8MP ultrawide (rear), 12MP ultrawide
RAM: 12GB
Storage: 256GB/512GB, plus microSD up to 1TB
Battery: 10,090 mAh
Galaxy Tab S9 Ultra specifications:
Display: 14.6-inch Dynamic AMOLED 2X (60-120Hz)
Dimensions: 12.85 x 8.21 x 0.21in., 1.61lbs
Camera: 13MPixel AF+ 8MP ultrawide (rear), 12MP + 12MP ultrawide
RAM: 12GB/16GB
Storage: 256GB/512GB/1TB, plus microSD up to 1TB
Battery: 11,200 mAh