At a glance
Expert's Rating
Pros
Lightweight design
Solid battery life
Attractive color scheme
Cons
Not the fastest Chromebook around
Only 4GB of RAM
720p webcam is disappointing
Our Verdict
The Lenovo IdeaPad Slim 3 Chromebook is a solid, low-cost option for young professionals or college students. While we really like the lightweight design and long battery life, we had some caveats with the overall performance and disappointing 720p webcam.
Price When Reviewed
$319
Best Prices Today: Lenovo IdeaPad Slim 3 Chromebook
Ah, Chromebooks. What an ever-evolving journey we've seen so far. When they first materialized into existence, Chromebooks were a popular option for students due to their durable frames and affordable price points. They were (and still are) designed to be everyday machines. Nowadays, there are even cloud-ready gaming Chromebooks, which are super rad and something I never thought I'd see. While I've evaluated all sorts of Chromebooks, from modern 2-in-1s to machines made of recycled material, this time I'm reviewing the IdeaPad Slim 3 Chromebook. Lenovo's latest offering is definitely a more conservative approach, but that isn't necessarily a bad thing.
The IdeaPad Slim 3 Chromebook is a decent value buy. The design is simple yet effective, the frame feels strong and well-built, and performance is reliable, especially during day-to-day tasks. Battery life is fantastic too, making it a good option for young professionals or college students. You can't really beat the price, either. The thing is the specs aren't all that impressive. That said, I don't believe it's fair to dock it for its hardware. This is a Chromebook, after all, and it's only capable of so much. This clamshell might be far from reinventing the wheel, but it doesn't have to. Why mess with the formula if it works? You'll find nothing but the basics here. Read on to learn more.
Looking for more options? If check, make sure you check out PCWorld's roundup of the best Chromebooks.
Lenovo IdeaPad Slim 3 Chromebook: Specs and features
Our review unit came equipped with a MediaTek Kompanio 520 CPU, ARM Mali-G52 2EE MC2 graphics, 4GB of RAM, and 64GB of eMMC storage. It appears there's only one configuration at this time, which is exactly what I'd expect from a budget Chromebook. Check out the bulleted list below for more information on the specs and features:
CPU: MediaTek Kompanio 520
GPU: ARM Mali-G52 2EE MC2
RAM: 4GB
Storage: 64GB eMMC
Ports: 1 USB 3.2 Gen 1, 1 USB-C 3.2 Gen 1, 1 microSD card reader, 1 headphone/microphone combo jack
Camera: 720p with privacy shutter
Audio: 2W x2 stereo speakers
Battery: 47 watt-hour
Dimensions: 12.83 x 8.73 x 0.73 inches
Weight: 2.87 lbs
Price: $319
Lenovo IdeaPad Slim 3 Chromebook: Design and build quality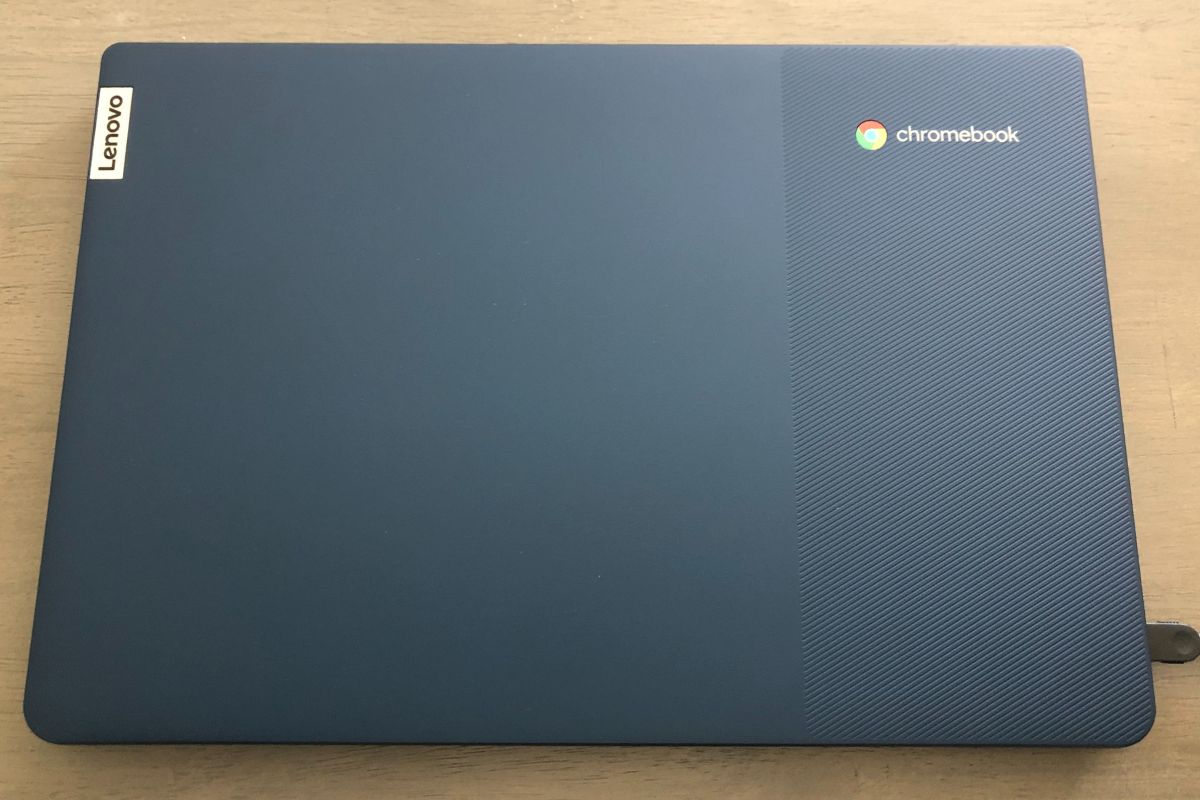 IDG / Ashley Biancuzzo
My first impression of every laptop I review starts with the moment I slide or lift it out of the box. When I first held the IdeaPad Slim 3 Chromebook in my hands, I was pleased with how light it felt. It weighs just under three pounds, which slots it in the ultraportable category. I don't commute to work, so I can't speak to the experience of taking it with me on the subway. That said, as a full-time remote worker, toting the Slim 3 around my house was both easy and effortless.
The design is subtle and sophisticated, something of a quiet beauty. I'm especially fond of the textured finish on the lid. If you run your hand across the lid, you'll find one side is smooth while the other has little raised bumps. It's a minuscule detail, but it adds a bit of much needed luxury to the overall device. The "Abyss Blue" color scheme is also quite lovely. The color isn't distracting at all and it looks super sleek under the right lights.
Lenovo IdeaPad Slim 3 Chromebook: Keyboard, trackpad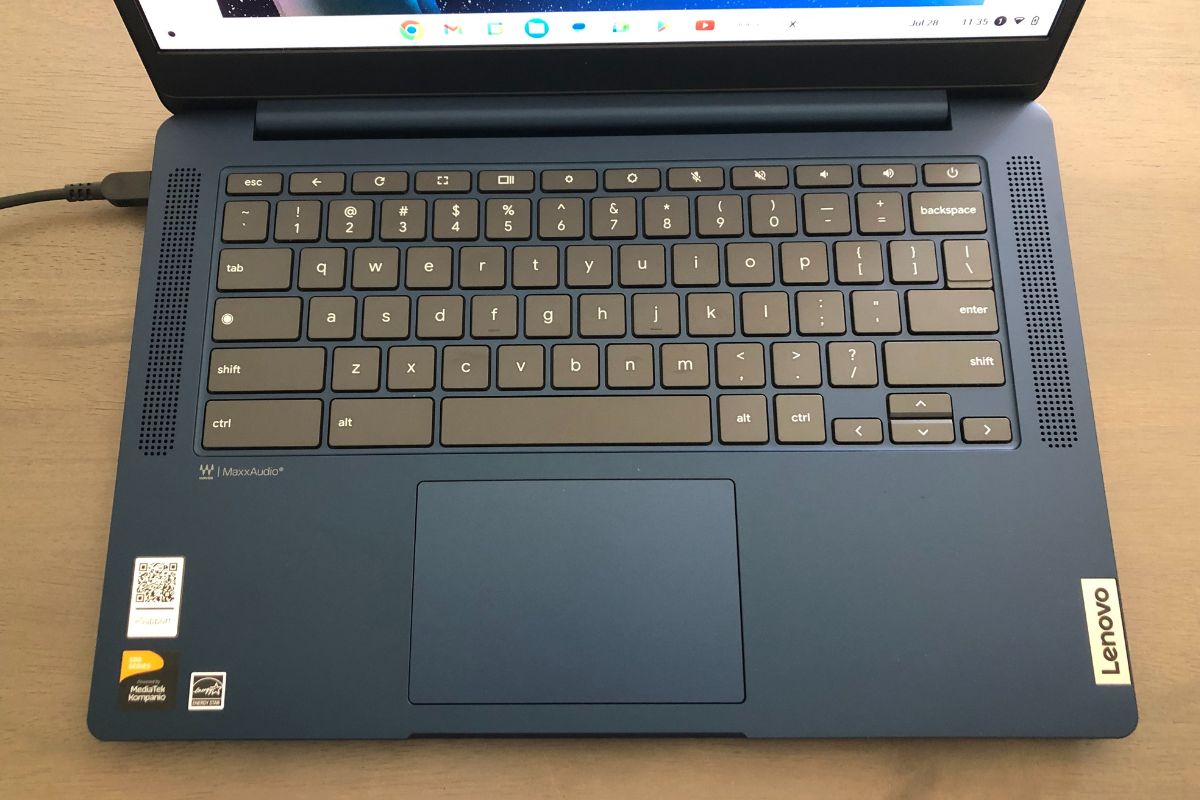 IDG / Ashley Biancuzzo
I didn't struggle much with the keyboard or trackpad, as they're quite similar to my personal Chromebook. I tend to sit folded up like origami when I'm in bed, often with my laptop precariously balanced on my legs. (It's probably why I often experience muscle soreness.) This position makes it very difficult to successfully use a laptop keyboard. However, when sitting up like a normal human being and using the Slim 3 at a table, I enjoyed the typing experience. The keys felt springy and typos were a rare phenomenon.
The trackpad was equally easy to get accustomed to. The trackpad sits in the center of the keyboard deck, which is what I prefer. There's nothing more aggravating than an off-center trackpad. Some folks like them, but they really ruin my day. As for using the trackpad, it registered my taps and swipes just fine. The surface felt really smooth, almost like it was made out of glass (I don't believe this is the case). There were only a few misfires here and there.
Lenovo IdeaPad Slim 3 Chromebook: Display, audio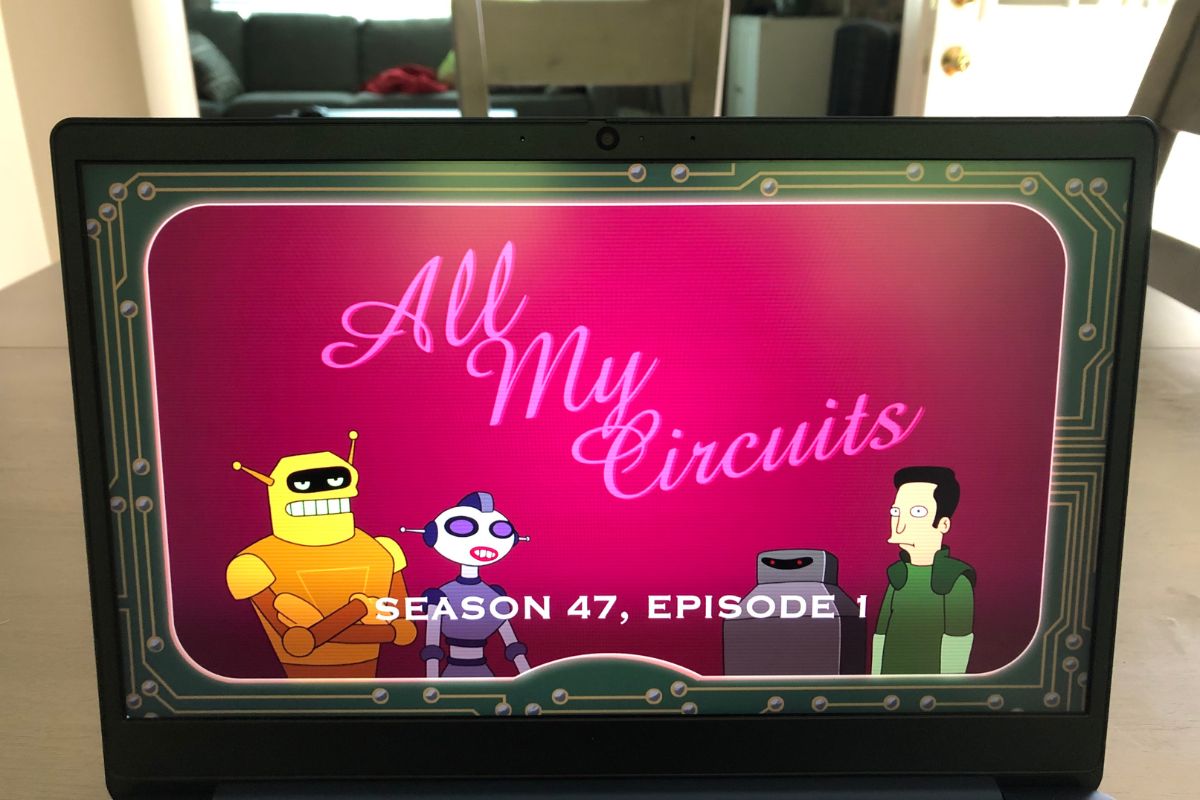 IDG / Ashley Biancuzzo
I was surprised by the quality of the Slim 3's touch display. It measures 14 inches and has a resolution of 1920×1080, which is fine for everyday tasks like email and browsing the web. When I watched the first episode of the new Futurama series, colors looked nice and smaller details like the bits and bobs inside Planet Express were crisp. The bezels are relatively thin as well, which gives you more screen space. The maximum brightness level is around 300 nits. It's fine for indoor use, but you won't be able to see much on the screen if you decide to take this machine outside.
The speakers sound decent. It's a user-facing speaker system, so the sound is coming right at you. When I played one of my favorite Lofi channels on YouTube, it was loud enough to fill my dining room, which is a medium-sized space that stems off of my kitchen. The speakers use Waves Max Audio, which is supposed to enhance the overall audio performance. The speakers are fine for playing music and whatnot, but I wasn't super blown away or anything. It's definitely not like being in an IMAX theatre.
Lenovo IdeaPad Slim 3 Chromebook: Webcam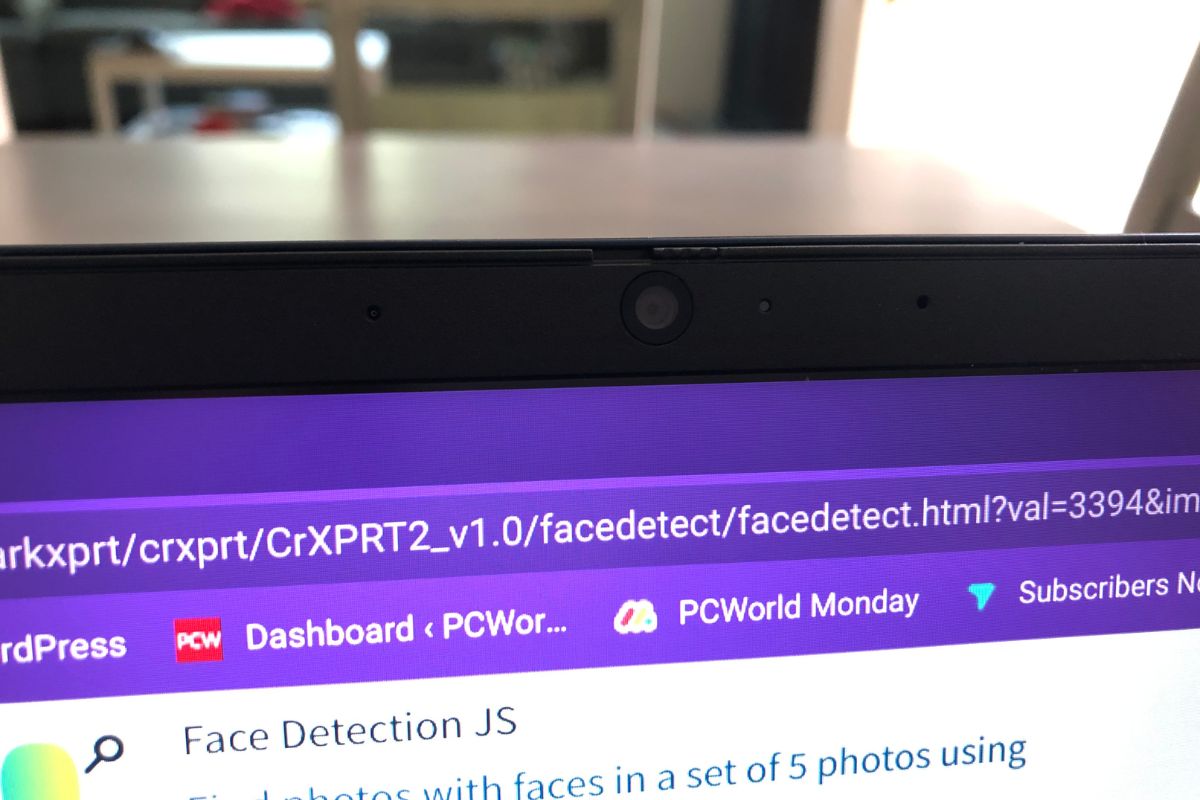 IDG / Ashley Biancuzzo
I'm of the mind that all laptops should come with 1080p webcams, as remote work is more common these days. Unfortunately, the Slim 3's 720p webcam is a real sticking point for me. As someone who works from home, I'd prefer to look as crisp as possible during videoconferencing calls. When I recorded a video of myself typing away on the keyboard, I was disappointed in the quality of the picture. The straps of my purple dress looked washed out and background details like the swaying tree outside my window appeared a bit fuzzy. That said, you could always pick up an external webcam.
Lenovo IdeaPad Slim 3 Chromebook: Connectivity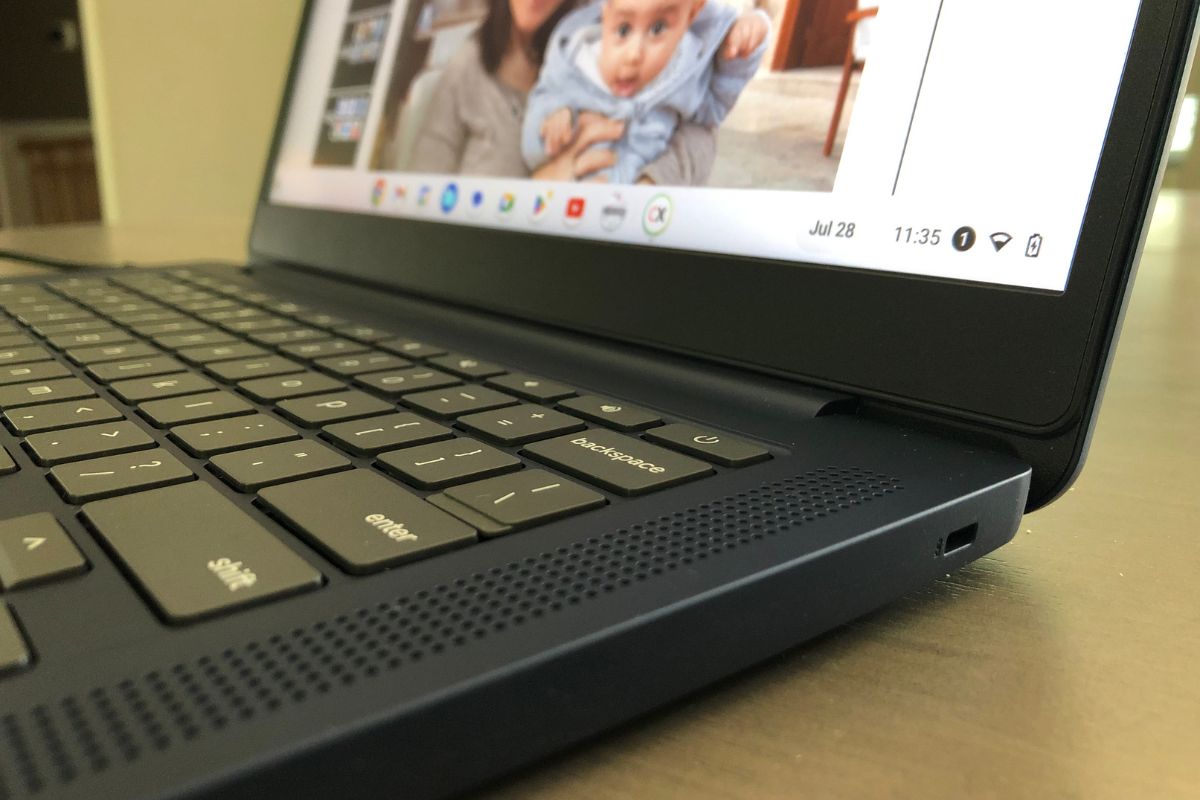 IDG / Ashley Biancuzzo
The port selection is fine, but nothing real noteworthy. You're getting one Kensington lock slot, one USB-C 3.2 Gen 1, one USB-A 3.2 Gen 1, one headphone/microphone jack, and one microSD card reader. It's enough for the everyday person, as some folks prefer plugging into an external monitor or mouse. It's good to have options, yeah? You probably don't need to bring an adapter with you.
Lenovo IdeaPad Slim 3 Chromebook: Performance
Look, I'm going to level with you here. The Slim 3 isn't the most powerful laptop I've ever tested at PCWorld, but that's not what it was designed for. If you're using the device for general-use purposes (browsing social media, checking email, and so on), then it's entirely serviceable. Anything more demanding than that and you'll likely see a bit of a slowdown. When I had a bunch of tabs open in my browser, I did notice a slight slowdown when loading up a fresh page or navigating to another open tab. That's not surprising, as there's only 4GB of RAM. RAM directly impacts web browsing speed, which is why I recommend at least 8GB for casual use.
Here's how the Lenovo IdeaPad Slim 3 Chromebook performed in our browser-based benchmarks:
CrXPRT 2: 73
Speedometer: 29.6
Basemark Web 3.0: 302.97
Kraken: 2137.8ms
Jetstream 2: 74.077
Compared to Chromebooks with Intel or AMD processors, the Slim 3 falls behind (but not by much). The Asus Chromebook CM34 Flip, for example, had a CrXPRT 2 score of 148 and a Speedometer score of 73.7. The Flip came equipped with an AMD processor, which is more powerful than the Slim's MediaTek Kompanio 520. That said, MediaTek CPUs are designed to fit inside light and portable laptops, which the Slim 3 definitely is. So, you've got to pick your poison here. Either you go with a slightly slower but more portable laptop or a heavier one with zippier performance.
By the way, the CrXPRT 2 performance benchmark measures things like how fast your Chromebook completes tasks and the Speedometer benchmark captures the responsiveness of the web applications. These benchmarks are good indicators of how a Chromebook will perform under different loads. It should also be noted that because Chromebooks get updated every six weeks, the test results aren't always going to line up perfectly.
Lenovo IdeaPad Slim 3 Chromebook: Battery life
The Slim 3's 47 watt-hour battery kicked some serious butt. When I ran the battery benchmark, which cycles through various tasks until the laptop dies, the Chromebook breathed its last metaphorical breath at the 16 hour mark. That's a great result, especially if you plan on taking this laptop everywhere with you. However, generally speaking, Chromebooks tend to have great battery life, so I'm not surprised by the result.
Lenovo IdeaPad Slim 3 Chromebook: Should you buy it?
The Lenovo IdeaPad Slim 3 is a perfectly serviceable Chromebook. Although it's not the most innovative laptop I've ever worked with, it's still a good value buy, especially if you're a student or young professional. It has enough power for light use and the battery will keep you going long after your workday ends. The inclusion of a 1080p touch display is a nice feature to have on a sub-$400 laptop. Performance could be a touch snappier, but that's just my own personal nitpick. You'll need to taper your expectations some, especially as this machine has only 4GB of RAM. If you need an inexpensive everyday machine, then the IdeaPad Slim 3 Chromebook is worth your hard-earned cash.
Best Prices Today: Lenovo IdeaPad Slim 3 Chromebook