At a glance
Expert's Rating
Pros
19 top-end ports
Built-in M.2 NVMe SSD slot
2.5Gb Ethernet
Dedicated HDMI 2.1 port
100W PD
Cons
HDMI means just two downstream TB4 ports
150W power supply
Our Verdict
It's got more top-end ports than any other dock we've tested and a built-in SSD enclosure so you can add up to an extra 8TB of storage, yet it is one of the most affordable docking stations available.
Price When Reviewed
$299.99
Best Prices Today: Sonnet Echo 20 Thunderbolt 4 SuperDock
Is it a bird? Is it a plane? No it's SuperDock! But what makes Sonnet's latest Thunderbolt 4 laptop docking station so super?
The super-ness is not the 19 top-end ports, although these are certainly impressive. It's not the 2.5x faster Ethernet connection. And it's not the backward-compatible Thunderbolt 4 technology that is certified to the very latest Intel standards.
What makes the Sonnet Echo 20 Thunderbolt 4 SuperDock so super is its built-in M.2 NVMe SSD slot which means you can add up to 8TB of SSD storage to your system without connecting an external storage device to the dock or computer.
But first, let's look at the abundance of ports this dock boasts to connect devices at top speed.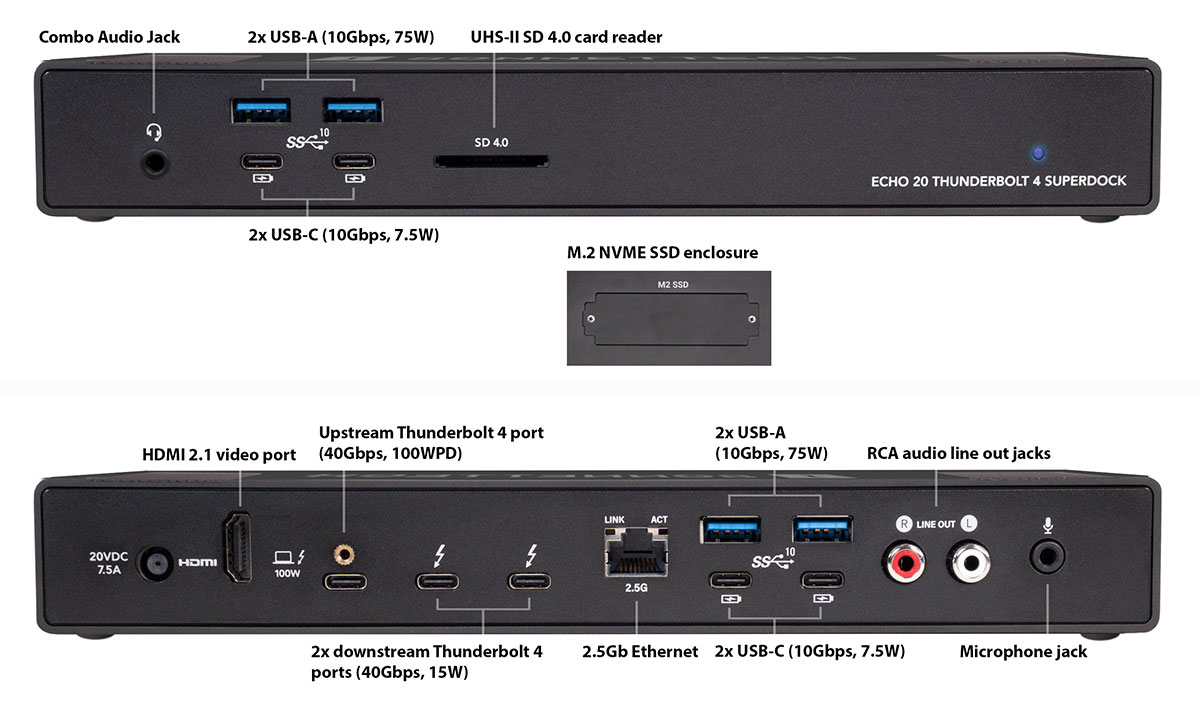 Foundry
Specs and features
The Sonnet Echo 20 Thunderbolt 4 SuperDock has a copious 19 ports. The "20" in the Echo 20's name includes the power supply port, which we don't usually count in our port countdown.
One upstream Thunderbolt 4 port (40Gbps, 100W)
Two downstream Thunderbolt 4 ports (40Gbps, 15W)
One HDMI 2.1 video port
Four USB-A ports (10Gbps, 7.5W)
Four USB-C ports (10Gbps, 7.5W)
Internal M.2 NVMe SSD slot
2.5 Gigabit Ethernet
UHS-II SD card reader (312MBps)
3.5mm combo audio jack (front)
3.5mm microphone jack (back)
Two (right and left channels) line out RCA jacks (back)
150W power supply
The Echo 20 has more ports than we've seen with any docking station. Even the Caldigit TS4 Dock has only (!) 18, and it's this kind of Thunderbolt 4 docks that Sonnet is gunning for. Read our fuller roundup of our other recommendations for the best Thunderbolt docks.
Thunderbolt 4, USB-C and USB-A ports
All the Echo 20's USB ports are at least 10Gbps (twice the bandwidth of the many docks' USB ports). The TS4 has as many (8) but the Echo 20 has one more USB-C, while the TS4 has the extra USB-A. As more devices eschew Type A for Type C, we applaud Sonnet for having as many USB-C as USB-A.
You can daisy-chain up to six Thunderbolt devices via the two downstream Thunderbolt 4 ports, although the devices connected will be sharing the 40Gbps bandwidth upstream to the laptop.
Rather than add the maximum possible three downstream Thunderbolt 4 ports, Sonnet includes two plus a high-end HDMI 2.1 video port so the user can add a direct external display without the need for an adapter.
If you plan to connect an HDMI display, that makes more sense than a third Thunderbolt 4 port.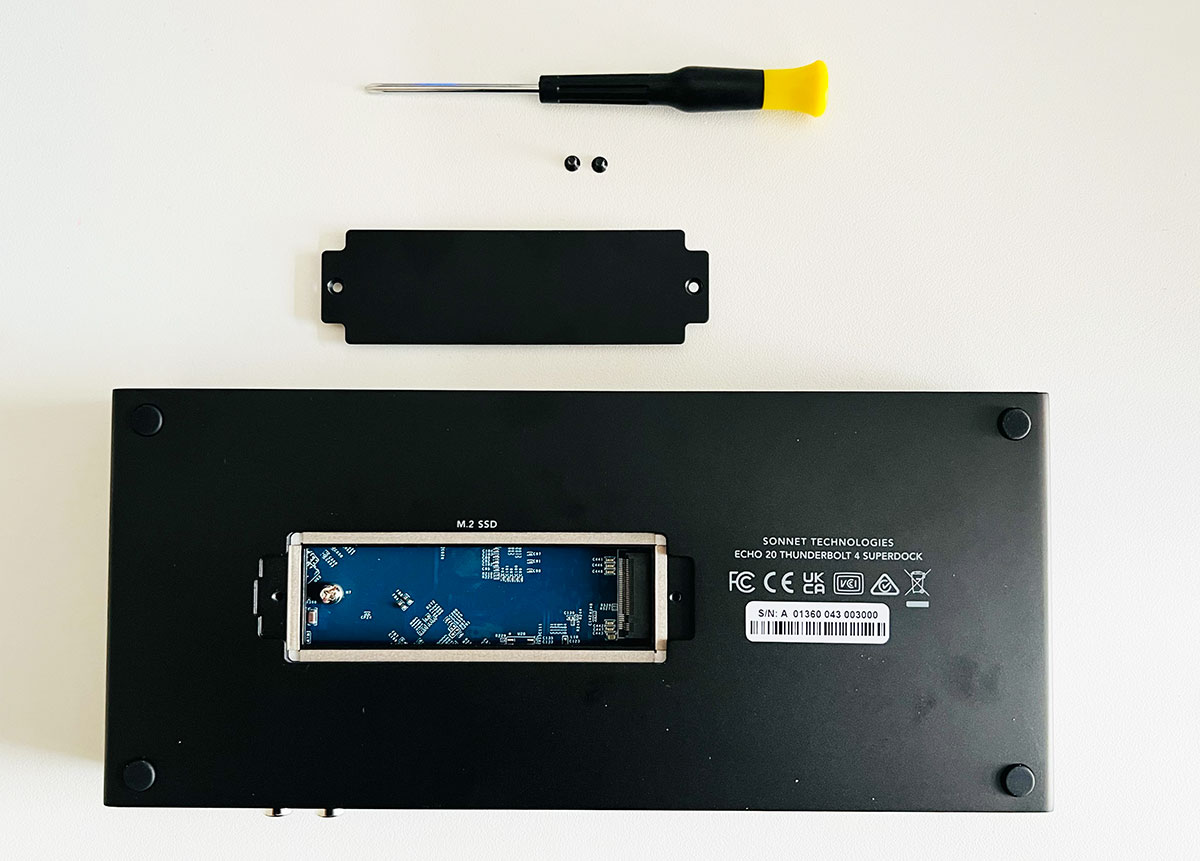 Foundry
Adding internal storage
The Echo 20 doesn't ship with an SSD, so you need to purchase one yourself. A 1TB SSD can be found for under $50, 2TB for around $100, 4TB for $250. 8TB SSDs can cost between $800 and $1,000.
It must be an M.2 NVMe SSD. With the right SSD, transfer and access data rates are up to 800MBps.
Further reading: The best SSDs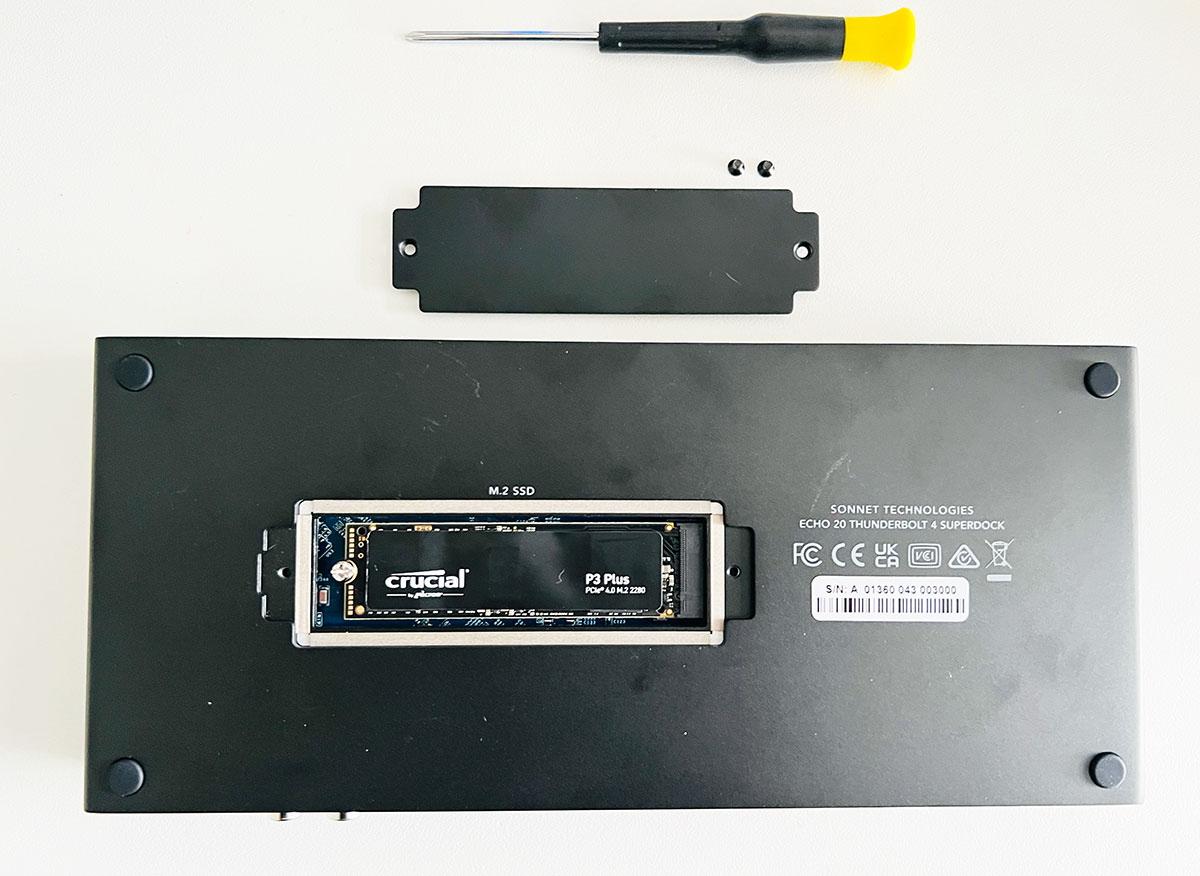 Foundry
SSD installation is simple if you know how to use a screwdriver and don't have shaky hands. Unscrew the two screws securing a panel cover on the back panel of the dock. Insert the SSD and re-secure the bottom cover.
However, we would have preferred Sonnet to include the correct screwdrivers with the dock as what you need—a tiny crosshead—may not be in the average toolbox.
The Echo 20 isn't heavy but even with its compact power supply it's not particularly portable, so what you store on that SSD isn't going with you when you disconnect the laptop from the dock. It's great for backups, archiving, and for large files you don't need with you on the road.
There's also a fast SD card reader for more portable storage…
Portable storage
The Echo 20 features just one SD card reader for portable storage, while the TS4 has both SD and MicroSD readers.
Having both formats offers more flexibility, and the two slots can be used at the same time, so the TS4 wins if you prefer portable storage to be installed.
Most MicroSD cards come with an SD adapter so the lack of MicroSD doesn't stop you from choosing between the two memory-card formats on the Echo 20. MicroSD cards are usually cheaper than full-size SD.
Tiny memory cards were once the preserve of professional users such as photographers who use them to quickly transfer files. However, anyone can buy a quality 512GB card for around $75/£75, and they offer an inexpensive way of upping the storage in your laptop and are super portable, too.
The Echo 20's UHS II SD card reader is rated fast at 312MBps—the same as the TS4's.
As with other docks, if you prefer portable storage there are other options, too. For example, you could add a pocketable SSD enclosure, such as Ugreen's M.2 NVMe SSD Enclosure Adapter, available for around $30 (also not including the SSD itself).
Foundry
Dock display options
You can connect an external display via the HDMI 2.1 port (without the need for an adapter), and another screen via one of the Thunderbolt ports, or two via both the downstream Thunderbolt ports.
Dual-display support means M1/M2 Pro, M1/M2 Max and M1/M2 Ultra Macs can hook up either a single 4K/5K/6K screen or two HD/4K/5K/6K displays.
A Mac with an M2 Pro/Max/Ultra chip can support up to a single 8K display at 60Hz, or two HD/4K/5K/6K displays (both 4K at 60Hz).
Windows PCs and Chromebooks sporting Thunderbolt 4 can support up to a single 8K display at 60Hz, or two HD/4K displays at 60Hz.
An interesting difference between the Echo 20 (HDMI 2.1) and the Caldigit TS4 (DisplayPort 1.4) is the choice of video port.
HDMI is the more popular port on displays but DisplayPort has traditionally been superior on the specs front. However, HDMI 2.1 has more than caught up with DP 1.4 so is a fine option even for high-end pros. HDMI 2.1 is a big leap up from HDMI 2.0, which is found on most other docking stations with a video port.
Audio ports front and back
Visuals aren't the Echo 20's only strength. There are four audio ports available. At the front is a 3.5mm combo jack for either wired headphones or a microphone, and at the back are separate left/right channel RCA line-out jacks that can deliver a clean signal to powered speakers or an amplifier, plus an extra 3.5mm microphone jack.
The TS4's three audio ports are all 3.5mm. While there is no noticeable difference in sound quality between RCA and 3.5mm connectors, a lot of consumer A/V equipment still supports RCA connectors, which also provide a more secure connection than 3.5mm connectors.
Audio enthusiasts would prefer a Digital Audio port to connect directly to their amplifier, speakers, or home theatre receiver for the highest-quality, pure audio playback, but the audio ports on the Echo 20 will be good enough for most users.
Super-fast Ethernet
Another bid for "Super" status is the Echo 20's super-fast 2.5Gb Gigabit Ethernet, which has the potential to be 2.5 times faster than standard Gigabit Ethernet. This again matches the wired-network port on the TS4.
To take advantage of the 2.5GbE speed, you need a connected device—such as a router/network switch—that is 2.5GbE or above
The 2.5Gb Ethernet port is backwards and forwards compatible with other speeds of Ethernet, so will work with a standard Gigabit Ethernet network.
Docking power
With 100W Power Delivery (PD), the Echo 20 can keep even the largest connected laptop powered up in full use.
Each USB port on the Echo 20 has a minimum charging power of 7.5W, and the downstream TB4 ports can offer 15W to power connected devices.
While this is impressive, it's one area where the Caldigit TS4 has more muscle. Its 230W power supply is the most powered-up docking station we've ever tested, and one of the front USB-C ports can charge at a generous 20W–enough, for example, for fast-charging an iPhone via USB-C.
The Echo 20's 150W power supply should, however, be powerful enough to charge a 100W laptop and have enough left for a few connected devices.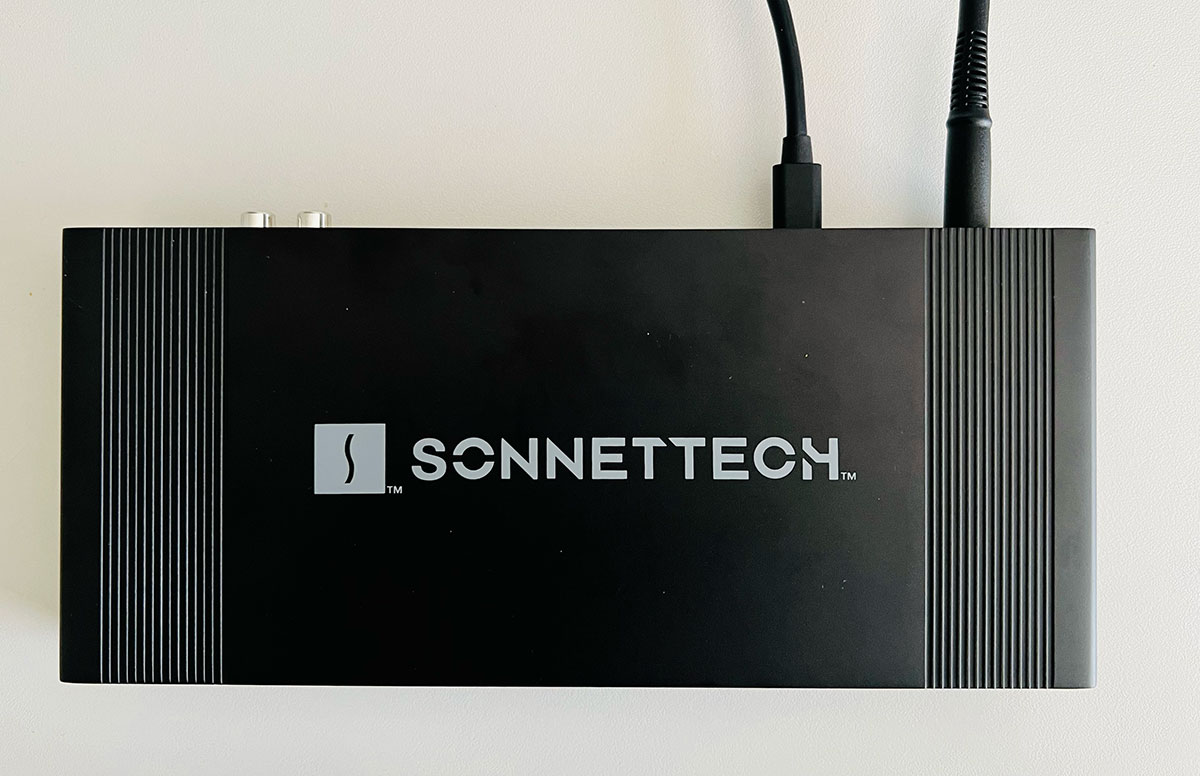 Foundry
Design
Docking stations either lie horizontally, like the Echo 20, or stand vertically, like the TS4. Vertical docks save desk space but horizontal docks can offer a cleaner look.
Personally, I prefer the vertical design, but most docks, if doing their job correctly, soon blend into their desktop environment anyway.
Most docks place the upstream Thunderbolt 4 port (to the host laptop) at the front, which means a trailing cable messing up your desk. Both the Echo 20 and TS4 handily position the upstream port at the back of the dock.
The Echo 20 is jet black, while the TS4 is metal gray, although this is unlikely to be a decider when choosing between these two excellent two docking stations.
Sonnet
Price
The Sonnet Echo 20 Thunderbolt 4 SuperDock costs $299.99, which measures up very favorably against the Caldigit TS4's $399.99 and other Thunderbolt 4 docks such as Kensington's SD5700T ($369.99).
Given its top-end specs, this is easily the best-value Thunderbolt 4 dock we have tested.
Note that there's no SSD included with the Echo 20 so you need to factor in this if you want to add the internal storage, but it's not even an option with other docks so doesn't spoil the comparison.
Even if you don't need the SSD enclosure now, the Echo 20 still represents great value for money.
U.K. buyers will unfortunately find the Echo 20 quite a bit pricier (£380) in their country, although it's still a great docking station option.
Verdict
We didn't think that Caldigit's TS4 could be beaten but the Sonnet Echo 20 Thunderbolt 4 SuperDock is a very close match for the number and quality of ports but for $100 less.
It lacks a MicroSD card reader and doesn't offer as much multi-device power, but it has other benefits—most noticeably the internal storage enclosure—and is specced high enough for most users.
The 19 ports are all top-end—Thunderbolt 4, 10Gbps USB-C and USB-A, 2.5Gb Ethernet, HDMI 2.1—and the inclusion of the onboard M.2 NVMe SSD slot gives the Echo 20 our crown as the new Thunderbolt 4 docking station of choice.
Editor's note: This review originally appeared on Macworld.com.