At a glance
Expert's Rating
Pros
Available with up to 8TB of capacity
Good overall performance
Stunning performance with the drive near full
Very affordable in the lower capacities
Cons
Lagged behind the MP44L and others in random performance
Hefty surcharge on the 8TB capacity
Our Verdict
Utilizing a DRAM-less (HMB/host memory bus) design, the MP44 is available with up to 8TB of capacity. It's a good performer overall, but lagged a bit in random operations.
While faster in some ways and slower in others than its less expensive MP44L cousin, the MP44's use of 232-layer NAND allows it to deliver up to a whopping 8TB of capacity. It also delivered a delightful surprise during our drive-nearly-full testing.
Further reading: See our roundup of the best SSDs to learn about competing products.
MP44 design and price
Aside from being a 2280 (22mm wide, 80mm long) M.2, PCIe 4.0 SSD, the MP44 is a host memory bus design (your device's memory is used for primary caching duties) like the older MP44L. In this case, however, utilizing a brand-spanking-new Maxio MAP1602A controller and 232-layer TLC NAND.
At the time of this writing, the MP44 was available on Amazon at $58 for 1TB (the capacity of our review unit), $110 for 2TB, $267 for 4TB, and $820 for 8TB. There's also a 512GB version, though it was not listed on Amazon.
Note that the MP44 will also be available in a 2230 (22mm wide, 30mm long) version–the MP44S, which will fit in smaller M.2 slots such as those found on a Steam Deck.
The main takeaway here is that the MP44 is available in massive capacities, albeit at a slight premium per terabyte for the 4TB version, and a significant surcharge per terabyte for 8TB.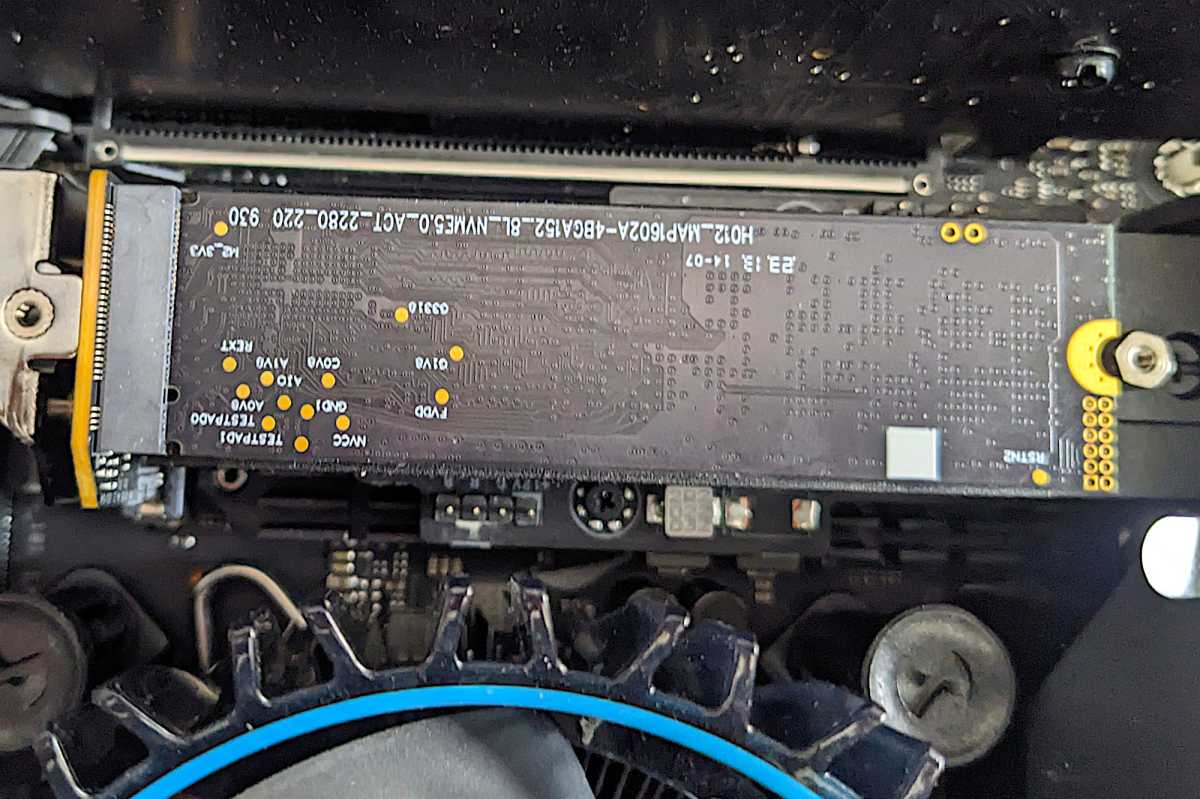 Considering that the faster-in-some-ways MP44L is available for $42.49 for 1TB, and $77.98 for 2TB, that drive might be the better bargain in the lower capacities (see the performance section below).
The MP44 is warrantied for five years, which is mitigated only by some rather interesting, and overall generous TBW (terabytes that may be written to the drive) ratings: 700TBW for the 512GB, 1,450TBW for the 1TB, 2,500TBW for the 2TB, 3,000TBW for the 4TB, and 6,000TBW for the 8TB.
Considering the extra money you pay for the two larger capacities, their TBW ratings are merely decent. In truth, most users never come close to exceeding even a low TBW rating.
How does the Teamgroup MP44 perform?
Though successor drives tend to be faster than their predecessors, that was not the case in every test with the MP44. In synthetic benchmarks the MP44 appears faster in terms of sequential throughput, but it fell well off the pace in random operations and slightly off in our 48GB transfers.
As you can see below, the MP44 beat up on its MP44L cousin, as well as two similarly priced drives, the Sabrent Rocket Q4 and WD SN580, in CrystalDiskMark 8's sequential throughput tests. AS SSD (not shown) offered a similar opinion.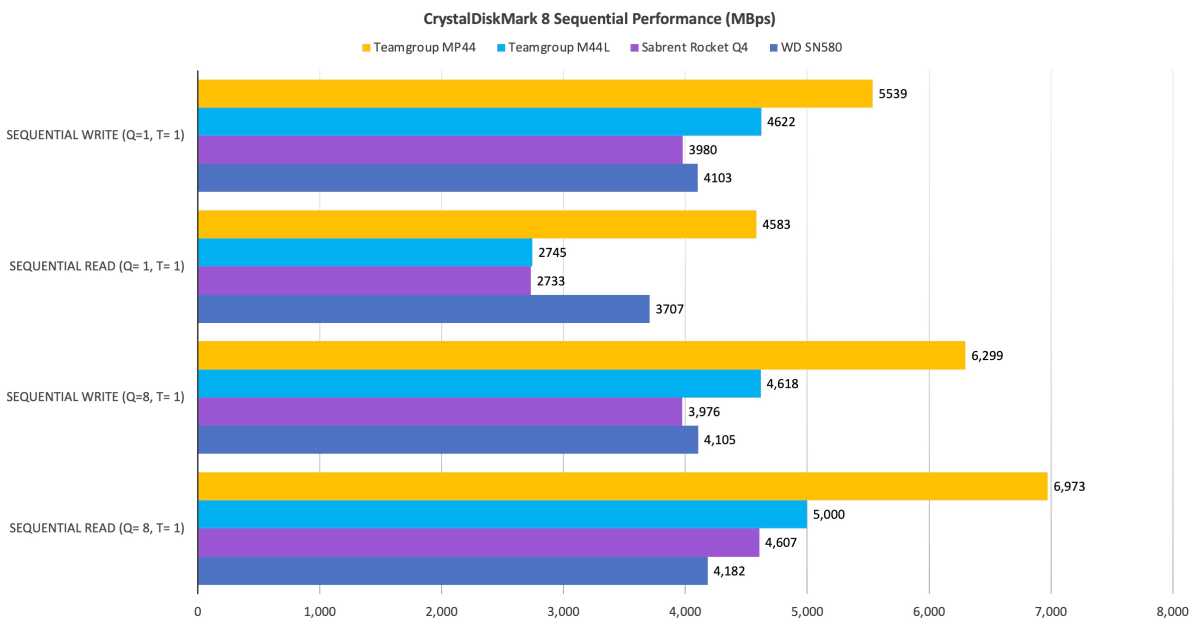 However, with the exception of 32-queue, single-thread read test, the MP44 was far less facile during random operations, as shown below.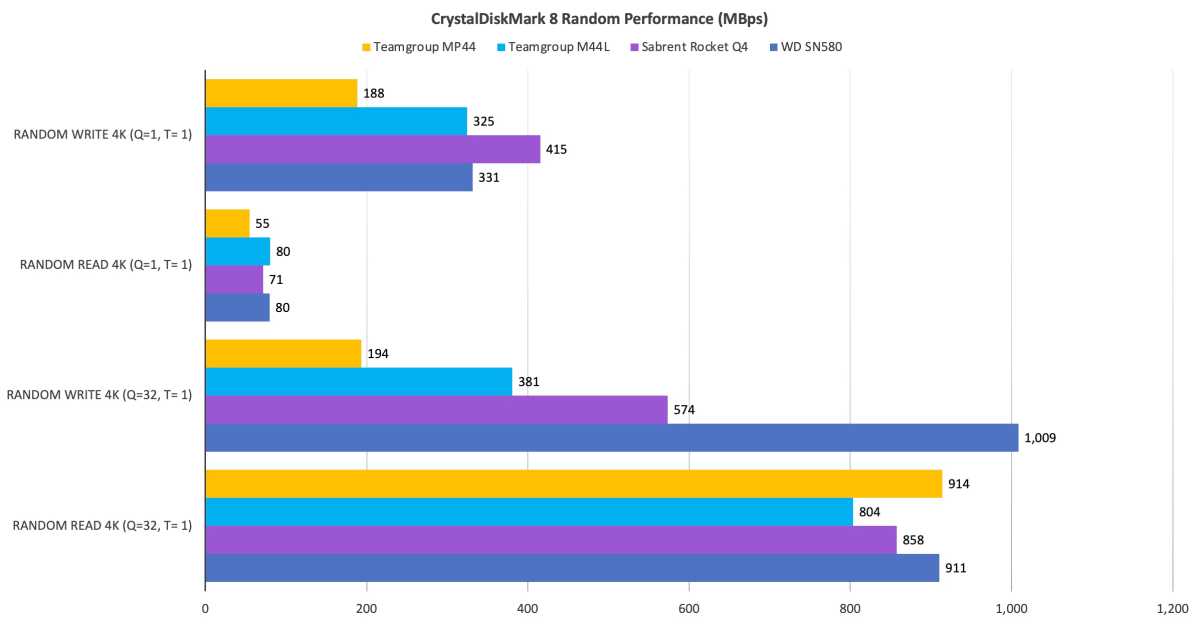 In the real world, slower random ops means the MP44 may not run your operating system quite as quickly as some other drives. Not that it's possible to discern a slow NVMe SSD from a fast one these days with the naked eye.
The MP44 turned in very good times in our real-world 48GB transfers, even if it lost by two seconds to the older MP44L, which is a very fast drive in these tests.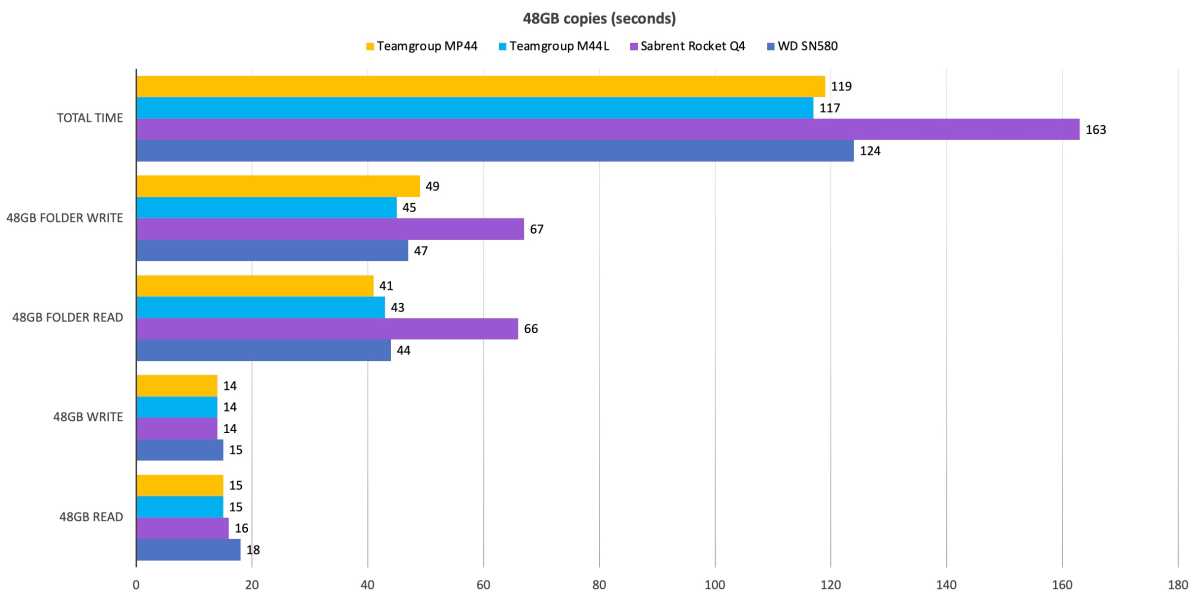 Note that 1TB drives generally suffer a bit in our 450GB write (shown below) due to less NAND to employ in secondary caching (writing as one-bit SLC, rather than QLC in this case).
The Sabrent in the charts is amazingly fast in this test, but it's a 2TB drive that never slowed down an iota from its frenetic 3GBps transfer rate.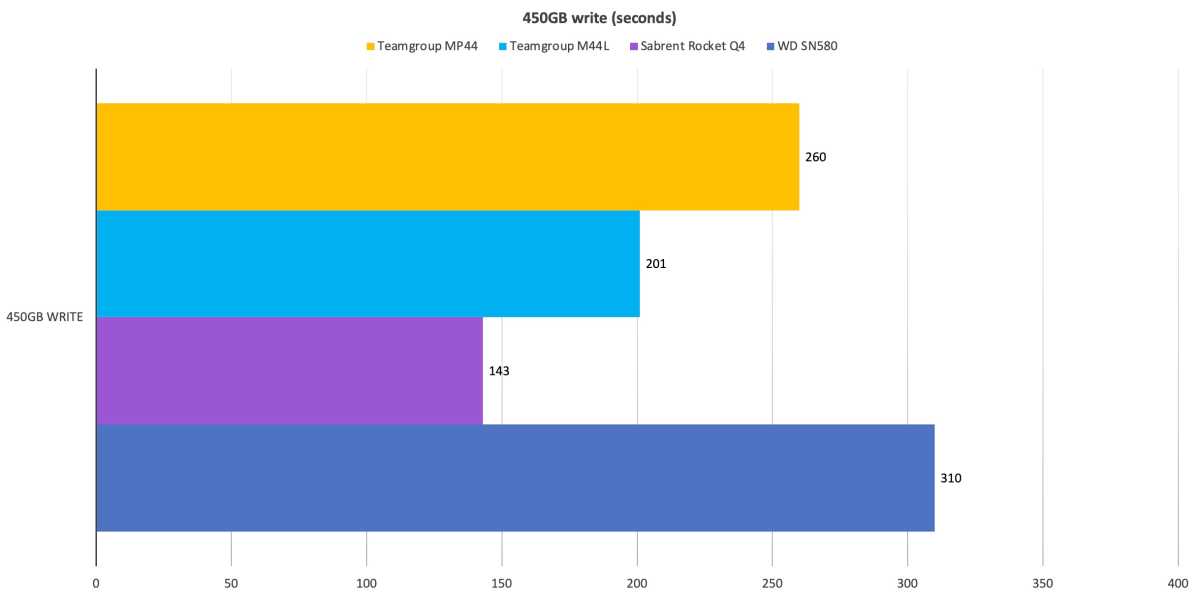 You can tell from the following image just where the issue in the 450GB write was–the point at which the write slowed. The MP44L slowed to 1.6GBps just past the halfway point, while the MP44 slowed sooner, about a third of the way through.

As vendors are improving HMB and secondary caching, and the purpose of our large file write is to force the SSD to write NAND natively, we've started writing even more data.
This is where the MP44 shocked us. While writing 900GB to the 1TB drive, it never slowed dramatically as did the MP44L, not to mention every other drive we've "exhausted" secondary cache on. Native writing can drop to 100MBps with QLC, and we normally see 200MBps to 500MBps with TLC.
The Phison-based MP44L eventually drops to 140MBps (or less) and took 43 minutes, 24 seconds to write the 900GB. The MP44 never dropped below 800MBps in our first run and took only 11 minutes and 44 seconds to write the file. It did, however, drop to around 600MBps at the 80 percent mark on subsequent 900GB writes. This still made for sub-12 minute times.
This sort of sustained performance when a drive is almost full is unprecedented. In fact, we reconstituted our large files to make sure that de-duplication wasn't a factor, or at least not a major one.
We're not sure how the long-term, high-rate sustained writing was accomplished, but hats off to the Maxio controller and Micron NAND folks. If the trend continues, it may change our recommendation to overbuy by 2X your needs in terms of capacity, to something less drastic.
Overall, the MP44 is fast, but a mixed bag performance-wise compared to its Phison-based MP44L sibling. We were mightily impressed by the 910GB write, but that type of operation is extremely rare, and the random numbers were subpar. Again, not something you're likely to notice without a benchmark.
Should you buy the Teamgroup MP44?
Though bargain and mid-range SSD prices have dropped through the floor, every penny counts and you're likely better off with the less expensive, and in many cases faster MP44L up to 2TB of capacity. If you need 4TB or 8TB, then the MP44 is the SSD you want. Also, go for the MP44 if you plan to fill the drive further than the 50 percent that's currently the industry recommendation.
How we test SSDs
Internal drive tests currently utilize Windows 11, 64-bit running on an X790 (PCIe 4.0/5.0) motherboard/i5-12400 CPU combo with two Kingston Fury 32GB DDR5 4800MHz modules (64GB of memory total). Both 20Gbps USB and Thunderbolt 4 are integrated to the back panel and Intel CPU/GPU graphics are used. The 48GB transfer tests utilize an ImDisk RAM disk taking up 58GB of the 64GB of total memory. The 450GB file is transferred from a Samsung 990 Pro 2TB which also runs the OS. The 900GB file is read off of a Crucial T700 PCIe 5.0 SSD.
Each test is performed on a newly formatted and TRIM'd drive so the results are optimal. Note that in normal use, as a drive fills up, performance will decrease due to less NAND for secondary caching, as well as other factors.
Caveat: The performance numbers shown apply only to the drive we were shipped and to the capacity tested. SSD performance can and will vary by capacity due to more or fewer chips to shotgun reads/writes across and the amount of NAND available for secondary caching. Vendors also occasionally swap components. If you ever notice a large discrepancy between the performance you experience and that which we report, by all means, let us know.