Sometimes, the basics just don't cut it. Experienced PC enthusiasts who want to build their own computer, upgrade it with new hardware, or simply maintain it need more than just a simple screwdriver. With the right tools and gadgets, you'll be able to assemble your PC faster and make the experience much more enjoyable — and less stressful.
If you take building PCs serious, these tools make working on a computer so much easier. Without further ado, here are the essentials for PC hobbyists:
Precision screwdrivers from iFixit
iFixit aims to provide the tools for self-reliant PC, smartphone, and accessory repairs. The company helps people repair their devices independently. To do this, it not only supplies the necessary tools and spare parts, but also helps with troubleshooting instructions and very high quality, free repair instructions for disassembly and assembly.
The company sells plenty of repair kits, but the must-have you want is iFixit's 15-piece precision screwdriver set. It combines the most common precision mechanics screwdrivers for electronics repairs, selected by how often they're needed in the thousands of step-by-step repair instructions on iFixit.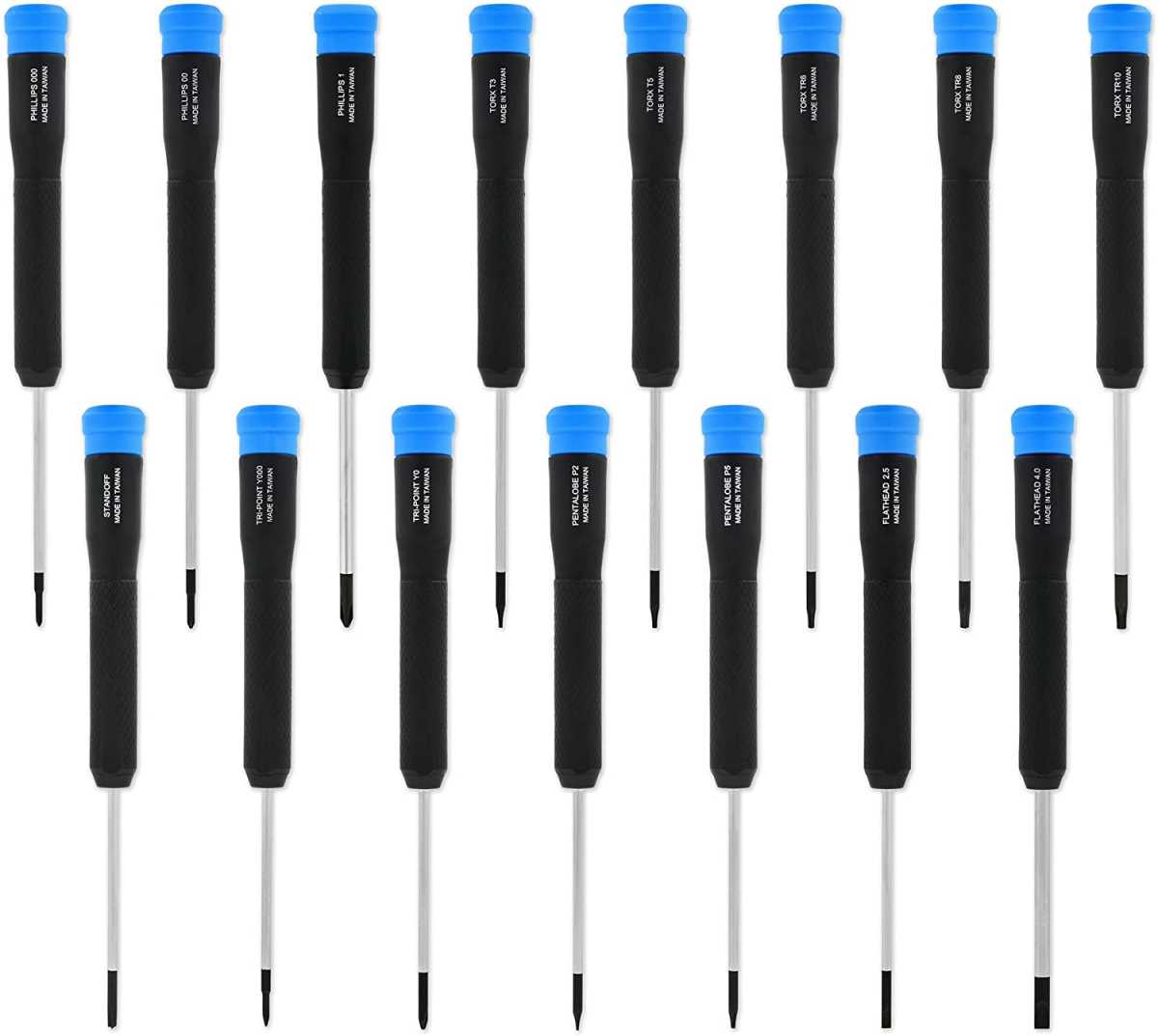 iFixit
iFixit screwdriver set for $54.99 at iFixit
All use cases are taken into account. These precision mechanics tools are suitable for almost any repair, whether smartphone, game console, notebook, tablet, computer, or other household and consumer electronics devices.
The antistatic screwdrivers with magnetic tip and ball-bearing rotating cap are ergonomically shaped and particularly suitable for working inside computer systems.
Anti-static mat from iFixit
Electrostatic discharge (ESD) can damage sensitive components. This high quality anti-static mat protects sensitive electronics and components from damage caused by static discharge.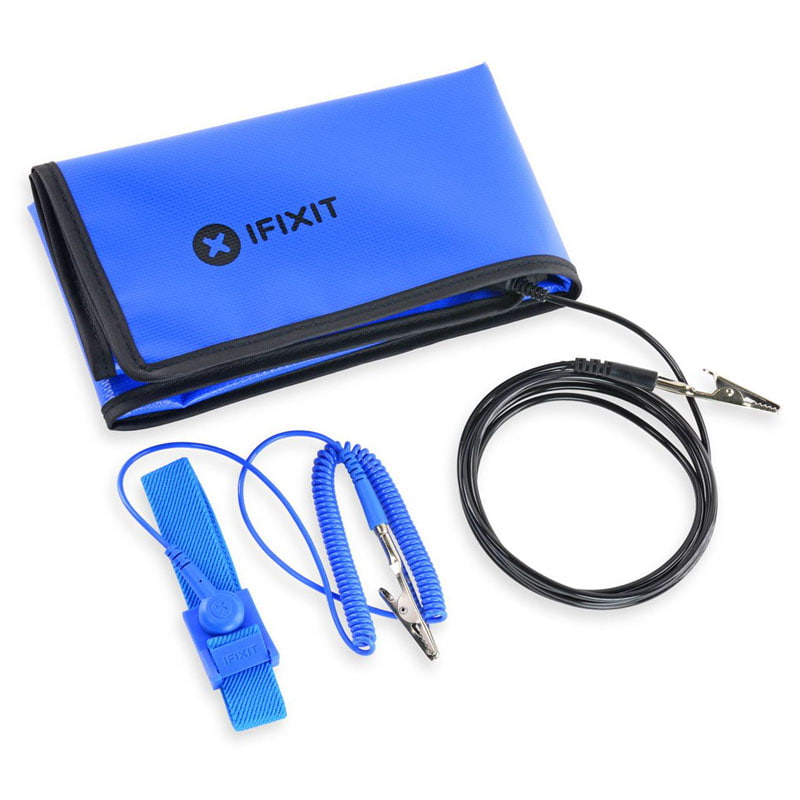 iFixit
iFixit Anti-static Mat for $29.99 at Amazon
The anti-static mat from iFixit is made of nylon and polymer and complies with ESD S4.1 and ESD S20.20 standards. It also has a protective coating for extra protection and includes a spiral cable with a crocodile clip for grounding, as well as an electrostatic wrist strap.
Thanks to those two connection options, the anti-static mat from iFixit is also perfect for two people working together on the PC.
Screw assortment kit from Vapker
Enthusiasts who upgrade and maintain their computers themselves should always keep a stock of all common screws in different sizes.
The 420-piece computer screw set from Vapker contains all the common screws and washers that are essential for mounting and fixing graphics cards, motherboards, hard drives, SSDs, fans, and other components.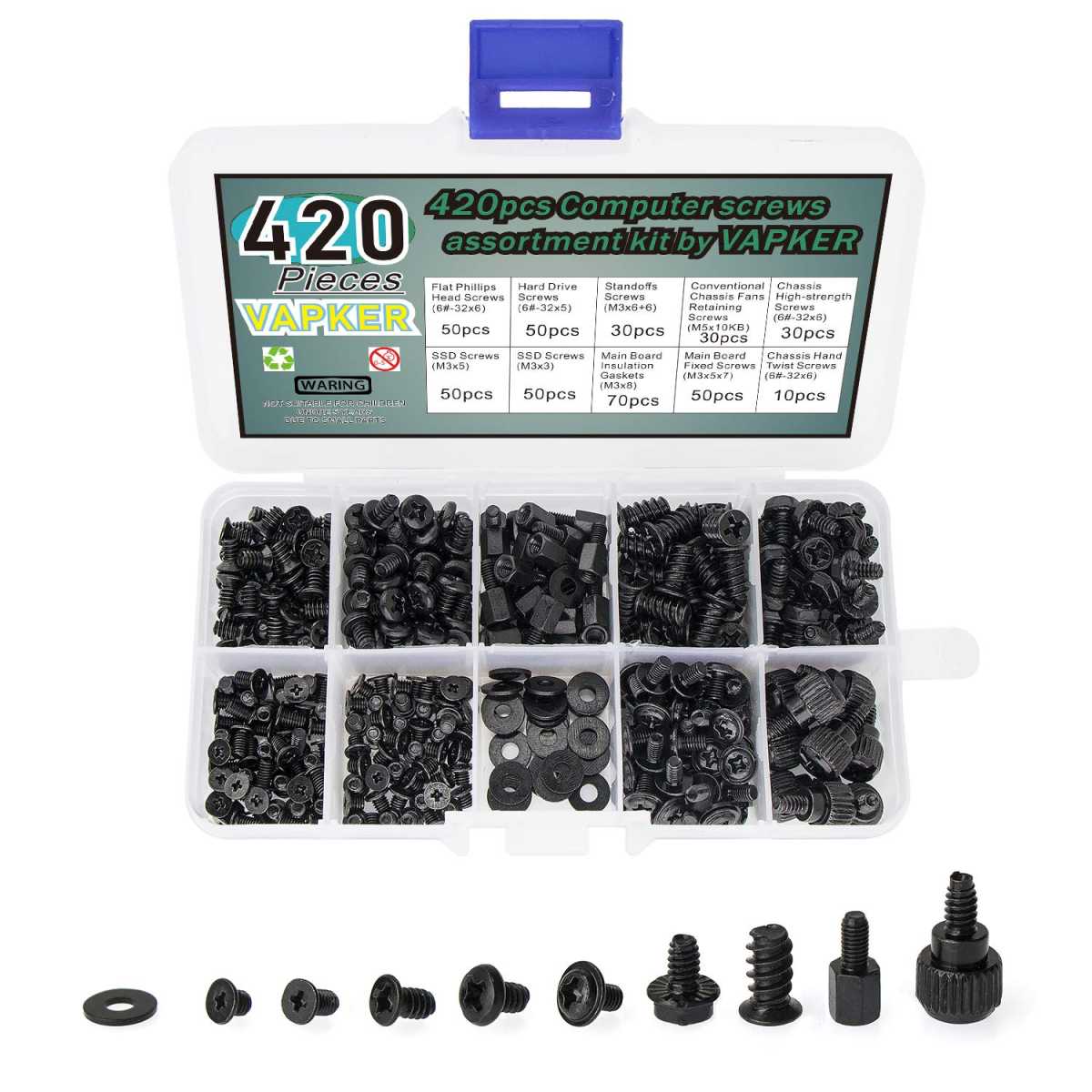 Vapker
Vapker 420-piece screw set for $9.99 at Amazon
The high-quality set contains nine different types and sizes of screws with 70 gasket washers. A total of 420 parts are supplied, including various M3 and M5 threaded screws for fastening many different computer components.
Thermal compound from Noctua
PC hobbyists who remove the coolers from CPUs and GPUs during basic cleaning of the PC or while building computers can't avoid applying new thermal paste. Make sure it's a good one to keep your PC running cool.
The award-winning NT-H2 thermal compound from the experts at Noctua delivers excellent cooling results. Applying this thermal paste ensures optimum heat transfer from the CPU or GPU to the heat sink.
Noctua
Noctua NT-H2 thermal compound for $12.95 at Amazon
Noctua's premium thermal paste comes with three cleaning cloths, which can be used to easily remove old, dry thermal paste on CPUs and GPUs. The Noctua NT-H2 thermal paste is suitable for air and water coolers, as well as for AMD Ryzen and Intel Core CPUs, AMD Radeon and Nvidia GeForce GPUs, the PlayStation 4 and 5, and the Xbox One and Xbox Series X|S.
Dust blower kit from Zarimi
Compressed air spray or a dust blower is indispensable for cleaning the hardware inside your PC. That's where the dust blower kit from Zarimi comes into play.
The dust blower operates in three stages and at speeds of 51,000, 71,000 and 91,000 revolutions per minute. The integrated LED lights make it easier to clean dark corners — a great convenience when you're elbow-deep in a computer.
VANBAR
Zarimi dust blower kit for $49.99 at Amazon
Various attachments and brushes help you clean your PC's hard-to-reach places, while the included USB-C cable quickly supplies the dust blower with fresh power.
The 7,500 mAh rechargeable battery supplies the dust blower with power for around 90 minutes, which should be more than enough for a thorough cleaning of the PC.
Infrared thermometer from Amazon
Broken fans or inefficient coolers on CPUs and GPUs can be easily detected by an increased heat in your PC. An infrared thermometer can provide valuable insights that help prevent defects at an early stage.
The AmazonCommercial Heavy Duty Infrared Thermometer operates in a measuring range of -50 °C to +1000 °C and can easily measure the surface temperature of everyday objects. With its adjustable emissivity settings, the infrared thermometer provides extremely detailed temperature measurements.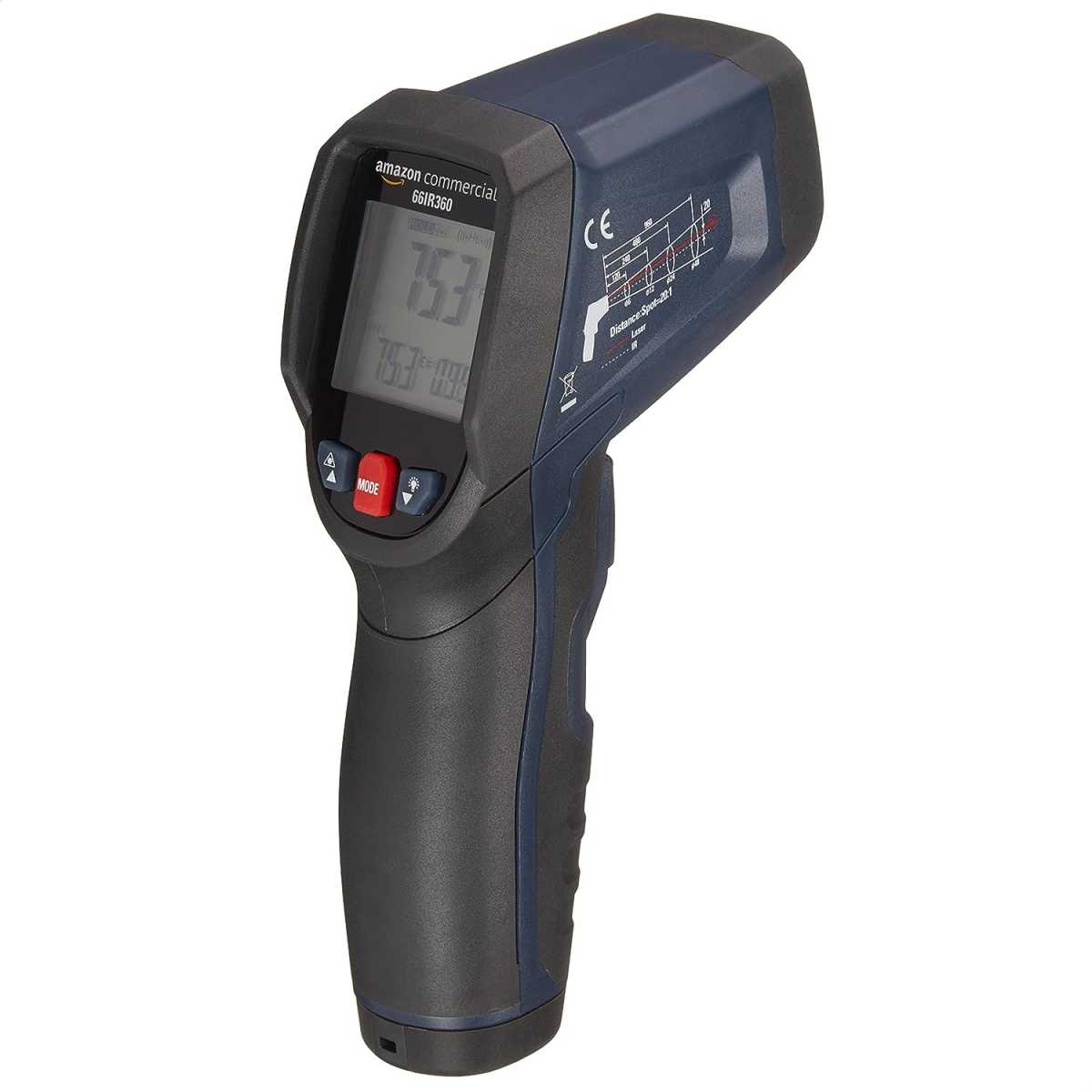 Amazon
AmazonCommercial Heavy Duty Infrared Thermometer for $49.99 at Amazon
The infrared thermometer comes with a 9V battery, a carrying case, a type K probe, and a detailed operating manual.
Using an infrared thermometer couldn't be simpler. Simply point the temperature measuring device at the surface, trigger it, and determine exact values for the CPU, GPU or RAM.
Tadeto sound level meter
A sound level meter is one of the more exotic tools for PC enthusiasts. It can quantify the noise that a PC's components make. It's essential if you're trying to create a silent PC, but even if you aren't, this tool can help you find sources of noise (such as GPU coolers and specific case fans) and then fix them.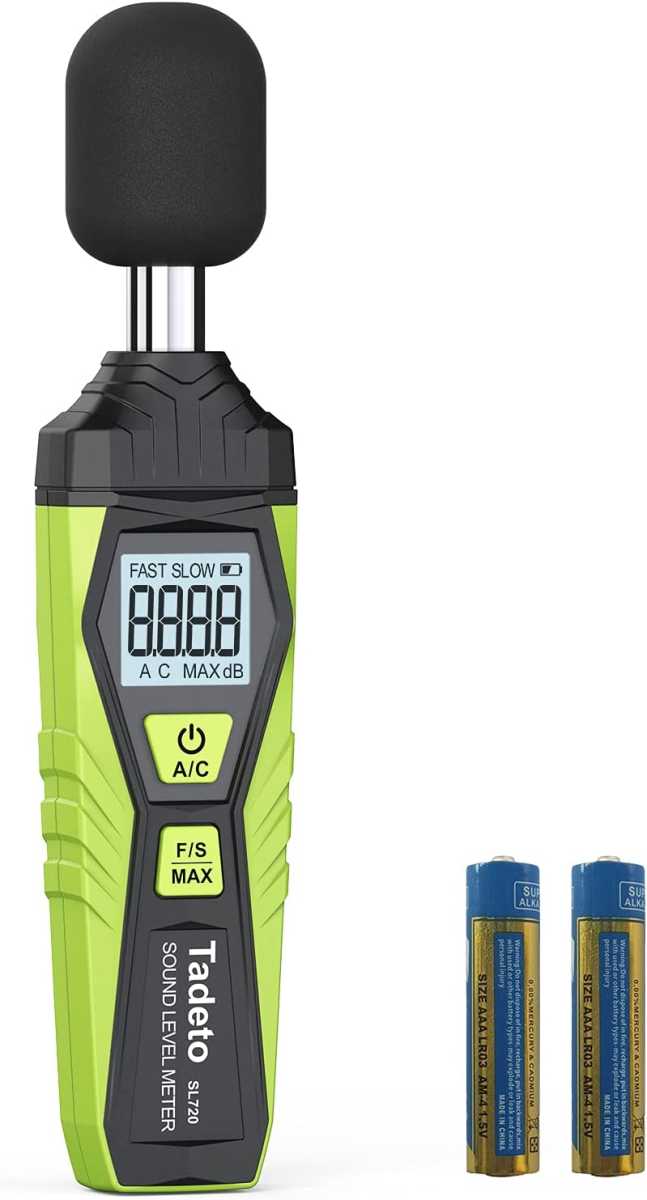 Tadeto
Tadeto sound level meter for $29.99 at Amazon
The measuring range of Tadeto's sound level meter is 30 decibels to 130 dB. The real-time monitoring works with high accuracy (± 2.0 dB) and can provide you with precise data on the sound level inside your computer.
The Tadeto sound level meter uses a digital 4-digit LCD display with a resolution or graduation of 0.1 dB. The large LCD has a backlight, while only two AA batteries are needed for operation, which are included in the box.
It all depends on the right tool
Whatever your Do-It-Yourself preferences, the right tools save time and frustration when it comes to work. But that's not all: If you use the wrong tools for the delicate inner workings of a PC, you risk possibly irreparable damage to the hardware. A good chef always needs a good knife, and PC professionals and hobbyists should always use high-quality tools.
If you're looking for high-quality tools for the outside of your computer, be sure to check out real PC enthusiasts swear these 24 desk accessories changed their life, a crowd-sourced roundup of beloved workstation gear.
This article has been translated from German to English and originally appeared on pcwelt.de.