Kindle Fire HD review: A big improvement from Amazon
Superior sound
Interestingly, Riptide's soundtrack was the first sign that audio on Fire HD is a different experience than what I've heard from other tablets. Amazon talked up the fact that they have dual-driver stereo speakers on-board, and it mentioned it exclusively offers Dolby Digital Plus audio (technically, this Dolby technology isn't exclusive to Amazon; the company is just the first out of the gate). But until you truly hear the difference side-by-side, with an array of content, it's hard to appreciate what Dolby Digital Plus and improved speakers does for the Kindle Fire.
Dolby's new mobile platform, which brings the audio format introduced with Blu-ray to tablets, proves most effective on content that is in need of a fix to even out the frequency response. For example, I could hear more range in the game soundtrack on the Kindle Fire HD than on the Nexus 7. Same with music tracks from Lady Gaga, Owl City, and Mary Black. In an A/B with Dolby Digital Plus on and off, I heard instruments and strains of music that were not evident when the feature was turned off (it's on by default) . But an R.E.M. track didn't get as much benefit, simply because, Dolby said on hearing the track, it just didn't need as much help to begin with.
Overall, I was pleased with the audio quality, and found it to be one of the best tablets I've heard for audio output via the built-in speakers. My one complaint with the Fire HD's audio was that the volume level needed to be turned up high to be heard; granted, this is a common trait on other tablets, but I hold the Fire HD to greater scrutiny here just because Amazon clearly was paying attention to the audio, yet chose this lower volume level.
No movies at Amazon currently support Dolby Digital Plus, but Dolby expects releases to come shortly. Meanwhile, even the movies and TV shows I listened to benefited from the Dolby Digital Plus boost, in a way that I don't usually experience from audio enhancements on tablets.
Speaking of movies, HD movie playback is a mixed experience. By far, the Kindle Fire HD is superior to the original Kindle Fire. Less pixellation, better color and defintion to the image. That said, Amazon's streaming video still showed some artifacts in my use on several Wi-Fi networks. Amazon says HD purchases are streamed at the highest bitrate your network can handle, up to 6Mbps at 720p; this may account for my experience, but I without a doubt preferred the quality of downloaded video as opposed to streamed video.
As for the rest of the guts inside, Amazon had a few more component boosts up its sleeve. For starters, the company thankfully boosted the internal storage to 16GB for the $199 version. That's twice what the Nexus 7 offers, and the same amount as found on the Barnes & Noble Nook Tablet (2011). Add $50 for the 32GB version, which is twice what Google offers at that price. The 16GB model has 12.6GB of usable storage—certainly better than you got on last year's 8GB model, and a reasonable amount considering how easy Amazon makes it for you to store content in the cloud. If you plan to have lots of high-definition content, I'd suggest going with the 32GB version, though, since there's no memory card expansion slot on the Kindle Fire HD.
Hardware-wise, the new Kindle has a front-facing 720p camera and adds Bluetooth, which the original Kindle Fire lacked. Amazon says its Wi-Fi radio's design boosts performance significantly, but in my casual use I didn't notice any particular benefit.
However, the Kindle Fire HD lacks what are oft-considered standard inclusions for a tablet. There's no rear-camera (to be fair, the Nexus 7 lacks this as well), and no GPS for directions. Perhaps the omission of such features could be acceptable if the tablet were only targeting the value market, but Amazon claims that this is the best tablet at any price. Even the value-priced Nexus 7 has GPS and Google's Navigation features intact.
Software: Streamlined and visual OS
The first thing you'll see when you power on your shiny new Fire HD, in fact, will be an ad. And in their full-color, HD glory, the ads feel much more intrusive than the grayscale advertisements on the Kindle e-readers. The Kindle Fire HD's adverts annoyed me to no end. Tell me where to sign up to opt-out for $15 extra...that is possible, if you can find it buried amidst Amazon's options.
Amazon has spruced up its Kindle Fire OS with a noticeably improved interface. Let's start with the home screen: It's simpler, with a black background and large, bold icons in its carousel menu, each for recently accessed content. In the portrait mode, beneath the carousel your content will show recommendations of things other customers bought. I didn't like this being front-and-center, though: While I don't mind Amazon passing me suggestions, having those suggestions appear on my home screen is unappealing. I liked the new shortcuts to some apps; for example, directly from the home screen you can now launch a new mail message.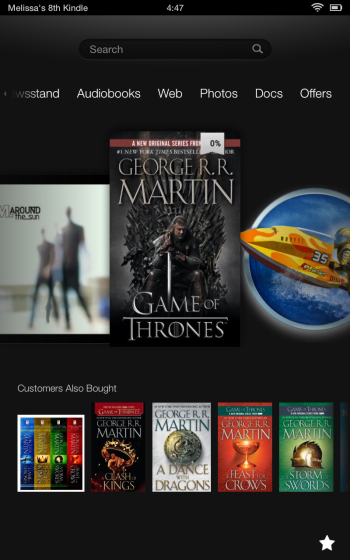 In the carousel, you get control over what's shown; if you don't want something there, you can tap and hold to remove something from the carousel, or to add it to your favorites list. This is buggy; items keep returning unbidden to the carousel, a glitch that Amazon says it will fix in a future update.
Favorites work fine; all you have to do is tap the star on the bottom right corner to access favorites anywhere on the device. If the content occupies the full screen, the nav menu now pops with home, back, search, and favorites now slides out from the right side, as opposed to popping up from the bottom.
Amazon streamlined and rejiggered the order of the top navigation bar to provide quick access to the Amazon store—now in the primary spot—as well as to books, apps, music, video, newsstand, docs in your Amazon CloudDrive, and more. (CloudDrive syncing was a bit wonky when I used it with my Windows CloudDrive app; Amazon is investigating the issue.) Amazon enhanced its notifications and settings shortcuts navigation to now be a pull-down shader, in the style of Google's Android notifications shade.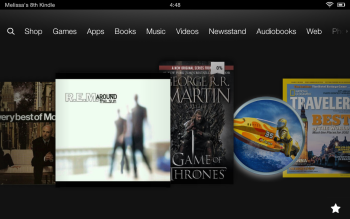 Streamlined and clean are the two running themes throughout the interface. Amazon's sans-serif fonts stand out for being smoother than those in stock Android 4.0 on the Google Nexus 7. Nowhere is this clearer than in the Kindle books section, where I found text sharper, with less aliasing on Game of Thrones than it was in the Kindle for Tablet app on the Nexus 7. The reading experience on Kindle Fire HD is vastly improved over the original Fire. Oddly, though, there's no way to adjust brightness directly from within the book app, as you can on Kindle app for Android tablet; and, there are no page numbers in sight.
It's not to say that Amazon's reimagining of Android isn't arcane at times. Or a misfire: The way images are presented in the Photos app looks cool when it interprets an image's rotation data correctly; but as you can see by the screenshot below, Amazon's software struggled with a folder full of mixed portrait and landscape images.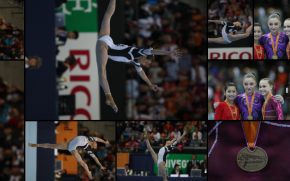 All of this said, Amazon has increased the functionality and practicality of the Kindle Fire HD as compared with its first tablet. For example, I can receive an attachment, open it, edit it in an app that supports the file type, save it, and then send out again—all from the tablet.
The new software has Facebook and Twitter integration, to make it easy to share passages of books. And with Facebook, you can also pull images down to your tablet, and share Amazon Gamecircle scores.
Meanwhile, Amazon continues to omit some basic built-in apps, like a to-do list or a notepad.
Ecosystem: Missing, messy apps
The Kindle Fire OS is now a custom skinning of Android's 4.0 Ice Cream Sandwich, a notable jump up from its previous 2.3 Gingerbread roots. The update to 4.0 suggests Amazon will amass more tablet apps optimized for larger displays, and optimized for tablet, period.
Unfortunately, I could easily download apps that were not intended for my device at all, including apps for phones, for example. And content optimized for the high-definition screen is in scarce supply at launch. Amazon says it plans for users to find content by calling it HD, but it didn't reveal whether HD apps will be sortable by category. Doing a simple search on "HD" in the app store revealed a messy array of content, some repetitive and not much that was cutting edge or appealing.
And that's part of what you get with the Amazon Appstore on Kindle Fire HD. Like your music, video, and book content, you're buying into Amazon's retail ecosystem for your apps—and that means you're limited to the company's selection, which Amazon says is over 30,000. Compare that to Google's 600,000 apps in the Play store (not all of them made for tablets).
What Amazon does really well, though, is integrate the shopping experience—and cloud-based content—with your local content. In most instances, I found the experience cleaner to navigate than on Google Play.
Bottom Line
Without a doubt, the Amazon Kindle Fire HD's greatest appeal lies with those who tend towards mainstream, and less toward cutting-edge. Its strength lies with how the tablet has been integrated with Amazon's numerous and varied services; from shopping to streaming media to storing your documents in the cloud, Amazon has you covered.
One of the many problems with the first Kindle Fire was that it simply didn't do anything well. That's no longer the case. E-reading and music playback are both well-executed, and the e-mail capabilities are more functional than before. You're buying into Amazon's limited app ecosphere, though, so if selection and getting the latest apps are a primary concern, then a stock Android tablet would be a better choice. But for other tablet shoppers, the Kindle Fire HD is a reasonable way to test the tablet waters, while getting a color e-reader to boot.(If you prefer a larger screen, the $299 Kindle Fire HD 8.9-inch and the $499 Kindle Fire 8.9-inch 4G LTE + Wi-Fi are scheduled to ship November 20.)
This story, "Kindle Fire HD review: A big improvement from Amazon" was originally published by TechHive.
At a Glance
Amazon Kindle Fire HD

The Kindle Fire HD is a tremendous improvement over its predecessor, and has a sharp, pleasing display. However, its heavy integration with Amazon's services is a strength, but also a limitation.
Shop Tech Products at Amazon