PC gamers looking to improve their graphics quality without emptying their wallets can check out graphics cards based on the Nvidia GeForce GTX 650 Ti available Tuesday at a starting price of $150. The GTX 650 Ti uses the same Kepler architecture found in other GTX cards such as the $380 GTX 670, but at a far lower price point. You could get an even lower price by snapping up the GTX 650, but for about an extra $30 Nvidia says the GTX 650 Ti is up to 40 percent faster than the regular 650. Select versions of the GTX 650 Ti also come with a free copy of Assassin's Creed 3.
[RELATED: Extreme graphics cards: Three killer boards that beat their reference designs ]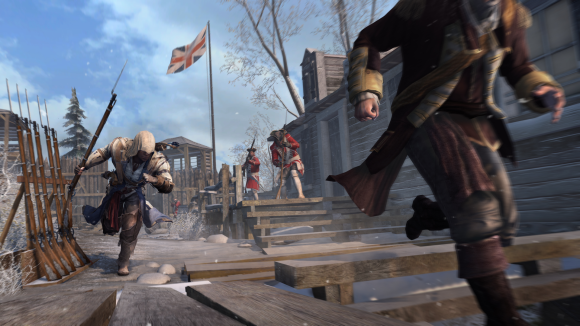 The reference design for Nvidia's new GTX 650 Ti features a 928 MHz core clock, 768 CUDA cores (double the amount in the GTX 650), and 1 GB of dedicated memory. The card uses one 6-pin PCI Express connector, and offers one HDMI and two dual-link DVI ports. Nvidia says you can expect the GTX 6450 Ti to offer performance of about 42 frames per second on Battlefield 3, and around 40 frames per second on Borderlands 2 and similar games. The GTX 650 Ti can support up to four separate monitors simultaneously depending on the version you purchase.
The Assassin's Creed 3 bundle offering won't be offered with every version of the GTX 650 Ti, so you need to check that the card you're buying includes a download coupon for the game. A quick check on Newegg showed versions of the GTX 650 Ti from Asus, EVGA, Gigabyte, MSI, and Zotac all included the Assassin's Creed 3 bundle. Prices on Newegg started at $155.