Review: BioLite's CampStove fuels your gear with fire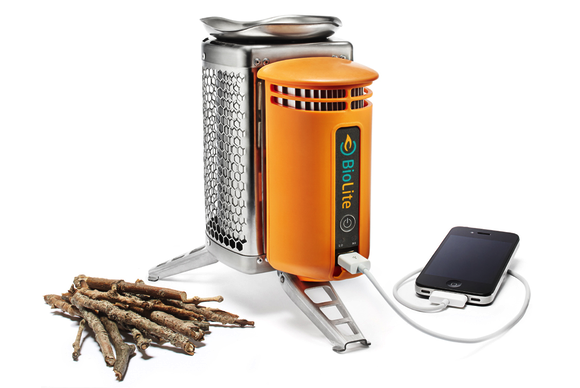 Today's Best Tech Deals
Picked by PCWorld's Editors
Top Deals On Great Products
Picked by Techconnect's Editors
As an activity enjoyed by millions of people around the world, camping takes on many forms. Some folks travel in what could best be described as houses on wheels, denying themselves none of the conveniences of modern life. At the other end of the spectrum, survivalists go into the field with the clothes on their back and a big knife, relishing in the challenge that comes with finding your own food, building your own shelter, and starting your own fires.
Somewhere in the middle are people, like me, who might strap a big backpack on their shoulders and hike or boat to locations that are normally unreachable by car—places that offer the opportunity to commune with nature while remaining relatively safe and still enjoying modern life's luxuries. These folks typically carry the basics of modern life: food, water, shelter, and fire (or fire-making gear, at least).
In recent years, these basics have come to include electronics, as well, at least in my camping gear. Here in Ontario, where my friends and I do most of our backpacking, the flat landscape and excellent park infrastructure mean that we often have cell-phone signals well into woods. Of course, nobody wants to spend their vacation checking e-mail, but mobile phones can offer a lifeline in case of emergency, not to mention navigation assistance and, thanks to countless nature-related apps, guides to everything from trees to birds to bugs. (Besides, connecting an iPhone to a set of portable speakers means no more being relegated to latrine duty because you thought that singing "Kumbaya" for the eighth time in a row would be a good idea.)
Unfortunately, with few exceptions, electronics aren't really built for long trips away from the power grid. Power packs and extra batteries are always an option, but when you have to lug all your stuff (plus your canoe) over a couple kilometers' worth of portage trail, pounds matter—batteries tend to be bulky, heavy things.
Enter the CampStove
With all that in mind, I was excited to test BioLite's $129 CampStove. The CampStove is an ingenious device that uses a special fan and some clever electronics to maintain a fire inside its small, stainless-steel chamber—a fire you feed using nothing more than small branches and twigs. Essentially, the CampStove a sophisticated version of what campers call a hobo stove, which can be improvised, for example, by cutting a hole in the side of a large can and using the can's top as a cooking surface for pots and pans.
The CampStove's fan is powered by an internal rechargeable battery. In an interesting—and especially convenient—twist, that battery is itself recharged using the heat of the fire, most likely using a mechanism based on what physicists term the "Seebeck Effect."
Even better, for those of us who bring electronics into the wilderness, is that once the battery is fully charged, any excess electricity produced by the CampStove can be used to power and charge your other gear through a standard USB port on the side of the stove. According to the company, smartphones, portable GPS devices, LED flashlights, and other USB-power devices are all fair game; the only catch is that power-hungry devices, such as smartphones, may charge more slowly than with their own chargers, and full-size iPads may not charge at all due to their demanding charging requirements.
Pyromania for beginners
On paper, the CampStove looks like the stuff that a camper's dreams are made of: At just 8.3 inches tall and 5 inches across—not much bigger than a 32-ounce Nalgene bottle—when packed away, and weighing in at under two pounds, it's compact and lightweight. It makes fire using fuel that can be found in just about any camping situation, saving you the burden of carrying butane or kerosene, which are heavy, bulky, and dangerously flammable. And, of course, it makes possible the unlimited enjoyment of your electronic gear without having to carry spare batteries.
I'm happy to report that BioLite's claims held up quite well in my testing. Setting up the device is quick and easy—exactly the kinds of words you want to hear when, after a daylong hike, all you want to do is heat up some soup. You slip the orange fan body's temperature probe into the combustion chamber, then you extend the stabilizing legs to lock everything into place. The parts fit together well and are easy to assemble, and the CampStove is quite stable once in position. When you want to take everything home, the orange section fits snuggly inside the stainless-steel chamber, which you then stow in your pack.
Starting a fire takes only a few seconds. BioLite includes a few paraffin-type fire starters, but any kind of small tinder (such as birch bark) will do just fine. I was able to start a fire by grabbing a little bundle of dried grass and setting it alight with a match, then following up with some small twigs and branches that I collected.
Once the fire gets going, you can turn on the fan, which feeds the fire by gently blowing air onto the flames to increase the supply of oxygen. I confess that this idea sounded a bit gimmicky when I first heard of it—the idea of feeding a flame by blowing on it is nothing new, but I wasn't sure that such a small fan would be effective. In practice, the fan's effect is quite dramatic, as the fire stops smoking almost immediately, instead burning with a clear flame at a very predictable rate, even when it's windy—something that can't be said of your traditional hobo-stove.
The fan has two speeds. Initially, it blows at a lower speed to help build the fire, but once you've established a solid base of coals and fuel, you can switch to the higher speed to help the flame burn hotter (and, thus, produce more electricity). Using the higher speed comes at the expense of having to feed the flame fuel more often, but on the high setting, I was able to boil a one-quart pot of water in about five minutes on a cool, windy fall day.
Obviously, the stove's own battery needs juice to power the fan, so you'll want to charge that battery before your trip. BioLite recommends that you condition the battery pack before the first use by plugging it into any powered USB port (such as one on your computer or on a USB charger); according to the company, from that point forward, as long as you light up the stove at least once every six months, that particular step will never have to be repeated. Still, if you arrive at your campsite with a dead CampStove battery, it takes only about ten minutes of burning time before the CampStove's battery has enough juice to turn on the fan.
Recharging
Once the CampStove has reached the optimal temperature, a light on the stove's body turns green, indicating that you can now connect a device to the USB port. I performed two tests, the first using about a dozen kiln-dried oak sticks, and the second using a couple handfuls of twigs and small branches that had fallen off maple trees.
In each case, the stove burned for a full twenty minutes. In the first test, during which I also boiled some water, I ended up with around fifteen minutes of usable charging time, which increased the charge on my iPhone 5 by about ten percent. During the second test, I plugged in my TomTom GPS navigator, whose battery went from completely depleted (who uses these things anymore?) to about one-third of a full charge.
Neither of these tests was particularly scientific, but I found the CampStove's performance to be impressive—consider that gathering enough fuel to run the stove for an hour or so is a task that can be performed in a matter of minutes when you're in the woods, and feeding small twigs while you're cooking, or even just relaxing after your meal, is essentially effortless.
After testing the CampStove, I also realized that it's useful even if communing with nature is not your thing: The CampStove is a great emergency-preparedness tool, as you can use it in a pinch should electricity and gas become unavailable due to a storm, blackout, or unscheduled zombie apocalypse. The stove's only real drawback is the fact that the orange fan body is not waterproof—a shortcoming I wish BioLite made clearer on the company's website and product packaging, though one that I accounted for by storing that component in a Ziploc bag.
Bottom line
The CampStove is a useful, well-designed device that's incredibly easy to operate and works exactly as advertised. The real question is how it stacks up against the alternatives. Obviously, if you just need a compact camp stove—no gadget charging required—the CampStove isn't for you. Heck, in a pinch you can put together a stove for free from an old coffee can. And at $129, the CampStove is more expensive than a traditional gas- or kerosene-burning stove, though those stoves add bulk and weight to what is usually an already-overstuffed pack, and require strapping that fuel—heavy and flammable—to your back. The CampStove never runs out of fuel.
The CampStove is also more expensive than carrying some extra batteries, but those are generally quite heavy. And other battery-charging solutions aren't inexpensive, either: A quality solar charger, for example, will set you back about $100, but it won't work at night, and it can't be used for making a fire or cooking food (at least not more than once, and you will definitely void your warranty in the process).
The CampStove's strength is that it can perform a number of different tasks, allowing you to replace several camping items with a single piece of gear that works just as well as each of them—and possibly better than all of them. Assuming that, like me, you bring USB-chargeable gear on your trips, the CampStove's convenience and efficiency alone make it well worth the price and an excellent addition to your camping gear.
This story, "Review: BioLite's CampStove fuels your gear with fire" was originally published by Macworld.
Note: When you purchase something after clicking links in our articles, we may earn a small commission. Read our
affiliate link policy
for more details.
Shop Tech Products at Amazon