At a glance
Expert's Rating
Pros
The audio sounds balanced
Simultaneous Wi-Fi and Bluetooth lets you listen to multiple audio sources at once
The futuristic styling looks fantastic
Cons
The microphone picks up a lot of ambient noise
The controls are reasonably basic
It's expensive considering there's no ANC
Our Verdict
The Syn Max Air is one of the better fitting, sounding, and looking 3D gaming headsets you can buy. Plus, its futuristic styling and RGB are things you never get bored of.
Price When Reviewed
249.99
Best Prices Today: Roccat Syn Max Air
Roccat's recent design aesthetic looks so futuristic you could easily transfer any of the company's products—the Roccat Kone XP, or Roccat Burst Pro Air mice included—onto the set of a Blade Runner remake and no one would even blink an eye.
It's with this same brush that Roccat has primped the Syn Max Air, which is the successor to the company's Syn Pro Air gaming headset. The Syn Max Air doesn't reinvent the wheel but does go one better than its predecessor in terms of sound quality, comfort, and the added convenience of a wireless charging station.
With excellent cross-platform compatibility and versatile connectivity in the form of dual wireless (Bluetooth and 2.4GHz Wi-Fi), it also makes possible one of my all-time favorite gaming pleasures—streaming music while gaming on my PC.
That said, the Syn Max Air does have a very small candy bag-sized cluster of niggling quirks, mostly centering around its microphone. While these quirks don't spoil the experience, they might leave you questioning its rather high $249.99 price tag.
Further reading: See our roundup of the best wireless gaming headsets to learn about competing products.
How does the Syn Max Air's design differ from other headsets?
Among the first things you'll notice is the square cuboid-shaped cups, which offer gamers a refreshing alternative to the mundane round cups that have become the predominant style of choice. Of course, square cups aren't anything new, but glasses friendly ones with ProSpec earpads like the Syn Max Air's are—the design of the cups providing grooves for spectacle frames to fit through.
Beyond that benefit, though, personally I loved how the Max Air's cup shape reminded me of timeless characters from classic sci-fi TV shows like the Cyberman from Dr Who. But what's infinitely more important is that the cups fit well, and thankfully, they did.
One complaint about this headset's predecessor was the scratchy mesh fabric that made up the inner lining of each earcup. It's scratchy no more, I'm happy to report. Gamers can now enjoy a mesh-like material in the inner rim and plush leatherette around the sides, both of which feel soft and cool. The cups have plenty of memory foam cushioning on them too.
These comfort gains aren't compromised by the Syn Max Air's 11.5 ounce (325 gram) weight either, which is only marginally heavier than the 10.97 ounce (311 gram) Syn Pro Air's weight. Trying it on, I found it to feel weighty but not to produce any kind of fatiguing pressure.
Dominic Bayley / IDG
The construction is an interesting mix of plastic and light aluminum. The black matte plastic in the cups isn't the flimsy kind that likely had you in tears as a kid because your RC car got pulverised by a truck. No, it's a lot stronger than that. The band being obviously comprised of metal is stronger still—although surprisingly, there's a complete absence of clamp pressure.
What there's no absence of, however, is RGB lighting. Here, Roccat's budget could have been squandered on just a simple RGB ring, but it's been put to good use illuminating honeycomb layers in the bottom corner of each cup and beneath the charging station. All this RGB is programmable and also compatible with the Roccat's AIMO RGB ecosystem.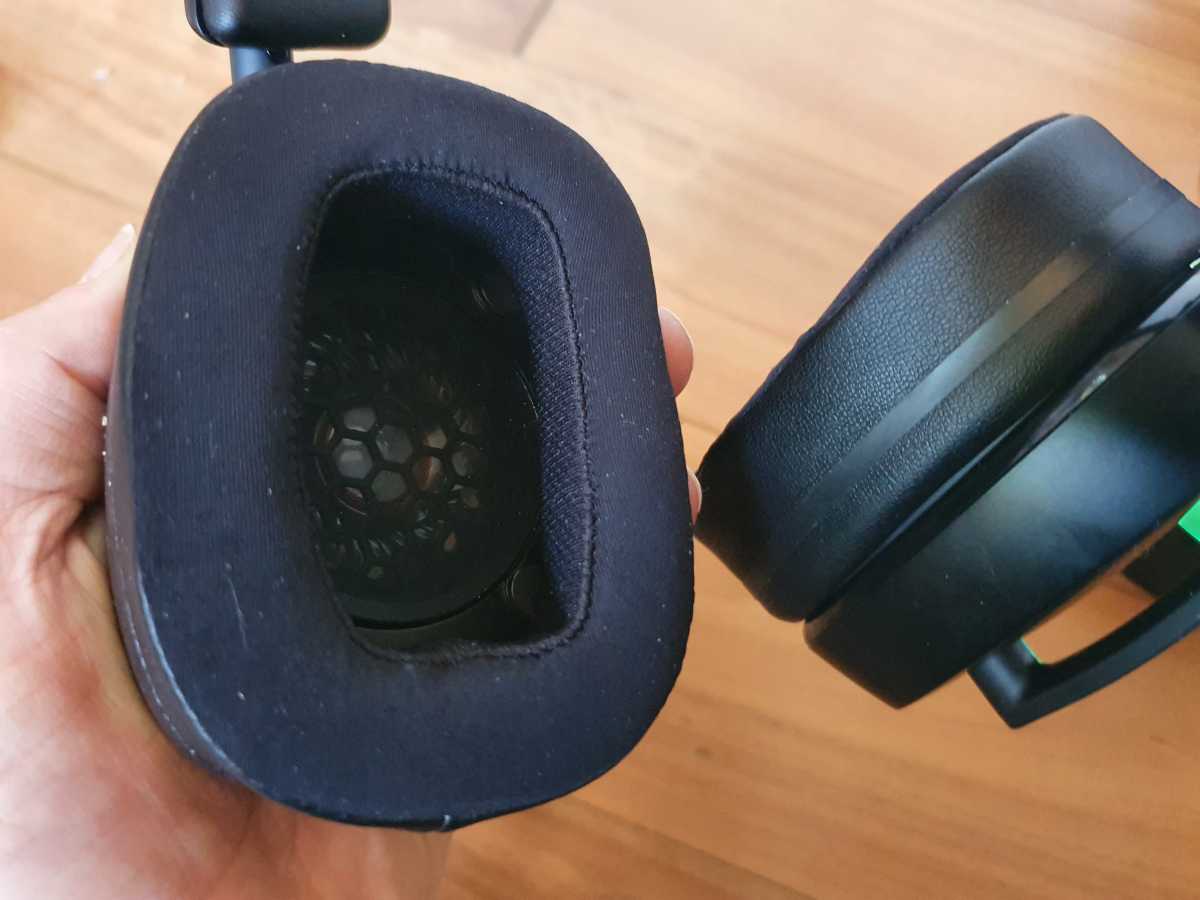 Dominic Bayley / IDG
The headband utilizes a unique cylindrical rod mechanism to adjust the height of the cups. It holds its positioning at exactly the elevation you want it. The same kind of stubborn immovability can be found in the cups, unfortunately. They can swivel through 180 degrees but are incredibly tight to move. In fact, if you're prone to a getting a sore neck, don't expect any easing from these cans.
What kind of controls do you get in the Syn Max Air?
There aren't really a lot of controls on the Max Air to tinker with. You get a volume wheel, a mic monitor button, power button, and Bluetooth button. The Syn Max also comes with a detachable unidirectional TruSpeak microphone that clips into the left earcup. This has flip-to-mute functionality, which saves a lot of fumbling around in the dark.
Mentioned in this article…
Logitech G Astro A30 Wireless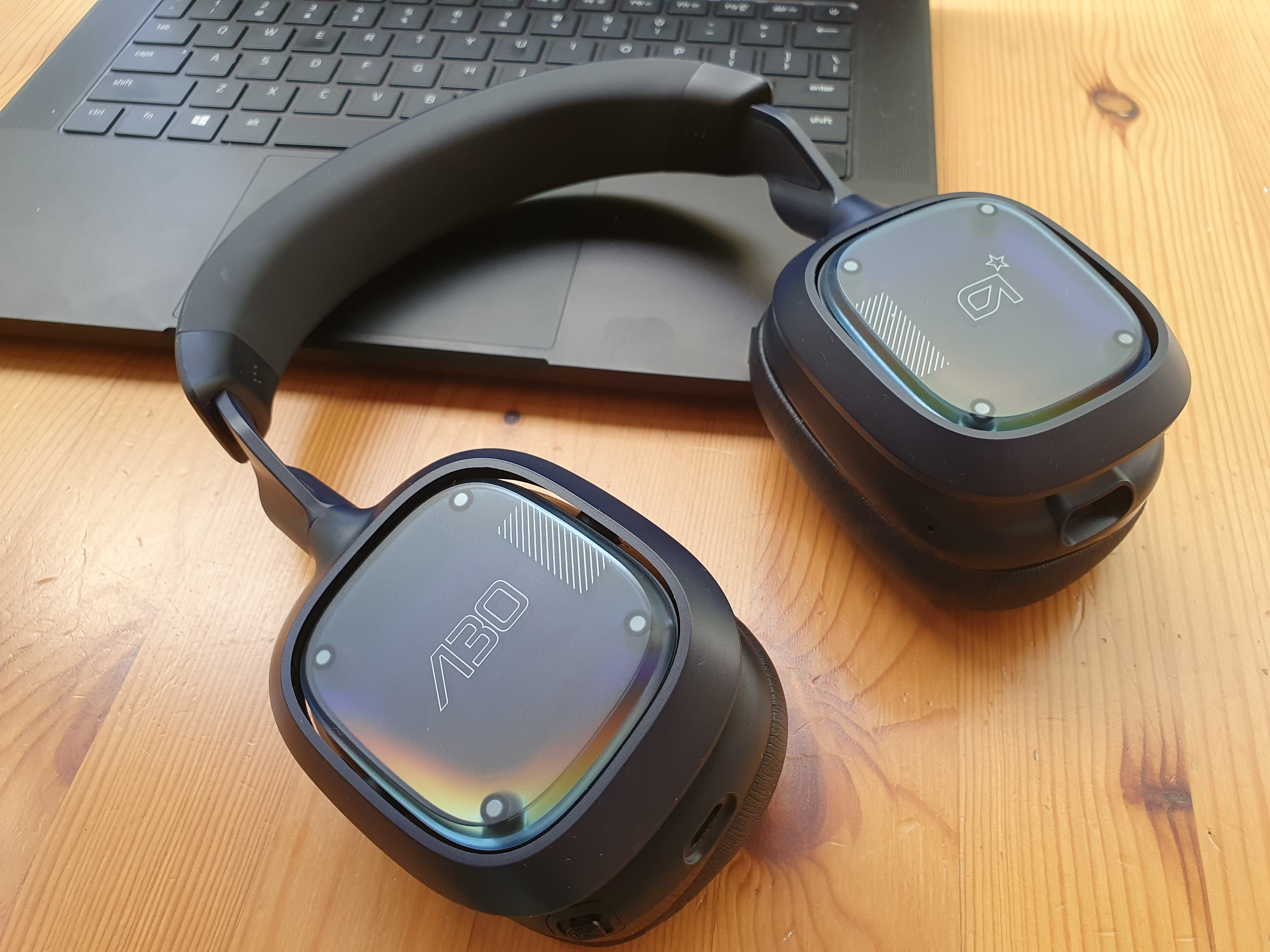 Price When Reviewed:
229.99
For the $249.99 sticker price there's no point mincing words about the kind of controls I wish the Max Air had. For starters, I would have liked to see the addition of a 3.5mm auxiliary port for the flexibility of being able to hardwire my connection on the fly.
Additionally, I could have done with an audio mixer and Bluetooth control—both of which are controls you can find in the Logitech G's Astro A30 Wireless—which is a fantastic gaming headset that ships for $20 less. Still, the fact you get a charging dock somewhat makes up for the rather basic selection.
our favorite wireless gaming headset
Logitech G Astro A30 Wireless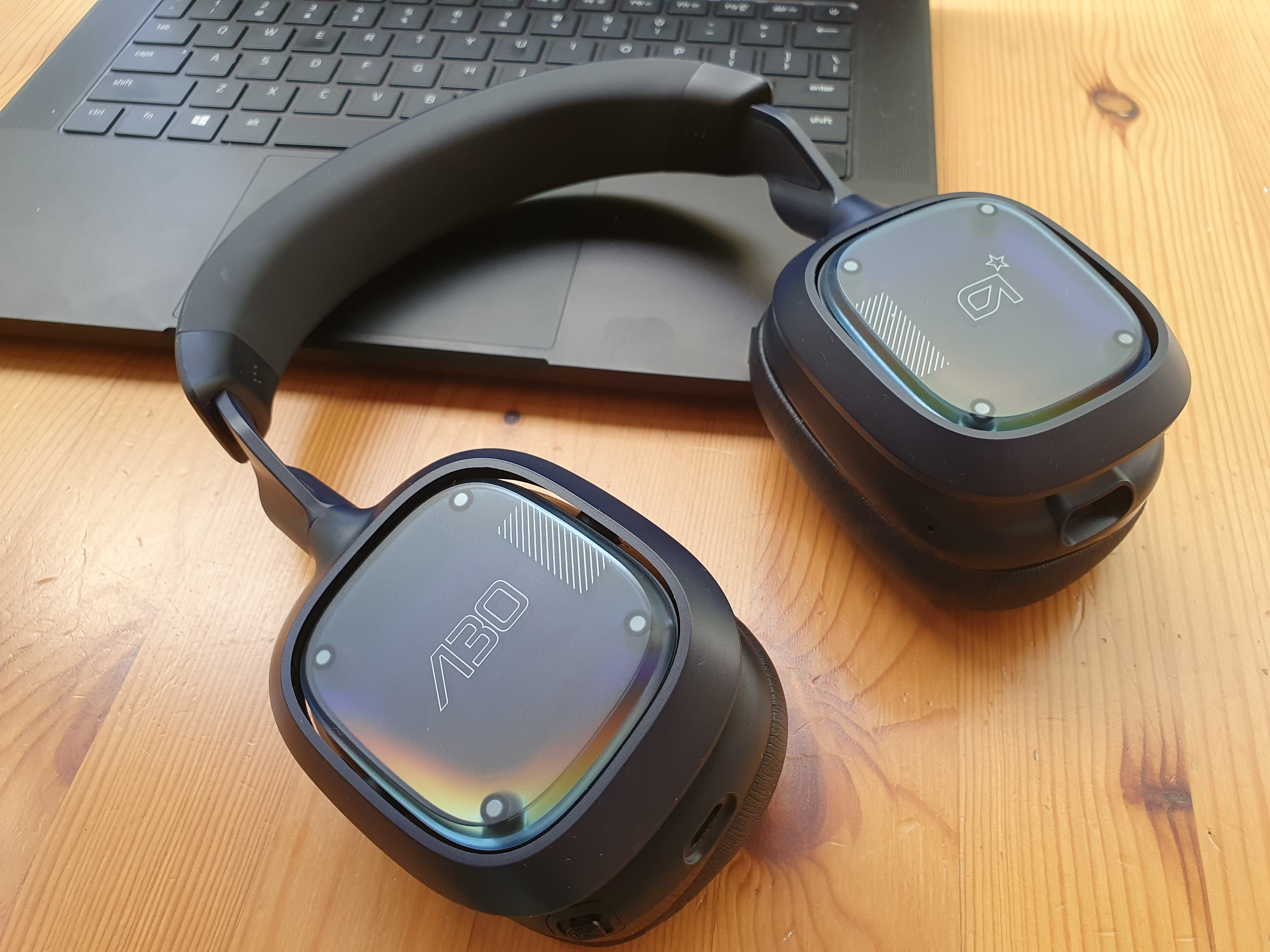 Price When Reviewed:
229.99
Roccat Max Syn Air compatibility and connectivity
You can use the Roccat Syn Max Air with Microsoft Windows 10/11 PCs but also your Nintendo Switch, PS4, PS5 and cell phone too, which makes it a do-almost-everything device.
The connectivity consists of 2.4GHz Wi-Fi as well as Bluetooth, or a wired connection via the supplied USB-C to USB-A cable. The Wi-Fi and Bluetooth can be used simultaneously, which is a very cool feature. It means you can stream an additional audio source of your choice to your headset while playing—but more on that later.
Putting all that connectivity to good use I mainly used the device in Wi-Fi Mode on my desktop PC with the included 2.4GHz USB transmitter, but the Bluetooth became extremely handy for gaming on my laptop when the limited number of ports were all occupied.
I also used Bluetooth to enjoy a few hours of The Legend of Zelda: Tears of the Kingdom on my Nintendo Switch. However, strangely enough, in Bluetooth mode you can't just adjust the volume using the headset's volume wheel; instead, you need to adjust the volume on the device itself, which is quite inconvenient.
On the upside though, the charging doc is super useful. It meant I always had somewhere to keep my headset safe. It also made charging simple enough, although according to Roccat the Syn Max Air gives you only 16 hours playtime on a single charge. Compare that to the 40 or so hours you get from the Razer Barracuda Pro and honestly, 16 hours seems a little small.
Still, with your charging station set up next to your rig, even 16 hours of battery life is never likely to be a much of a problem.
What's it like gaming with the Roccat Syn Max Air?
Updating the headset's firmware in the Swarm companion software app took longer than expected. Thankfully, I didn't abort the mission, because the audio was well worth the wait. The Syn Max Air's 50mm Nanoclear drivers produced a nice balanced sound that's certainly a marked improvement on the audio quality of its predecessor the Syn Pro Air.
Having a closer listen revealed the Max Air's drivers to be especially tuned for mid-range frequencies, a fact that's going to especially favor esports players of games like Fortnite or CounterStrike: Global Offensive.
Beyond these superficial musings, you should also know that compared to headsets like the Arctis Nova 7X and Logitech G935, which ship a little cheaper, the Max Air's audio sounds slightly distant, as if the sound is coming from further away. That isn't necessarily a bad thing, but it isn't going to be to everyone's liking. I had some success making the audio sound a little closer by tweaking the 10-band Equalizer settings in Swarm, so it's good to know you have that option.
When it comes to the directionality of the sound, I had no complaints. In a game of Insurgency, for example, I enjoyed a nice soundscape of explosions and ricochets from all the main directions of a compass. This really added to the sense of realism I got.
Footsteps weren't so pronounced, however. Turning up the volume helped to fix this but made the rest of my audio quite loud too. A better solution was simply switching on a setting called Superhuman Hearing, which basically accentuates critical game sounds just like player footfalls. Used properly this feature can be a big asset for FPS players.
our favorite mid-range wireless gaming headset
SteelSeries Arctis Nova 7X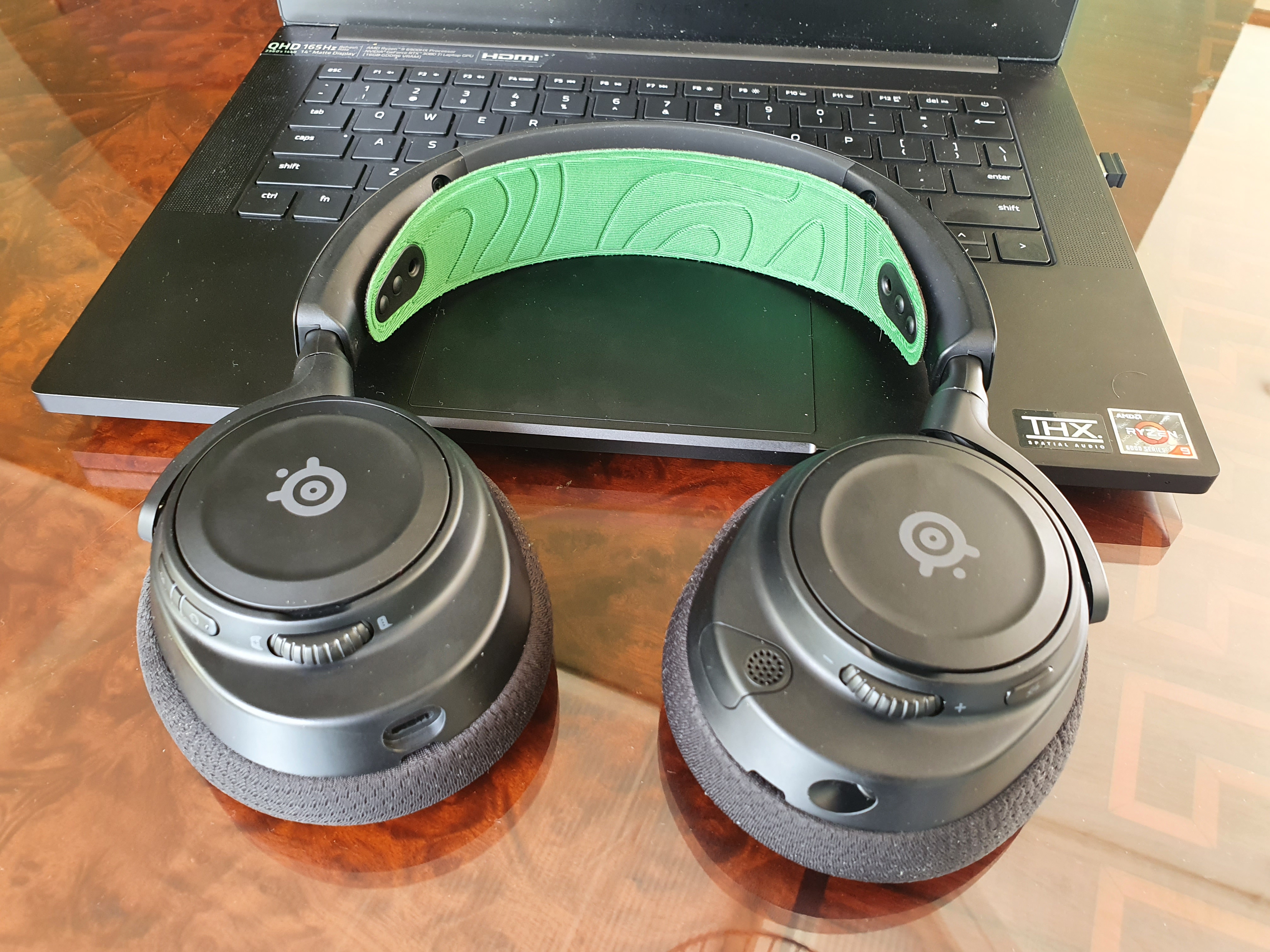 Price When Reviewed:
199.99
But the real gem in the Max Air's crown for me was the simultaneous Bluetooth functionality. Pairing with my phone to stream music really helped improve my performance—I mean who can resist the uplifting power of Tom Petty and the Heartbreakers while lobbing a few grenades? That's how I like to use this feature anyway, but you could just as easily use it to stream a podcast or take phone calls too—other equally uplifting things.
That's not to say everything worked seamlessly. I had a grievance with the Max Air's microphone actually. Although it generally conveyed my voice clearly, it was a little too short to reach my mouth, picked up a lot of ambient noise, and at times its indicator sound just went off all on its own, like some kind of battery-operated kids' doll gone haywire.
These are issues that didn't leave a very positive impression of the mic for me period. But since I'm not a big mic user anyway, they didn't do much to spoil my experience.
Should you buy the Roccat Syn Max Air?
The Syn Max Air is a leap ahead of its predecessor the Syn Pro Air in sound quality and is eminently more comfortable. It also has commendable cross compatibility and simultaneous dual wireless connectivity—features any self-respecting gamers are going to love.
While an underperforming mic, and steep $250 price tag may give some gamers reason to pause at the checkout, just as many will be blown away by features like its decent 3D audio, glasses friendly design, dedicated charging dock, and brilliant RGB. Those features alone make it a rarity among headsets and a solid choice worth considering.