Skitch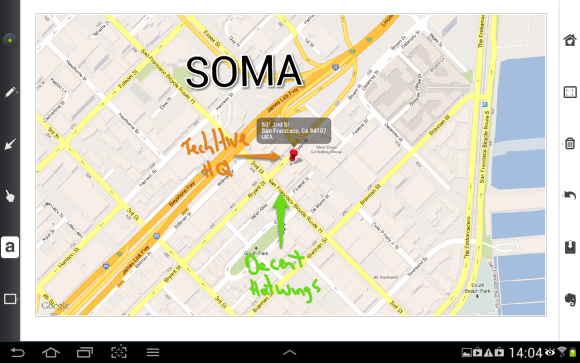 Skitch is a venerable image annotation app that made its way to iOS and Android devices last year. Its utility lies in its simplicity: the toolset is limited, consisting of a few shapes, some bright pastel colors, and cropping tools. Fire it up, snap a photo (or load one from Android's gallery app), and you're ready to add Skitch's iconic arrows, a few lines of text, or crop the image you've selected and save it to your device's SD card or internal memory, share it to social networks, or toss it into your Evernote notebook. Elements you've added can be resized with a pinch or rotated with a twist. Skitch offers rudimentary drawing tools, designed with your finger in mind: color options are limited, and while you can adjust the brush's size there's no accounting for pressure sensitivity. There's also no eraser, though you can undo the last few strokes you made and delete individual elements.
While this may all sound constricting, Skitch's no-frills design results in an app that's lightning fast, accomplishing exactly what you need it to without it getting in your way. Skitch boasts handy sharing options, making it an ideal tool for scrawling quick notes or doodles. The app works well on both the Note and the Note 10.1, though Skitch's barebones functionality means the tablet's extra real-estate doesn't add much. Truth be told I preferred using the phone app, snapping a photo, making a few quick edits, and tossing it into an email or onto a social network while shuffling about my apartment or San Francisco. There's no functionality that's specific to the S Pen (a common theme across most of these apps), but I enjoyed the significantly improved precision that the stylus offers over using a finger. I did turn off Skitch's pencil-smoothing feature, which automatically straightens out lines you've sketched; the extra precision afforded by the S Pen makes it a bit superfluous. Skitch is completely free to use, though you'll get a bit more out of the experience if you sign up for a (free) Evernote account.
Sketchbook Pro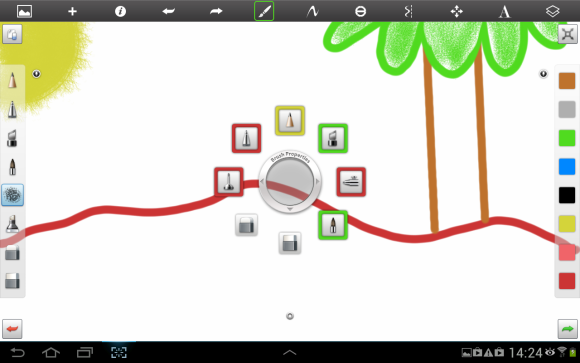 Sketchbook Pro brings the desktop app's powerful sketching prowess to tablet devices, and it really shines on the Galaxy Note 10.1. The app's simple interface belies a complex toolset that can be a little daunting for the uninitiated—a camp I find myself firmly nestled in. That said, the concise tutorial shows you everything you need to know. Tap the small circle that sits on the lower edge of the screen to bring up the app's interface and the radial puck menu, which displays all of the features Sketchbook Pro has to offer. There are… a lot. My favorites are the ones that make up for my unsteady hands, like the ruler that turns my scrawls into orderly lines and smooth curves.
Photoshop Touch will be your best bet for proper image editing, but Sketchbook Pro will allow you to import images saved onto your device or from the Android gallery, which includes items saved onto a Picasa account. Sketchbook Pro also offers support for layers, a powerful feature for budding artists. The app will take advantage of the Galaxy Note and Note 10.1 stylus's rudimentary pressure sensitivity, offering marginal control over the opacity and brush size depending on how much pressure you apply. I'm still not entirely sold on the S Pen's supposed 1024 levels of pressure sensitivity, but the effect is appreciable here.
Sketchbook Pro is designed for tablet devices, and will set you back $5. Galaxy Note users will want to pick up Sketchbook Mobile ($2), which distills the larger app's powerful tools and rendering engine into a size that's a bit more palm-friendly.
Stylus gaming
Can't forget the games! While there aren't many options that are expressly designed with a stylus in mind, many simply lend themselves to the extra precision that a stylus affords. Consider Angry Birds: pulling back on the slingshot with your finger isn't an especially arduous process, but I found the action quite a bit more comfortable while using the S Pen on the Galaxy Note 10.1. Fruit Ninja ($1.22) offers similar benefits, with the S Pen greatly enhancing my fruit-slicing escapades. And, if there was ever a game that seemed ideal for a stylus, it's Zynga's Draw Something ($3). The game pits two players against each other in a sketching competition, and having a proper writing utensil beats using your fingers, hands down. The S Pen isn't in any way optimized for the game so you won't be able to take advantage of pressure sensitivity or the like, but I found my drawings turned out noticeably better, thanks to the natural feel of the stylus and tablet or phone in hand. You can find all three of these games on the Google Play Store, and they all offer free, ad supported versions.
This story, "Stylus starter kit: Apps for the Galaxy Note II and Note 10.1" was originally published by TechHive.