Weather
If you have to ask yourself, "Sunglasses or an umbrella?" before you leave the house in the morning, Microsoft's Weather app is a great way to find the answer quickly and accurately—well, at least as accurately as weather prediction can get.
However, if you want even more in-depth information about the weather, look no further than AccuWeather's free weather app. It supports streaming data via Live Tile updates; shows predicted weather patterns for time periods ranging from 24 hours to 15 days; and provides weather timelines at your saved locations. It updates every 15 minutes to display the most accurate weather data, and it also provides full-screen Bing maps with radar information overlaid. But probably the coolest feature is the Lifestyle Forecasts, which provide star ratings for every hour of the day based on how the weather will affect certain outdoor activities and health risks.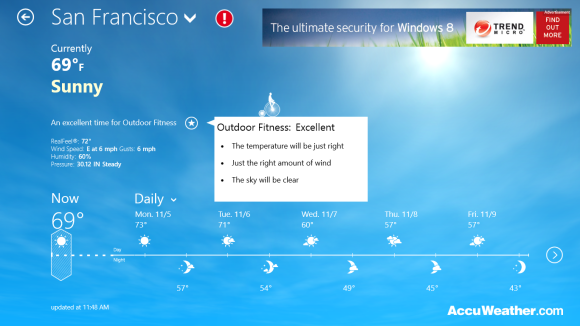 News
The News app provides all the top stories straight from Bing for different categories such as U.S. news, world news, business, entertainment, sports, technology, and politics. It provides a decent overview of the most popular stories of the day, but it isn't especially comprehensive.

If you're looking for a worthy alternative, consider the USA Today app, which just received a major visual overhaul that's well organized and pleasing to the eye. It breaks down categories for news, sports, life, money, tech, and travel, and it has options for each section that let you browse pictures, videos, and other content. It's easy to navigate, thanks to Windows-esque tiling, and every story comes with a captivating picture. It even uses your location to update you on your current local weather conditions.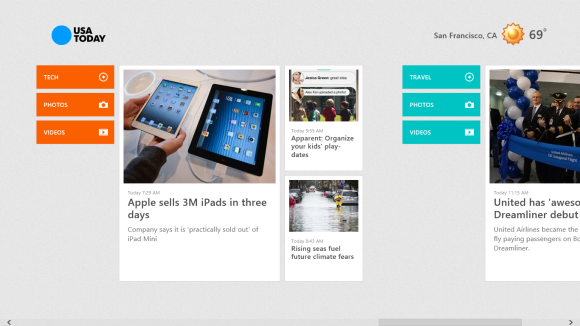 Travel
The Travel app highlights premier destinations across the globe through pictures, panoramic views, magazine articles, and location information. You can read up on your favorite vacation destinations, or even use the in-app Flights feature to look for plane tickets. It's full of recommendations for attractions, restaurants, and hotels, as well as guides on what to do once you've reached a new destination.

But you do have options. For some great, free travel journalism, look no further than Marco Polo Travelmagazine in the Windows Store. The app itself allows you to download the monthly issue (for free), and stores it locally for future use. The issues take a while to download; but once they're done, you can enjoy a plethora of stories, pictures, and video about exotic places all around the world. Unfortunately, though, the magazine won't help you book your next flight.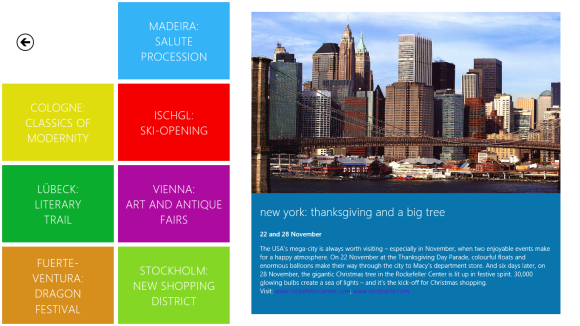 Mail
Microsoft's Mail app is intended to be a central funnel for all your email accounts, be they Gmail, Outlook, Yahoo, or any combination. Unfortunately, as with many of Windows 8's built-in apps, Mail lacks flexibility and features. It looks nice, but it isn't the most useful tool in the tool chest.
And so the juggernaut that is Gmail remains the go-to choice for mail. Apps are great, but some things still work best in the browser. Our best advice is to pin your bookmark of Gmail to your Start screen so that it has its own tile and can act as an app with quick and easy access.