Review: Western Digital My Passport (2TB)
At a Glance
Western Digital WD My Passport 2TB
The My Passport is Western Digital's mainstream line of portable hard drives. The best performer in the roundup, it's available in 500GB to 2TB flavors for twice the available capacity of any of the other drives we tested.

The $180, 2TB My Passport that WD sent us took the top spot by a very slight margin over its slimmer My Passport Edge cousin. It read our 10GB mix of files and folders at 61.2MBps, and it wrote them at 48.3MBps. The same operations with our large 10GB file registered 113.2MBps and 104.2MBps. That's fast in anyone's book; it's more than adequate for streaming HD movies, backing up client PCs, or any other chore you can think of.

WD's SmartWare software bundle comes preloaded on the My Passport. The package supports the PC and the Mac, offering secure erase, SMART status, drive-level password protection, and sleep timer adjustment, as well as backup. While it's neither the smallest nor the sexiest drive in this roundup, the My Passport is arguably the best all-around product.
Note: This review is part of a five-product roundup. Click here to return to the introduction, or click on the next review you'd like to read:
Seagate Satellite Mobile Wireless Storage (500GB)
Western Digital My Passport Edge (500GB)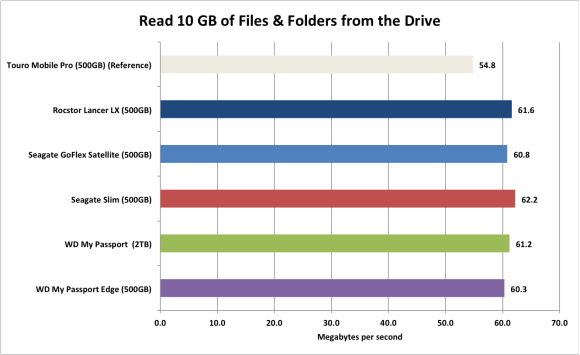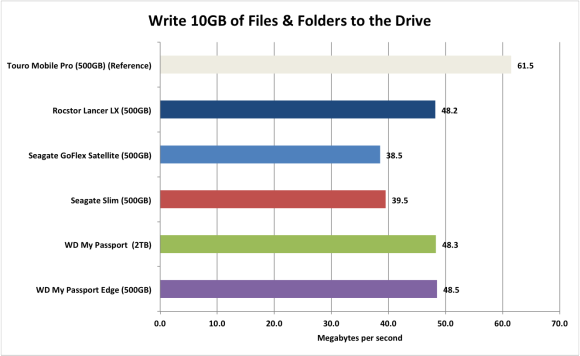 At a Glance
Western Digital WD My Passport 2TB

If looks aren't paramount, you'd be hard pressed to find a better portable drive than the My Passport. It has plenty of capacity and top-notch performance.

Pros

Fast
Up to 2TB of capacity
Good software bundle
Shop Tech Products at Amazon