Election Day is just around the corner, and for citizens who haven't voted early or mailed in an absentee ballot, the time has come to finalize voting plans. If you need a little help finding your polling spot, looking up candidate information, and separating fact from fiction in campaign ads, use these tools to get started.
Google's Voter Information Tool
According to a Google blog post, election-related searches spike every four years in the months leading up to the presidential election; Voters scramble to find out where their polling location is, how to register to vote, and what the candidates' platforms are. "Even though it is 2012, important voting information is disorganized and hard to find on the Internet," reads the post.
To help organize voter information and make it easier for voters to find what they need before casting their votes, Google has created a handy Voter Information Tool. Plug in your address to find out where your polling place is, to see whether your state allows early voting, and to read a comprehensive ballot summary. The ballot summary even includes links to the candidates' social accounts and official Web pages, so you can learn even more.
Note: Depending on your location, this tool may not include everything on your ballot. It doesn't provide information about the California state propositions, for example.
WP Politics
A few major news outlets have created stand-alone politics apps to filter their election coverage and keep things in one spot. The Washington Post's Politics app for the iPad is an excellent source of information. Perhaps the app's most helpful feature is its Candidate Tool, which shows where Barack Obama and Mitt Romney stand on hot political issues. The tool includes video content of the candidates speaking about these issues.
The 'Maps and Data' tool shows how well each candidate is currently doing with likely voters, based on polls and projections. You can check out which states are being flooded with the most advertising, and what the sources of funding for those video ads are. Finally, the 'News and Headlines' tool provides stories about the election from the past 48 hours.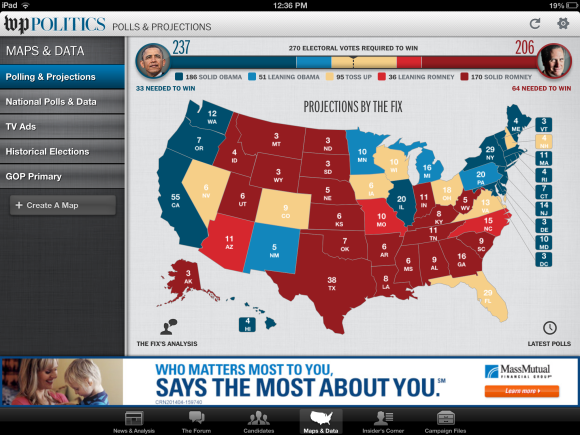 Voter Hub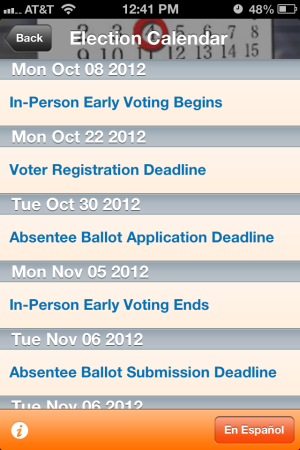 Voter Hub is a free mobile app available for iOS, Android, and Windows Phone devices. You can also view it as a Web app.  Much like Google's Voter Information Tool, this app aims to provide one-stop shopping for as much information as possible to make your ballot casting a success. Start by entering your zip code to personalize the app. Through Voter Hub, you can register to vote, or check your registration status (unfortunately, it's too late to register in most states for this election), find your designated polling spot, and look at the voting calendar and deadline for your state.
Tap the Voter Requirements tab to learn more about your state's policies on early and absentee voting. The Candidate section tells you more about candidates for President, U.S. Senate, U.S. House of Representatives, State Assembly (or Legislature), and State Senate; mark the candidates you want to vote for, and then bring your phone with you to the polls and use your sheet as a voting reference.  The Ballot section provides more information about other ballot initiatives, such as statewide propositions.
Want to beat long voting lines? Check the wait time throughout the day on Tuesday for an off-peak voting opportunity—or to give yourself plenty of time to get through the line and cast your vote before the polls close.
Decode political advertising
Lots of political ads are running on TV and online video services as Election Day nears, many of them making conflicting claims and acknowledging funding from different sources. If you want to weed out the shady claims from the accurate ones, use the Ad Hawk or Super PAC apps.
Super PAC for iPhone tells you which Super PAC funded the campaign ad you're currently watching. When ad ad airs, launch the app and hold your iPhone up; the Super PAC app will identify the ad and present objective third-party information about the issues discussed in the ad.
The app also identifies who funded the ad, notes how much money that Super PAC has spent on campaign advertisement, and points out any false claims made in the ad. Ads are rated as Love (for accurate ads), Fair, Fishy, and Fail—rate the ads yourself and see what others think. The app aims to bring more campaign transparency to voters.
Ad Hawk, available in versions for iOS and Android devices, provides similar information. Again, launch the app and tap the TV icon to have Ad Hawk start listening to the ad. The app will compare what was said during that particular ad to claims made in other ads, and it will identify the ad's sponsor and funder.
This story, "Election apps for the educated voter" was originally published by TechHive.