Has the Surface tablet whetted Microsoft's appetite to put its own brand on hardware? The answer is yes, according to Asian suppliers.
Microsoft is now working with component suppliers in Asia on the smartphone of its own design, according to a report that appeared on The Wall Street Journal website on Thursday evening.
The parts suppliers, who are unnamed in the report, acknowledged that Microsoft is currently testing a smartphone design, but they did not know if the device would ever become a consumer product.
A Microsoft spokesperson declined to address the reports, saying only, "We are big believers in our hardware partners and together we're focused on bringing Windows Phone 8 to market with them."
Plausible project
A Microsoft-branded smartphone is a real possibility, according to Rob Sanfilippo, an analyst with Directions On Microsoft in Kirkland, Washington. "With the Surface tablet, they've shown that they're completely willing to get into the hardware market to prove their products and compete directly across the entire hardware and software vertical with Apple and Google offerings in that space," he said in an interview.
Google initially branded its own phone, is doing that indirectly now with its Nexus phone, Sanfilippo noted. "It's still getting its name on the hardware to keep consumers aware of which companies are backing these products," he said.
"Microsoft has been struggling with its Windows Phone line for a couple of years now, and it needs some kind of a push," he added. "If Microsoft can come out with its own brand of hardware and do a major marketing push like it's doing with Surface, that could help things really take off, especially with Windows Phone 8 just been launched."
Based on the screen size that Microsoft is experimenting with—between four and five inches—the handset could be a competitor to the iPhone 5, which has a four-inch display, and Samsung's Galaxy S III, which has a 4.8-inch screen.
Windows Phone 8 debuts
Earlier this week, Microsoft officially launched the latest version of its mobile operating system, Windows Phone 8. Among the features of WP8 are a customizable lock screen, operating system integration for its Internet telephony application Skype, synchronization of files across Windows 8 devices and support from Microsoft's streaming tunes service, Xbox Music.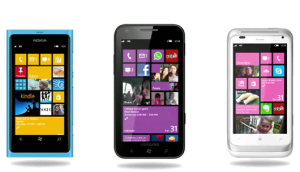 Also at the launch, several handsets were introduced from its Windows Phone 8 partners Nokia, HTC, and Samsung. Introduction of a Microsoft-branded smartphone could annoy some of those partners, just as some of its Windows 8 hardware partners were aggravated by Redmond's introduction of its Surface tablet.
However, some smartphone makers have taken a "more the merrier" attitude toward new entrants into the Windows Phone 8 ecosystem. For example, Nokia CEO Stephen Elop said at an investor announcement in October that a Microsoft-branded smartphone would give the Windows Phone 8 market a big boost.
Microsoft has made hardware peripherals for years—keyboards, mice, webcams and such—but it has mostly avoiding stepping on the toes of its OEM partners. Notable exceptions have been its Xbox gaming system and its now-defunct music player, the Zune.
Microsoft has tried its hand at smartphone hardware in the past, with disastrous results. It introduced a handset called the Kin aimed at the youth market that it had to spike after only seven weeks on retail shelves so the company may be a little shy about repeating that experience with a Windows Phone 8 model of its own.
This story, "Microsoft is reportedly working on its own smartphone" was originally published by TechHive.