Android slates were popular among tablet buyers between July and September as Apple iPad fans kept their wallets closed in anticipation of the iPad mini, according to an online report. Tablets such as Samsung's Galaxy Note 10.1, the Asus-built Nexus 7, and Amazon's Kindle Fire led their manufacturers to sizable gains in the third quarter of 2012, based on shipping estimates by market research firm IDC (PCWorld/TechHive and IDC are both owned by International Data Group).
Samsung tablet shipments, for example, grew by 325 percent compared to the same time in 2011, while Asus grew by nearly 243 percent. Apple, meanwhile, dropped from 65.5 percent of the worldwide tablet market in the second quarter of 2012 to 50.4 percent during the third, IDC says.
Apple's decline was largely a result of the rumor mill, according to IDC, as tablet fans waited for the recently announced iPad Mini to appear. Apple is expected to bounce back during the holiday season thanks to the debut of the fourth-generation iPad as well as the new 7-inch iPad. But other tablets are expected to also make a strong showing, including Android devices, Microsoft's Surface with Windows RT (Surface RT), and other recently announced Windows 8 tablets.
"Competitors are turning up the pressure on market leader Apple," Ryan Reith, program manager for IDC's Mobile Device Tracker, said in a statement. "With the recent introduction of a number of Windows 8 and Windows RT tablets, consumers now have a third viable tablet platform from which to choose."
Apple still dominates
The top five tablet producers are Apple, Samsung, Amazon, Asus, and Lenovo, according to IDC. Looking at each company's market share percentages, even with significant gains made by Amazon, Asus, and Samsung, the iPad is still by far the most popular tablet choice.
Apple accounted for 50.4 percent of all tablet shipments in Q3, IDC says. Second place went to Samsung with 18.4 percent, followed by Amazon at 9 percent, Asus at 8.6 percent, and Lenovo at 1.4 percent. The top four non-Apple market leaders collectively own 37.4 percent of the tablet market worldwide, based on IDC's numbers. If you add in the 12.2 percent of IDC's unnamed tablet makers, Apple's lead gets slimmer with non-iPad tablets accounting for 49.6 percent of tablet buyers worldwide.
If Android tablets make a strong showing and Windows 8 tablets prove popular during the holidays, then Apple's overall market share may slip again. Even with a declining overall market share, Apple's significant lead over its closest rival, Samsung, suggests the iPad won't be unseated as the most popular tablet anytime soon.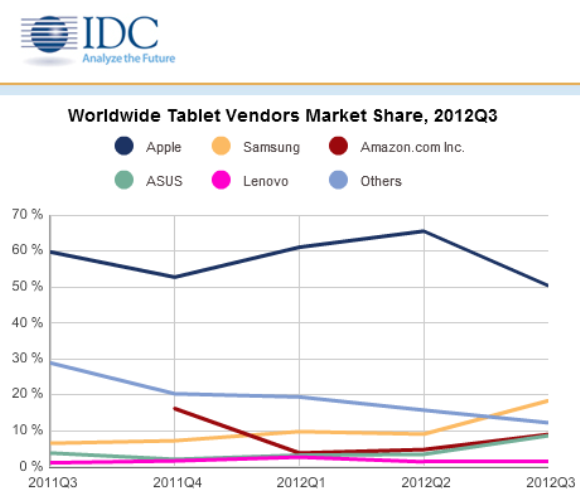 This story, "Android tablets get a boost from the absent iPad mini" was originally published by TechHive.