SLIDESHOW
Keep it casual: 15 best Windows 8 gaming apps
Whether you're riding a bus or taking a breather between business meetings, these Windows 8 gaming apps are perfect for blowing off a little steam.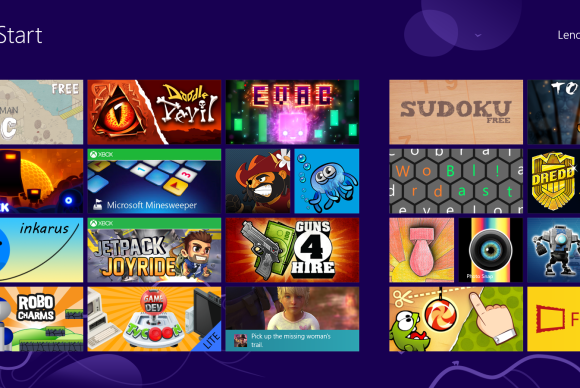 Mobile gaming hits mainstream computing
Sometimes even a diehard dual-GPU gamer needs a break from crazy explosions and complicated MMO macros. Windows 8's casual game selection can't match the deep libraries that Android and Apple maintain, but even so the Windows Store holds a ton of finger-friendly titles. How do you know which deserve your attention?
Simple: remember your roots. After checking out more Windows 8 apps than is consistent with human wisdom and reasonable sleep patterns, in order to identify the cream of the casual gaming crop, I've found that most of the best are straightforward ports from competing platforms. But whatever their origin, these games will keep you playing just...one...more...round...long into the night.
Robotek
Hexage's freemium Android stunner ports over to the Windows platform astoundingly well, especially if you play it on a pixel-packed monitor. Robotek's neon aesthetic combines retro-tinged style with a thumping electronic soundtrack.
You play a human striving to retake the world from an evil robot empire, with the assistance of your own robots. The turn-based gameplay mixes slot machine-inspired random chance with serious strategy as you undertake to conquer the 200 nodes on the world map. There's even a free multiplayer mode. If you run into a prolonged streak of bad luck (or bad strategy), however, you may have to buy additional "charge" with real-world money to keep playing.
Image: Hexage
Draw a Stickman Epic
Your first task in Draw a Stickman Epic is to draw a stickman, and then to draw him a stick friend. So far, so predictable. But then, without further ado, a sharp-toothed book gobbles up said stick friend, and your stickman jumps into its maw to save Woody (or Chip, or Elmo, or whatever the stick friend's name is), using various pencils to draw items to help you get through the multiple levels. Lighting rabbits on fire is an amusing extra distraction, but be careful: A carelessly wielded flame can immolate your stickman, too. Both free and premium versions of Draw a Stickman Epic are available.
Fruit Ninja
By this point, everyone knows the story behind Fruit Ninja, a beloved casual classic found on virtually every major touchscreen operating system. Fruit flies into the air and you try to slice it in twain. Splitting multiple pieces with one swipe gets you bonus points, but don't cut the bombs! As avocations go, it's simple yet satisfying. The Windows 8 version includes Classic, Arcade, and Zen modes, and carries a $5 price tag.
Image: Halfbrick
Word Blast
This freebie title ain't much to look at, but it's a ton of fun to play. Best described as a mix of Boggle and Hexic, Word Blast puts you to work finding words in a vast sea of letters, with a goal of reaching a specified minimum score before time runs out. Each word you find boosts your point total and adds a smattering of seconds to the timer. Stumped? Rotate a block of letters to unlock new possibilities. Like Scattergories, Word Blast usually starts out demure and sedate but ends in a frantic frenzy of word-slinging action. Highly recommended.
Totemo
Another Hexage game, Totemo sounds anything but cheery: It's all about binding sad-eyed spirits to a spirit totem in order to clear them from the board. Emptying the board clears the level. You can connect a spirit to another spirit on the same row or column, as long as nothing stands between the two. The number of spirits you must connect in order to bind them depends on the size of the totem; if it's four heads high, for example, you'll need to connect four spirits together. The gameplay is less complicated than you may imagine, but plotting your board-clearing strategy before your first move becomes very important in the later stages of this excellent puzzler.
Image: Hexage
Jellyfish: Tentacle Debacle
Who would have expected that being a spineless, gelatinous mass could be so fun? Jellyfish: Tentacle Debacle casts you in the role of a plucky coelenterate of the phylum Cnidaria, navigating the seas and munching on plankton while avoiding the hungry maws of larger predators. Every now and then you'll pop out an egg, which you must to protect from hungry fish and environmental hazards in order to beat the level.
Sea currents make that task trickier than it sounds, as does the fact that you'll often have to juggle several eggs at once. The impressive, cartoony visuals bring the old Feeding Frenzy PopCap game to mind. But freeloaders be forewarned: The gratis version is limited to six levels.
Image: A.T.E. Software GmbH
Inkarus
One look at Inkarus's rotund outline, and you'll know he's not naturally aerodynamic. But despite his physical limitations, Inkarus wants to fly, and he's dreamed up a machine that can help him touch the sky—if he can collect enough gears and feathers to piece it together. To help him, you draw lines on the screen that guide the free-falling fowl toward the objects of his desire while preventing him from plummeting to an untimely demise. No biggie, right? Just wait until you get to the higher levels.
Dredd vs. Zombies
C'mon, it's Judge Dredd versus a zombie horde. How can you go wrong? This fairly standard top-down shooter is one of the few available in Microsoft's infant ecosystem. The simple 3D graphics look good (for a casual game) and wandering around levels blasting zombies with guns of increasing size never gets old, though the difficulty level ratchets up rather quickly. Getting your hands on some of the bigger, badder guns and upgrades, however, entails grinding levels repeatedly for in-game cash or spending real world money on in-app purchases.
Cut the Rope
Don't let Cut the Rope's appearance in that annoying dub-step Internet Explorer commercial sour you on this superb physics-based game. Levels start with candy hanging from multiple ropes. Swipe your fingers across a rope to cut it and send the candy falling (or swinging, if it's still attached to another rope). Dropping the sweet into hungry Om Nom's mouth clears a level, and picking up stars along the way adds to your score. The farther you proceed, the trickier the levels become; you'll need to examine the stage and cut the ropes in precisely the right order to successfully feed Om Nom. The free version includes 27 levels.
Angry Birds Star Wars
Angry Birds Star Wars succeeds on the back of its time-tested gameplay—a mix of traditional bird-slinging and Angry Birds Space-esque gravitational levels—but it truly shines thanks to its cute, thoughtful interweaving of the two iconic series. This is no ho-hum mash-up; it's a love letter to fans.
Seeing the familiar Angry Birds characters impersonating your favorite Star Wars characters is a trip. The addition of character-appropriate Star Wars powers delivers an extra level of gameplay depth, whether you're laser-blasting Storm Piggies as Han Solo bird, manipulating the Force as Obi-Wan bird, or swinging a legendary lightsaber as a Red Bird doing his best Luke Skywalker impersonation. The story's great, too.
Image: Rovio
Armed
Calling Armed a casual game may be a stretch, but as legions of adoring Windows Phone 8 fans can attest, this game's a blast despite being a bit more complicated than Minesweeper (which is also available in the Windows Store, if you're interested). This strategy game skimps on story to focus on meaty turn-based warfare, pitting you against an opponent in a fight to the death.
Command & Conquer veterans will feel right at home battling over resources, building factories, and carefully crafting an army of mixed combat units. The graphics rock, the music rocks, the multiplayer rocks, and the game rocks. 'Nuff said. The title gives you one map free; unlocking the rest costs $4.
Image: Sickhead Games
Radiant Defense
It's a hat trick! The third Hexage game to crack this list earns its spot by putting a fresh spin on the classic tower defense genre. Fight off an advancing alien horde by using an abundant weapon arsenal, traps, and the ability to shape the battlefield to mold the attacker's travel paths. Some levels can be extremely challenging; Hexage offers in-app purchases that will ease the ride, but you don't have to buy any extras to complete the game.
The simple graphics have an attractively neon-infused style, and the stilted dialog is hilarious. Of course, you'd expect nothing less from a game whose description starts with "MILLIONS OF ALIENS WILL DIE."
Image: Hexage
Jetpack Joyride
Jetpack Joyride's simple "endless running" gameplay harkens back to the eight-bit action classics of old. A free Xbox Live-enabled game from Halfbrick, the makers of Fruit Ninja, Jetpack Joyride constantly hurtles your jetpack-outfitted action hero along toward the right side of the screen in a quest to escape an evil company's lair. Touching the screen fires his guns and lifts him in the air, while letting go cools his jets. All you have to do is avoid obstacles and grab coins. Of course, that's not easy at Jetpack Joyride's breakneck speed. Vehicles add variety, as do helpful gadgets and mission objectives that carry over between jaunts. Highly, highly recommended.
Image: Halfbrick
Pinball FX 2
This spot-on port brings Pinball FX 2's excellent arcade-style action to early Windows 8 adopters. The graphics wow, the sounds are accurate, and the pinball physics are top-notch. The game gives you a Mars-themed table for free, and a bevy of other themed tables—Spider-Man, Rome, Captain America, and Earth Defense, among the many options—are available for $3 a pop. Those tables aren't simple re-skins; each provides its own entertaining gameplay quirks. Even better, the game ties in to your Xbox Live account, so you can compete with console-based buddies for the top spots on the leaderboards. Try it on a big-screen all-in-one—it's amazing.
Shuriken Ninja
Shuriken Ninja scores big with Windows Phone owners—and once you've spent a few minutes with this app, you'll understand why. The game arms you with five shurikens per round to use in destroying a variable number of moving bull's-eye targets. The long-lasting appeal of Shuriken Ninja lies in landing trick shots. Many targets are obscured by obstacles, forcing you to cut hanging chains and bounce your weapons off of metal surfaces while avoiding shuriken-stopping wood. The advanced levels are fiendishly difficult. Think you could design a better stage? Dive into the enjoyable level creator, or just try the Target Challenge and Shinto modes to vary the fun.
Next Up: Check out these related slideshows
Today's Best Tech Deals
Picked by PCWorld's Editors