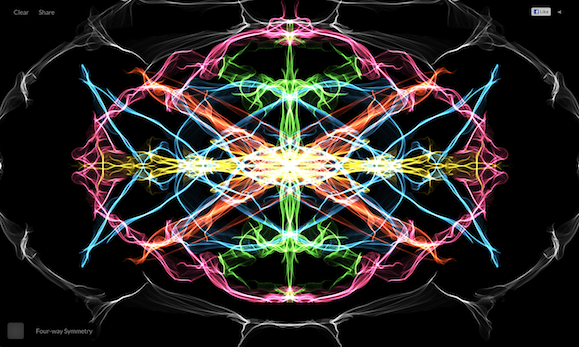 Facebook is a weird place. Most of the time, it's filled with passive-agreement statements and photos of people you barely recognize. Once in a while, however, you stumble over things like Silk.
Yuri Vishnevsky's gorgeous experiment in generative art is an absolutely enthralling little diversion that will, more likely than not, keep you busy for far too long. If you've ever wanted to draw psychadelic, silk-like patterns across your screen in a variety of colors, you're in luck because Silk lets you do exactly that.
There are three different settings to change how Silk mirrors what you draw that you can mess around with: "four-way symmetry," "vertical symmetry," and "symmetry off." On top of that, you have six colors to choose from while you're sketching your masterpiece. Is there a point to all of this? No, not really. Unless you're intent on becoming a Silk-casso of some variety, chances are that this is going to be a distraction and little more. A very time-consuming distraction, that is.
Still, that doesn't make the music any less hypnotically pleasant or the experience any less enjoyable. Have a moment? Disinclined towards dealing with the Monday blues? Spare a moment for Silk. Enjoy.
Now, if only everyone linked to interesting stuff on social media, our world would be a better place.
Like this? You might also enjoy...
Get more GeekTech: Twitter - Facebook - RSS | Tip us off
This story, "Make nonsense mouse strokes look like art with Silk Web app" was originally published by TechHive.