Google has enjoyed a considerable head start on the mobile-mapping front, but Apple and Microsoft haven't been idle. Both companies have licensed data from a number of services to flesh out their competing map offerings in an effort to bolster their respective phone platforms and chip away at Google's dominance.
But there's more to a map than getting users to and from work: We rely on maps to figure out where we are, to find new places, and to plan trips far beyond our local haunts. Here's a look at which mapping service offers the best features and functionality.
A tale of three map apps
Google Maps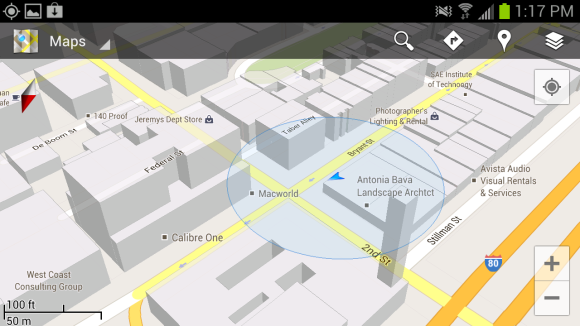 Google Maps' greatest strength lies in its robust search capabilities: Throughout my testing I found that I could type in a location and (generally) find the business or landmark I was seeking, whereas Apple and Windows Phone often required me to add a city to my search query. Google Maps also offers a killer feature in the form of Street View. If you've ever used Google Maps in a browser, you're likely familiar with the little yellow Pegman avatar that gives you a first-person view of the location you're searching for. It's incredibly useful, providing a clear idea of where you're heading before you ever arrive.
The robust direction options are another killer feature. All three mapping services offer directions by car and on foot, but only Google includes public transportation and biking directions. Public transit results can be hit or miss, however—many users have reported that bus schedules and the like don't necessarily line up with reality, though I've had pretty good luck while using the service in San Francisco.
Google Maps' Places functionality serves as a sort of neighborhood-savvy guide: You just tap the pin icon on the map for a list of places nearby, and filtering options let you limit searches to locations that are currently open, fit into a particular price range, or have a minimum review score. Finally, Google Maps displays reviews that its users have posted for most every establishment you could search for, from restaurants to police stations.
Apple Maps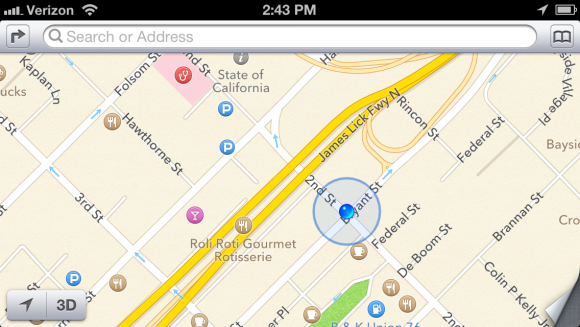 Apple's flyover view is a novel and admittedly attractive attempt at emulating Google Street View, but ultimately it falls flat. The vector-based maps certainly are eye-catching; but unless you're actually planning on flying a small plane over your destination, the view won't offer much in the way of utility. And let's not forget the often comical rendering issues that are the subject of at least one Tumblr blog, where bridges appear to melt into the landscape and some landmarks disappear entirely. Apple is working on correcting many of these issues, but they do mar Apple Maps' presentation.
Apple has tapped into Yelp's massive user community to find locations and power its reviews, and that's a powerful asset in places with an active Yelp community. Unfortunately, Yelp's business listings are mostly limited to larger cities in the United States, so you're out of luck if you're traveling through smaller towns or internationally. Tapping a business name in the Apple Maps app kicks you out of Maps and into the Yelp app—if you don't have it installed, you'll be prompted to get it. Swapping between apps can make casual browsing a bit annoying, but Yelp user reviews are decidedly more numerous and robust than Google's similar offerings.
Windows Phone 8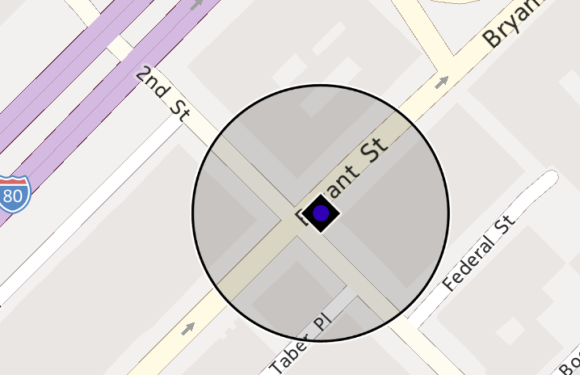 Windows Phone 8 uses Nokia's mapping engine, but the native Maps application isn't nearly as robust as the Nokia Drive app currently offered exclusively to Nokia Lumia owners. The Maps app on Windows Phone 8 is ultimately the most limited of the bunch: Although it pulls reviews from sites such as Citysearch and TripAdvisor to fuel its Buzz section, the app lacks photos or any sort of Street View analogue. The Buzz section also has far fewer reviews than Yelp or even Google, which can limit its utility at times.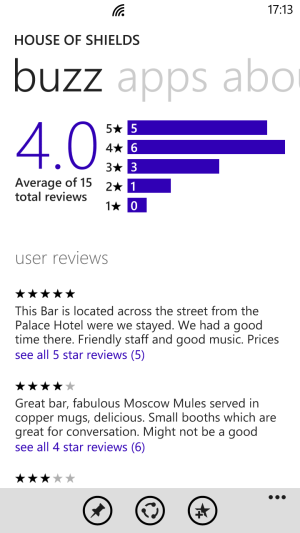 Windows Phone Local Scout is a bit like Google Places, but Microsoft's offering takes top honors. It scans the area around you (or the location you've searched for), and lists establishments that are nearby. Results are divided into four categories. 'Eat + Drink' covers bars and restaurants, while the Shop section covers, well, shops. The sections serve up business hours, contact information, and the average ratings assigned by Citysearch and TripAdvisor users. The filtering options are fairly extensive; you can, for example, limit results to restaurants that are open and serving a particular cuisine, or hardware stores that are currently offering deals. The 'See + Do' section lists nearby upcoming events and places of interest—though the unfiltered list is a bit impractical if you're exploring casually, with museums and art galleries listed alongside New Year's Eve parties and high school reunions. Finally, there's the For You section, which couples data from Bing and Facebook to guess what sorts of venues you might be interested in; my suggestions were largely limited to bars, which makes sense based on my admittedly sparse Facebook check-in history.
Offline Maps
A final useful feature that all three services provide is offline maps. Apple's implementation is rudimentary: Once you've visited a location on the map, it and the surrounding areas are cached automatically to your device. You won't be able to search without Wi-Fi or cellular service, but the streets, businesses, and landmarks are preserved in all their vector-mapped glory.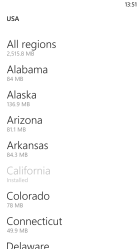 If you're planning in advance, the latest version of Google Maps will let you make sections of a map available offline. Just tap the menu button, choose make available offline, and select a section of the map you'd like to preserve. Alternatively, you can select My Places from the Maps menu, choose new offline map, and search for a city to download a snapshot. The service will tell you exactly how much space the map will take up (in my tests the San Francisco Bay Area claimed approximately 35MB of storage space), and then it will download the section you've selected. Unfortunately, you can't search the map without a data connection.
Windows Phone's brute-force approach is actually my favorite implementation: You can download entire maps from a number of regions around the world. Although they take up considerably more space (California weighs in at just shy of 210MB) and you lose out on most of their satellite imagery, you'll have full search and navigation functionality—even in areas with a spotty data connection.