Heading back to school? You've probably checked the big items off your list: a new laptop, the latest smartphone, updated clothes, and so on. But don't forget the small essentials that you'll need to make sure all of your gear actually works!
When you're out walking from class to class, you're going to want to make sure that your electronics are powered up, and that you can connect to any device or display you need to. Keep the big C's in mind: cables, connectors, chargers, and a carrying case to fit them all inside. (And if you haven't purchased a new laptop yet, consider another "C": cheap deals on back-to-school devices.)
Here are the tech essentials we think you'll need for high school, college, or university, plus somewhere to store them.
1.) A USB-C hub or Thunderbolt dock
Anker 7-in-1 USB-C Hub or Belkin Thunderbolt Dock Core
Chances are your laptop has a USB-C port on it, the same port that your smartphone probably uses to charge. That port is either a standard USB-C (10Gbps) or a more powerful Thunderbolt (40Gbps) port.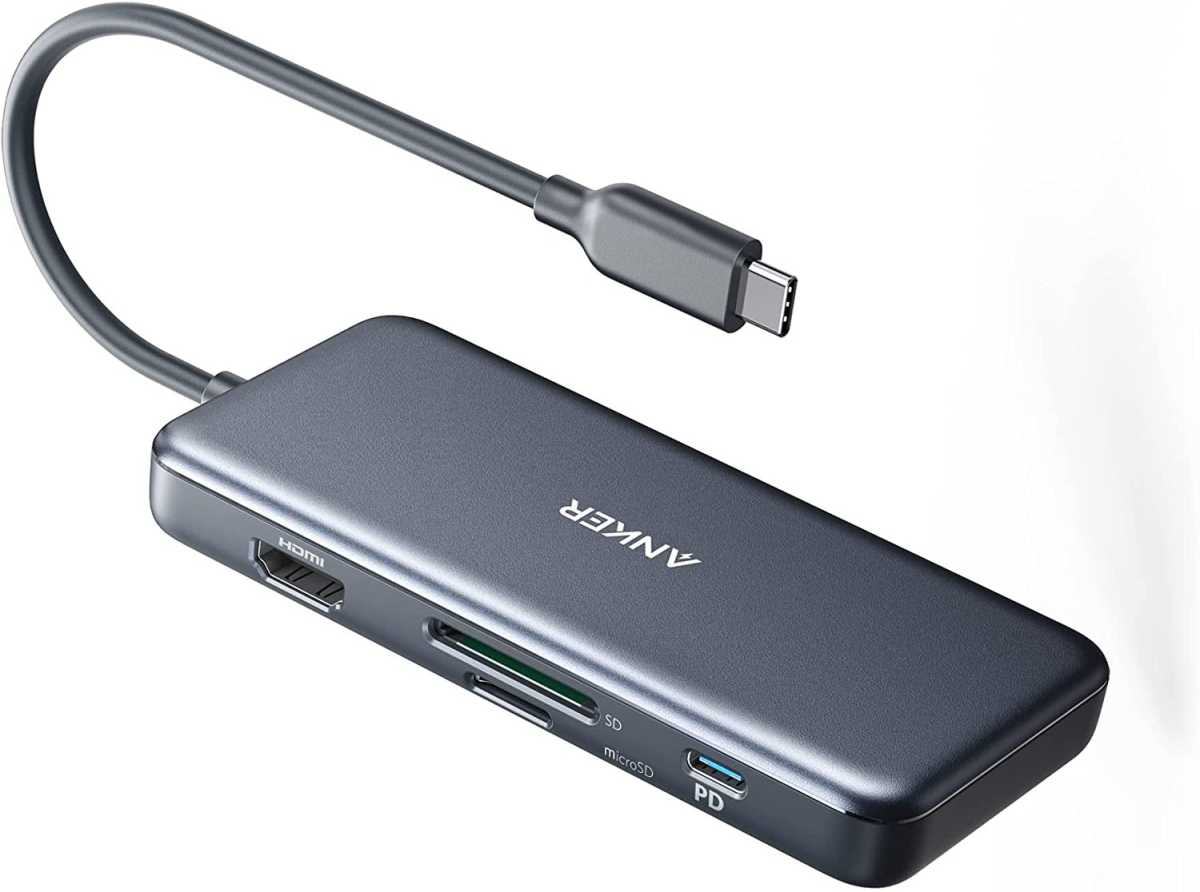 Anker
Either way, you're going to need some way of connecting to an devices that use an older USB-A port, like a printer. Or maybe an SD card used with a photography class. Or plugging in an HDMI cable to display a presentation or use an external display. A USB-C dongle can do all of these.
Our roundup of the best USB-C hubs and dongles recommends the Anker 7-in-1 USB-C hub as the best overall USB-C hub, with additional suggestions for premium offerings that offer even more. The Anker is about $31 on Amazon, which is a solid price for what it delivers.
If your laptop has a more powerful Thunderbolt port installed (check your manual if you're not sure) you can buy a Thunderbolt dock that will do much more. Most of our recommended Thunderbolt docks are powered docks, however, which require you to tote around a power brick all day. You don't want that.
Our best pick for a travel Thunderbolt dock, however, is the Belkin Thunderbolt Dock Core (review), currently on a fantastic 50% off Amazon sale for $99 at press time. This dock allows you to connect to two external displays, Ethernet, and more. Just remember to bring your laptop's charger, however.
Mark Hachman / IDG
This is Thunderbolt dock I choose when I go on vacation or travel, and it often lives in my backpack. It's a mite chunky at 5 inches by 6.5 inches, but doesn't even weigh half a pound.
2.) GaN chargers for your gear
UGREEN 100W USB-C Charger
Sure, bring your laptop charger away to school. But gallium nitride (GaN) chargers are the new hotness, precisely because they're not hot: they're small, lightweight, smart, and keep cool.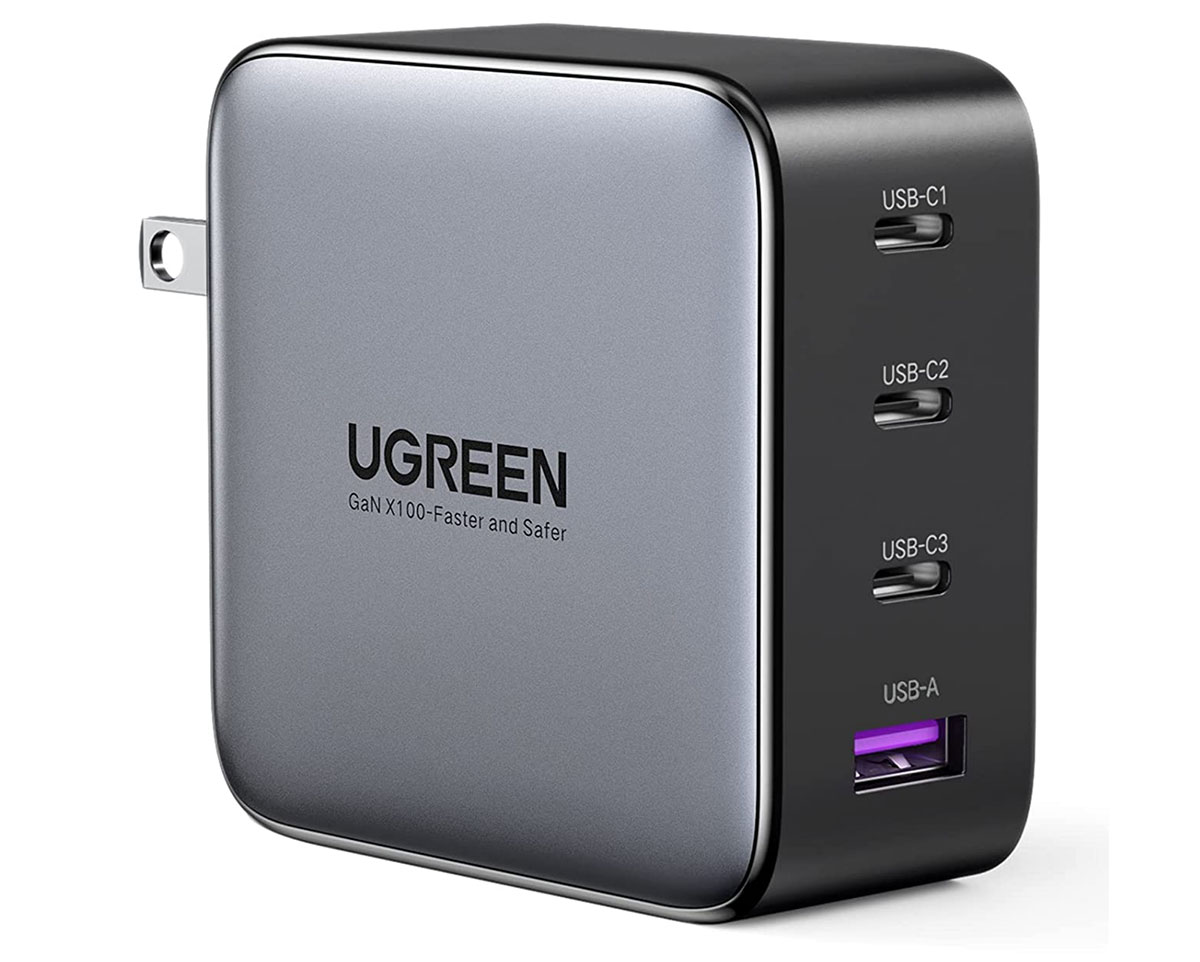 UGreen
External chargers ship with various power ratings, and it might be worth spending a moment or two considering what you want. If you want to charge your laptop, look for a laptop charger that puts out the same power (or close to it) as your laptop's charger. Remember that the available power is split between the ports in use, so 100W to a laptop will drop to 75W or so if you're charging a phone, too.
Our roundup of the best external laptop chargers helps break it all down, providing additional options. But we think that the UGREEN 100W USB-C Charger is what you're looking for: just enough power to charge your laptop (provided it uses a USB-C charger) and your phone at the same time. It's $74.99 on Amazon, but we've found a better deal at Walmart, below.
3.) A USB-C cable or two
Anker 333 USB-C Cables
UGREEN's GaN laptop charger doesn't ship with a USB-C cable, though, so it's a good time to pick up a USB-C cable or two. There's no easier way to make friends with a new roommate or stranger than helping them out with the USB-C cable they forgot when they're trying to charge their phone.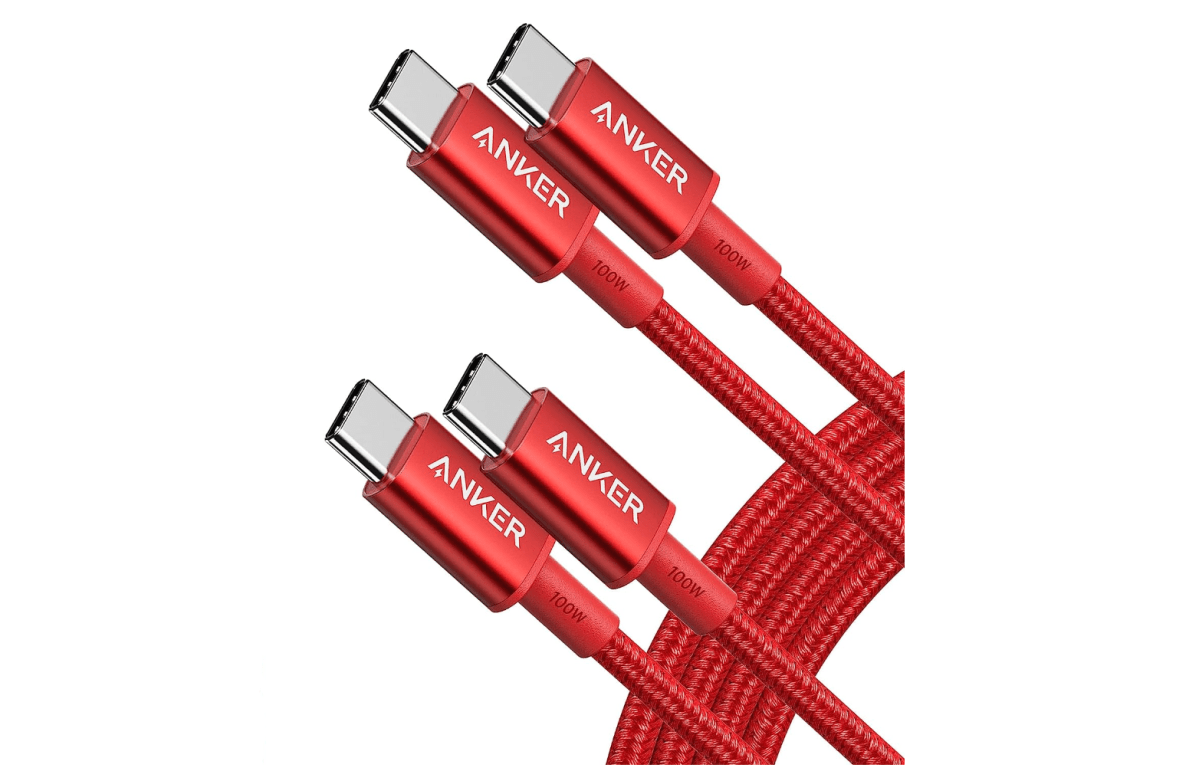 Anker / Amazon
You'll need to pay a small amount of attention to what you're using the USB-C cable for, though: if it's just to charge a phone, pretty much any cable will do. If it's to charge a laptop, buy one that's rated for the amount of power going through it, like 100W. We'd also recommend braided cables (less tangles) and some color besides black, to help you find them in the gloomy depths of a backpack.
This two-pack of Anker cables is about $18, versus $7 or so for cables than can only charge a phone. We think it's worth it.
4.) An external battery pack
Anker PowerCore III Elite
Let's face it — some of you might have opted for a, um, gaming-capable laptop? (We won't tell.) But when you're out on a full day of classes, it's possible that the ancient lecture halls won't have plug-in power handy, either for your laptop or your phone. Laptops with larger screen and dedicated GPUs chew through power more than productivity laptops. What to do?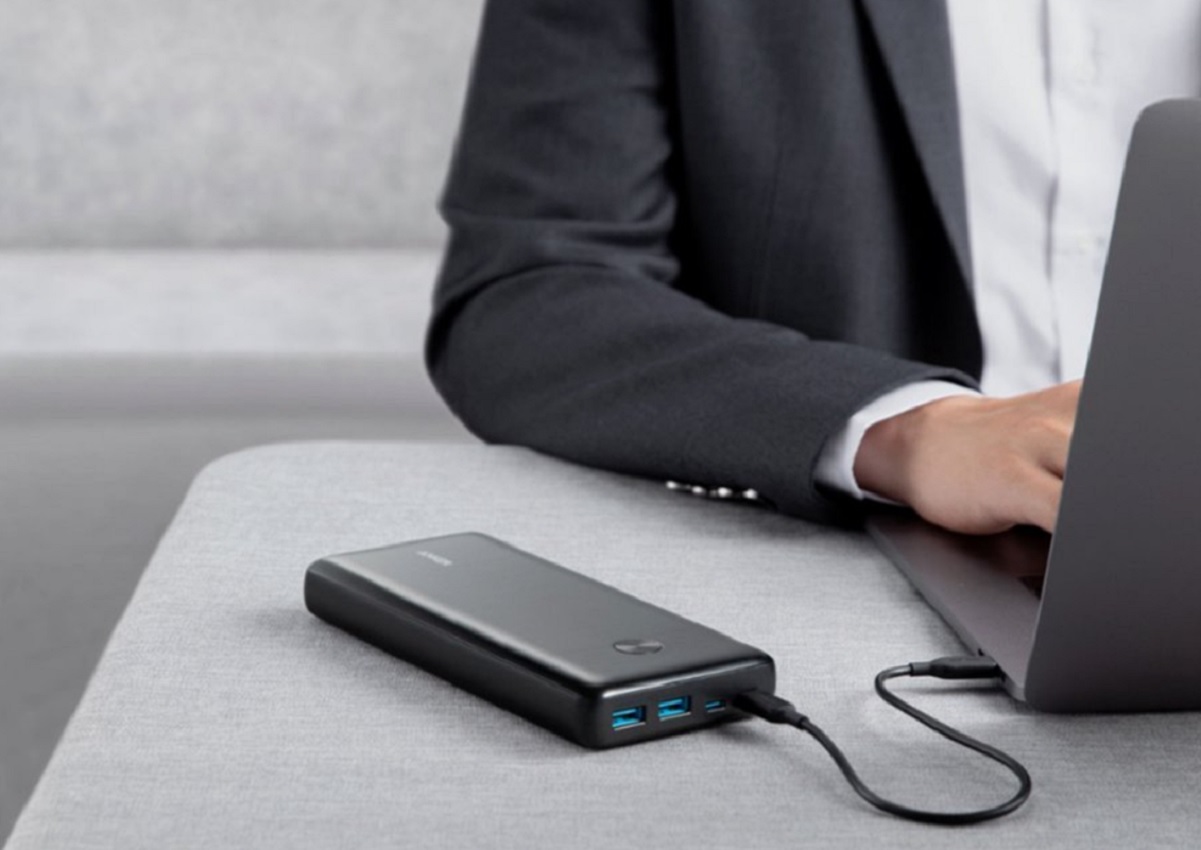 Anker / Best Buy
An external battery pack is the answer. Like a GaN charger, you can buy one that's designed to power just a phone, but we're recommending one that can power your laptop in a pinch, too. The Anker PowerCore III Elite 25600 supplies up to 87W to your laptop.
Normally, the additional laptop power is a little pricy, costing $149 at Best Buy. But we found what looks like a solid deal on eBay for the same charger, at just $69.
5.) An external SSD
SanDisk Professional (1TB)
One of the problems laptops often face is a lack of available storage space, so an external SSD is the answer, especially if you game on the side. But as our best SSDs for external gaming roundup points out, most gaming SSDs need a special 20Gbps USB-C interface that hardly any laptops use. So you're stuck with a standard 10Gbps SSD, like a savage.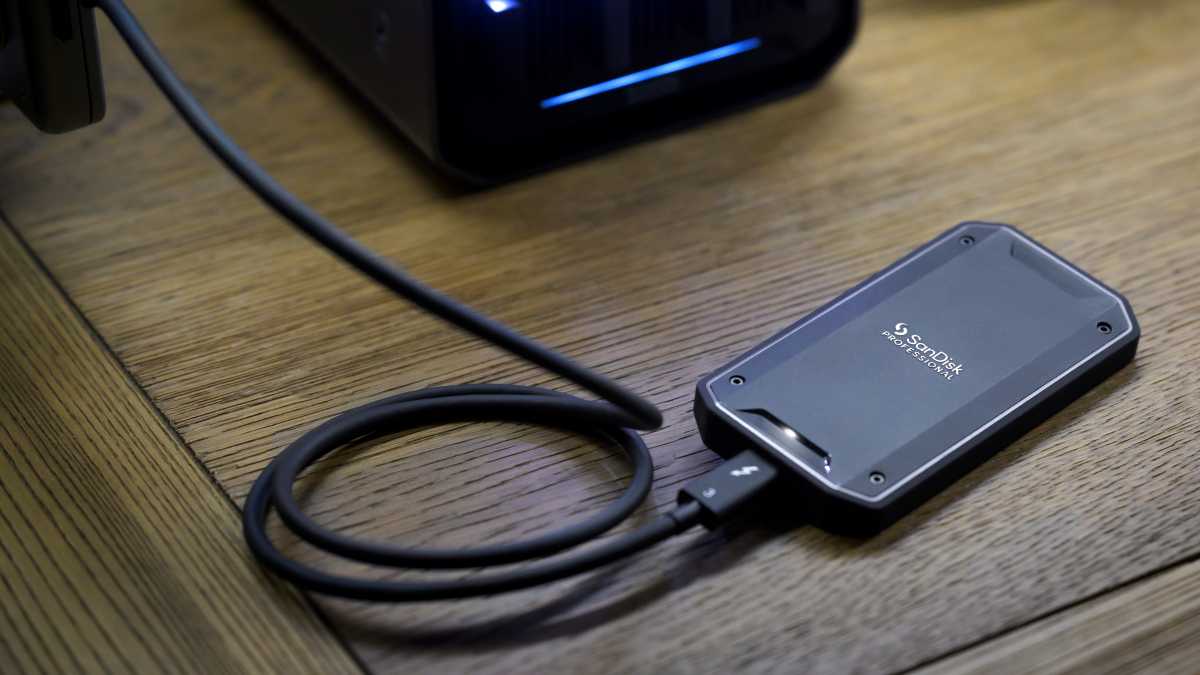 SanDisk
If you're a college student who plans to kick back with some video games on the weekend, consider the SanDisk Professional (1TB) Pro G40. It uses a 40Gbps Thunderbolt 3 interface, which quite a few laptops ship with. The drives are normally expensive, but we found a 47% off deal on Amazon which brings the price down to $159.99.
6.) A carrying case for it all
CAOODKDK Nylon Carrying Case
Trust us — you do not want to get in the habit of fishing around in your backpack for your earbuds, cables, SD cards, flash drives…whatever it is. Things will get lost, and then you'll have to buy them all over again!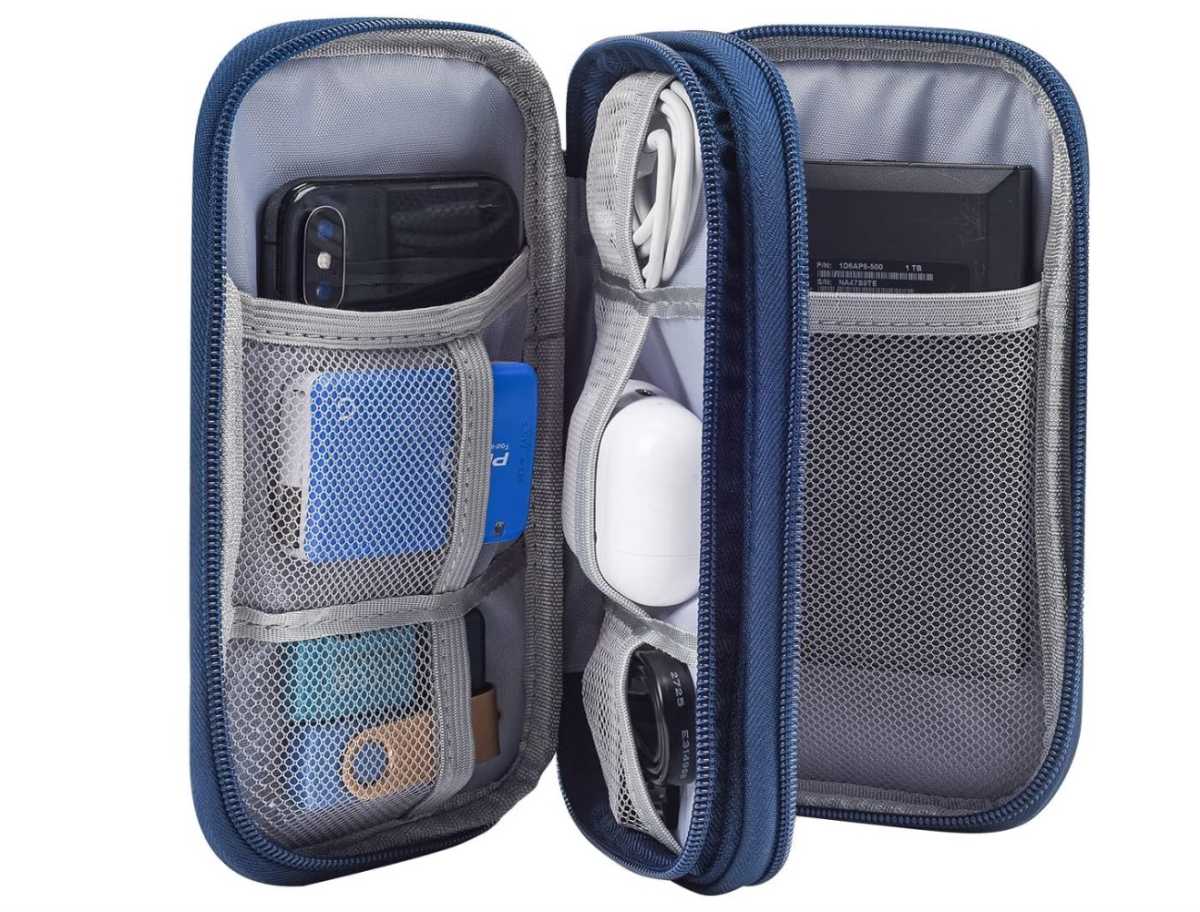 Amazon
Just accept the nerdiness and keep them in a case. We'd suggest the Caoodkdk case from Amazon for $6.32, a zipped case with netting all over the place to keep cables and chargers and plugs all secure. One point we considered: This nylon case measures 7.48 x 4.33 x 2.16in., and the Anker charger we highlighted earlier is just a tad smaller all around — it should squeeze in.
Again, we'd recommend that you pick a distinguishing color (besides black!) to help you find your cable case when you need it. Starting a new school year is hard enough! It's going to take a load of stress off of your mind if you have all of your gear organized and stored in an easy-to-find location.