At a glance
Expert's Rating
Pros
Thin, lightweight design
Excellent keyboard
Good processor performance
Supports Wi-Fi 6E and optional 4G LTE
Cons
Small touchpad
Limited physical connectivity
Short battery life
Our Verdict
Lenovo's X1 Nano packs a superb keyboard and strong processor performance despite its small size, but its battery life is behind the curve.
Price When Reviewed
$1,714
Best Prices Today: Lenovo ThinkPad X1 Nano
Lenovo's X1 Nano, now in its third generation, aims to cram an enjoyable and performant laptop into the smallest footprint possible. That means it can't be too small (that would ruin the keyboard), but it still needs to look and feel smaller than its mainstream rivals. The X1 Nano meets this goal, though it requires a few compromises.
Looking for more options? Check out PCWorld's roundup of the best ultraportable laptops available today.
Lenovo ThinkPad X1 Nano: Specs and features
The Lenovo X1 Nano's name implies it's small—and that's correct. It measures less than a foot across and less than .58 inches thick. It's also light, weighing a mere 2.18 pounds.
CPU: Intel Core i7-1360P
Memory: 16GB LPDDR5 6400
Graphics/GPU: Intel Iris Xe
Display: 13-inch 2,160 x 1,350 IPS touchscreen
Storage: 512GB PCIe Gen4 SSD
Webcam: 1080p
Connectivity: 2x Thunderbolt 4 / USB 4 with Power Delivery, DisplayPort Alternate Mode, 3.5mm combo audio
Networking: WiFi 6E, Bluetooth 5.2, optional Nano-SIM
Biometrics: Fingerprint reader, IR Camera for Windows Hello facial recognition
Battery capacity: 49.6 watt-hours
Dimensions: 11.54 x 8.19 x .58 inches
Weight: 2.18 pounds
MSRP: $1,217 base MSRP, $1,714 as-tested
However, Lenovo still equips the X1 Nano with a relatively quick Core i7-1360P processor. The "P" is important—Intel's Core i7 P-Series processors are generally quicker than the U-Series, which can lead to some confusion (the Core i7-1365U, for example, is slightly slower, as it has fewer CPU cores and a lower maximum power draw). The X1 Nano also packs a healthy 16GB of RAM and 512GB of storage, with up to 1TB of storage available in top-tier configurations.
Lenovo ThinkPad X1 Nano: Design and build quality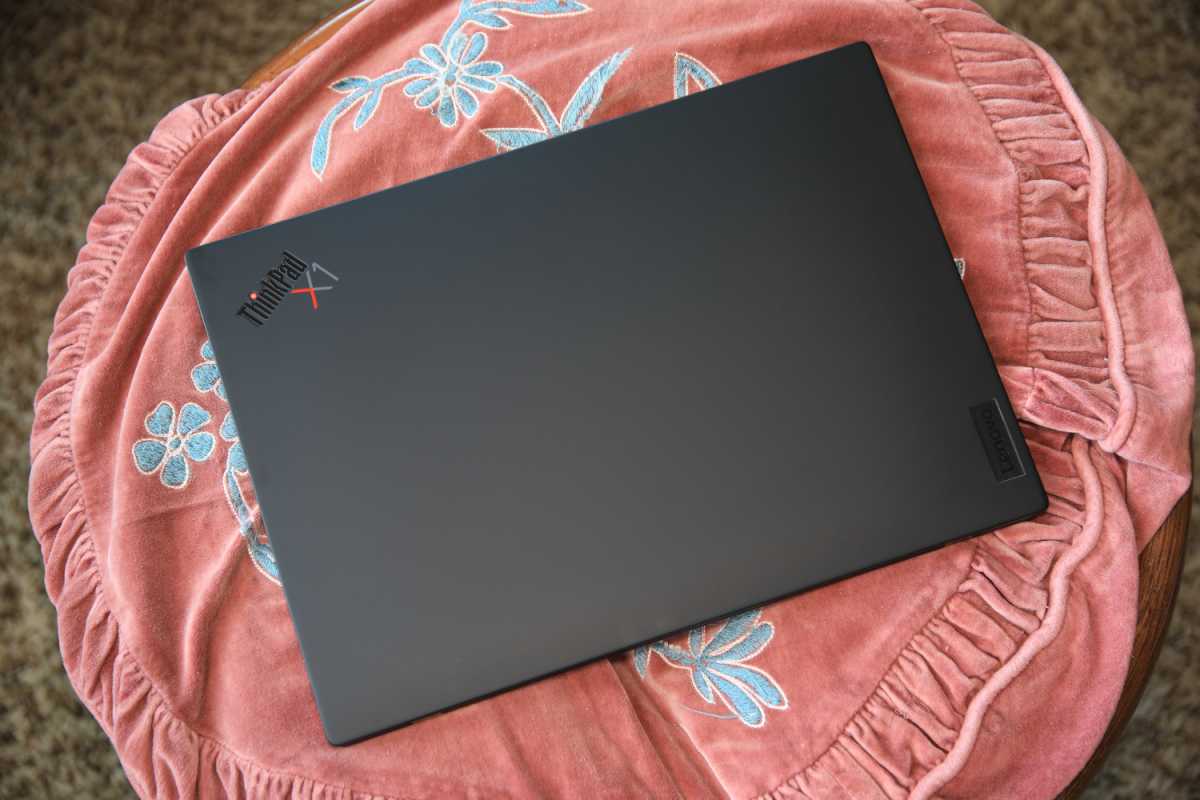 IDG / Matthew Smith
The Lenovo X1 Nano is a remarkably petite system even for a laptop with a 13-inch display. It's not as thin as Apple's MacBook Air 13, but smaller in both width and depth, and its footprint is a close match to the Dell XPS 13. But the X1 Nano's mere 2.18 pounds of weight makes it lighter than either by roughly half a pound. None of these laptops are heavy, of course, but the X1 Nano's relative lack of heft is noticeable in-hand.
This doesn't mean the X1 Nano is fragile, however. It feels surprisingly rigid and sturdy with minimal flex along all body panels including the display, which just barely bends while opening and closing the laptop (the same is true of most competitors though, notably, the XPS 13 and MacBook Air 13 are stiff as a board). Lenovo boasts the laptop is MIL-STD-810H tested, and while this standard doesn't require third-party certification, Lenovo at least mentions the 12 specific tests they perform.
As for the aesthetic, well—it's a ThinkPad. Lenovo occasionally deviates from the tried-and-true formula with inexpensive machines like the Lenovo ThinkBook, but ThinkPads are still ThinkPads: simple, black slabs with a grippy exterior and the classic red TrackPoint nub in the center of the keyboard. It's not attractive, to be sure, but it remains distinctive and offers a more rugged, workmanlike alternative to the showy Dell XPS 13 and Apple MacBook Air 13.
Lenovo ThinkPad X1 Nano: Keyboard, trackpad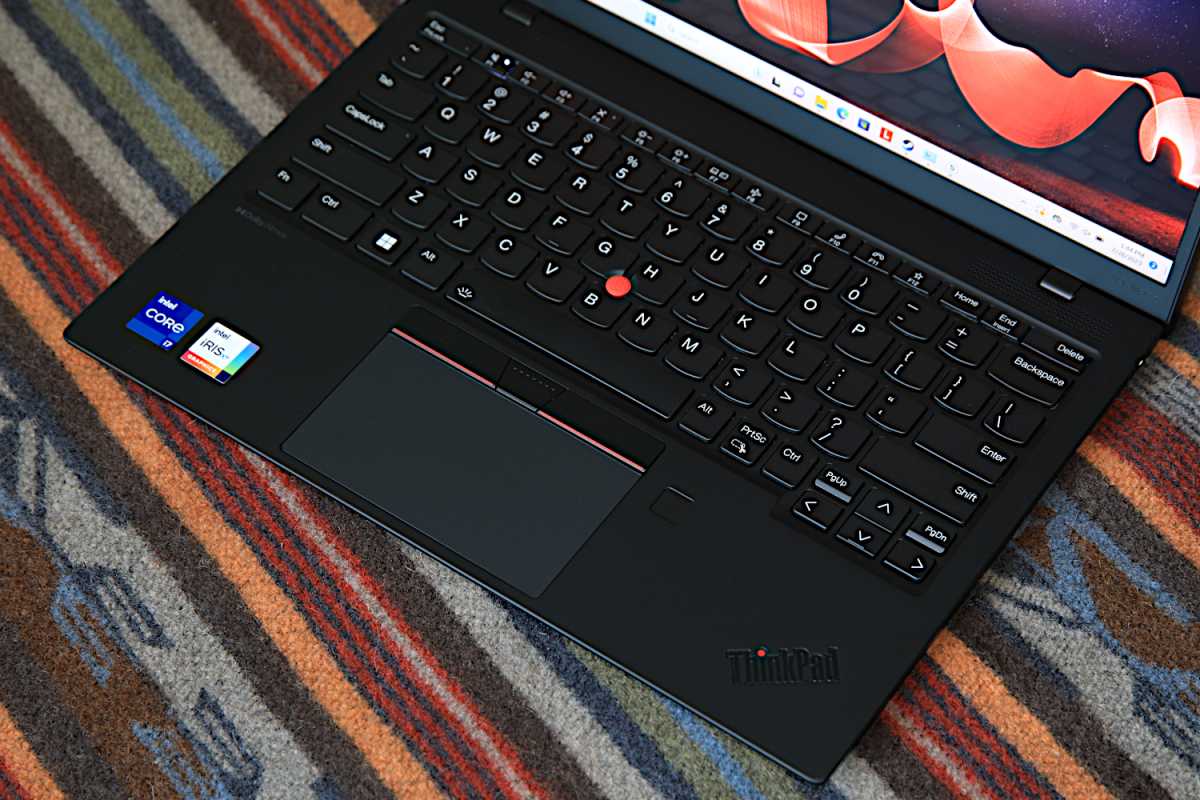 IDG / Matthew Smith
Lenovo has a reputation for excellent keyboards, and the X1 Nano doesn't disappoint. It delivers a surprisingly spacious layout and large, easy-to-find keys that are excellent for touch typing. Only a few keys along the edges, such as Backspace, are smaller than usual.
Key feel is great, too, with reasonable travel and a firm, crisp bottoming action. It's not quite as good as what's found on larger, thicker ThinkPads, but I prefer it to the keyboard found on Dell's XPS 13 (which, to be clear, is good—but not this good). The ThinkPad X1 Nano's key feel is a close match to the Apple MacBook Air 13 M2, which also has a firm, clicky keyboard.
A classic Lenovo touchpad with Trackpoint provides mouse navigation. It has an unusual design with physically separated left, right, and center mouse buttons just below the space. These buttons are meant for use with the Trackpoint nub in the center of the keyboard: when using it, they fall immediately under your thumb.
Whether you like this depends on your thoughts on the Trackpoint. Lenovo's red nub lets you use the mouse without shifting your hands away from the keyboard, but the Trackpoint is more sensitive and touchy than a touchpad. This design also reduces the physical size of the touchpad, which is more narrow than what you'll find on the Dell XPS 13, Apple MacBook AIr 13, or Asus Zenbook S 13 OLED. Put simply—the Trackpoint is great, but the touchpad feels cramped.
Lenovo ThinkPad X1 Nano: Display, audio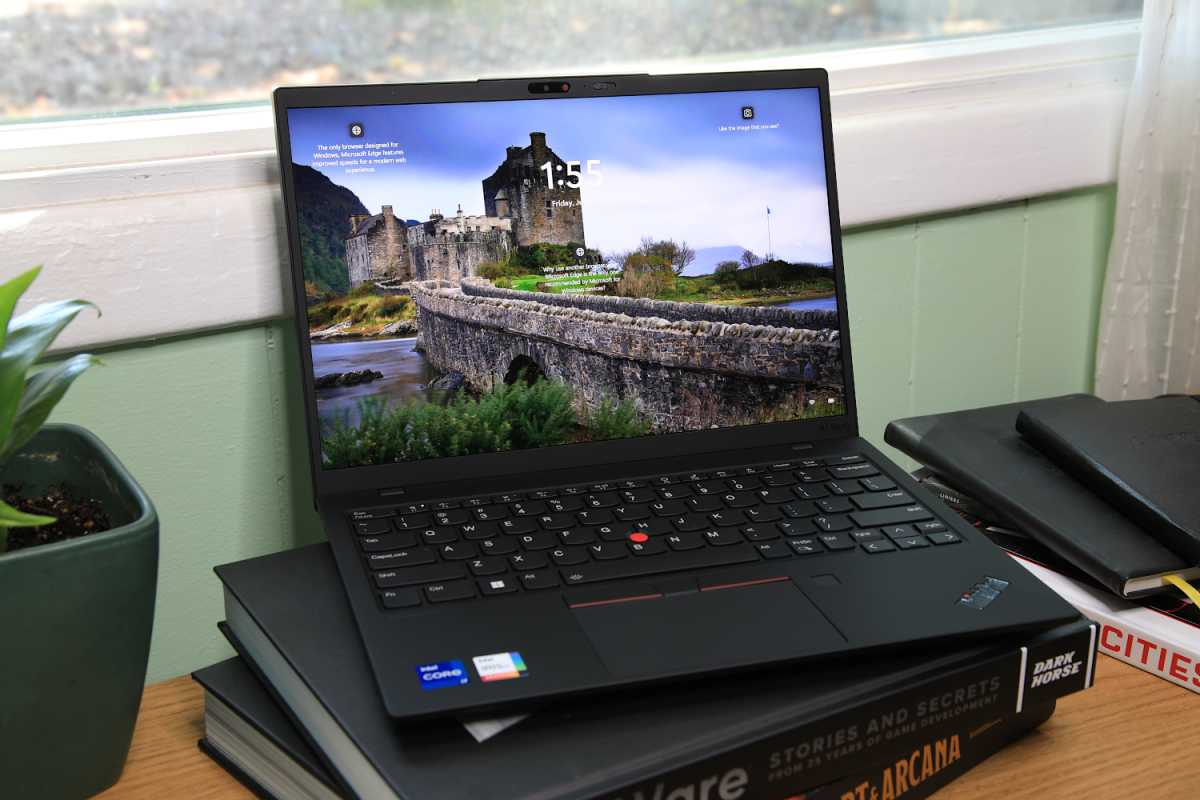 IDG / Matthew Smith
The Lenovo X1 Nano offers two display options. Both use an IPS display panel and have an unusual 2,160 x 1,350 resolution, but buyers have the option to add touchscreen support. I received the touchscreen, which also has an "anti-glare, anti-smudge" finish, but the two displays should perform similarly.
Choosing an IPS display leads to several weaknesses and one strength. First, the strength: the X1 Nano's display is extremely bright with a maximum of 472 nits. That's towards the high end for a laptop display and, when combined with the anti-reflective coat, it makes for a display that's usable in nearly any situation. That's an important trait for a small, portable laptop like the X1 Nano, since it's likely to be used in a corporate office, airport, and other brightly lit spaces.
Unfortunately, the display's performance otherwise disappoints. It provides a contrast ratio of just 1690:1 and spans just 78 percent of the DCI-P3 color gamut. Neither result is bad, but many modern laptops have turned towards OLED displays that, though not as bright, provide superior image quality in both entertainment and content creation. I can understand why Lenovo stuck a bright IPS display for the X1 Nano, but the trade-off in image quality is noticeable when it's time to kick back, relax, and watch some Netflix.
Audio quality is mediocre, though it remains acceptable for a laptop this size. The speakers' maximum volume is only loud enough to fill a small, quiet office with sound, and the lack of low-end oomph saps drama from music and movies. Dialogue remains clear, at least.
Lenovo ThinkPad X1 Nano: Webcam, microphone, biometrics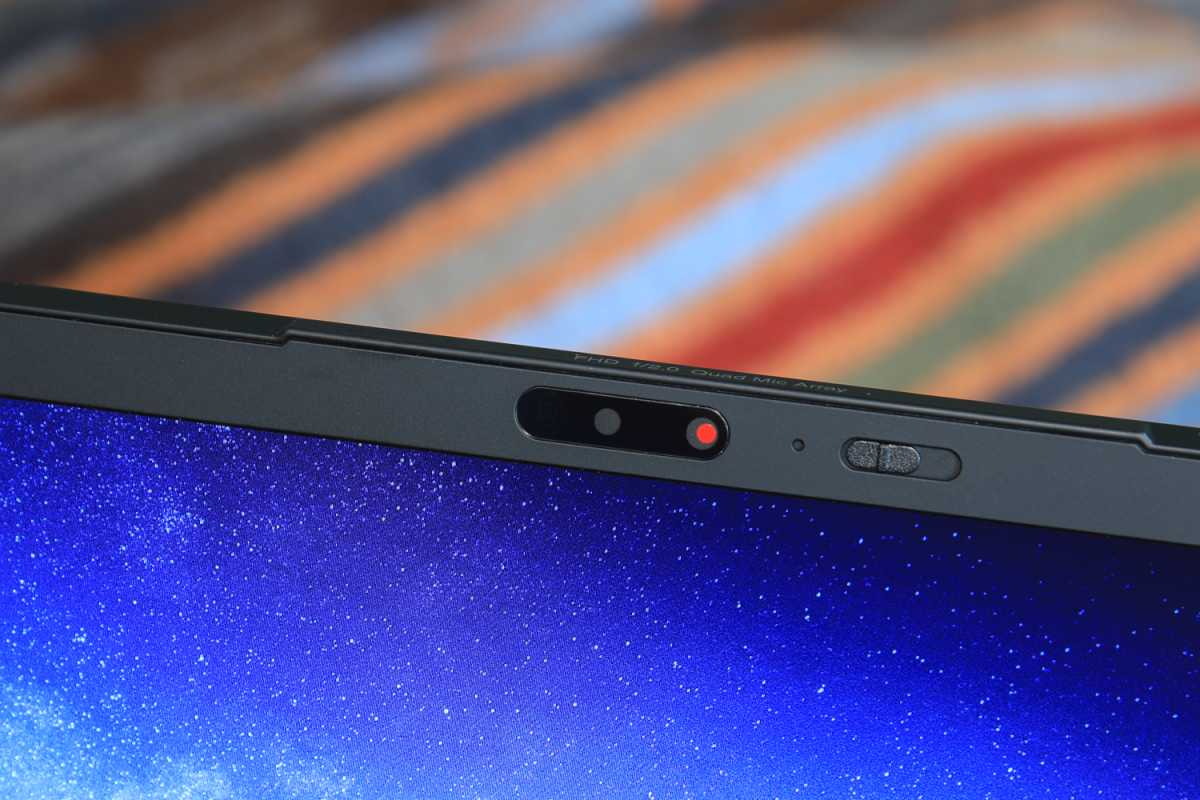 IDG / Matthew Smith
A 1080p webcam with built-in physical privacy shutter slips into the Lenovo X1 Nano's top bezel. It's a solid camera, providing a crisp, clear, vibrant image even in dim interior lighting. I wouldn't recommend it for launching a YouTube career, of course, but it's great for video calls.
The same can be said of the microphone array. It picks up extremely strong, clear dialogue even when the laptop is several feet away, or when not looking directly at the laptop. Noise cancellation was also solid, as the microphone was able to filter out the sound of my typing and (usually) minimized the annoyance of a nearby barking dog.
Lenovo offers two forms of biometric login: a fingerprint reader and an IR camera with support for facial recognition login. I personally prefer to use facial recognition over a fingerprint reader, but it's nice to have an option.
Lenovo ThinkPad X1 Nano: Connectivity
The ThinkPad X1 Nano aggressively leans into Thunderbolt 4 and USB 4. It offers two such ports, both of which support Power Delivery (for charging the laptop) and DisplayPort Alternate Mode—and, aside from a 3.5mm combo audio jack, that's all the ports you get.
This isn't a surprise, given the laptop's size and its competition. Most small, light, and expensive laptops opt for Thunderbolt 4 and USB 4, as they provide a wide range of connectivity in a handful of small, easy-to-use ports. Still, shoppers who need to connect with older peripherals should be wary. A Thunderbolt 4 / USB 4 dock or hub will be required.
Ethernet is missing, but the X1 Nano goes all-in on wireless connectivity with support for Wi-Fi 6E, Bluetooth 5.1, and an optional Nano-SIM slot for 4G LTE connectivity. The X1 Nano I tested didn't have the Nano-SIM installed, but Wi-FI performance was excellent. I saw sustained speeds up to the limit of my Gigabit Internet connection when using the laptop in the same room as the router. I saw speeds of up to 120 Mbps in my external office, which is located 50 feet and several walls away from my router, and had no issues with the Wi-Fi connection's reliability in this (or any other) location.
Lenovo ThinkPad X1 Nano: Performance
The Lenovo X1 Nano is small on the outside, but its hardware is similar to many thin-and-light laptops with larger displays (like the LG Gram SuperSlim). It has an Intel Core i7-1360P processor with a total of 12 cores (four performance cores and eight efficient cores) and a maximum Turbo boost speed of 5GHz. All models come with 16GB of RAM (which isn't user-serviceable, as it's soldered to the mainboard) and a PCIe Gen 4 solid state drive.
IDG / Matthew Smith
Intel's Core i7-1360P performs well in the Lenovo X1 Nano and led the laptop to a score of 5,654 in PCMark 10. That's an excellent score for a laptop with Intel Iris Xe graphics (as graphics performance is a factor in this test).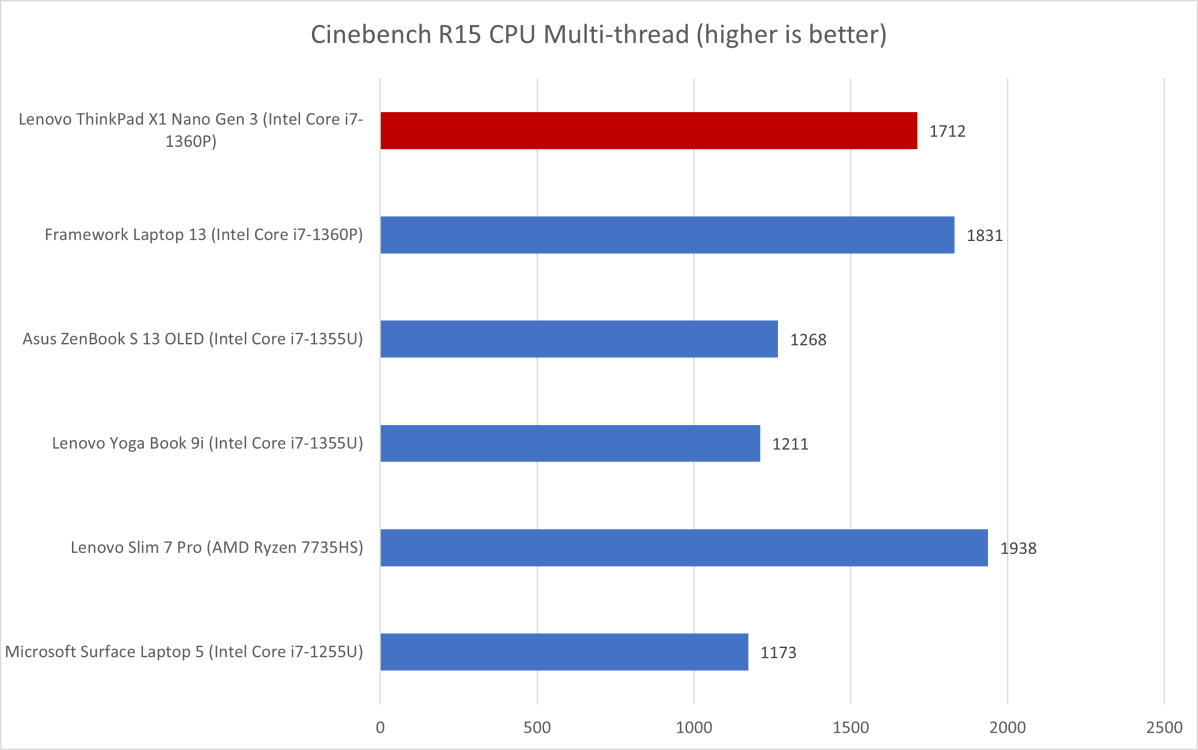 IDG / Matthew Smith
The Lenovo X1 Nano's performance in Cinebench R15, a benchmark that relies on multi-threaded processor performance over a short duration, was more muted. It achieved a score of 1,717 which, although not bad, does place the X1 Nano behind the Framework Laptop 13. And Lenovo's own Slim 7 Pro with Ryzen 7735HS once again jets ahead of the Intel pack with a score of 1,938.
IDG / Matthew Smith
It's wise not to expect much from the Lenovo X1 Nano's graphics. It relies on Intel's aging Iris Xe, which achieves a score of 1,715 in 3DMark Time Spy. This is typical for a laptop with Intel Iris Xe, but it's not impressive compared to even entry-level discrete graphics, which can achieve a score several times higher.
The Lenovo X1 Nano's overall performance is solid. The Intel Core i7-1360P does well and gives the Nano an advantage over competitors that stick with less performant Intel Core i5 and i7 U-Series processors. The lack of discrete graphics is a downside, but it's unreasonable to expect a 13-inch, 2.18 pound Windows laptop to deliver strong graphics performance. Those who want to play 3D games, or use a GPU to accelerate a specific app, will need to buy a larger laptop. And, that limitation aside, the Lenovo X1 Nano is a capable machine that can handle not only basic productivity (like Word and Excel) but also some more demanding tasks, like photo editing and 1080p video editing.
Lenovo ThinkPad X1 Nano: Battery life
While Lenovo provides good performance in a small package, it had to make tough decisions about the battery. Larger batteries take up more space and add more weight, so Lenovo sticks with a small 49.6 watt-hour battery. That's not a large battery for a modern Windows laptop, and it unfortunately leads to modest battery life.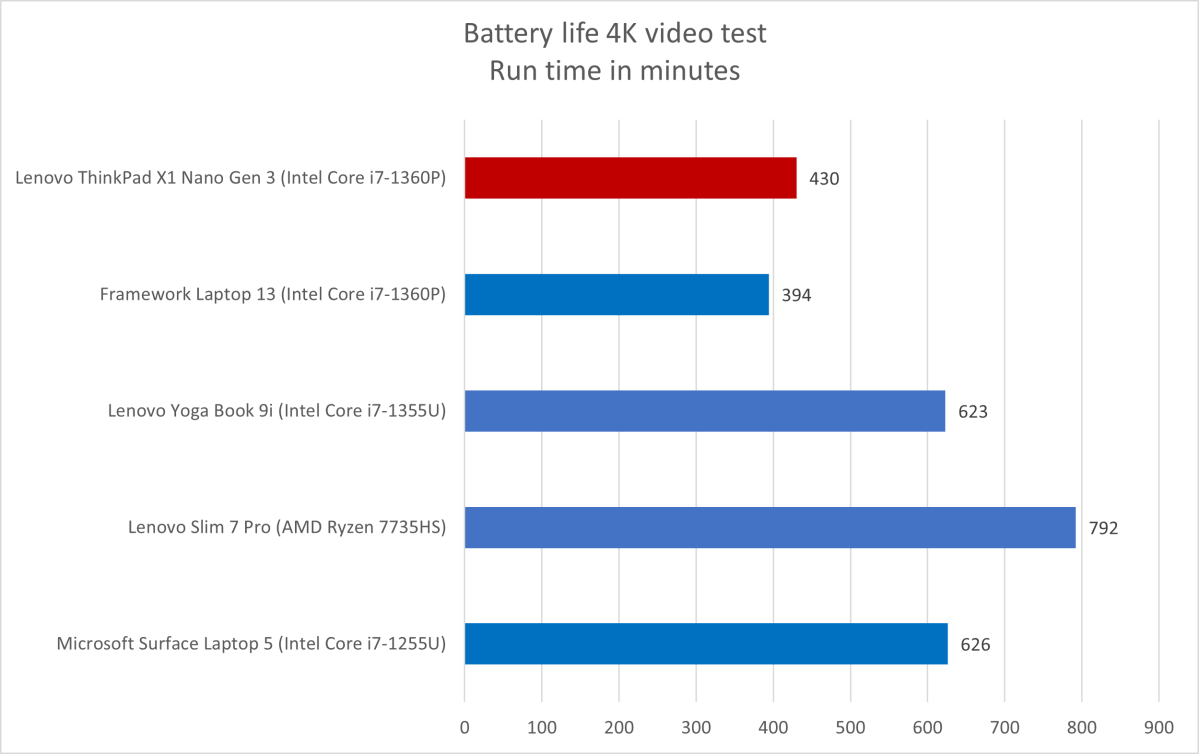 IDG / Matthew Smith
I saw seven hours and 10 minutes of battery life in PC World's standard battery test, which loops a 4K file of the short film Tears of Steel. Real-world use was similar, as I saw the battery dip by almost half in one three and a half-hour long browsing session that made moderate use of browser tabs. That's not enough to nudge the Lenovo ThinkPad X1 Nano through a full workday.
Lenovo shipped my X1 Nano with the standard 65-watt USB-C charge I've found with other Lenovo laptops. It's a bad fit for a small, light laptop. Stranger still, Lenovo itself sells a smaller 65-watt GaN power brick, and it's less expensive on Lenovo's store. Lenovo would do well to start shipping the GaN power brick instead of the larger, standard power brick.
Lenovo ThinkPad X1 Nano: Should you buy it?
The Lenovo X1 Nano is a good option for business professionals, frequent fliers, and other on-the-go users who don't want the burden of a large, heavy laptop. The X1 Nano is both small and light yet it still offers an excellent keyboard and speedy processor performance. Battery life is the laptop's most serious flaw, and it could prove a problem if travel often leaves you without access to a power outlet. If you can work around that problem, though, the X1 Nano will prove a capable, portable machine.
Best Prices Today: Lenovo ThinkPad X1 Nano