Black Friday has come and gone, the streets are decked with lights and wreaths, and the music piping from shops and cafes has taken on a decidedly jingly tone. It's official: The holiday season is upon us. For many of us, the month of December is a veritable smorgasbord of parties, from the office shindig to the "ugly sweater" soiree. Some will take on the considerable responsibility of hosting one of these affairs. That's where we come in—from cooking and baking to planning the perfect playlist, we've got you covered. Here are eight apps to help you entertain with ease.
The first step in pulling together the perfect party? Planning! And for those who are hosting an event with a large number of people and a significant amount of detail in food, decor, and so on, Pro Party Planner for iOS will help get the job done. This app offers everything you need to plan your party with minimal stress. There's in-depth guest list management, with features such as RSVP tracking and a seating chart; a module for planning menus, drinks, decorations, and entertainment; and a party timeline so you can keep track of what's happening and when. You can even set reminders so you know when to put the first appetizers in the oven.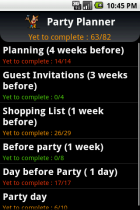 While lacking the bells and whistles found in Pro Party Planner, the Party Planner app for Android is just a buck and can help you keep track of all the minutiae of your shindig. It offers a variety of list categories that let you organize things you need to complete based on the timeline leading up to your party. There's also a "factory list" from which you can import frequently used items, such as disposable plates and cocktail mixers.
The best way to kick off your soiree is with delicious drinks and some tasty appetizers to go along with them. Martha Stewart Makes Cocktails is a beautifully designed app that offers easy-to-follow recipes for both—though you may be challenged finding some of the ingredients! The app includes 60 cocktail concoctions divided into three categories: Martha's Classics, Cutting-Edge Cocktails, and Mocktails (for those who don't imbibe alcohol). In addition, there's a collection of delicious bar snacks designed to complement the drinks. Other useful features include how-to videos and photos, a unit converter, Facebook and email sharing options, and space to add your own notes for tweaking recipes to your liking.
Bartender—Windows Phone 8 ($1.30)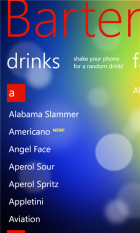 Not an iOS user? Check out Bartender for Windows Phone 8, a free app that requests a small donation to "treat the developer to a drink" (seems fair). This simple but extensive app includes more than 100 cocktail recipes that you can sort based on type (Fancy to After Dinner), taste (mild to sweet), or available ingredients. There's also a top ten list that shows you the most popular drinks based on user ratings and a drink log for noting your preferences.
If you're going to download just one recipe app for your device, make it Epicurious—which is not only free but available for every mobile OS. Plus, it offers more than 28,000 easy-to-browse recipes, including sections sorted out for Christmas, Hanukkah, and Kwanzaa. The cooking instructions are well written and easy to follow, and many include photos and user reviews. Plus, you can search by main ingredient, dietary consideration, season, and occasion. And of course, there are plenty of dessert recipes for your holiday baking needs.
If anything is indicative of the holidays, it's baking—especially if the thing you're baking is a cookie. Not only are cookies a fantastic dessert to have on hand as a relatively light finish to a decadent holiday party meal, but they're great to bring as a gift to a host or hostess. Get clued in to the science of this tasty treat with Cookie Recipes for Android. This app offers more than 200 delicious recipes—some with video guides—which are broken down into convenient categories according to the type of cookies you want to make. We recommend sugar, shortbread, and ginger for seasonal goodness.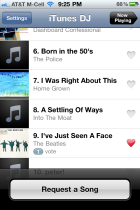 Be sure to put the finishing touches on your party with some great music. Don't want to play DJ yourself? Then we have some great news for you: Any guest with an iPhone can select music from your iTunes library to add to a collaborative playlist. The feature is called iTunes DJ, and it's one of many things you can do with the Remote app from Apple. It not only lets your guests select songs to be played, but also lets you vote on songs requested by others. The song with the most votes automatically gets played next. We love it because no one person has the burden of playing DJ all night long, and you can rest assured the majority of guests will enjoy the tunes!
If you or someone you know actually loves to play DJ during parties, then Party Mixer for Android is a great option. This free app lets you mix and cross-fade tracks. Or you can create a playlist and then enable the Auto-DJ feature, which will take care of the song mixing for you.
This story, "Entertain with ease: 8 apps for holiday parties " was originally published by TechHive.