At a glance
Expert's Rating
Pros
Triple-mode wireless
Included wrist rest
Capable function layer
Cons
Cheap switches
Narrow USB port
A bit pricey
Our Verdict
In terms of value, the CK721 is approximately average, with points both for (included wrist rest, dual-mode wireless) and against it (ABS keycaps, cheap switches).
Price When Reviewed
$70
Best Prices Today: Cooler Master CK721 keyboard
It seems like every manufacturer is trying to hit the popular compact-semi-custom-keyboard-with-a-rotary-dial niche these days, from the over-the-top Asus ROG Azoth to the utilitarian G.Skill KM250. Cooler Master's CK721 has been around longer than both of them, but hits a solid medium between the ultra-budget and the mad-money high-end. This compact but highly functional keyboard won't blow away anyone with its feature list, but its wireless performance and type-friendly setup make it worthy of consideration.
Further reading: See our roundup of the best wireless keyboards to learn about competing products.
As a brand Cooler Master has a bit of a gamer leaning, but the CK721 is a little more buttoned-down than the usual fare. It makes up for a lack of bombast with a focus on functionality. The $100 board has both Bluetooth and 2.4GHz, plus the usual RGB and programming options. It hits right at the middle of the pack in terms of features and value, and might have scored lower if it wasn't for a solid function layer and included wrist rest.
While lacking in the more elaborate options seen in much of the competition, Cooler Master's offering is serviceable, and might appeal to those who want a solid wireless option without any distractions.
Cooler Master CK721 design and specs
At a glance, the CK721 might seem like it's aiming for the ultra-custom angle, something like the Keychron Q1 at a lower price. Unfortunately, no: Cooler Master opted for some rather low-rent parts in this board, like TTC switches (clicky Blue, smooth Red, or tactile Brown) that are a little wobbly and chattery. In terms of typing it's actually pretty good if you like a lot of noise and feedback in your keys…but if you don't, you're out of luck, because this board does not feature hot-swap switches.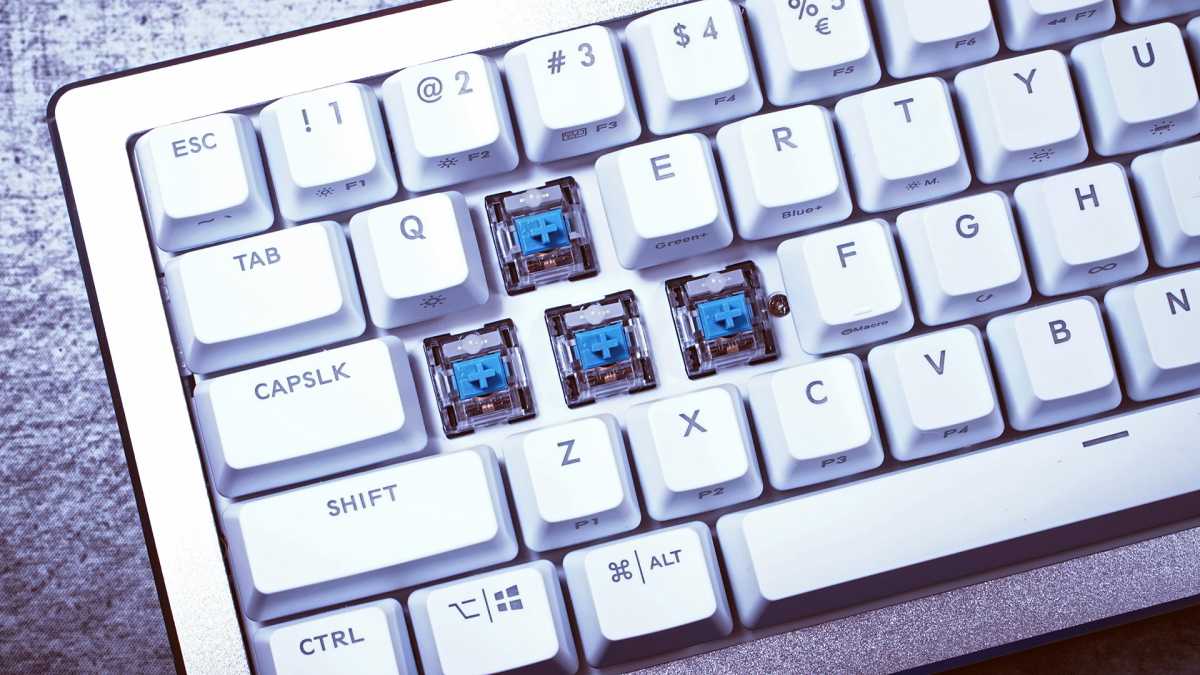 Michael Crider/Foundry
Other components are similarly on the cheap side. The keycaps, while attractive and featuring appealing printing (and tons of functionality thanks to handy functions printed on the lower side), are ABS plastic. That's a ding against it at this price point, while cheaper boards are offering real PBT keycaps. Cooler Master does offer PBT caps on the nearly-identical MK721…but since that and a fancy coiled cable are the only differences between them, I don't think it's really worth the $40 upgrade.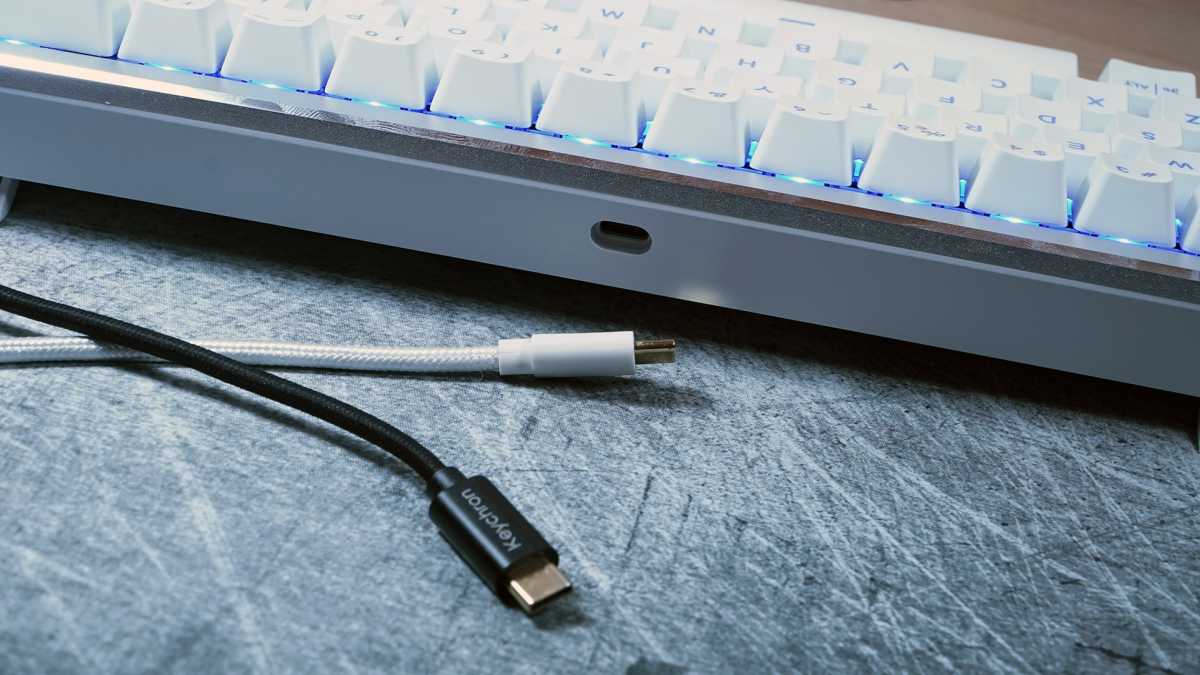 Michael Crider/Foundry
On the other hand, the sandblasted aluminum faceplate is rather fetching, as is the matching rotary dial. Both of them are available in a darker "space grey" with matching black keycaps if you prefer. The 2.4GHz wireless dongle tucks away in a special hollow on the left side, opposite the unobtrusive Bluetooth/dongle/USB switch on the right. And there's a matching white braided USB-C cable, which you'll want to hang on to, because the opening around the charging/data port on top is so narrow and slim that your other USB-C cables probably won't fit it. Annoying.
mentioned in this article
Keychron Q1 Pro Keyboard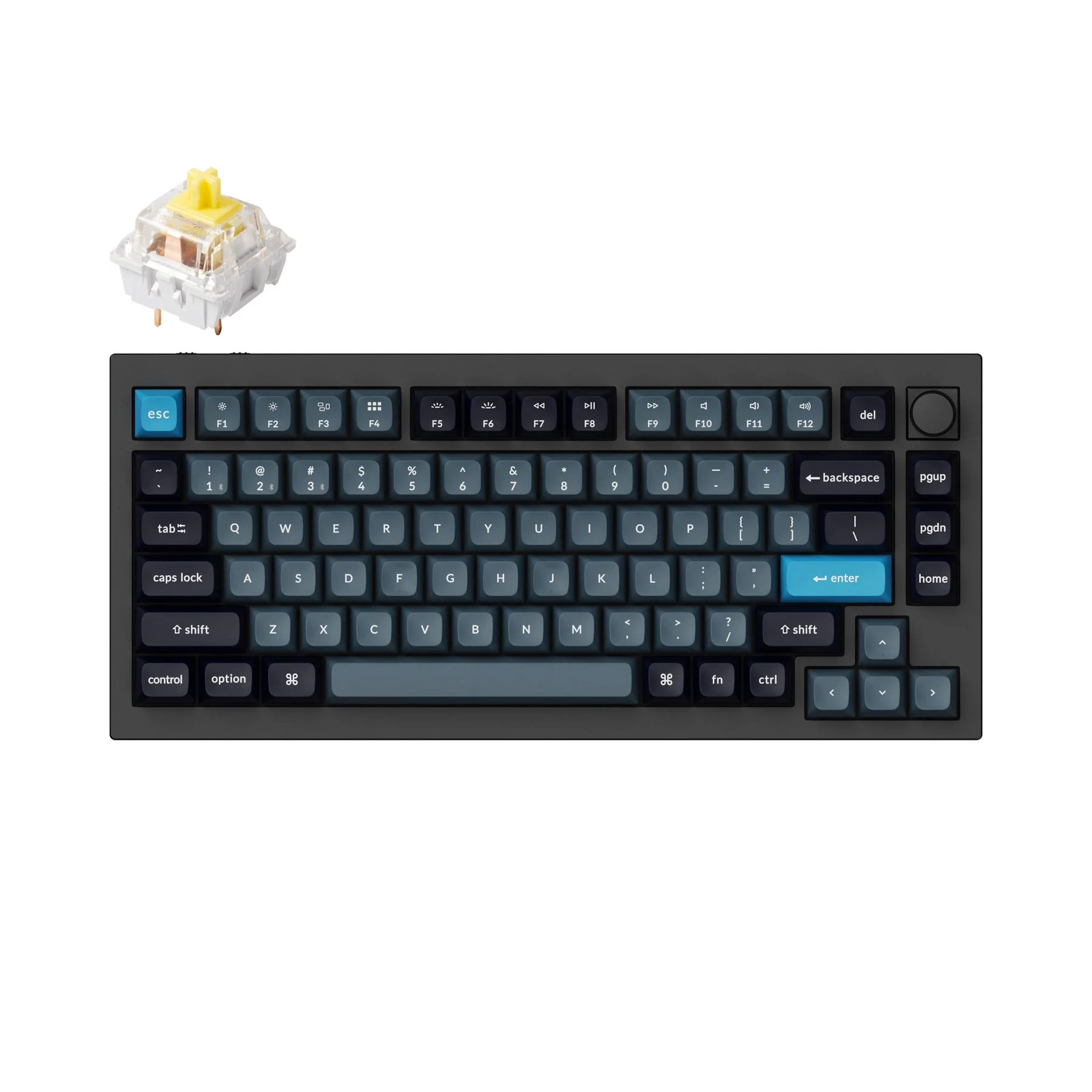 Price When Reviewed:
$199
Focus on productivity
What the CK721 lacks in refinement it makes up for in productivity. I always like to see a choice of Bluetooth and dongle-based wireless, though the packaging and manual make no mention of super-low latency for gamers. The keyboard is absolutely packed with functions and sub-functions on almost every single key, with the option to switch between Windows and Mac layouts on the fly, or four different user profiles. You can even program lighting patterns and macros without needing to boot up the Master+ software package.
That does make things a little confusing if you're using multiple layouts or machines. For example, in the standard Windows mode, controls for Mute, Volume Down, and Volume Up are FN-,, FN-., and FN-?, respectively. But press Fn-Right Shift to switch to Mac mode, and they're now Fn-0, Fb–, and Fn-+ to match Apple's standard layout…in addition to still being mapped to the comma, period, and question mark. That's in addition to the volume wheel and its integrated mute button, which work in both modes.
Michael Crider/Foundry
But an abundance of options is not a bad thing, and you'll get the hang of actually using the board after a few weeks. The included RGB lights are nothing fancy (you want the Roccat Vulcan series if you want a light show), and you'll probably want to keep them off anyway to preserve battery. With the lights on full blast and animation I managed a little over two days of work and gaming on it, while I've yet to exhaust the battery at all with the lights out. Such is usually the case, no matter what kind of wireless you're using.
mentioned in this article
Roccat Vulcan II Mini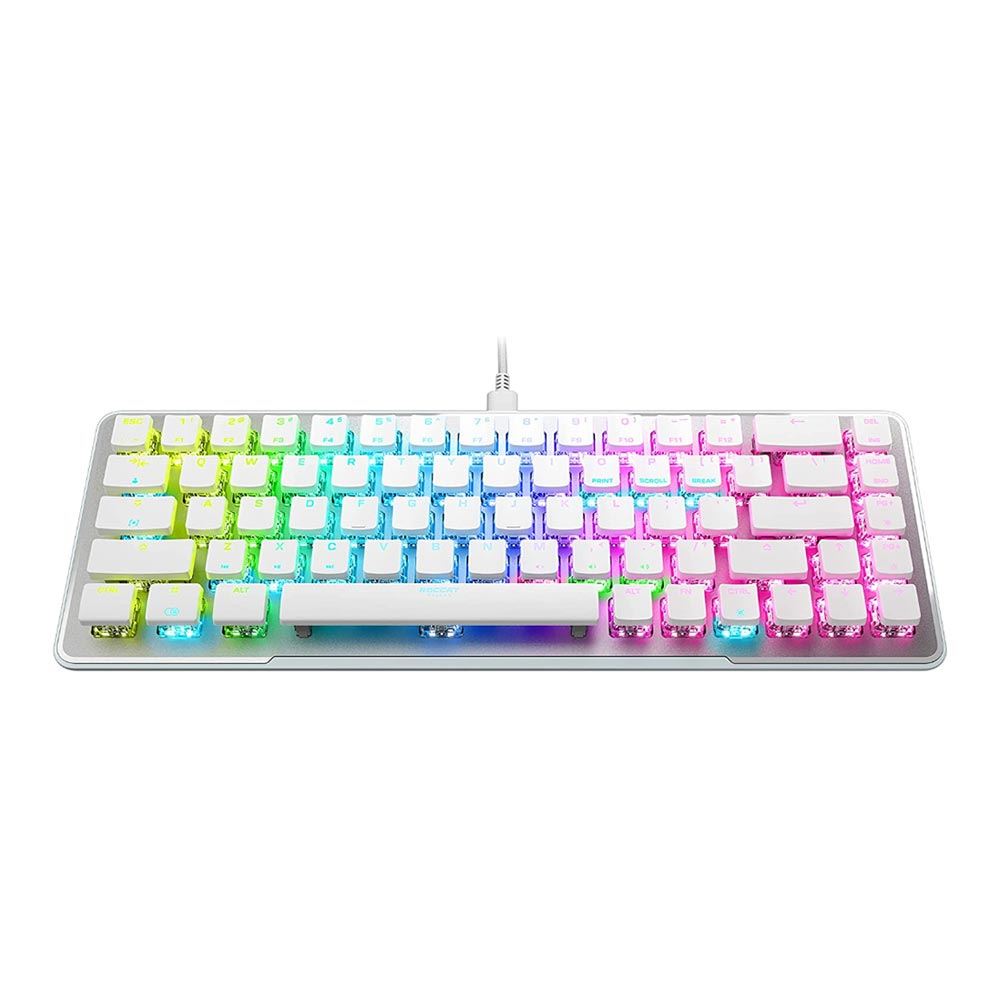 Price When Reviewed:
$150
How is the Cooler Master CK721 for typing?
I'm glad to see Cooler Master include a wrist rest with this keyboard, which really should be standard on anything at the $100 mark or higher. It's a bit basic, just black fabric over foam, but it matches the size and spacing of the board and my RSI appreciates it. Ditto for the rotary dial, always a plus for anyone who's constantly playing media.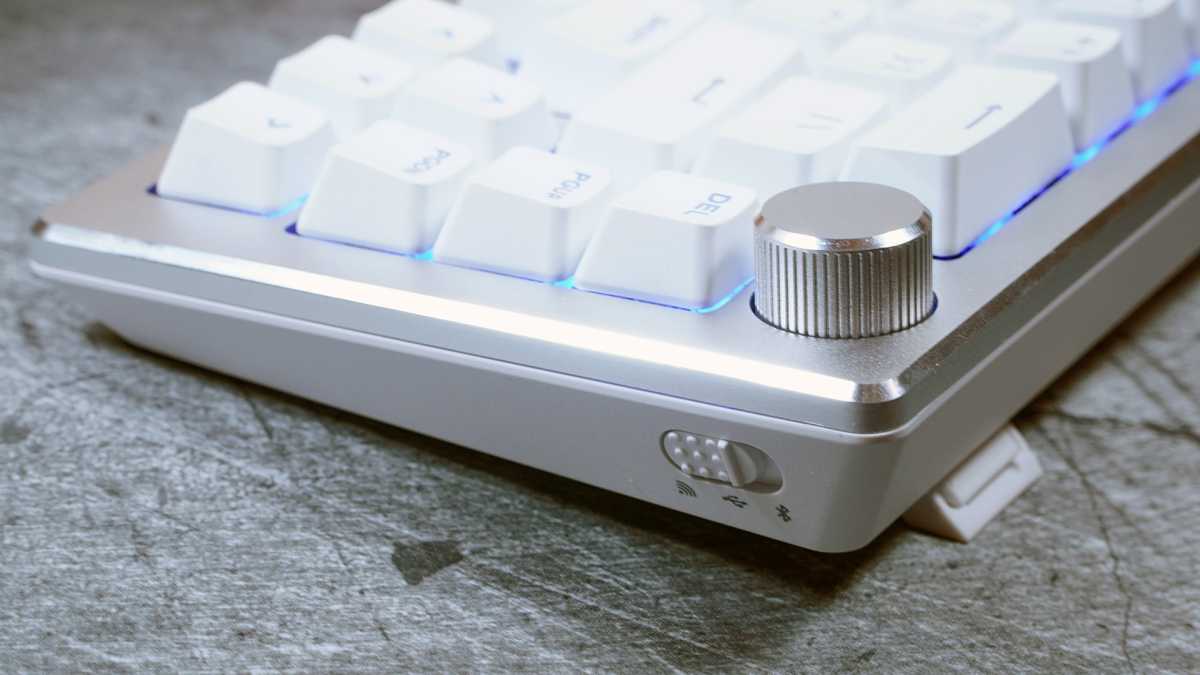 Michael Crider/Foundry
I wish I could say the same for the switches. When even the cheapest boards out there are using quality switches from Kailh with stabilizing braces on the stems for smoother action, it's hard to get excited about TTC switches, which are chattery and wobbly. They get the job done, sure enough, there's just nothing to get excited about here. (Yes, I get excited about switch stems, sue me.)
Should you buy the Cooler Master CK721?
In fact, "nothing exciting" sums up the board pretty well. For every high point, I can find an equal low point that just about evens it out. For example, the aluminum face plate can be removed and replaced…but the only other option is the black color, and Cooler Master doesn't sell it separately, so all the extra design work seems to be for nothing. The excellent software-free options are counter-balanced by the MasterPlus software itself, which constantly hung and crashed when I tried to use it to update the keyboard and program custom layouts faster.
Michael Crider/Foundry
In terms of value, the CK721 is approximately average, with points both for (included wrist rest, dual-mode wireless) and against it (ABS keycaps, cheap switches). It is that thing which a critic most dreads writing about: the median, which elicits neither praise nor scorn. It's fine. And that makes it rather boring to read about, if not necessarily use. (Incidentally, it becomes much more appealing at the $68 street price Amazon was showing at the time of writing.)
The CK721 might turn your eye if you want a compact, type-friendly wireless board that doesn't spring for gaming extras or hardware customization options, and you never want to install a driver program. But if you want more premium parts or the option to swap them out, you need to look elsewhere. At this price point I'd go for the Varmilo Minilo, unless you absolutely have to have that radial dial. Then I'd spring for the Keydous NJ80-AP.