Cotton Candy hands-on preview: A sweet computer on a stick
At a Glance
FXI Technologies Cotton Candy
The tiny-PC market is evolving so rapidly that products are in danger of becoming obsolete before they hit virtual retail shelves. FXI Technologies announced its Cotton Candy micro PC more than one year ago, but the company has had to put the device through numerous design changes to keep it competitive.
The result is a product that could appeal to both consumers and business users—whenever it ships as a finished product, that is. As of this writing, the Cotton Candy's firmware and operating system are still in beta, and the manufacturer states that the device in its current state is intended only for developer use. Developer units are available for purchase direct from the manufacturer for $199. For this evaluation, FXI sent us a unit with two MicroSD cards containing beta builds of Android Ice Cream Sandwich and Ubuntu Linux, respectively. The manufacturer is in the process of certifying the Cotton Candy with Google, but currently you cannot load apps from the Google Play Store unless you load a user-created Android OS image that's downloadable from the FXI user forums.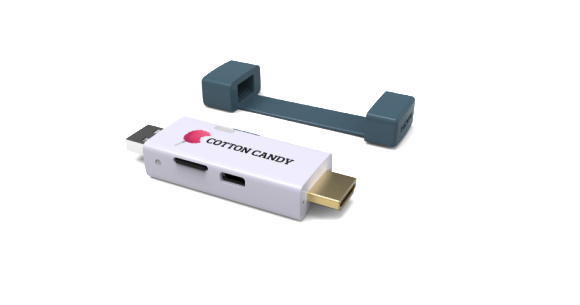 The most important feature separating the Cotton Candy from its competitors is its Any Screen capability. Like other micro-computers, the Cotton Candy can draw power from a Micro-USB power adapter and display its user interface via HDMI, but its unique Client model enables the device to run as an independent environment inside a window on another computer running Linux, Windows, or OS X; hence "Any Screen."
The Cotton Candy's Client mode operates like a virtual machine in that the device relies on the host computer's display, mouse, and keyboard for user interaction. Unlike a virtual machine, however, the Cotton Candy itself handles all computational tasks—including graphics processing and wireless networking—natively. This almost completely sandboxed environment provides a relatively secure mobile computing option that FXI hopes will appeal to business users.
The Cotton Candy features Samsung's 1.2GHz dual-core Exynos 4210 CPU (which is based on an ARM Cortex-A9 processor), a Mali 400 graphics processor capable of streaming 1080p video, and 1GB of RAM. It can handle up to 64GB of local storage via a MicroSD card. The hardware is enclosed in an attractive white plastic case measuring roughly 3.0 by 1.0 inches, with a full-size USB connector at one end and a full-size HDMI connector at the other. Rubber port covers protect both ends when they're not in use.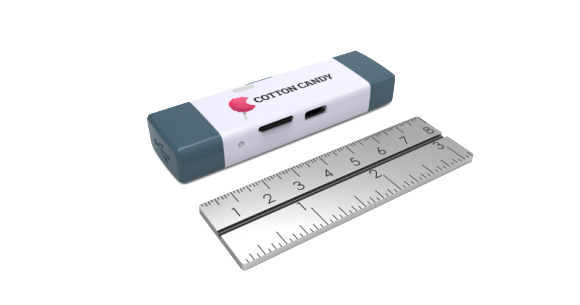 You'll find Micro-USB and MicroSD card slots on one side of the stick, and a Bluetooth 2.1 pairing button on the other. Bluetooth is an almost unparalleled feature for a computer of this size, and it's a definite plus. The computer also has 802.11b/g/n Wi-Fi networking built in. Like the Raspberry Pi, the Cotton Candy boots and runs whatever operating system image is installed on the MicroSD card plugged into it.
You'll need to provide most of the cables and peripherals, as the Cotton Candy ships with only a full-size male-to-female USB extension cord. I suggest picking up a USB wall-charge adapter and a Bluetooth keyboard and mouse to use the computer in HDMI mode. If you want to use wired USB peripherals, you'll need a powered USB hub, too. If you're sticking to client mode, all you need is the stick itself.
The Cotton Candy in practice
Even though the Cotton Candy consists of prerelease software running on prerelease hardware, its potential immediately shines through. The device boots in just 5 seconds or so, and the Exynos processor makes it much, much more responsive than either the MK802 II or the Raspberry Pi.
Using the Cotton Candy in HDMI mode felt smoother than using it in Client mode, which isn't surprising considering that FXI is still polishing its virtualization software. The Android build sped along without a hint of lag in HDMI mode, even at 1080p resolution, and it pumped out beautiful HD video (although codec support is fairly limited at this stage). Most casual games also ran fine, but some of the more graphically demanding titles stuttered or failed to open; here, again, I chalk that up to the prerelease software and not the hardware.
Opening the Cotton Candy in Client mode is somewhat clunky. After inserting the USB end of the stick into your PC and opening the FXI drive that appears, you must click on a batch file labeled 'Run Windows Virtualization Client' and then click File > Connect in the Cotton Candy's virtualization client to finally boot its operating system. The Cotton Candy won't register as a USB device at all unless a MicroSD card with a bootable OS is plugged into it.
The Cotton Candy operated more slowly in Client mode, with some lag and pixelation—especially when playing video—but in general it still outperformed the other two mini PCs in terms of sheer responsiveness. The alpha Ubuntu release lagged when opening apps, and I couldn't coax it into fully implementing Wi-Fi networking at all. I could connect to my local network, but I couldn't reach the Internet, and the OS prompted me to reenter my password every 3 to 5 minutes. Apart from those issues, the Ubuntu build held up rather well.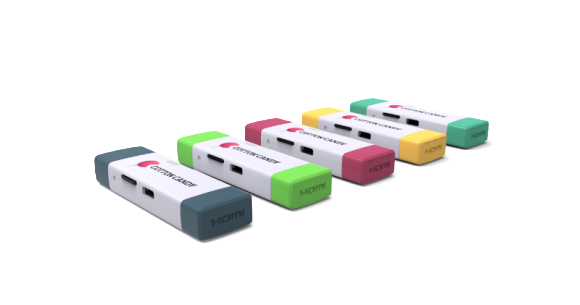 The Android OS's keyboard recognition proved troublesome in Client mode, frequently crashing apps whenever I tried to type until I disabled the OpenWNN service (I didn't encounter any such issue while operating in HDMI mode or while running Ubuntu). Connecting a Bluetooth keyboard worked seamlessly, and the computer didn't hiccup once. Establishing a wireless network connection while running the Android OS was a cinch, but the connection was weak: Downloading files and opening Web pages took much longer than normal. Keep that in mind if you look at benchmark results. The Cotton Candy's powerful hardware should blow away the MK802 II and the Raspberry Pi—and it did when it came to the Sunspider benchmark—but it delivered mediocre performance on my other tests. I suspect the sluggish Wi-Fi connection is to blame.
The heat that the Cotton Candy generates while operating in Client mode, on the other hand, is worrisome. The plastic casing became very warm within 30 minutes of my connecting the unit to my PC's USB port, and the HDMI connector was hot enough to be slightly uncomfortable to touch. After 2 hours, the HDMI connector became so hot that I didn't want to touch it. FXI Engineering VP Thomas Langas acknowledged the issue in the Cotton Candy forums and said it would be addressed in a future firmware upgrade, but he also said that the heat would not damage the device in the meantime.
Who is the Cotton Candy good for?
The Cotton Candy is still very much in a beta state, and at this point, developers—or hard-core hobbyists—should be the only people buying it. This computer is bursting at the seams with potential, thanks to its potent hardware, its Any Screen capabilities, and its enhanced client-mode security.
FXI envisions the Cotton Candy as a chameleon-like hardware platform that other manufacturers can license and customize for various applications: media streaming, digital signage, consumer entertainment, and even business computing for companies embracing the BYOD (bring your own device) movement. But you should also expect to encounter bugs in this early firmware and software—flaws that must be smoothed over before the product is suitable for real customers.
Editor's note: This review is part of a roundup of mini PCs. For more information, you can read the introduction to the roundup and find links to the other products we reviewed.
At a Glance
FXI Technologies Cotton Candy

We won't award the Cotton Candy a score until it emerges from beta. As it stands, this computer-on-a-stick exhibits all the quirks and stability issues you'd expect to encounter in a product that's still in development. But it also shows strong promise, and we predict it will be of tremendous interest to both consumers and business users when it arrives in its final form.

Pros

Awesome "Any Screen" functionality
Powerful CPU and GPU (for a computer on a stick)
Best-in-class aesthetics

Cons

Not yet a general public release
Currently much more expensive than the competition
Shop Tech Products at Amazon