At a glance
Expert's Rating
Pros
Reliable backup of Android mobiles
Photo backup for both Android and IOS
Generous free space
Cons
Sync function is inferior to competitors
Confusing settings
Our Verdict
Google Drive is neither the best nor the cheapest, but for Android users who want reasonably easy backup and the ability to keep files synchronized between different devices with different operating systems, this is the best option.
Price When Reviewed
Free (15GB) $1.99/mo. (100GB) | $2.99/mo. (200GB) | $9.99/mo. (2TB)
Best Prices Today: Google One (100GB plan)
Google Drive emerged as an extension of Google Docs and is now an essential part of Google's enterprise Workspace service. It is primarily a competitor to Microsoft 365, with a mix of document editing and various collaboration features. For home users, it's mostly about traditional cloud storage and mobile backup—Google Drive can keep all your photos and videos backed up from both Android and iPhone. It's wonderfully easy and straightforward to set up on your phone.
In 2021, Google released a new version of Drive for Windows and Mac that replaces the old Backup & Sync application. It's unique among the major cloud storage services because you can choose between two completely different ways to connect. The default option is called "streaming files" and involves connecting to Google Drive much like a network drive, but with smart caching so that files you've opened are quicker to reopen, and various other quirks.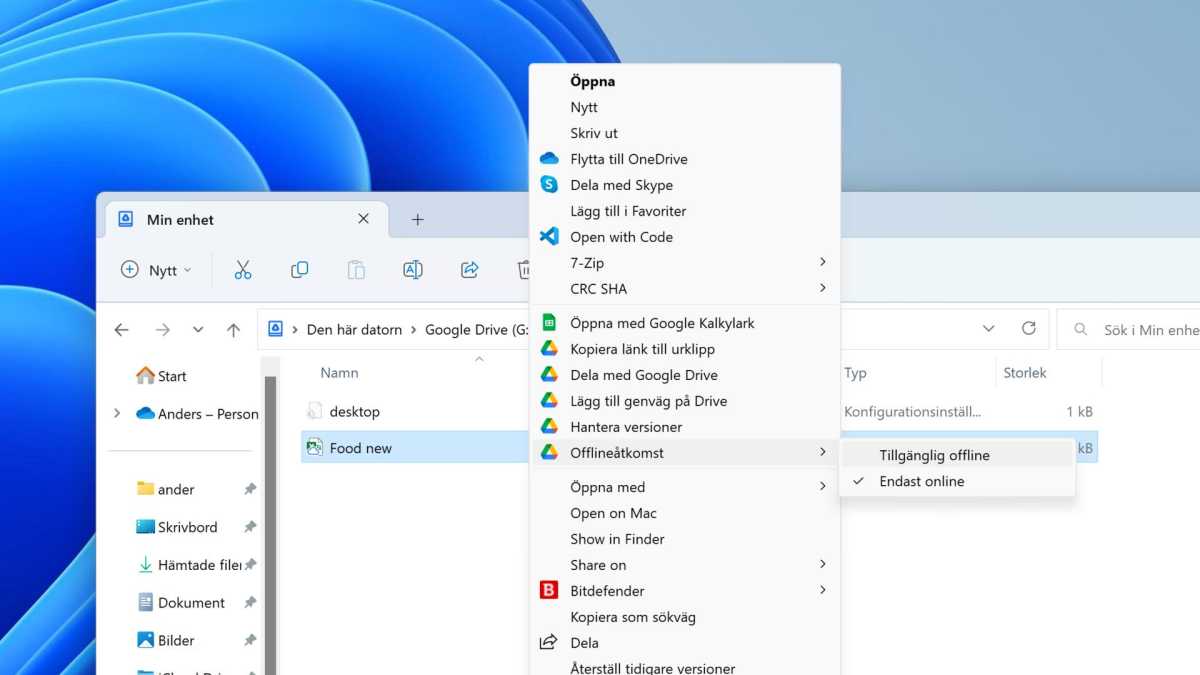 Foundry
If you want a file to be available when your computer is offline, you can right-click on it and select Available offline.
Instead of Stream files you can choose Mirror files which makes Google Drive work more like Dropbox, with one big difference: you can't opt out of any files or folders — everything is always in sync. This may be a better way to use Google Drive if you don't have a lot of space and want to use it primarily as a way to keep certain files synchronized across multiple devices.
To learn more about the differences between streaming and mirroring, check out Google's support page.
Confusing settings
Google has not made it easy for the average user to understand the settings in Google Drive. As if the choice between streaming and mirroring wasn't enough, you can also add additional folders to be synced. In Google Drive settings, there are two tabs: Under Google Drive, you'll find the setting to stream or mirror. Under My PC, you can add more folders, and choose whether they should be synchronized or whether images and videos should be backed up.
Foundry
If you choose to sync, it works just like mirroring files — all the contents of that folder are kept in sync between your computer and Google Drive. The backup feature copies all new photos and videos in the folder to Google Photos but does not delete anything from there if you delete it on your computer. If you tick both options, Google will both sync and back up your photos and videos, taking up twice the space on Drive.
Even if you choose to sync Google Drive with "mirror files," you will still access Google Drive as a network drive on your computer, as this is the only way to see files and folders shared with you by other users. By default, Google Drive is located as a disc with the drive letter G, but you can also choose to place it as a folder in Google Settings (click on the gear in the top right corner).
One disadvantage of Google Drive for synchronization is that it does not use so-called block-level copying. This means that files must be uploaded in their entirety every time you make changes to them. On the other hand, Google Drive is the cloud storage service that provides the most space for free accounts, at 15 gigabytes.
Facts:
Tested: 2023
Manufacturer: Google
Platforms: Windows, Mac, Android, IOS
Free account space: 15 GB
Storage space: 15 GB, 100 GB , 200 GB, 2 TB
Monthly price : Free, $1.99/mo, $2.99/mo, $9.99/mo
Synchronization of optional files and folders: Yes and no (see above)
Family sharing: Yes (up to 6 users)
Backup feature: Automatic backup of photos
File history: Yes (30 days or 100 versions)
Other features: VPN, additional editing features in Google Photos, with 2TB, bonus features in Meet are included
This review originally appeared on pcforallse and was translated from Swedish to English.
Best Prices Today: Google One (100GB plan)