At a glance
Expert's Rating
Pros
Synchronisation is best in class
Easy to share content with others
File history
Cons
No option between 2GB and 2TB
The free account only allows three devices
No bonus features for consumers
Our Verdict
Are you looking for cloud storage primarily to share files with others so you can both access and edit them? Then Dropbox remains the best option with fast, reliable sync and easy sharing of files and folders. It's missing a cheaper option between free and paid accounts, however.
Price When Reviewed
Free (2GB), $9.99 (2TB), $16.99 (2TB each for 6 family members) a month
Best Prices Today: Dropbox
Dropbox pioneered modern cloud storage where all the contents of a folder are constantly synced between multiple computers. The feature was almost like magic when it first appeared and millions of people signed up for Dropbox accounts and started syncing and sharing folders. Since then, the company has acquired a few companies and built a portfolio of business-oriented features like document signing.
The basic functionality of Dropbox still works as smoothly as ever, and none of its competitors have managed to do synchronization and shared folder access quite as well.
Free accounts only get two gigabytes of space, but can increase that by inviting others to get Dropbox accounts. With 32 invitees, you get an extra 16 gigabytes, and if you also go through the company's getting started guide, you get the maximum free space of 18.25 gigabytes. That's more than the competition but also requires a lot of work. Unfortunately, it's your only option if two gigabytes is too little but you feel like you really don't need the two terabytes, which you get with a subscription to Dropbox Plus.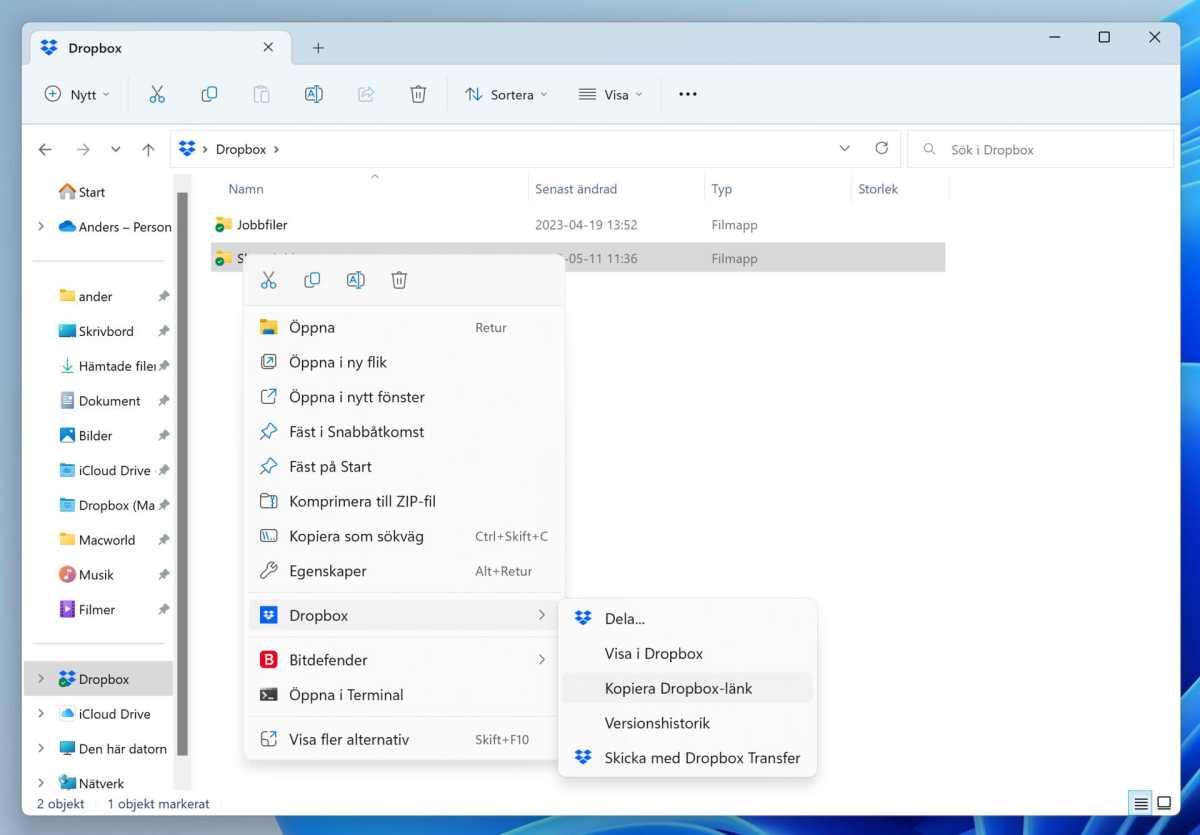 Foundry
Dropbox's biggest drawback is just that: The lack of an intermediate subscription with somewhere between 50 and a few hundred gigabytes. With Apple, Google, and Microsoft, you can get 50, 100, or 200 gigabytes for between $1 and $3 a month, while Dropbox swoops in with its two terabytes for $9.99 a month. Users have complained to no avail, but Dropbox doesn't seem to find it profitable to offer a smaller subscription.
Business-orientated
Beyond the basics, Dropbox offers a bunch of extra features, but almost all of them are aimed at businesses and many are only included in business subscriptions. One feature available in consumer subscriptions is automatic backup of both internal and external discs. The Dropbox backup feature uses a separate part of the available space that you can't access directly from, say, Windows Explorer.
This means you can use Dropbox as a cloud backup like Backblaze and at the same time for file sync, thus avoiding the need for another subscription. However, this requires that all your files fit into less than two terabytes (Backblaze, by comparison, has unlimited space for backups).
That said, Dropbox is still a very good service for keeping files synchronized between different devices and users. If you can unlock the extra space in a free account, you get a reasonably spacious cloud folder that quickly and securely syncs the most important files to all your devices. If you pay for a subscription, you or the whole family gets a large cloud folder that can be used very flexibly.
Facts:
Tested: 2023
Manufacturer: Dropbox
Platforms : Windows, Mac, Linux, Android, IOS
Free account space: 2 GB (plus up to 16.25 GB in rewards)
Storage space: 2 GB, 2 TB
Monthly price: Free, $9.99 (personal), $16.99 (family up to 6 users)
Synchronization of optional files and folders: Yes
Family sharing: Up to six people with family plan
Backup function: Yes, complete
File history: Yes (30 days)
Other features : Various business features
This review originally appeared on pcforallse and was translated from Swedish to English.
Best Prices Today: Dropbox