At a glance
Expert's Rating
Pros
Lowest price per gigabyte
Very good backup of iPhone and iPad
Homekit Secure Video
Cons
Unintuitive interface for sync management
No support for Android
No general file history
Our Verdict
iCloud Drive with the iCloud+ subscription is very handy for anyone with an iPhone or iPad. Not for Android users – and for those who mostly use the computer, there are better options with more stable sync and file history.
Price When Reviewed
Free (5GB), 99c (50GB), $2.99 (200GB), $9.99 (2TB) a month
Best Prices Today: Apple iCloud
Apple, like several competitors, has its own cloud storage service. It is obviously aimed at users of the company's hardware such as iPhones and Macs, but Apple has also developed a Windows client that provides basic support for keeping files and folders synchronized. However, there is no version for Android, so if you have an Android mobile phone and not an iPhone, you should stay away from iCloud Drive and the iCloud+ subscription. It is also not possible to log into the account with third-party software and access your cloud storage that way.
On iOS and Mac OS, iCloud Drive has many more features than are available on Windows, where it functions more or less as a pure cloud storage service similar to Dropbox. For example, you can back up iPhones and iPads automatically and without having to fill in the password that you have to if you back up to a Windows computer. Apps and programs can store files and manage version history with iCloud Drive.
Another feature is syncing photos and videos, and the larger subscriptions include Homekit Secure Video. It stores recorded video from surveillance cameras with full-spectrum encryption whose size doesn't count towards the Icloud space.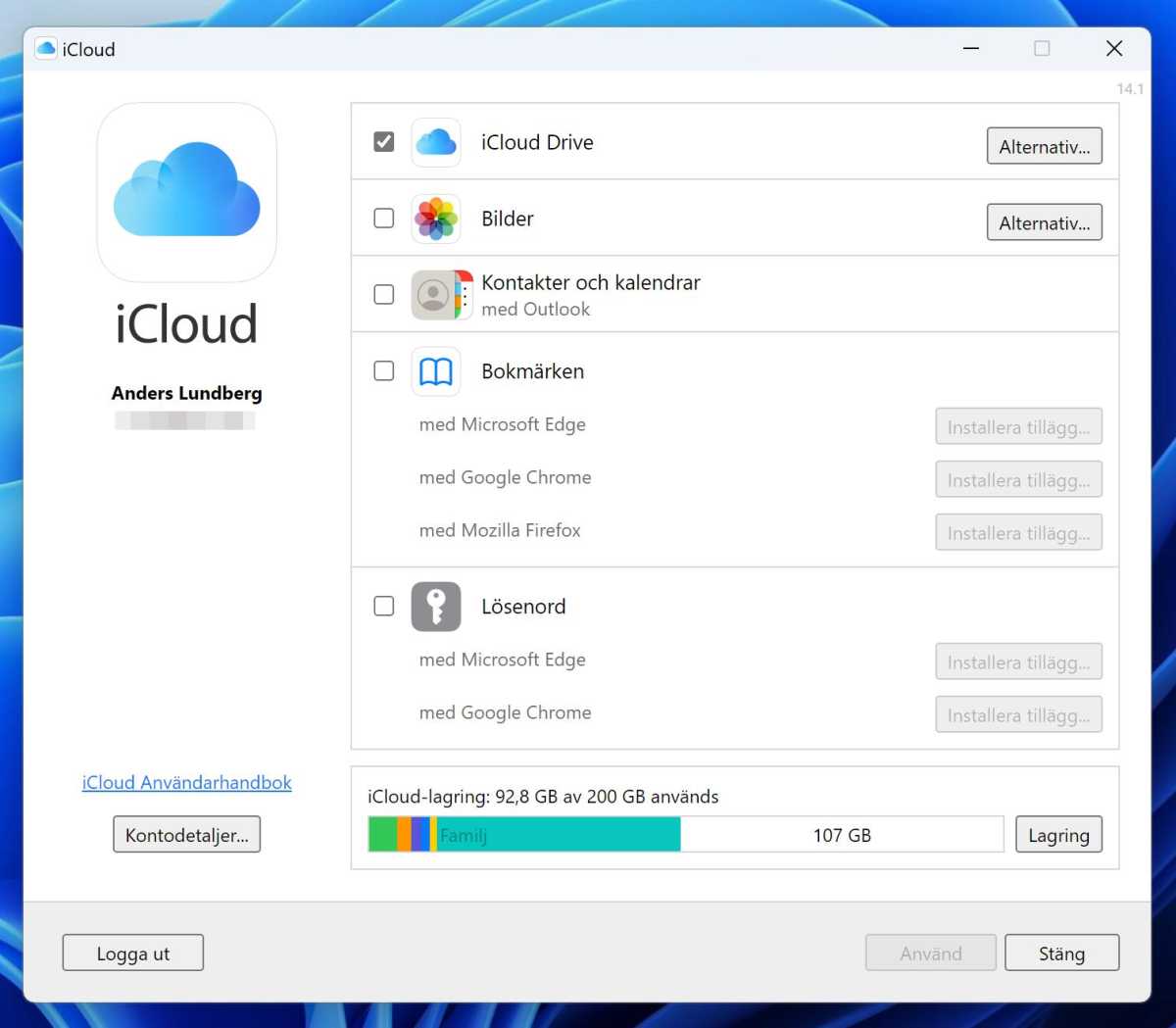 Foundry
iCloud Drive is alone among the major cloud storage services in not offering file history and the ability to restore older versions of files. There is a file history feature, but it must be built into the program or app that uses iCloud for storage.
The interface could be better
Once you've installed and set up which data to sync (leave iCloud Drive ticked or you'll only get other iCloud features), iCloud for Windows runs as a background process and you can access settings via its icon in the notification center. For iCloud Drive, the only setting is where on the hard drive it should be located — if you subscribe to a lot of iCloud space and want to keep everything in sync, you can place the folder on an external drive so it doesn't fill the internal one.
On both Windows and Mac, one annoyance with iCloud Drive is that there is no centralized setting of which files and folders should be kept in sync and which should only be in the cloud. In Windows Explorer, you can see whether a file or folder is available offline or only in the cloud via a small icon in the status column (blue cloud symbol means it is in the cloud, green tick means it is also on the computer).
Right-click on the item and you will see the options Always keep on this drive and Free up space which download and remove local storage of the file or folder, respectively. If you set a folder to be available offline, new files you add to the folder on another drive will also be automatically downloaded to your computer. You can also choose these options for the entire iCloud Drive folder.
Apple's prices are relatively good, and the 200 gigabyte subscription for $2.99 per month, which includes family sharing and HomeKit Secure Video, is particularly good value. For a family with multiple iPhone users, it may be enough to keep everyone's phones backed up and still have some space left for file syncing.
Facts:
Tested: 2023
Manufacturer: Apple
Platforms : Windows, Mac, IOS
Free account space: 5 GB
Storage space : 5 GB, 50 GB, 200 GB, 2 TB
Monthly price: Free, $0.99, $2.99, $9.99
Synchronization of optional files and folders: Yes (indirectly)
Family sharing: Up to six users
Backup feature: IOS only
File history: No (except some apps on IOS and Mac)
Other features: Email account with own domain name, HomeKit Secure Video
This review originally appeared on pcforallse and was translated from Swedish to English.
Best Prices Today: Apple iCloud