At a glance
Expert's Rating
Pros
Close to Thunderbolt 3 SSD performance in real-world transfers
Super-svelte form factor
IP55 rated to resist dust and spray
Cons
Pricier than 10Gbps SSDs
No Type-A adapter included
Our Verdict
The Crucial X10 Pro proved the fastest SSD this side of Thunderbolt in our testing, mainly due to its fantastic sustained writes. It's a great small form-factor SSD for creatives on a budget.
Price When Reviewed
1TB: $119.99 I 2TB: $169.99
Best Prices Today: Crucial X10 Pro
The Crucial X10 Pro, as you might guess from its name, is aimed at the prosumer market. Pros who might normally shop Thunderbolt 3/4 for maximum performance.
However, the X10 Pro performs nearly as well as the Thunderbolt 3 competition in our real-world transfers, yet at $120 for 1TB is $40 cheaper than the 10Gbps/T3 Sandisk Po-G40. Sounds like a good pro-position to us.
Further reading: See our roundup of the best external drives to learn about competing products.
Crucial X10 Pro USB SSD pricing and features
At the time of this writing, the X10 Pro was also available in a $170/2TB version, meaning you can bag another TB for only $10 more than the aforementioned Pro-G40 (1TB/$160). It's also quite a bit smaller than its competitor at 2.56 inches long, 1.97-inches wide, and only 0.38-inches thick.
mentioned in this article
SanDisk Pro-G40 SSD
Price When Reviewed:
1TB: $160 I 2TB: $240 I 4TB: $400
The X10 Pro weighs in at around 1.5 ounces, and is IP55 rated. That means it can to keep enough dust and water spray out to maintain functionality, though drop it in a pool and all bets are off.
The drive connects via a Type-C connector (Crucial bundles a Type-C to Type-C cable) and also has a hole for a lanyard on its upper left corner. The activity light resides within said cavity.
Alas, no Type-C to Type-A adapter is included, so purchase one of those if you have the need. It should go without saying that a 20Gbps SSD is pricey overkill unless you have the matching 20Gbps port, which is almost always Type-C.
Crucial has promised a utility for September, 2023 that will allow you to lock and unlock data on the X9 Pro.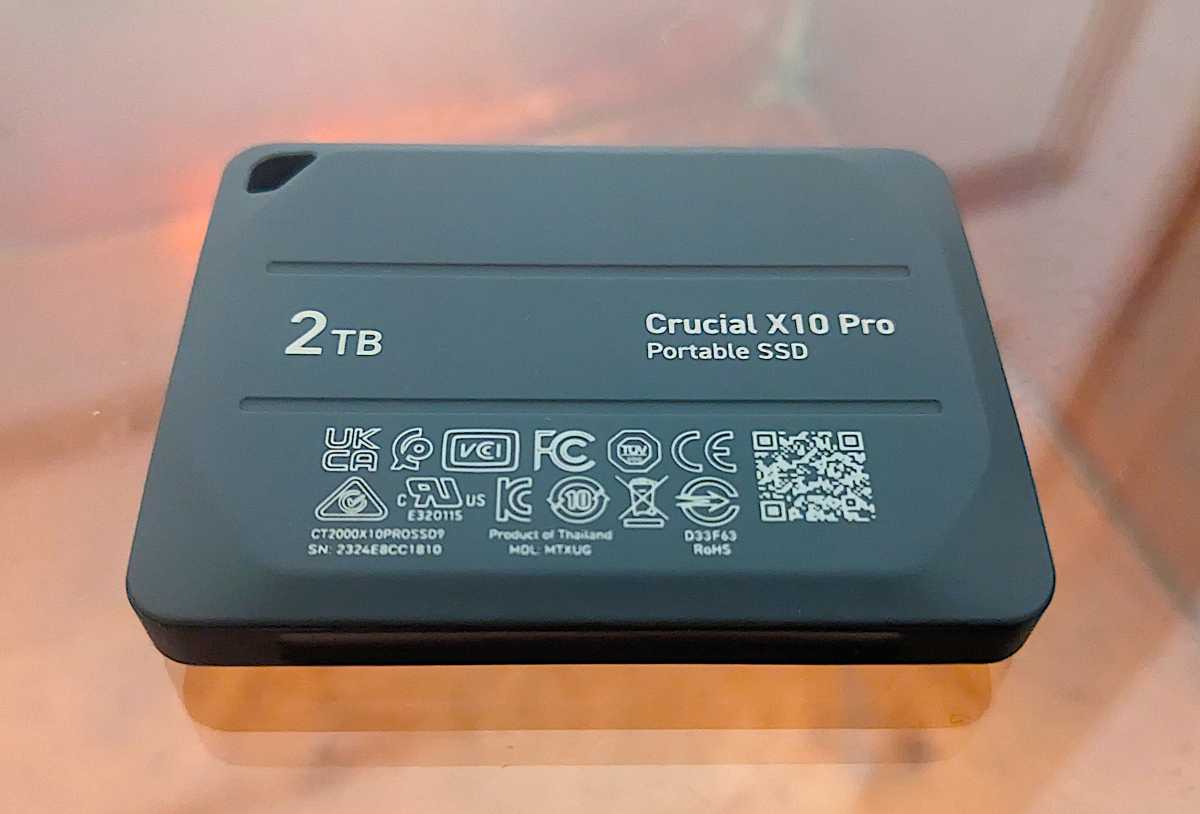 Jon L. Jacobi
The X10 Pro is charcoal gray, which distinguishes it from its lighter, silver-gray, 10Gbps cousin–the X9 Pro–which I'll review next. Both feature anti-slip coatings on the bottom.
Crucial warranties the X10 Pro for five years (limited), however, the company didn't provide TBW (total terabytes written) ratings, which are no doubt the limiting factor, the way mileage is in an automobile warranty. No company that I'm aware of will turn down a warranty claim unless the drive has truly been savaged write-wise—i.e., used in a server 24/7.
How does the Crucial X10 Pro perform?
While the X10 Pro didn't blow our socks off in the synthetic benchmarks, it was truly excellent in our real-world testing–beating two Thunderbolt 3 competitors in the 48GB transfers. Hence the discussion and inclusion of the dual 10Gbps/Thunderbolt 3 Sandisk Pro-G40 in the charts.
Note that the better random performance of Pro-G40 (almost twice as fast) would make it the best choice for running alternative operating systems. Random ops are not the X10 Pro's forte—however, it was within spitting distance of its 20Gbps competitors.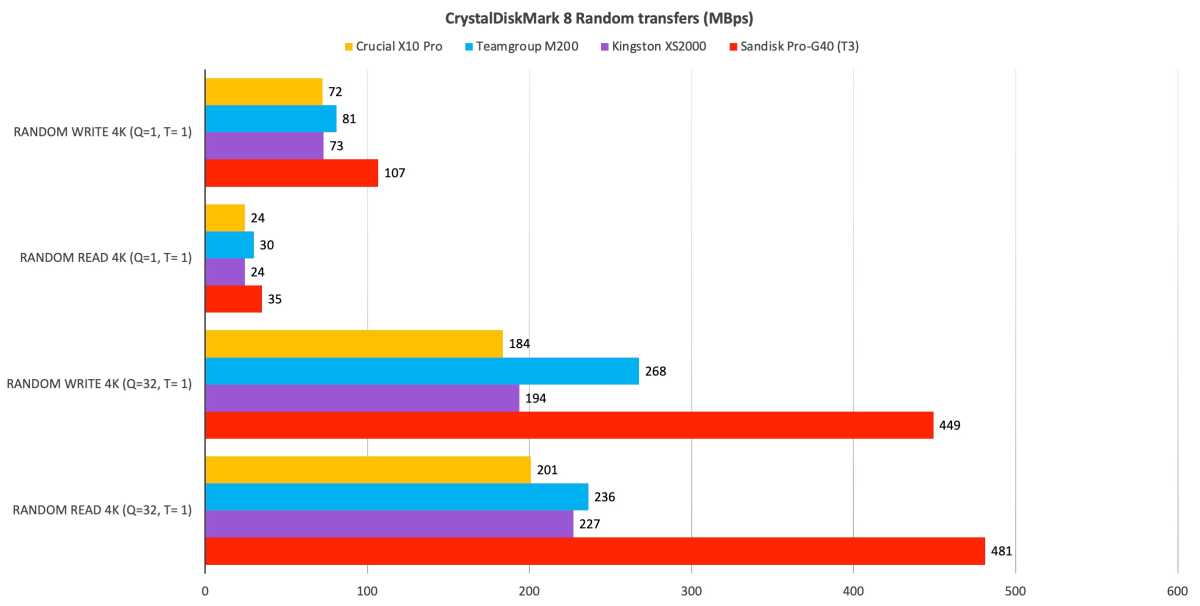 The latest generation of SSDs has improved quite a bit performance-wise, but we're not sure if it's the NAND, the controllers, or both. Likely the combination in some ratio favoring the NAND. Whatever the case, the 48GB transfer numbers (below) for the X10 Pro really are pro.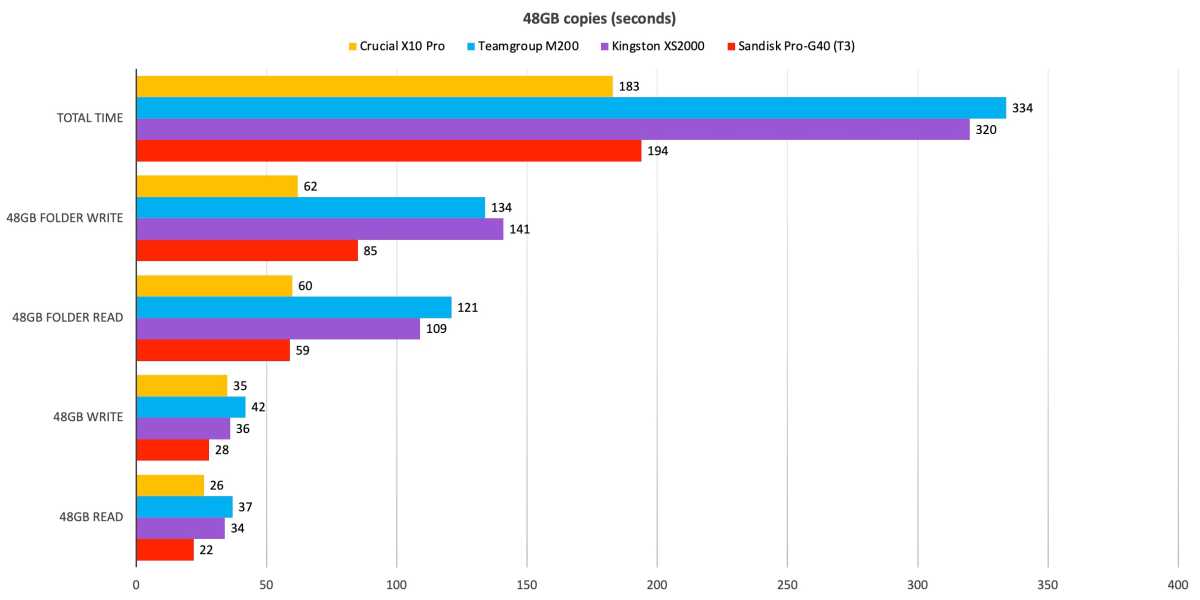 The X10 Pro was also highly competitive in the 450GB write, which was not actually enough data to force it to write natively. It took another 900GB file written twice, but the results were rather dismal once it went south–50MBps. Given 2TB of capacity, you shouldn't experience that slowdown very often, if at all.
Jon L. Jacobi
Overall, the Crucial X10 Pro is an excellent performer, and the nearest thing to Thunderbolt 3 you'll find in a 20Gbps USB SSD.
Should you buy the Crucial X10 Pro USB SSD?
If you want top-flight real-world performance and can't use, or don't want to pay for Thunderbolt 3, then the Crucial X10 Pro is what you want.
Best Prices Today: Crucial X10 Pro