It's another new year—time to buckle down and make some resolutions that will improve your life. You may plan to lose weight, quit smoking, or hit the gym; but how about cleaning up your act with the computer, too? Here are a few ways to kick bad computing habits.
Stop littering your desktop
The desktop is a convenient place to store files, because you can see them easily and get to them quickly. But it can get messy, just like a real desk. What's worse, with Windows, applications stick shortcuts there; eventually, dozens of shortcuts may clog your desktop, hampering your ability to find the files you want to use.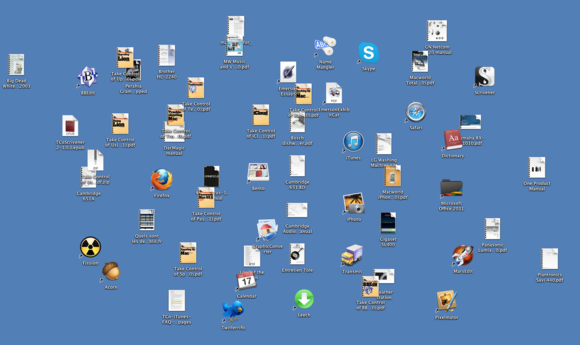 The first step in cleaning up these files is to sort them. On both Macs and PCs, the Desktop is a folder as well as a virtual space. On a Mac, right-click the desktop, choose Sort By from the contextual menu, and choose a sort criterion. On Windows, right-click and choose Arrange Icons By or Sort By (depending on the version of Windows you're using); then choose a criterion.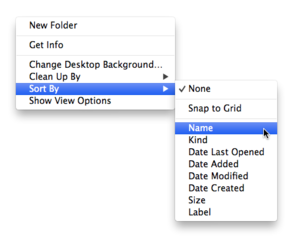 Sort first by Date Modified to find files that have remained unchanged for an especially long time. Shunt these off to a folder elsewhere, and give the folder a name like Desktop Clutter. Then look for specific types of files that you might want to park in your archives. Candidates may include Word files you use for work, photos that people have sent you, and PDF files that you downloaded to read.
You may want to arrange the remaining files on your desktop by date modified, or by name, so that you can find them more easily. After you've cleaned up your desktop, you can do the same thing in your Downloads folder.
Stop using the same password
One of the most dangerous of computing vices is to reuse the same password for multiple purposes. If you use the same password for, say, your Gmail account, your Facebook account, and your bank's website, a crook who figures it out can steal your identity. And with your email password in hand, a bad guy can send password reset requests to other websites, and establish new passwords for for your accounts there, as well.
I won't go into detail about passwords; this Macworld article tells you what you need to know to tighten up your password security. But I will give you a couple of tips.
First, learn to distinguish between websites that need a secure password and ones that don't. Your email account, bank website, and any site with personal information (such as Facebook), are very important, and need the most secure passwords. But at a site that you log on to simply to play games, post comments, or participate in forums, can can get by with simpler passwords. For the former, learn to make strong passwords, and use a password manager so you don't have to remember them. For other sites, try to come up with passwords than aren't obvious, but that you can remember.
You may need to enter some passwords manually, even if you have a password manager. For example, if you have an iTunes account, you must enter your Apple ID manually; and you may need to do so often, when you buy music or movies, or when you buy apps on an iPhone. So make a strong password that you can remember. Use something long—12 characters or more—with, for example, a combination of two words and some digits, making sure to use one or two capital letters. For example, you might use a name, a word, and a memorable series of digits like this: joHn296Window.
Clean up your smartphone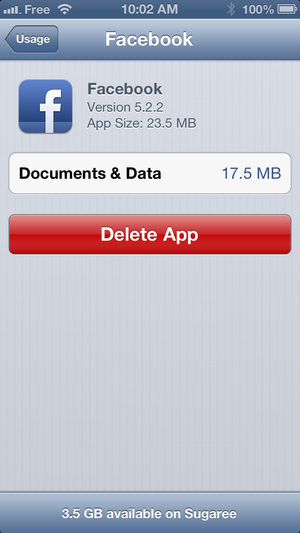 Even if you love smartphone apps, don't make yourself swipe through screen after screen of apps you never use. These rejected apps can clutter up your phone and occupy valuable space. It's easy to delete them, and cleaning out your phone once a year can be a good thing.
On an iPhone, you have two options for cleaning house. The first is to tap and hold an app until its icon wiggles, and then tap the x icon in its upper-left corner. Once your apps are wiggling, you can delete any of them by tapping the x icon. When you're done, press the Home button to stop the wiggling.
The second way to remove iPhone apps has the advantage of letting you see how much space each one takes up on your iPhone. To start, go to Settings > General > Usage. In the Storage section, scroll down a bit and tap Show All Apps. You'll see a list of all the apps on your iPhone, and how much space they and their files consume. To delete an app, tap its name, and then tap Delete App.
To accomplish the same thing on an Android phone, go to Settings > Applications > Manage Applications. You'll see a list of apps in different locations: Downloaded, Running, All, and On SD card. Tap one of these icons, tap an app name, and then tap Uninstall to delete it.
This story, "New Year's resolution: Vanquish technology vices" was originally published by TechHive.