At a glance
Expert's Rating
Pros
Clear audio
Multi-device support (USB, Bluetooth, and 3.5mm aux)
Can hook up to a subwoofer
Three EQ profiles to choose from
Compact and sleek looks
Cons
Can sound a little too crisp
A little pricey
Volume rocker can be fiddly to use
Our Verdict
This set of compact speakers looks great on a desk, and they sound pretty decent, too. However, its relatively high price tag can make rival products (including Edifiers own well-regarded R1280T bookshelf speakers) more appealing, especially given the G2000's use of a rocker switch for volume control instead of a knob.
Price When Reviewed
$109.99
Best Prices Today: Edifier G2000
When it comes to pairing speakers with your PC, you actually have a lot of choice. You're not limited only to models marketed for that purpose—you can also cross over into Bluetooth speakers (for a cleaner desk setup) or bookshelf speakers (if you're more of an audiophile).
But there's something to be said about computer speakers, with their combination of smaller footprint and more powerful output. Case in point: The Edifier G2000, a set of multi-device speakers that leans hard into a gamer vibe.
Further reading: See our roundup of the best budget computer speakers to learn about competing products.
Edifier G200 design and features
At $110, the G2000 may seem like a hard sell compared to the more powerful and marginally more expensive $120 Edifier R1280T, which gives more direct control over treble and bass, and also gets quite loud. But these 32W desktop speakers blend into a computer setup more easily, measuring just 4.17 x 4.13 x 5.11 inches (106 x 105 x 130mm)—they tuck neatly under a monitor. You can also connect multiple devices to them, with USB, 3.5mm aux, and Bluetooth 5.1 all supported. And as part of the gaming vibe, they naturally have RGB lights, too. Our review unit came in white, which matched well with our light-colored desk, but you can also get them in black, pink, or red.
Mentioned in this article
Edifier R1280T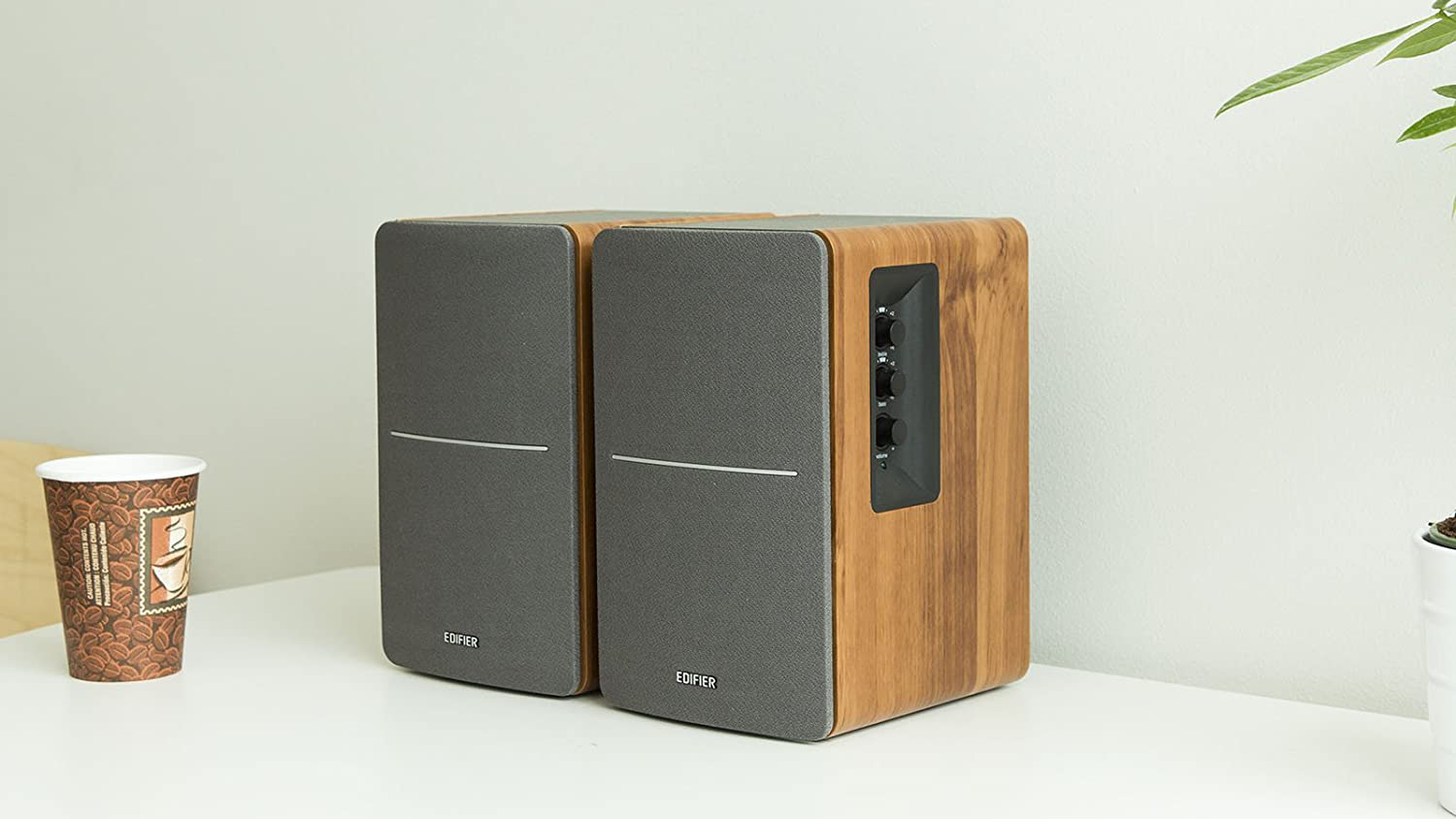 Price When Reviewed:
$99.99
A non-detachable wire connects the two speakers, with the controls located on the side of the right one. There's a button that swaps the connection mode if you press it, and also powers down the speakers if you long-press instead. Below it is a rocker switch for volume—which looks quite slick, but in practice is a little annoying. (You need your whole hand in order to crank the volume up, whereas a volume dial would've been far easier for one-handed adjustments.) Underneath the volume rocker is another button that controls the EQ settings between Movie, Music, or Gaming presets if you press it, and the RGB lighting color if you long-press.
The right speaker also houses all the physical connectors. In addition to the wire connecting it to the left speaker, there's a USB port, two jacks for 3.5mm aux and connection to a subwoofer, and the power port. You'll need an available wall outlet for the G2000, by the way—they run off of AC power, rather than a USB connection.
Alaina Yee / Foundry
Clarity on these speakers is sharp, with just a moderate amount of bass. I personally found mid-range and high frequencies so crisp that they bordered on having a harsh edge, but others may like this brightness. Moving between the different preset EQ settings doesn't change this sound profile, either—instead, what gets emphasized in the mix changes. Music mode makes vocals more prominent without minimizing the bass, while gaming mode pushes mid-range sounds (e.g., voices and audio cues) to the foreground. Real talk, though: If you're serious about your gaming, you'll own headphones anyway, especially since the audio sounds even a little more hollow in this mode. For its part, movie mode is the most balanced.
But regardless of what EQ mode you're in, you can push these speakers pretty loud—enough to easily fill a bedroom or office. I usually kept the volume percentage around the high 20s to mid 30s in Windows for light listening in a quiet environment, which left plenty of room to crank it up.
Should you buy the Edifier G2000?
If you want tidy, sleek-looking speakers with decent audio and a gamer vibe, the G2000 fills that niche well while also supporting other devices. But its relatively high price tag can make competing products (including Edifiers own well-regarded R1280T bookshelf speakers) look more appealing, especially given the G2000's less-than-ideal physical controls. A volume knob may not look overly slick, but it's far more useful than a rocker switch.