At a glance
Expert's Rating
Pros
CPU and GPU performance is quite decent for the laptop's low price
The keyboard is large, flashy and with an excellent selection of keys
The port selection is extremely good – it includes two Thunderbolt 4 ports
Cons
The speaker's audio is quiet and tuned mostly for the mid and high frequency sounds
My display's 165Hz refresh rate didn't do a lot to prevent stuttering
The off-center positioning of the trackpad isn't ideal
Our Verdict
The Acer Predator Helios Neo 16 is a great option for gamers on a budget, delivering decent performance, gamer-centric styling and plenty of port options for the fraction of the price of a premium laptop.
Price When Reviewed
1199.99
Best Prices Today: Acer Predator Helios Neo 16
Budget gaming rigs are getting gloriously close to their premium counterparts in terms of their hardware offerings – just like budget smartphones have done for a while now. Quite frankly I love it – it simply means you can get a gaming rig with very decent specs, and from a $3,000 budget, keep close to $2,000 in the bank.
The Acer Predator Helios Neo 16 is just such a laptop. No, it hasn't been chiseled from a single block of aluminum and it doesn't sound like a precision-tuned futuristic boom box, but to me that doesn't matter much. It's still powerful enough to produce decent frame rates in AAA games, is exceptionally stylish and has I/O options galore. Plus, you can pick it up for a steal. Read on to discover this gaming laptop's best features.
Looking for more options? Check out PCWorld's roundup of the best gaming laptops available right now.
Acer Predator Helios: Price and specs
Looking at the configurations for this laptop and right now, the base model Helios Neo 16 featuring an Intel Core i5-13500HX and GeForce RTX 4050 GPU with WUXGA (165Hz) display costs just $1,199.99. For the top-of-the-line model, however, you can expect to pay $2,799.99 for a laptop featuring an Intel Core i9-13900HX with GeForce RTX 4080 GPU and higher resolution WQXGA (240Hz) display.
Comparing our Helios Neo 16 review unit to laptops in the same budget category, and you can currently buy the Lenovo Legion 5i with an Intel i5-13500HX and RTX 4050 GPU with a higher resolution WQXGA (165Hz) display for $1179.99, that's $20 less than the most affordable Helios Neo 16.
Up against MSI's range of budget gaming laptops Acer's $1,199.99 base model Helios Neo 16 is quite competitively priced. For example, the cheapest 2023 MSI gaming laptop we can currently find in stock online is the MSI Stealth 14 for $1299.99 at Best Buy. This laptop features a Core i5-13620H CPU and RTX 4060 GPU and sports a smaller 14-inch display. Here, I broke down my review unit's specification as follows.
CPU: Intel Core i7-13700HX
RAM: 16GB DDR5 / 4800MHz
GPU: Nvidia GeForce RTX 4060
Display: 16-inch WUXGA (1920 x 1200p), 165Hz refresh rate, IPS-level
Storage: 512GB PCIe Gen 4 SSD
Ports: 2 x Thunderbolt 4, 3 x USB-A 3.2, HDMI 2.1, Micro SD card slot, Ethernet port, 3.5 mm combo jack, Kensington lock
Networking: Wi-Fi 6, Bluetooth 5.2
Weight: 5.73 lbs (2.6kg)
Dimensions: 14.18 x 11.02 x 1.11 inches
Battery: 90Whr
Price: Start at $1,199.99
Acer Predator Helios Neo 16: Design and build
The Neo 16 is designed to give you all the functionality you'd expect in a much more expensive laptop but without the steep price tag. That said, the trade-off is you do get a chassis with more plastic than you'll find in some laptops. It's mainly concentrated on the underside, though, which is some consolation. In fact, the base of the chassis and upper most part of the lid both have a good dollop of metal, so your main contact points are robust enough for heavy use.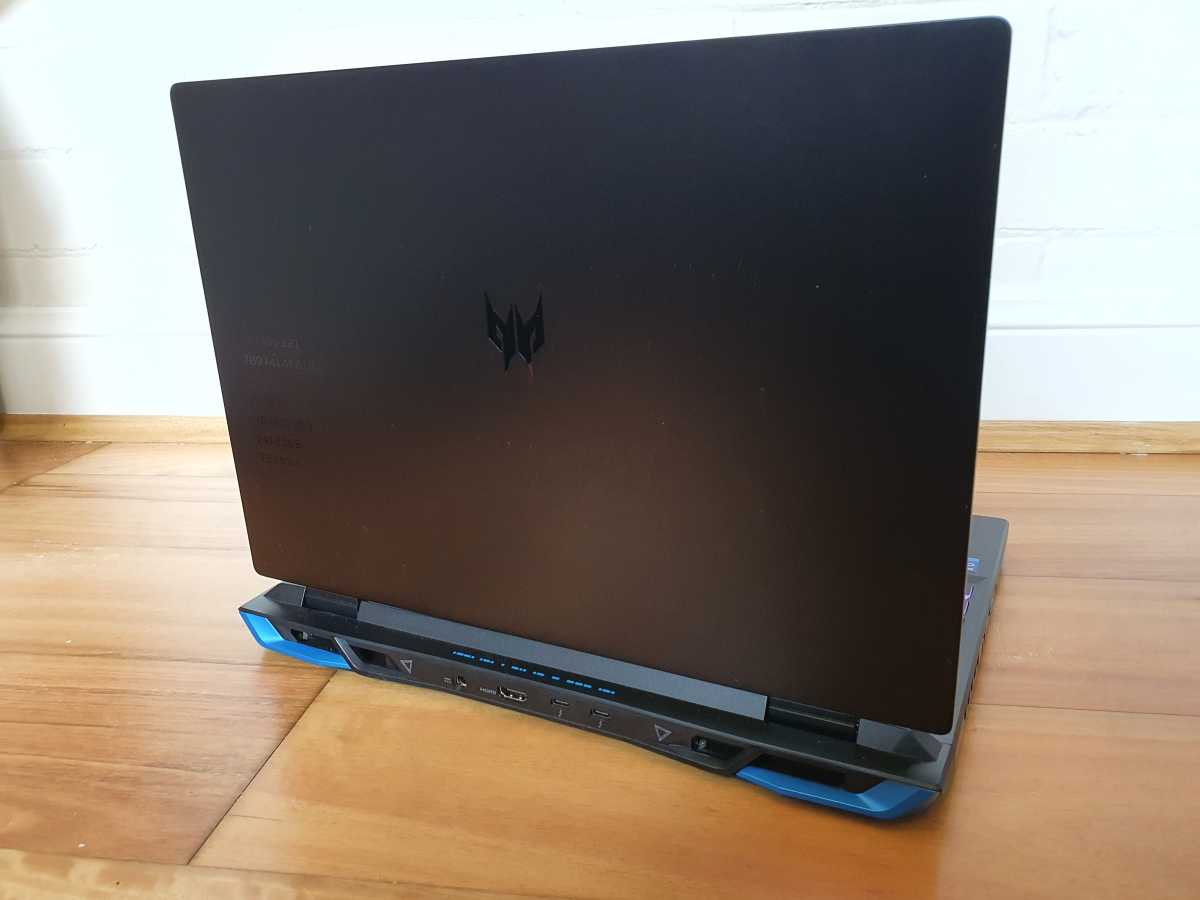 Dominic Bayley / IDG
The design is quite gamer centric. The laptop's matte black finish has almost a dark blue sheen to it. The lid features an Acer Predator logo, as well as a code-like scramble of numbers for styling. Vents and grooves sit along the flanks and underside, giving it a kind of futuristic feel. While there's no RGB light bar to speak of, the laptop's angular lines and tall display make it appear pricier than it is; indeed, if you're hunting for a budget gaming rig, you'd be none the wiser that it costs approximately $1,000.
From a size perspective, the Neo 16 is one of the larger 16-inch gaming laptops I've seen this year. It measures 14.18 x 1.11 x 11.02 inches which is longer, wider and thicker than options like the Asus ROG Strix G16 and Razer Blade 16. That simply means it needs more table space to sit on. At 5.73 lbs it's only about 3.2 ounces heavier though, so won't cause any noticeable difference in portability.
Acer Predator Helios Neo 16: Keyboard and trackpad
The Neo 16's keyboard is an all-round winner, being large, flashy, and boasting a very generous key layout. It stretches the whole width of the base leaving only a fingernail's width on either side. All that space has allowed Acer to squeeze in full-sized arrow keys, a numpad, media keys and even a few useful hotkeys – one of which lets you access Acer's PredatorSense utility app with a Just single press.
I was impressed by the colorful four zone RGB backlighting, which in default mode flashed intermittently like a Fourth of July fireworks display. The keys themselves felt nice and springy. Acer has made certain keys transparent around their periphery which accentuates the RGB. This transparency was especially useful for locating the WASD keys at night, since they really pop out from the rest.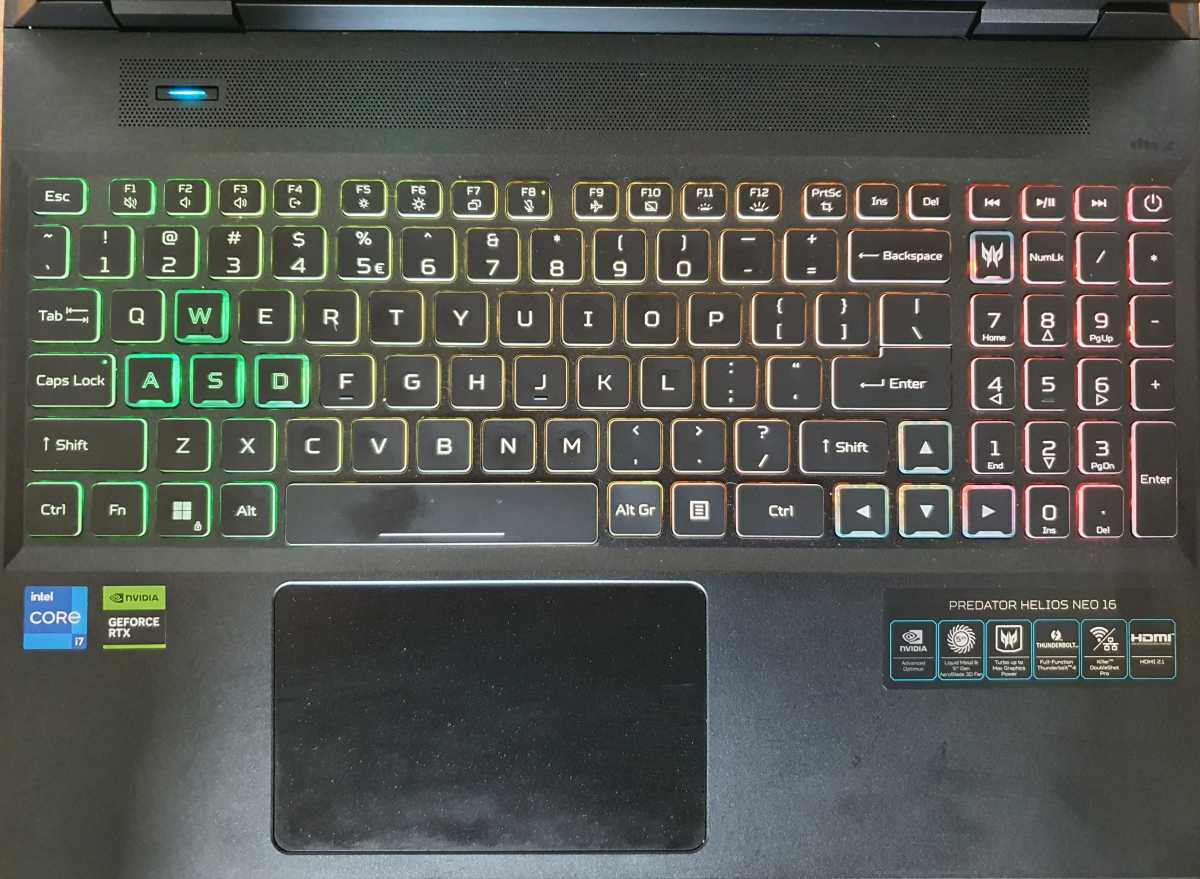 Dominic Bayley / IDG
The trackpad felt nice and responsive too, although I wasn't a fan of its positioning, which is a little to the left of center. This meant my left wrist had to get by with less space than my right and that my left thumb sometimes hit the trackpad by mistake. It wasn't that much of an issue, but noticeable nonetheless.
Acer Predator Helios Neo 16: Ports
With five USB ports available, just about all my usual devices were comfortably homed around the Neo 16. Two of these ports, being the very useful Thunderbolt 4 kind, made downloading files at up to 40Gbps while simultaneously streaming to an external display as easy as pie. Two Thunderbolt 4s is one more than you'll see in some premium rivals too – so hurrah, what a treat!
Mentioned in this review…
Asus TUF Gaming A16 Advantage Edition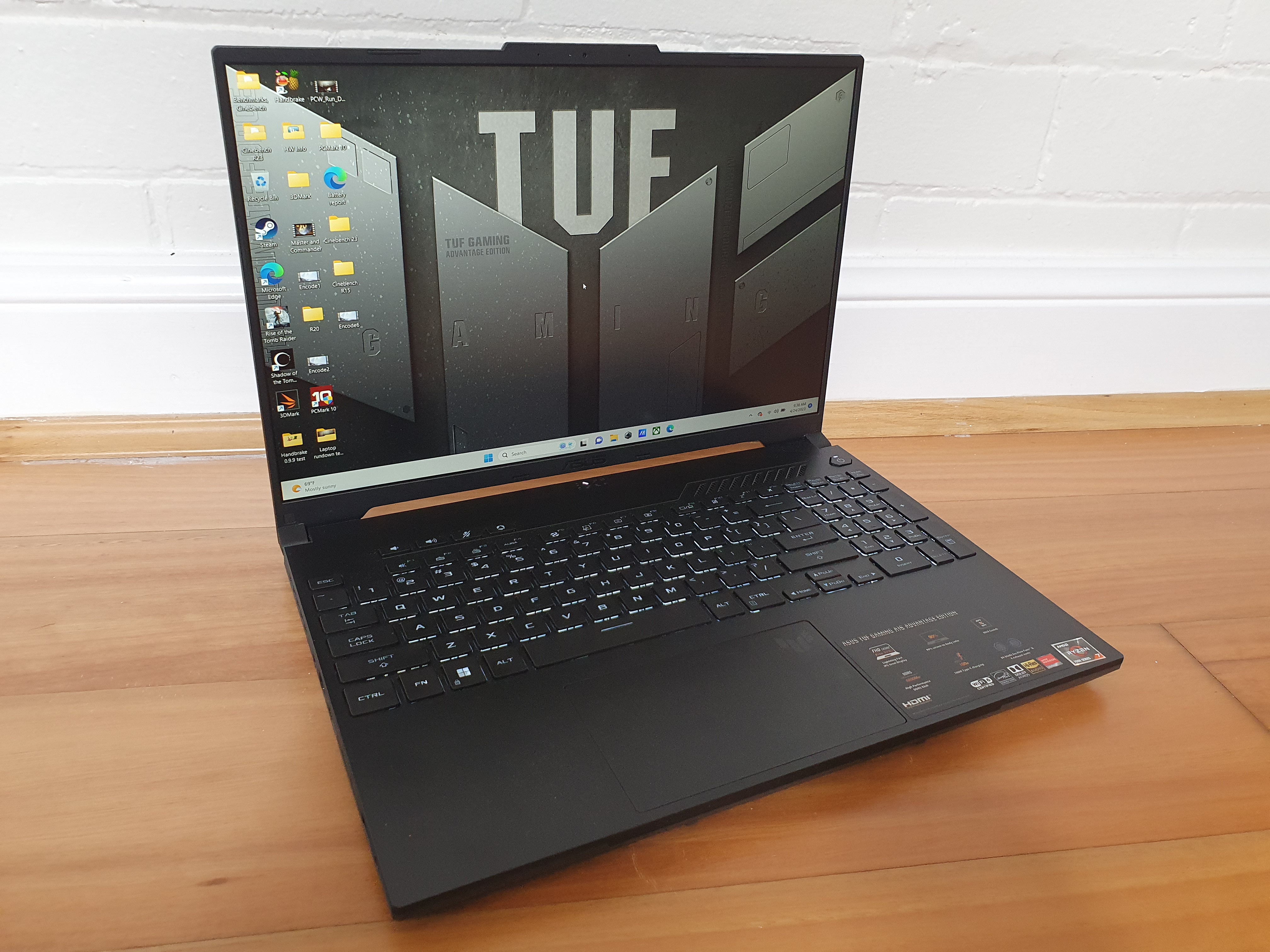 Price When Reviewed:
$1,099.99
I was very chuffed by the other ports on offer as well. I had a HDMI 2.1 port as an extra display option, a LAN port for my LAN cable and 3.5 mm combo jack for my headphones. I even had a Kensington lock, which I wasn't expecting in a laptop priced so low.
The port placement was spot on, too. In fact, the Neo 16's designer may well be a southpaw judging by the fact that the ports aren't bunched around the left side like you commonly see in some laptops. With the two Thunderbolt 4 ports, power and HDMI located along the back, I never felt cramped for space, despite the laptop's larger size.
Acer predator Helios Neo 16: Display and audio
The Helios Neo 16's WUXGA display is beautifully framed up by ultra-thin bezels on the sides and top and the panel itself produces nicely saturated color images, but don't expect the kind of fluid motion you will see in panels with 240Hz refresh rates. Suffice to say, you will occasionally see some micro stuttering – especially when motion pans in from the far left or right. I only saw this occasionally, but it does make a 240Hz refresh rate a very desirable feature I'd definitely want to have.
Mentioned in this article…
Asus ROG Strix G16
Price When Reviewed:
1379.00
With only 400 nits of peak brightness, the Helios Neo 16's display also just scrapes by with passable contrast. This means you do occasionally lose some of the detail in images. The low peak brightness also means it doesn't do well in sunlight; it's best used inside on sunny days – so, sorry pool owners, you're going to have to take those pina coladas inside.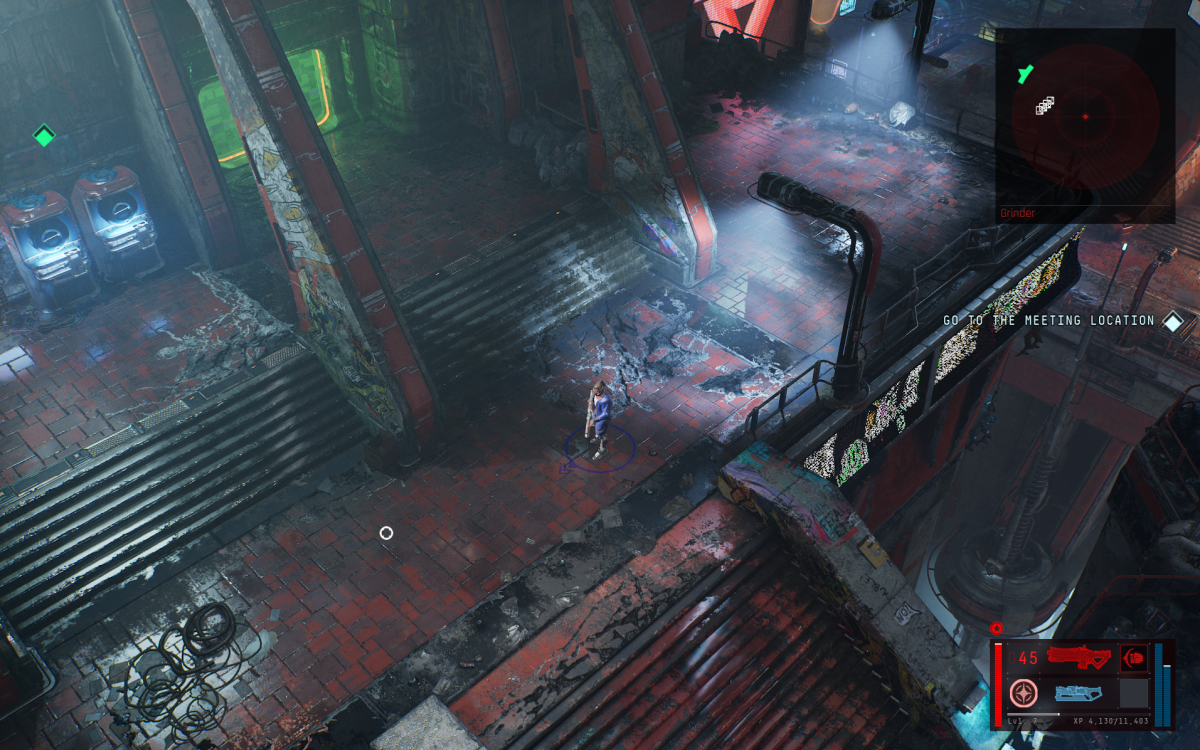 Dominic Bayley / IDG
Acer have done well to get a discreet webcam into the top bezel's minuscule width. It's just a 720p camera, though. That said, it captures images and conveys voices reasonably well. Unfortunately, the laptop's speaker audio is less flattering. You could say it's the diet cola kind, when I was really hoping for the fully sugar-loaded variety.
By that I mean the audio was very quiet, even at full volume. It was also almost completely tuned for sounds in the mid and high tonal range. What bass notes I could hear landed with underwhelming taps rather than deep commanding thuds, which was a little disappointing.
Acer Predator Helios Neo 16: CPU performance
Our Helios Neo 16 features the 16-core Core i7-13700HX processor from Intel's Raptor Lake processor series. This feeds 16GB of DDR 5 RAM operating at a maximum speed of 4800 MHz. Being a laptop with one of Intel's 13th-gen high-performance HX chips, I compared it against Asus's ROG Strix G16 which sports an Intel Core i7-1365HX and the Razer Blade 16 loaded with an Intel Core i9-13950HX.
Intel places the Core i7-13700HX's performance slightly above its Core i7-12850HX processor from last year's Alder Lake series. That being the case I was also curious to see how it would go up against the Core i7-12700H in a laptop like the Alienware X15 R2 as well.
The first benchmark I ran was Maxon's Cinebench R20 Multi-Threaded test. This benchmark flexes all the cores of a laptop's CPU to give an indication of how well it can handle CPU-intensive tasks. In this benchmark the Helios Neo 16's CPU finished in first place. This proves it can stand some hectic all-core flexing, the likes of which you'll get from running AAA games or encoding large files.
Dominic Bayley / IDG
That said, if you are working the CPU to its limits with an encoding job, the Helios Neo 16 may run out of steam a little quicker than some rival laptops, as judging by our HandBrake test result, represented in our next graph.
The HandBrake test, which involves encoding a large 30 MKV video file to MP4, gives us an indication of how well the laptop's CPU can keep its thermals under control and keep performance strong and steady to power on through a demanding CPU task.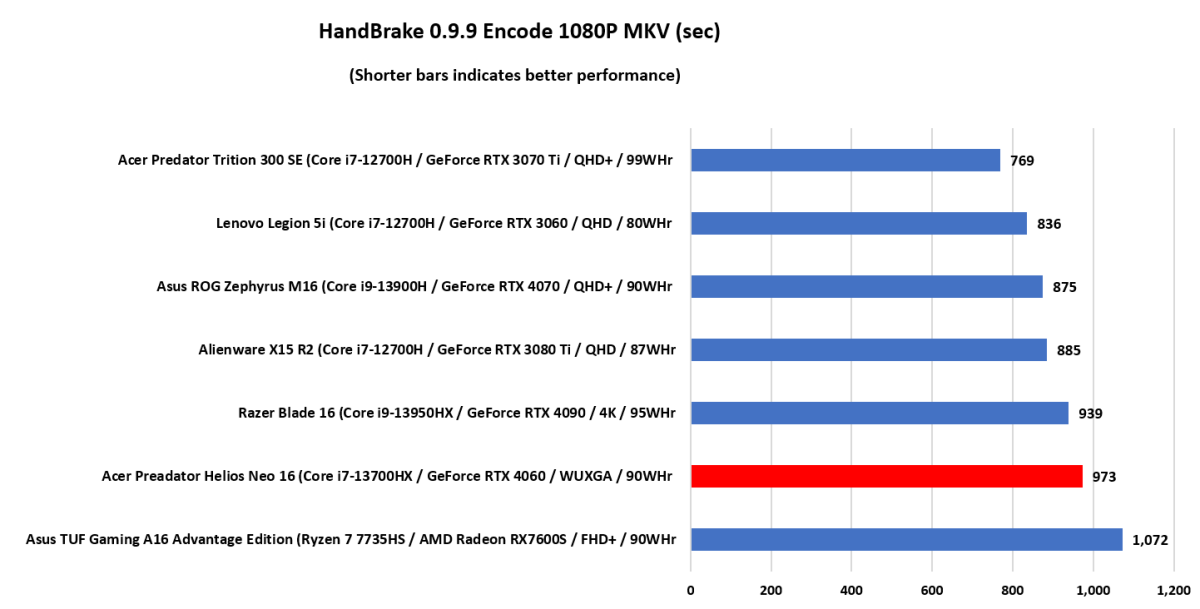 Dominic Bayley / IDG
As you can see, it took our review unit a little longer to finish encoding the 30MKV file than the majority of the comparison field. I'm not particularly concerned by this result, however. Anything under 1,000 seconds is still considered relatively decent here. And, although the Neo 16 was a little off the pace, it's not by the kind of margin that would become frustrating or have you waiting around for an uncomfortably long time.
Acer Predator Helios Neo 16: Gaming performance
My review unit's Nvidia GeForce RTX 4060 mobile GPU is considered approximately 18 percent faster in 1080p games than Nvidia's previous generation GPU, the GeForce RTX 3060 mobile. That's the general statistic; you simply can't tell how GPUs will perform from one laptop to another without proper benchmarking. Invariably, differences in internal componentry, cooling systems and Total Graphics Power (TGP) can all be factors that can result in different GPU performances. To get a firm sense, then, I ran our normal trifecta of PCWorld GPU tests.
First up was the 3DMark Time Spy benchmark which gives us a broad picture of graphical performance. The result? The Helios Neo 16 was a little off the pace of the Asus ROG Strix G16 which packed the same RTX 4060 mobile GPU. Still, a score in the 10,000s speaks of a laptop that will comfortably run AAA games and graphically demanding programs on it.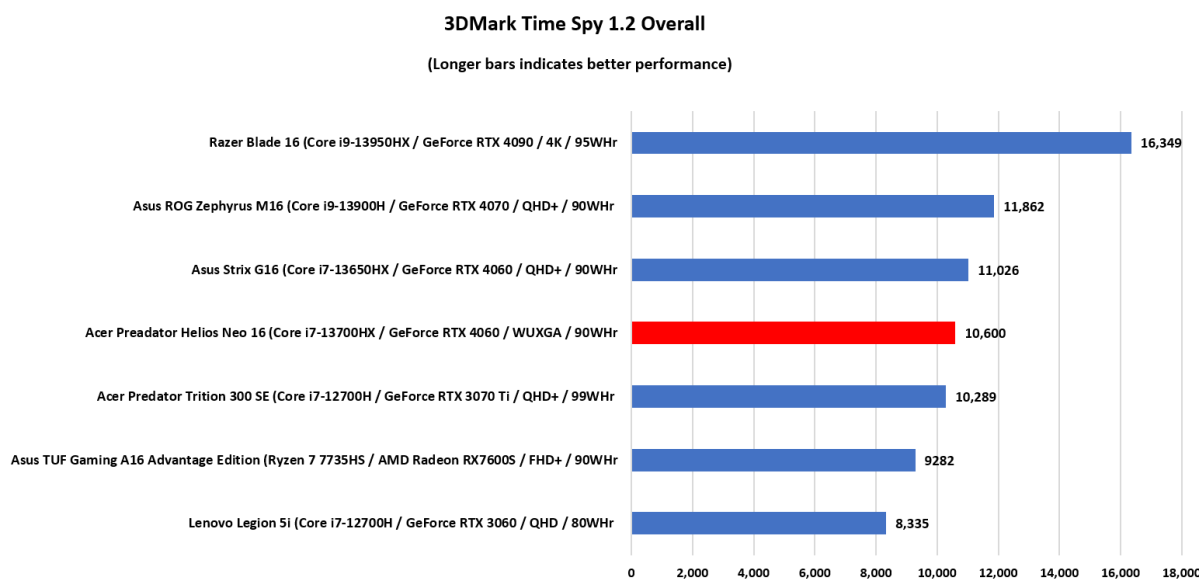 Dominic Bayley / IDG
Moving to our gaming benchmarks now, and in the Rise of the Tomb Raider benchmark, the Helios Neo 16 couldn't quite compete with the mostly premium comparisons which clocked higher frame per second scores. When taken at face value this seems like an underwhelming performance but taken into context of the laptop's budget price tag, this result is still quite good.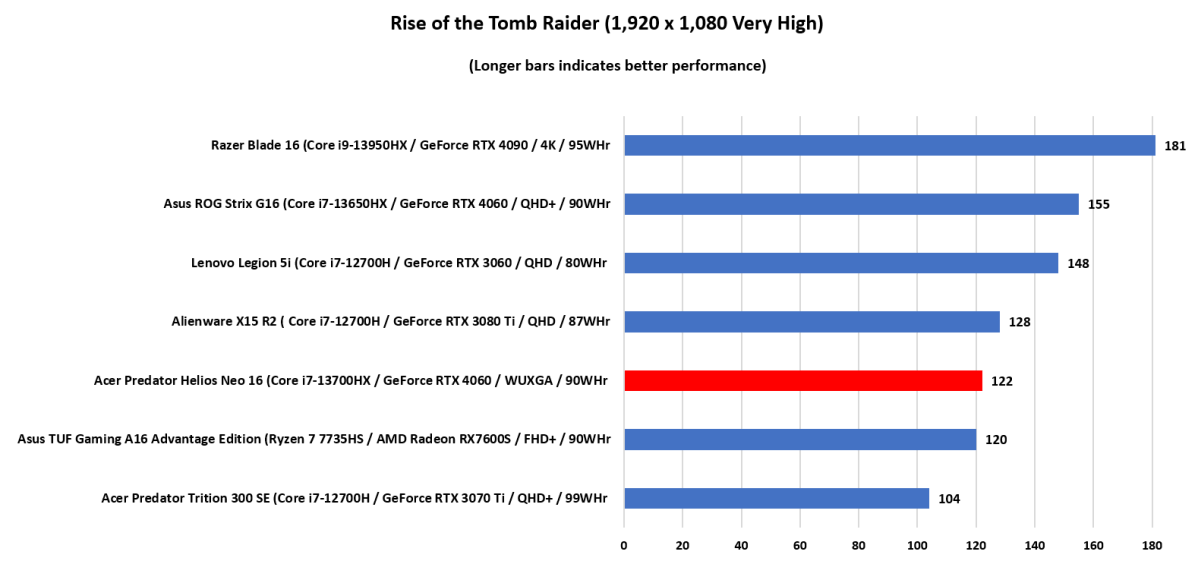 Dominic Bayley / IDG
Besides, the difference in performance between our laptop and the three laptops directly above it in our graph is relatively minimal. A more important measure is how the Helios Neo 16 performed up against another highly capable budget gaming laptop, the Asus TUF Gaming A16 Advantage Edition. Here, we see it had the edge on this laptop by a hair.
Running the Shadow of the Tomb Raider game benchmark elicited a somewhat better result for the Neo 16. In this benchmark our laptop placed where I would have expected it to place among the panoply of laptops in our review lineup – that is, not far off the pace of laptops with premium RTX 30 series GPUs, and above others with lower rung RTX 30 series GPUs.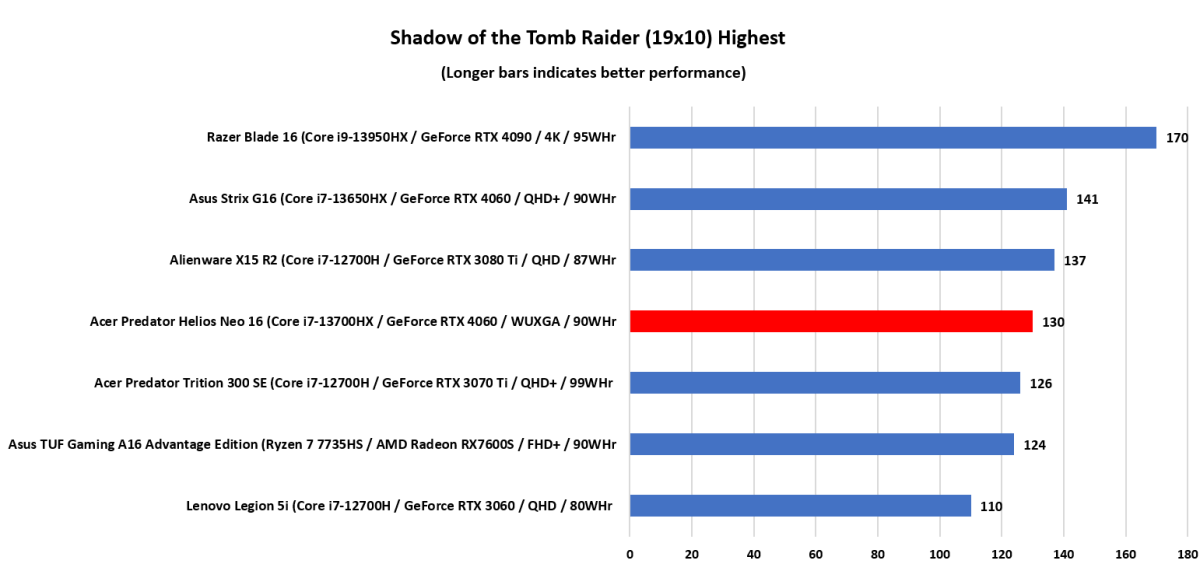 Dominic Bayley / IDG
Acer Predator Helios Neo 16: Battery performance
To test the battery performance, I looped a 4K movie on Windows Movie and TV app with the sound turned down to 50 percent and a cheap pair of headphones plugged in. I also turned off the keyboard backlighting and switched the laptop's wi-fi to airplane mode. The Acer Predator Helios Neo 16 lasted almost 9 hours – which is one of the better scores I've seen this year. It beats out the Razer Blade 16 and Asus ROG Strix G16 for battery life but doesn't quite match the staying power of the Asus TUF Gaming A16 Advantage Edition – which is exceptional.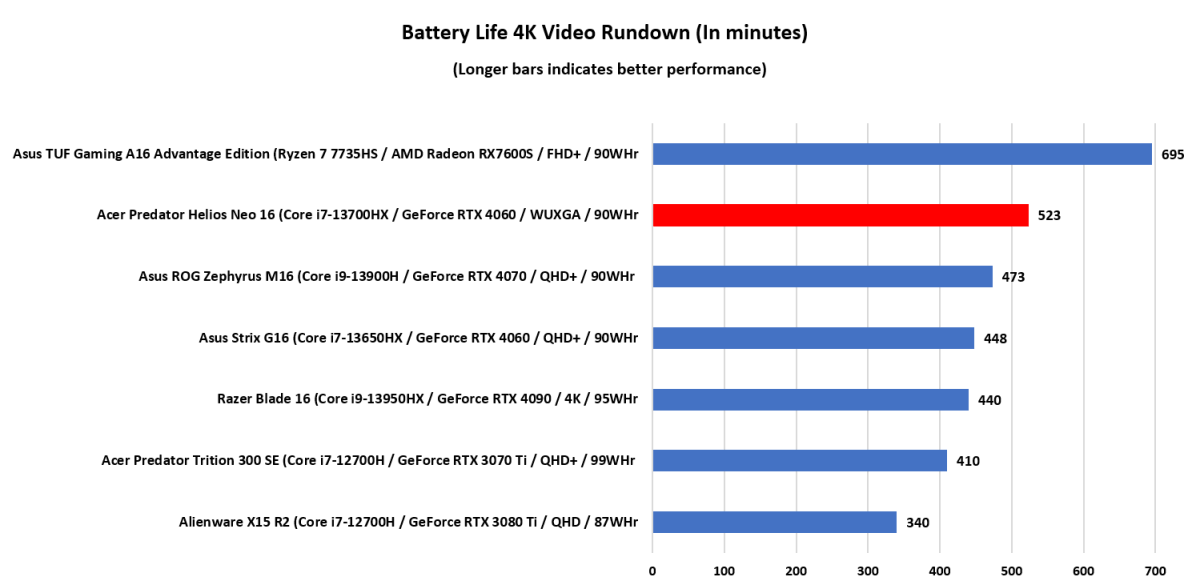 Dominic Bayley / IDG
Mind you, almost mine hours is what you can expect the laptop's battery to last just playing a video file. For power hungry gaming, you can expect the Neo 16 to last a more modest five hours when unplugged from an AC outlet, which is still relatively good.
Acer Predator Helios Neo 16: Should you buy it?
It goes without saying you're probably going to get less for your money when you buy a laptop that costs approximately $1,000 rather than a laptop that costs 3,000 to $4,000. But what do you compromise on for spending less – CPU / GPU power? Ports? A smaller display? A less than optional keyboard? Thankfully, you don't have to miss out on any of these all-important factors with the Helios Neo 16, which makes it an excellent value-for-money proposition for gamers on a budget.