How many social networks were you a part of in 2002? How many are you a part of now? (Really; count!) Social media has taken the world by storm, and we could fill an entire book with descriptions of the past year's social media events. Of course, we couldn't fit a whole book in the space below; nevertheless, an end-of-year review is definitely in order, so here are eight of social media's biggest moments in 2012.
The world's most expensive free app
For Instagram, 2012 started off nicely with the release of its Android app in April. The much anticipated app left its mark on Google Play, with over 1 million downloads in less than one day.
The next step, which did not come as a huge surprise to most people, was Instagram's high-profile acquisition by Facebook, for no less than $1 billion. First approved in April, the buyout became official in September, and was followed by one of the biggest and most confusing social media controversies of the year: a terms of service change. Whatever this change really meant for users, Instagram ended up retracting it following a public outcry.
The terms of service change was in all likelihood a first step toward making some kind of money from Instagram, a trend that we'll undoubtedly see continue in 2013, public outcry or not.
Obama makes social media history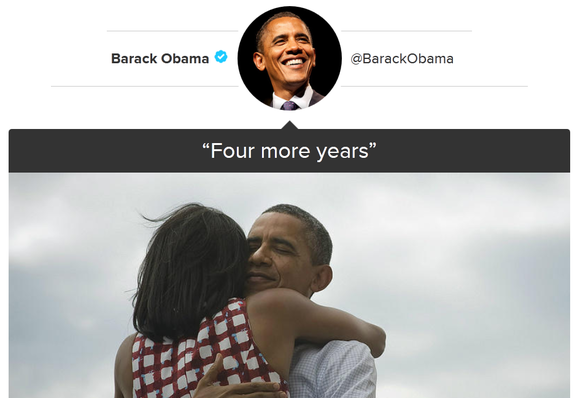 One of the biggest events of 2012 in general was the U.S. presidential election, but unlike previous elections, this one had a huge social media footprint. Not only were the debates monitored like never before on social networks such as Facebook and Twitter, but Barack Obama's victory post/tweet also proceeded to break records on both networks. With over 4 million Likes on Facebook and more than 800,000 retweets on Twitter, Obama's "Four more years" post represents only the beginning of the growing integration between real-world events and social media.
The first social Olympics
Although the election gave us the most liked and retweeted post in history, it was not the most discussed event in social media this year: That honor is reserved for what became known as "the first social Olympics," the 2012 Olympic summer games in London. The games, which were promoted heavily on Facebook and Twitter, generated 150 million tweets in 16 days, peaking at over 116,000 tweets per minute during the Spice Girls' performance in the closing ceremony. In the aftermath of the games, many of the athletes gained tens of thousands of new Facebook fans.
So yes, it's more than a little ironic that the Spice Girls generated more buzz than Usain Bolt's amazing 200m sprint, but the trend is clear—and by 2016 we may even see crowdsourced referees on Twitter deciding who should win the gold.
Forget liking—pinning is the new game of choice
Pinterest did not debut in 2012, but it certainly boomed over the past year, making everyone doubly aware of the importance of visual content. At the beginning of the year, Pinterest became the fastest stand-alone website to hit 10 million unique visits. It continued to blossom, surpassing one of its biggest competitors, Tumblr, sometime in August (although Tumblr beat out Pinterest again in November).
Surprisingly, Pinterest didn't open to all users until August—it had been invitation-only since it launched in 2010. Several other major developments followed, including the much anticipated launch of secret (private) boards, and the release of official Android and iPad apps.
In short, 2012 turned Pinterest into a force to be reckoned with, and the site surpassed Yahoo to become the fourth-largest traffic driver in the world. If your business still isn't taking advantage of Pinterest, it might be time to reconsider.
Social media goes even more public
No 2012 summary is complete without mentioning one of the biggest social media events of the year: Facebook's initial public offering on May 18. After opening with a value of $38, Facebook's IPO encountered a series of problems, and the stock lost a quarter of its value within the first month. As of today, the stock sits at around $26, but it has dipped as low as half its initial price after three months of trading.
All that aside, 2012 also saw Facebook reach 1 billion active monthly users—more than any other social network in the world. That's still saying something.
Tumblr's big year

Once upon a time, if you wanted to start a blog, you used LiveJournal or Xanga. But these days Tumblr is the blogging service to beat. In May 2011, Tumblr hit the 5-billion-post milestone, but by late March 2012, it saw its 20 billionth post. And as BuzzFeed points out, "Tumblr" is now a more popular search term on Google than "blog," which goes to show how big a deal the service has become in users' minds.
Besides, it's a great place to get your cat meme fix.
Beware of the underdog
Although it has only about one-eighth of the active users on Facebook, Google+ was still hard to ignore in 2012. After becoming available to the younger crowd in January, Google+ continued to follow in Facebook's footsteps, with new Timeline-like profiles and the launch of Google+ Events and Communities. Google+ also went its own way, beginning to integrate into Google's other services, such as search, YouTube, and Google Play.
Although Google+ seems like one of the less prominent players in the social media arena, it is arguably becoming the most pervasive service as Google slowly and discreetly injects the social network into our entire Internet existence. In all likelihood, this trend will only increase in 2013, making Google+ even harder to avoid.
MySpace gets downloaded into a new body
MySpace, also known as "the social network that disappeared," had more than 100 million active users during its glory days, and enjoyed traffic that handily beat the numbers of its younger rival Facebook. Despite that, the network has been absent from most social media year-in-review summaries over the past half decade—which makes this year's development all the more intriguing.
In September 2012, Justin Timberlake, who owns part of the company, gave a sneak peek at the new version of MySpace. The reworked MySpace has since opened for invitation-only beta testing; completely reimagined, it aims to rekindle the old MySpace flame for musicians, artists, and fans. Will it succeed, or has this niche closed to new players forever? Only time will tell.
Bonus: An end-of-the-world alternative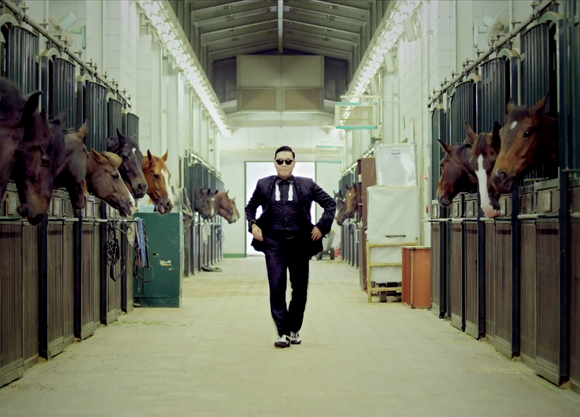 Although it is not exactly related to social media, one more 2012 phenomenon cannot go unmentioned. One particular YouTube video—on the day the world was supposed to end—surpassed any other video ever uploaded to the Internet, and achieved its 1 billionth view. Yes, I'm talking about "Gangnam Style," the Korean sensation by PSY. As of this writing it has accumulated 1,114,269,043 views on YouTube. Insane is the only word to describe it. And you know what? I've never watched it. Ever. But who knows, 2013 might see me break.
This story, "The year in social media" was originally published by TechHive.