At a glance
Expert's Rating
Pros
Impressive analog-style switches
Comfy wrist rest
Major body improvements over the last K70
Cons
Confusing software
Very niche
Our Verdict
While it's pricey and extremely niche, the most hardcore gamers who are willing to put in major tweaking time will appreciate how the K70 Max RGB lets you create an incredibly customized control setup for each game. The materials and design have shown major improvements over last year's model, too.
Price When Reviewed
$219.99
Best Prices Today: Corsair K70 Max RGB keyboard
Mechanical keyboards are all over the place, especially in gaming circles. It's getting hard for a company to stand out, which is probably why some have turned to throwing every possible feature and gimmick at the wall to see what sticks. Corsair is taking a more focused approach with the K70 Max. It's the company's first keyboard with "magnetic MGX" switches, which allow for variable actuation points and dual assigned functions on every key press.
That alone would be worth a look, if not an automatic recommendation. But the K70 Max also piles on a bunch of gamer-friendly, high-end features, like a full 100% layout, PBT keycaps, a new dampened body, a super-comfy wrist rest, and smart media controls. And it does all this without being overpriced compared to the competition…though in this highly specific niche, there isn't that much competition to be had.
All that combined earns this keyboard a recommendation, albeit a conditional one. If you're wowed at the idea of variable actuation for key switches and two functions on the same key press (and you're willing to pay for it), then the K70 Max is the keyboard to go for.
Further reading: See our roundup of the best mechanical keyboards to learn about competing products.
Corsair K70 Max RGB design
The K70 Max RGB has a classic gamer keyboard look. It's full-sized, so prepare a pretty big chunk of your desktop for it, and a little more if you want the included wrist rest too. Extra media controls are above the number pad, plus a volume wheel and profile/lighting/Win lock buttons on an even higher strip, which it shares with Corsair's glossy strip of LED indicators for num lock, mute, et cetera. That volume wheel is metal, non-clicky, and does not have a recessed button. Also note the tasteful hexagon printing on this raised metal shelf, a nice touch.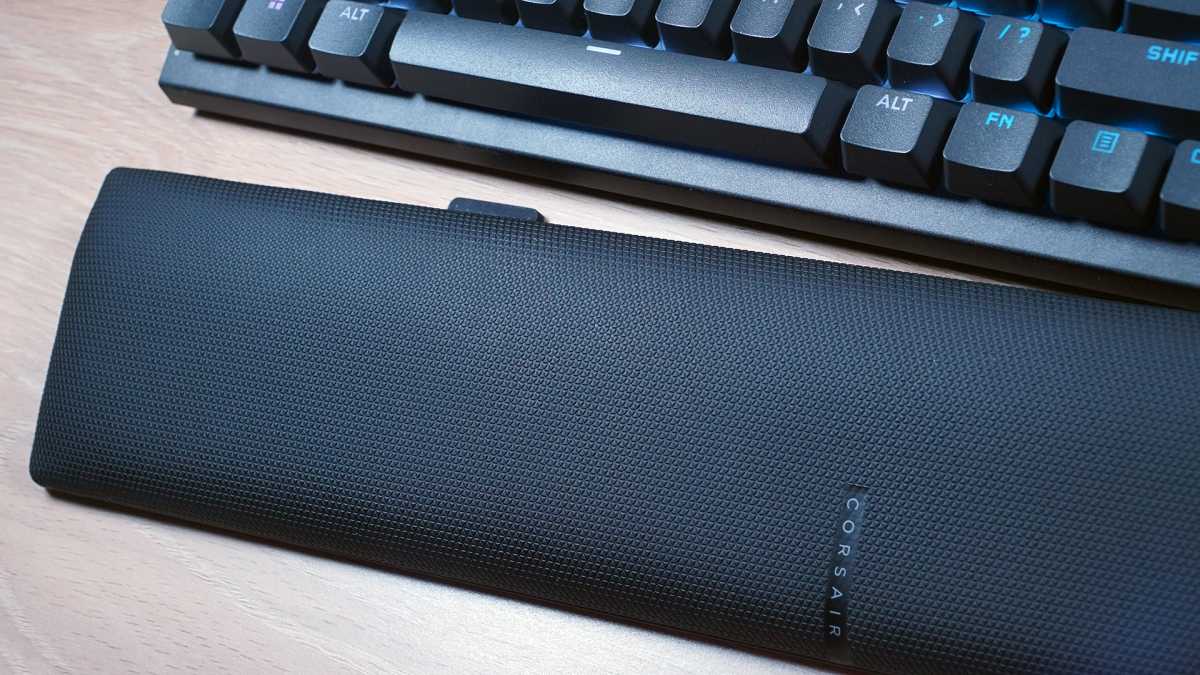 Michael Crider/Foundry
The wrist rest deserves particular praise. I'm of the mind that any keyboard in this price range needs to include one, and Corsair didn't skimp here. Its slightly rubbery triangle texture grips my palms while the cushy foam underneath is super plush, and the whole thing just sits at the perfect spot to make gaming or typing for hours on end comfortable. It's kept in place with magnets and a couple of foam pads, meaning it's both snug in place and easy to remove if you should want to. Just aces all around, and a notable improvement over last year's model.
The sides of the keyboard beneath the sandblasted aluminum deck are bare, while the top has a "tournament mode" toggle next to the removable USB-C cable. This switch will disable and lock any user customizations or macros (including lighting) and fix it in place with a little plastic bracket. I haven't been to any PC gaming tournaments lately, so I can't speak to whether that'll satisfy any sticklers for tournament rules.
Michael Crider/Foundry
There's a little more thoughtful design going on underneath the keyboard, too. In addition to sturdy dual-stage feet — a necessity for this three-pound chonker — there are angled grooves for rerouting the USB-C cable, also seen on the K70 Pro. Also, the way the switch LEDs shine through the translucent plastic on the bottom is super cool, even though you'll never see it while actually using this thing. It brings back fond memories of an Atomic Purple Game Boy Color.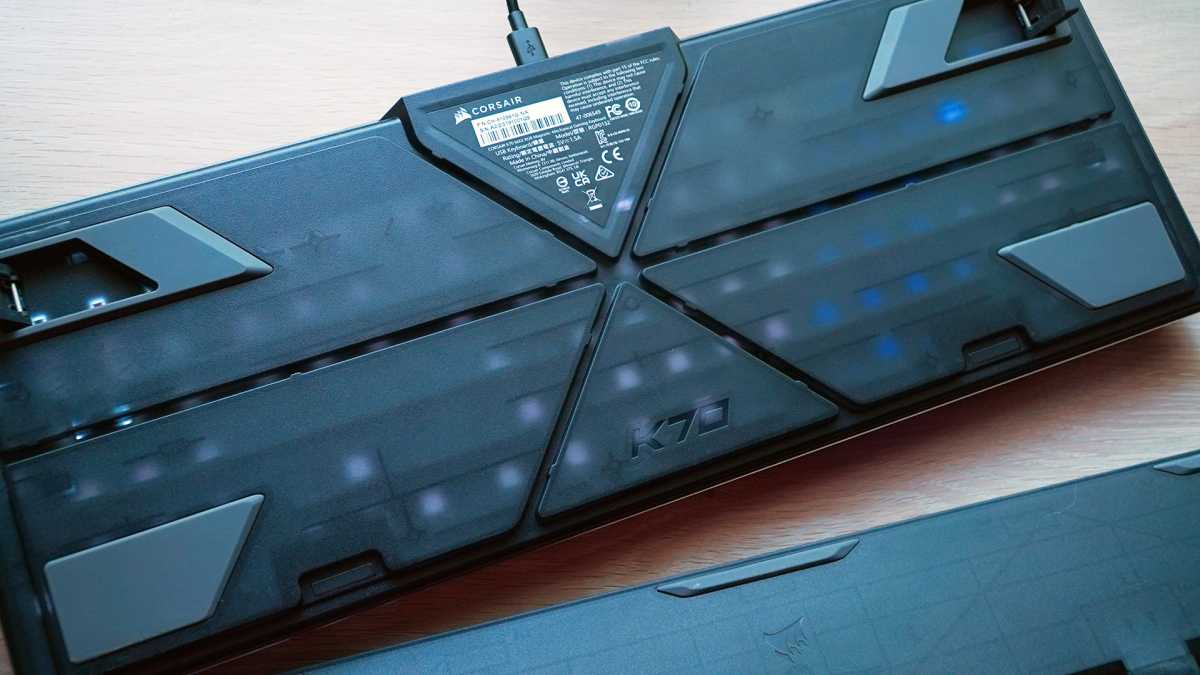 Michael Crider/Foundry
Other notable physical features include nice, thick PBT keycaps (an absolute must-have at this price point), which are a little less "rough" than some similar examples; double-layer internal foam for sound dampening; and 8,000Hz polling for the superhuman esports types. The key layout and switch stems are standard, so this board should work with any custom keycaps, but the fancy switches don't allow for hot-swap sockets. Speaking of which…
What about the K70 Max RGB's magnetic switches?
Alright, it's time to get down and dirty with this board's defining feature: the "Magnetic MGX" switches. If you don't install Corsair's hefty iCue software, then you'll never know there's anything particularly remarkable about them. They're linear (that means no click or bump from top to bottom), with a typical 45g spring. They feel smooth and satisfying if a little more "rattley" than normal switches, because they lack a reinforced box-style stem. Oh, and Corsair has fixed that annoying "ping ping ping" problem from the last version of the K70.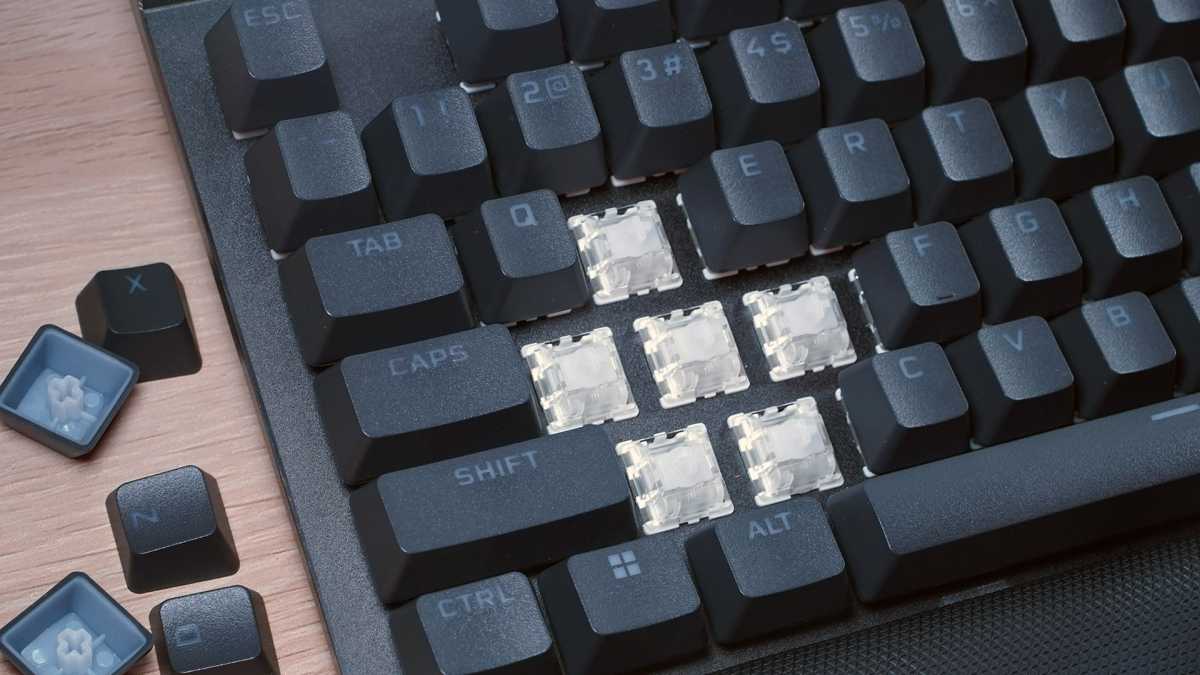 Michael Crider/Foundry
The magic in these switches is that the actuation point can be set magnetically, anywhere between .4mm and 3.6mm. In layman's terms: It lets you pick how light or hard you have to press the key in order for it to register. You can set it from a fairy light touch to a full, Beethoven's Fifth smash, in more than 30 increments. And this setting can be customized for every single switch on the board. So for example, if you want your WASD directional keys to respond to a feathery tap but you prefer a hard press on "G" for grenade, that's easy to accomplish. Perhaps more practically, you can set the Caps Lock or number row to only engage with a full 3.6mm press.
This might seem like a gimmick. And for a lot of users, it will be, especially if they're not interested in diving deep into software customization. But there's a lot you can do with this if you're the kind of gamer obsessed with perfecting every last aspect of your experience, particularly for esports. On top of customizing the force needed for each individual key, you can set some (or all) keys to double actions. A soft press activates one function, a hard press activates another, again, both of which can be set to custom actuation points. This is similar to some high-end game controllers, which can detect multiple levels of pressure on the buttons. So for example, you can press that "G" button lightly to throw a flash grenade or roughly to throw a frag grenade (assuming the game will let you bind those actions separately).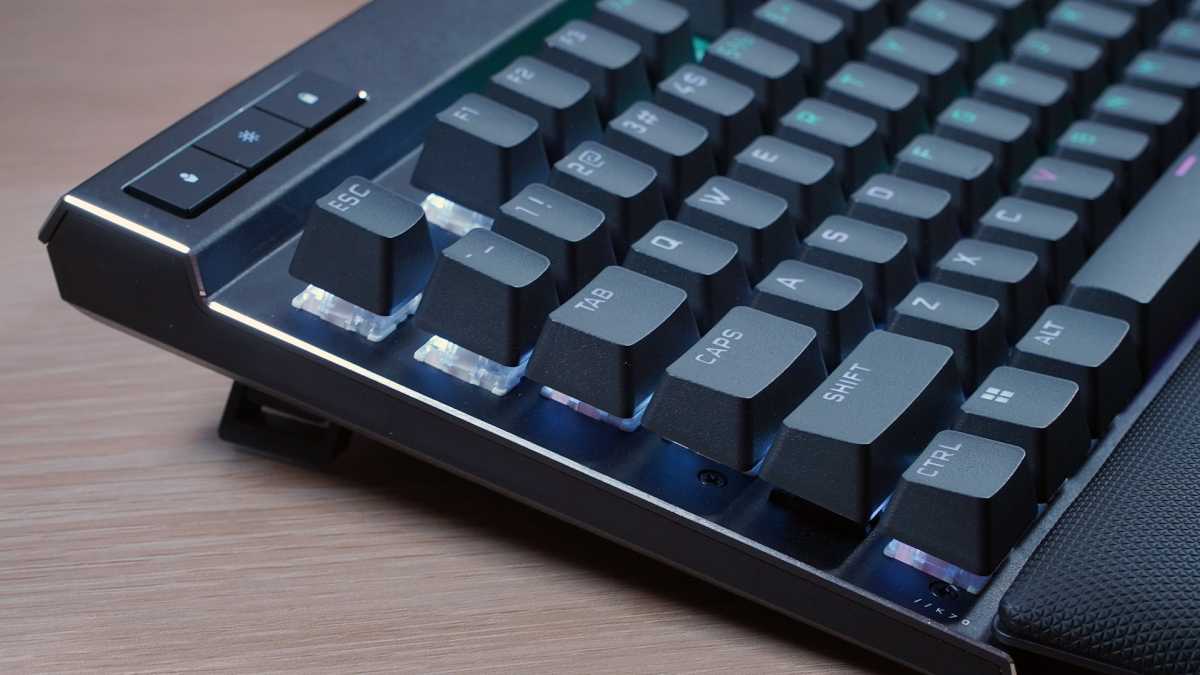 Michael Crider/Foundry
Make no mistake, this is a deep gamer rabbit hole to go down. In order to use this feature effectively you'll need to set up a custom profile for each game, and probably do a lot of very finicky testing to see which one works best for you. If you're not prepared to spend actual hours trying out different setups, the multiple actuation point function probably isn't that useful for you. Ditto for the "Rapid Trigger" function, which Corsair didn't have ready in time for this review. Rapid Trigger allows for an instant reset function as soon as the keyboard detects either downward or upward motion on the switch, ideal for crazy-fast strafing.
Corsair's iCue software
In order to set any of these functions, you'll need to dive into the iCue software, under the Key Actuations menu. For a standard single-key function, it's pretty straightforward, with a handy illustration of precisely where in the key press it'll be activating. You can also set up a custom reset point — this lets you release the activation immediately or with a slight delay as the spring pushes the stem back up when you release pressure. And you can set up the same custom activation and reset on a second function, typically the "harder" setting, for each key.
Michael Crider/Foundry
iCue handles a staggering amount of information and settings, so it can be forgiven for being less than user-friendly. But I found that having to move between two different menus to set multiple actuation points, and the actual functions that they trigger, somewhat tiring. And that's on top of a solid 20 minutes of poking around to see how this process actually works. The software also has the usual tools for managing lighting effects with plugins available for Lenovo, Asus, MSI, and Nvidia hardware (there are even two different zones just for the Corsair logo on top—good grief) and various hardware toggles.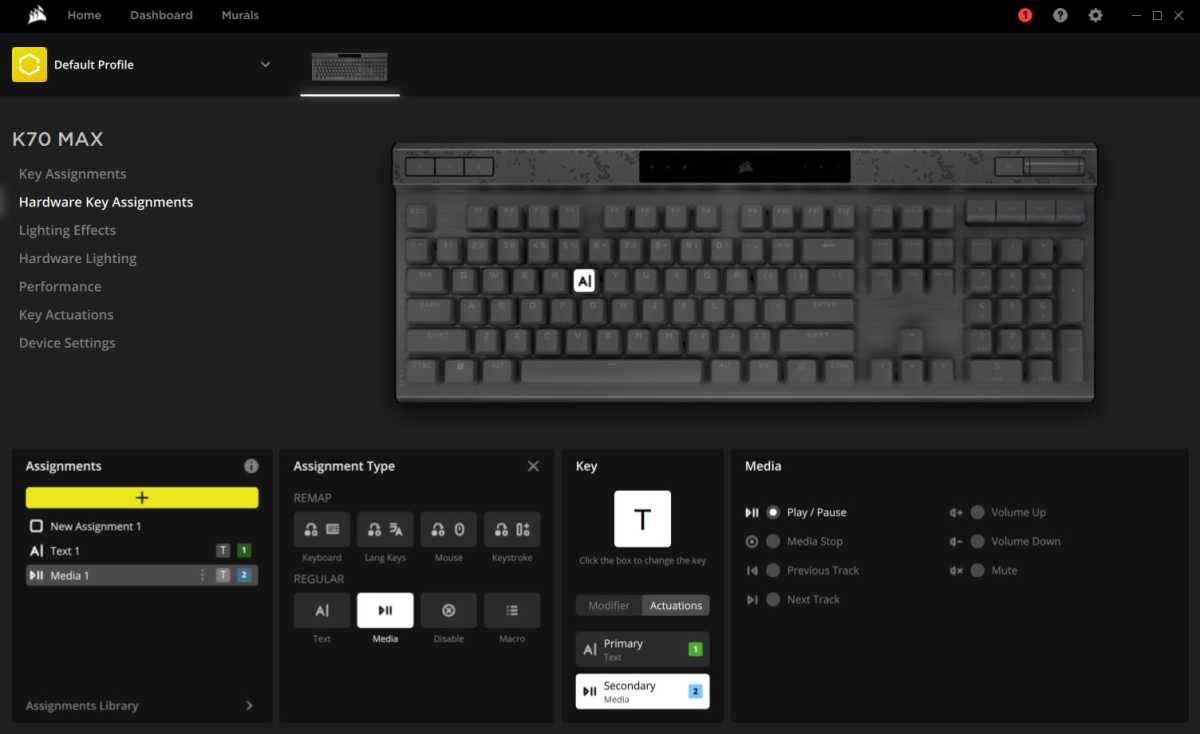 Michael Crider/Foundry
Again, this probably won't deter anyone who's actually interested in the K70 Max for the variable actuation feature. They were going to spend a significant chunk of time customizing this board in any case. And if all you really want to do is play with a little custom lighting and set all your keys to the same light or hard actuation point, it's easy enough to do. So there's room for improvement, but those who get deep enough to find iCue frustrating probably knew what they were in for.
How does the K70 Max RGB compare in value?
Keyboards with user-selectable actuation points, sometimes going by an "analog" shorthand, are still extremely thin on the ground. SteelSeries makes one, the Apex Pro for $200 with a trendy OLED screen, and there's the somewhat niche Wooting Two HE at $195. Razer, to no one's surprise, has the most expensive offering at $250 for the Huntsman V2 Analog with some extra-fancy lighting. (Technically this uses optical switches rather than magnetic, but it offers the same custom actuation and dual actuation functions.)
Not having tested the other options in this segment, I'll have to fall back on pure specs. Corsair's $220 K70 Max has Razer beat in pure hardware capability, as its custom actuation settings start at just .4mm, versus a much deeper 1.5mm on those optical switches. I'm prepared to knock the Wooting Two HE out of the value argument due to its complete lack of a wrist rest or any media controls. And I'm inclined to give the K70 more props for its comfy wrist rest than the hard plastic on the SteelSeries.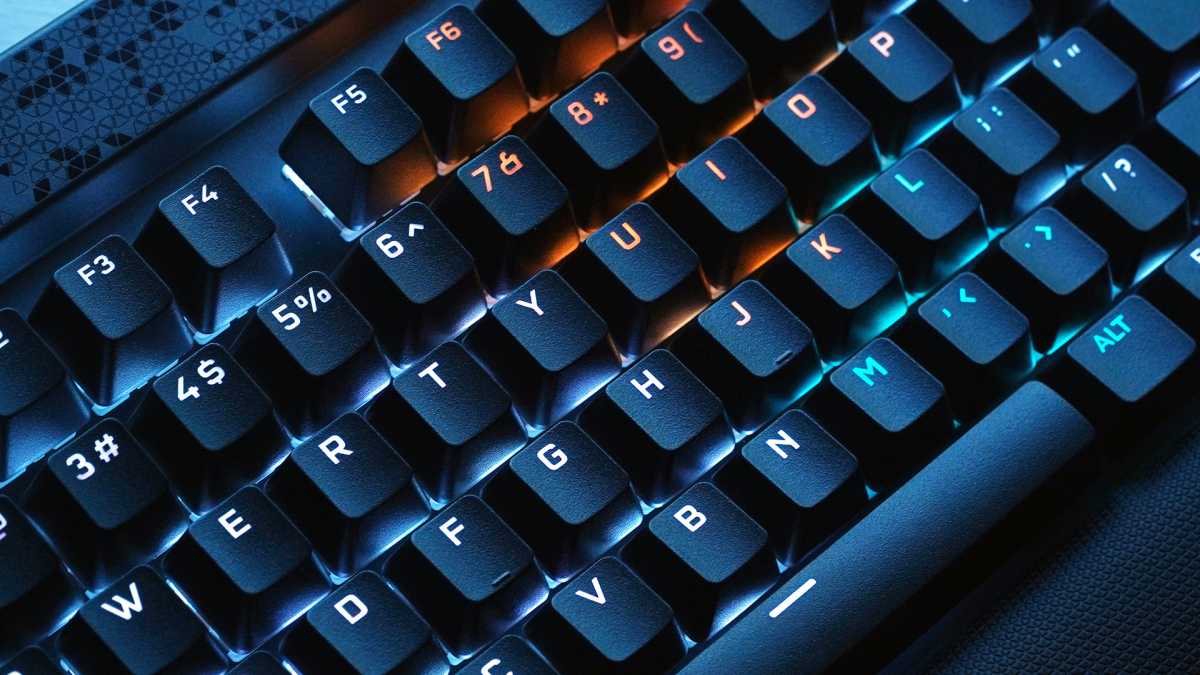 Michael Crider/Foundry
The SteelSeries also cheaps out a little by having adjustable actuation only on its primary alphanumeric key section. Of course, having that kind of customization on the rest of the board is of questionable utility…as is the OLED screen on the Apex Pro. (See the Asus ROG Azoth for another example of a keyboard with a screen no one asked for.) Call it a wash. If you're prepared to spend $200 on a keyboard with custom actuation keys, then I don't think a $5 discount will sway you, or a $50 premium will turn you off.
mentioned in this article
Corsair K70 RGB Pro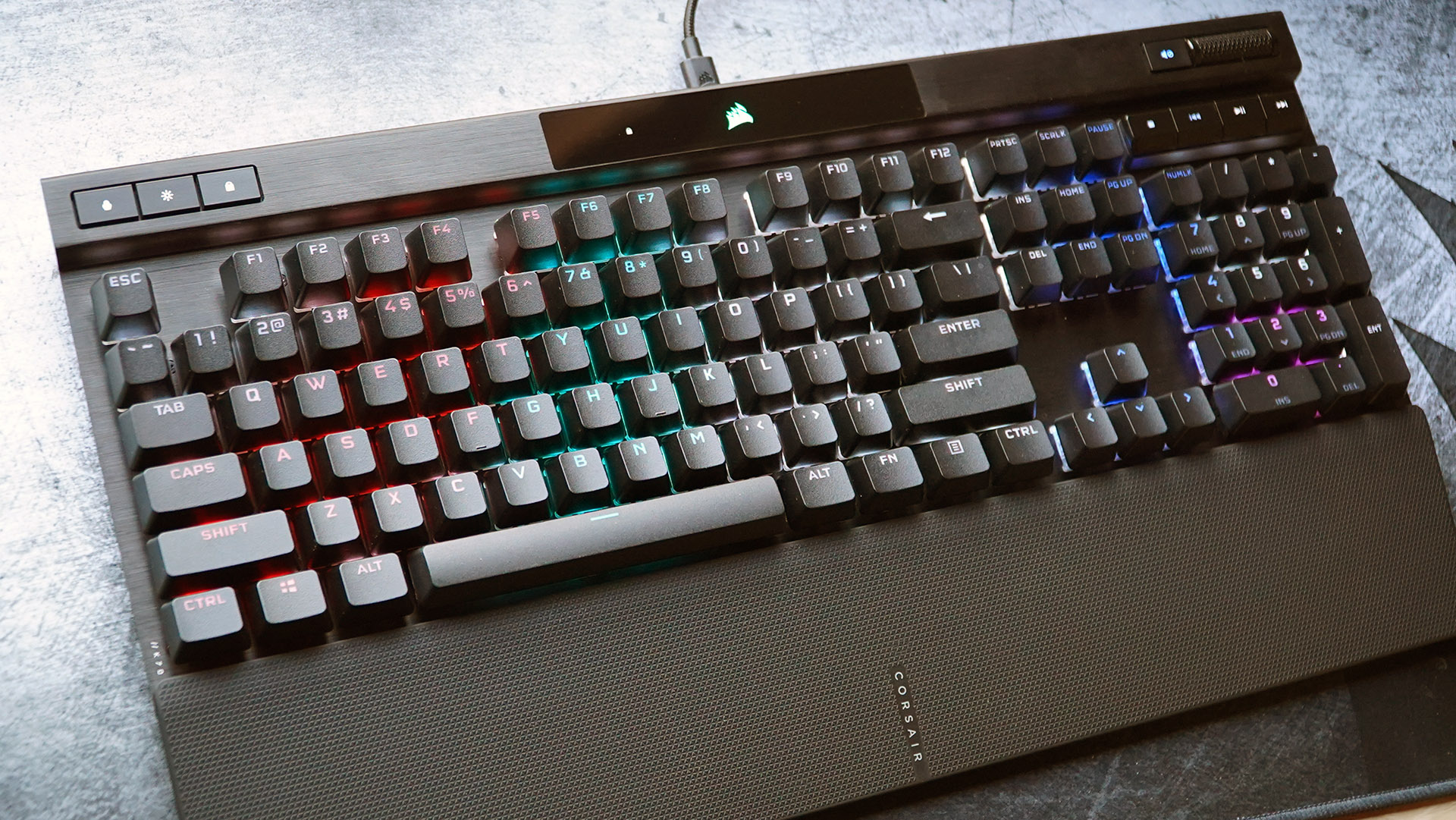 Price When Reviewed:
$170
Should you buy the K70 Max RGB?
Once again I should stress: "Analog" keyboards are an incredibly niche product, and one that only the most demanding, tweak-happy gamers will be able to make use of in full. If you're a fan of Corsair's keyboard designs and features (and don't mind the body ping), the regular K70 Pro will serve you just fine at a $60 discount with a variety of Cherry switches to pick from. The only thing you're missing out on is that new padded wrist rest.
If you understand the appeal of the magnetic switches, and you want a keyboard that's filled to the brim with other features, the K70 Max will do nicely. Not only does it debut the custom actuation feature surprisingly well in Corsair's line (confusing iCue software notwithstanding), it also improves upon the previous K70 in small but meaningful ways, with a quieter body and a super-comfy wrist rest.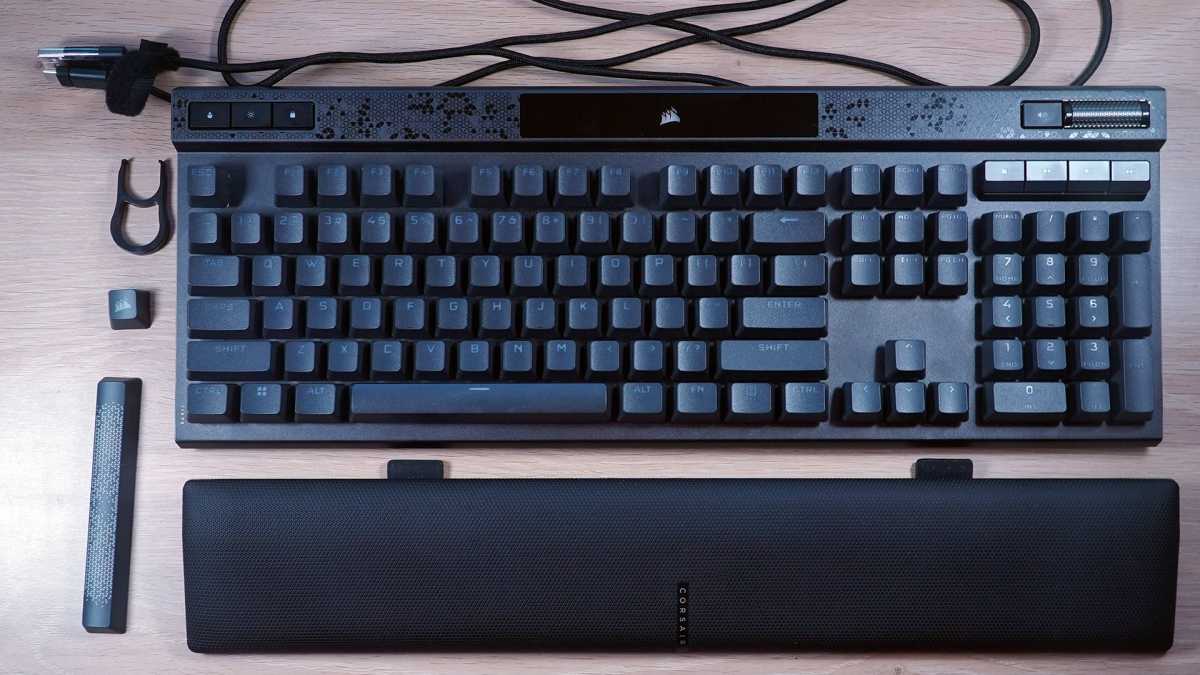 Michael Crider/Foundry
Go for it if you like the idea of customizing your switches without replacing them, or hitting two functions on the same key press. Keep in mind that if you prefer a smaller TKL or 65% design, Corsair will probably have those options available within a few months.
Best Prices Today: Corsair K70 Max RGB keyboard