Must-have apps for photography nuts
Want to get more out of your photography? Your tablet can be a valuable tool in the pursuit of picture perfection. A variety of apps are now available that can expand your camera's features, and even replace your laptop completely, making it easier to shoot and edit. Whether you have an iPad, an Android tablet, or a Windows 8 tablet, here are our picks for the top 10 apps for photographers. We've picked out the best editing, cataloging, collaging, and shooting apps.
Snapseed
Most of the time, you don't need a complex photo editor for your tablet; you just need something that can do basic editing and tweaking. Snapseed (free; Android and iPad) is just such an editor: It can crop, rotate, adjust contrast, and tweak colors, providing enough features to enhance most images that you take with or store in your tablet. The selective adjust tool, for instance, allows you to tweak brightness, contrast and saturation on selected areas of an image, which is great for bringing out faces in poorly lit photos. It doesn't offer the features of more complicated apps, though, and some of the tools are limited (you can only tilt images by up to 10 degrees, and there is no support for layers and complex color adjustments). But it offers the tools that you are likely to need most of the time. And the price is right; this app is now free.
Pocketbooth
Old-fashioned photo booths are becoming few and far between, but your tablet comes to the rescue with Pocketbooth ($1.99; Android and iPad), a nifty little app that takes photos in quick succession and puts them together into a photo strip that you can email or share (or print, via a third-party app). You can configure the number and type of photos, (color, B&W, sepia, or antique) and the look and feel of the photo strip (matte or glossy). It's nothing that you couldn't do with Adobe Photoshop Touch yourself, but the process is handled just like an old-fashioned photo booth, so it's a neat way to produce a party favor or get a cute, spontaneous photo memento of a trip.
Mixel
If a picture paints a thousand words, a photo collage can write volumes. Mixel (free; iPad) is a simple way to create collages from your images on the iPad, and easily share them with others. You just pick the photos you want in the collage, then the program arranges the images according to their size and orientation. Don't like the collage? Just hit the shuffle button, and it will be recreated. You can also drag the images around to swap or recrop them. The latest version allows you to send offline users a postcard printed with the collage from within the app for $1.99. At present, the app is optimized for the iPhone, so it runs at a lower resolution; we would love to see a full iPad version of this neat app.
Photoshop Touch
The tablet version of Adobe's flagship photo editing app, Photoshop Touch ($9.99; Android and iPad) is a powerful photo editing program that offers a lot of features. It also inherits a good selection of tools from the desktop Photoshop. These include layers and a selection of filters, as well as familiar tools such as the magic wand, clone stamp, eraser, selections (with feathering), and more.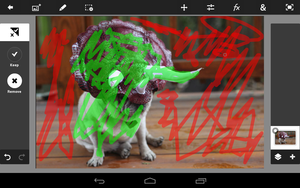 There are also a few tablet-specific tools, such as the scribble wand, which let you select an area by roughly scribbling on the areas to keep, and the ones to remove. The app builds a selection based on that, and you can then refine the selection with more scribbling. This means you can fairly easily do things like blurring backgrounds or removing objects from photos that would have only been possible on a desktop computer: I was able to create an acceptable cutout of a figure from a photo in a few minutes. Camera Fill is another neat feature that allows you to capture an image directly to a layer from the camera; no external programs are needed. You can pinch to zoom in on images to a magnification of up to 400 percent or out to 10 percent, which is a good range for basic editing. Some operations were a little slow, though; a refine edge operation on a 5-megapixel image taken with the tablet camera took over 45 seconds to process on a fast tablet. But that's a minor complaint: I generally found the program to be fast and responsive during most tasks.
PowerDVD Mobile
Windows 8 users don't have a lot of choice when it comes to photo editing packages. One of the first apps on the Windows 8 Store is PowerDVD Mobile from CyberLink ($14.99; Android, iPad, and Windows 8). Don't be fooled by this app's name: PowerDVD Mobile offers more than just DVD playback support—it plays a variety of digital video formats, and it handles photo editing and slideshow creation as well. Its editing abilities covers the basics—cropping, rotating, and resizing images, as well as adding frames and allowing you to scrawl on your photos with a set of basic editing tools. The edited images can then be saved or posted to Facebook or Flickr. The app can also organize photos. By default, photos are sorted by the date they were taken; but images can also be put into folders. Once the photos are organized, the app allows you to create a simple slideshow of the selected photos. Again, the features here are basic, allowing you to choose between a fade and zoom for transitions, and to select your own soundtrack and image resolution. However, you can't change the interval of the slideshow, nor can you change the sequence. The slideshow can be exported as a video, ready for uploading to Facebook or some other video hosting service.
Fhotoroom
The name may send shudders down the spine of spell checkers everywhere, but Fhotorom (free; Windows 8) is a great touch-based photo editing program that shows how touch screens can make photo editing easier. It offers a range of fhoto, err, photo editing tools that allow you to crop, rotate, resize, and vignette images, and an editing brush that allows you to brighten, darken, and soften parts of the image with a touch. A $1.49 in-app pro upgrade expands the features on offer, adding handy brushes for removing noise, sharpening and red-eye removal, as well as tools for lens correction and a neat panorama rotation tool that corrects for perspective. The free version is also limited to 3-megapixel images, while the pro upgrade removes this limitation. There are also a number of color styles that try and match the look of different films and media, such as silver-toned prints. The app uses Windows 8's clean interface to provide a simple, intuitive approach to editing photos.
Perfectly Clear
The cameras built into tablets are getting better, but they are not perfect. They can be easily confused by different types of lighting, backlit subjects, and other tricky shooting scenarios. Perfectly Clear helps to fix 12 common shooting problems with automatic or manual controls that can do a lot to help your tablet shots look better—including fixing exposure, sharpening images, and removing noise and color tints. A beautify filter corrects skin tones, softens skin, enhances eyes, and whitens teeth; each of these filters can be applied individually as well as all at once. We particularly liked the noise filter, which did a good job of removing the noise from images shot in low light without losing too much detail. None of these features can work miracles, but they can do a lot to make a poor image more presentable.
The images are shown side by side before and after the correction, with a neat slider that allows you to see the complete image either way. That's a great way to judge the effect and decide if you like it or not. Once you have chosen the effect, you can save it back to the gallery, email it, or post it to Facebook or Twitter.
There are a few things missing, though: You can't zoom into images, which makes seeing the result of the noise removal a bit difficult, and the interface is a little awkward to use, as it isn't structured like most tablet apps.
Roxio MediaBook Ultimate
Put a few photos together and you get a collage. Add a few more and you get a story, or a book—which is what Corel's Roxio MediaBook ($19.99; Windows 8) does. This app takes your photos and helps you create a book, complete with page flips. These books can contain photos, video and audio, as well as links to webpages. The program is easy to use and can either build the book for you from the selected materials, or offer templates that let you build it yourself. Either way, you get a lot of control over how the book looks, with the ability to alter its layout, background, and structure. The included templates have between one and five photos per page, with options for captions. The app can also add a narration to the book for each photo, where you can record a 30-second audio clip that plays when you click it.
Once your book is complete, you can publish it. This creates a single ePub 3 file that includes all the photos and other content that can be read in any eBook reader that supports this format. I did find that the formatting of the book was lost with some ebook apps; but I got the best book experience by downloading the free MediaBook reader software that Roxio supplies.
TouchRetouch HD
People are a problem. Lampposts are a problem. Animals are a problem. They all have a habit of sneaking into your photos when you aren't looking, only appearing when you look back through the images later on. TouchRetouch HD from Adva Soft ($0.99; Android and iPad) looks to deal with this by removing the offending objects from the images. The app is simple to use: You just load the photo, select the offending object with the selection tool or the brush, then hit 'go'. The program ponders for a bit, and then removes the offending object by replacing it with the background. In my tests, it did an excellent job of removing objects both small and medium sized, creating a near-seamless replacement of the object, especially with out of focus and blurry objects.
It is not perfect, though: It struggled with things larger than about a quarter of the image height or width, and the removal of objects over regular patterns (such as fences and walls) was much more visible. There is a manual clone stamp tool that can help, but it's not perfect. It's more about removing one person from a group shot than deleting an ex-husband/wife from your wedding pictures. It also doesn't do anything that most image editing programs could do with some time and patience, but for the price, it's hard to argue with the convenience and power of this simple, but useful, app.
TrueHDR
High Dynamic Range (HDR) photos have a lot of impact. They combine multiple images into one, creating a single image that has a wider range of high- and low-light detail than your camera can normally capture. Creating HDR photos is difficult, because you have to do some fancy processing to combine the images. Pictional's TrueHDR ($1.99; iPad) does all of the complicated stuff for you: When you press the shutter, it takes two images at different shutter speeds (one under- and one over-exposed), then does the processing that combines the images into one. The result is an image that looks slightly surreal, because it contains a wider dynamic range than we are used to seeing in photos.
A veteran of the app scene (first launched in 2009), TrueHDR is simple to use, offering fully automatic, semi-automatic and full manual shooting modes. In the full auto mode, you just press the shutter button and the app takes three images to combine, then picks the best two. In semi-auto, you select the two exposure points (selecting what the camera will meter for), then it takes two photos at the appropriate settings and merges them. In manual mode, you take the photos. You can also use photos taken with other apps, or another camera. Once the photos are captured and merged, you can tweak their warmth, color, and contrast and brightness to get the best effect. You can also add filters. The results look excellent, and the program is simple to use, providing a great intro to the new area of HDR photography without spending a fortune on Photoshop.
This story, "Must-have apps for photography nuts" was originally published by TechHive.
Shop Tech Products at Amazon