At a glance
Expert's Rating
Pros
Excellent CPU performance
Pleasant keyboard and touchpad
Beautiful OLED display
Good range USB-C and USB-A connectivity
Cons
Generic design
Extremely disappointing battery life
RTX 4050 held back by 50-watt TGP
Our Verdict
The Acer Swift X 14 delivers extremely strong CPU performance, respectable GPU performance, and a beautiful OLED display in a slim profile.
Price When Reviewed
$1,499.99
Best Prices Today: Acer Swift X 14
Acer's Swift X lineup, which promises big laptop performance in a more compact 14-inch footprint, is now several years old. The lineup was a good value from the start but faced growing pains. The new Acer Swift X 14 is an excellent improvement on the formula with impressive CPU grunt, but battery life remains a concern.
Looking for more options? Be sure to check out PCWorld's roundup of the best ultraportable laptops available today.
Acer Swift X 14: Specs and features
The Acer Swift X 14 is powerful for a laptop of its size. It packs Intel's Core i7-13700H processor, a 14-core CPU that's generally much quicker than the Core i7-1360P more commonly found in laptops of similar size. It pairs that with Nvidia's RTX 4050, which holds promise for decent 3D productivity and gaming performance.
CPU: Intel Core i7-13700H
Memory: 16GB LPDDR5
Graphics/GPU: Nvidia RTX 4050
Display: 14.5-inch 2,880 x 1,800 OLED non-touch
Storage: 1TB PCIe Gen4 SSD
Webcam: 1080p
Connectivity: 2x Thunderbolt 4 / USB 4 with Power Delivery, DisplayPort Alternate Mode, 2x USB-A, HDMI 2.0, MicroSD card slot, 3.5mm combo audio
Networking: WiFi 6E, Bluetooth 5.1
Biometrics: None
Battery capacity: 76 watt-hours
Dimensions: 12.7 x 9 x .7 inches
Weight: 3.31 pounds
MSRP: $1,499
There's currently just one incarnation of the new Acer Swift X 14 available, and it sells at a retail price of $1,499. It's more expensive than the Lenovo Slim Pro 7, which starts at $1,199, but delivers quicker hardware. Gigabyte's Aero 14 OLED, another comparable laptop PC World has yet to test, retails for $1,599.
Acer Swift X 14: Design and build quality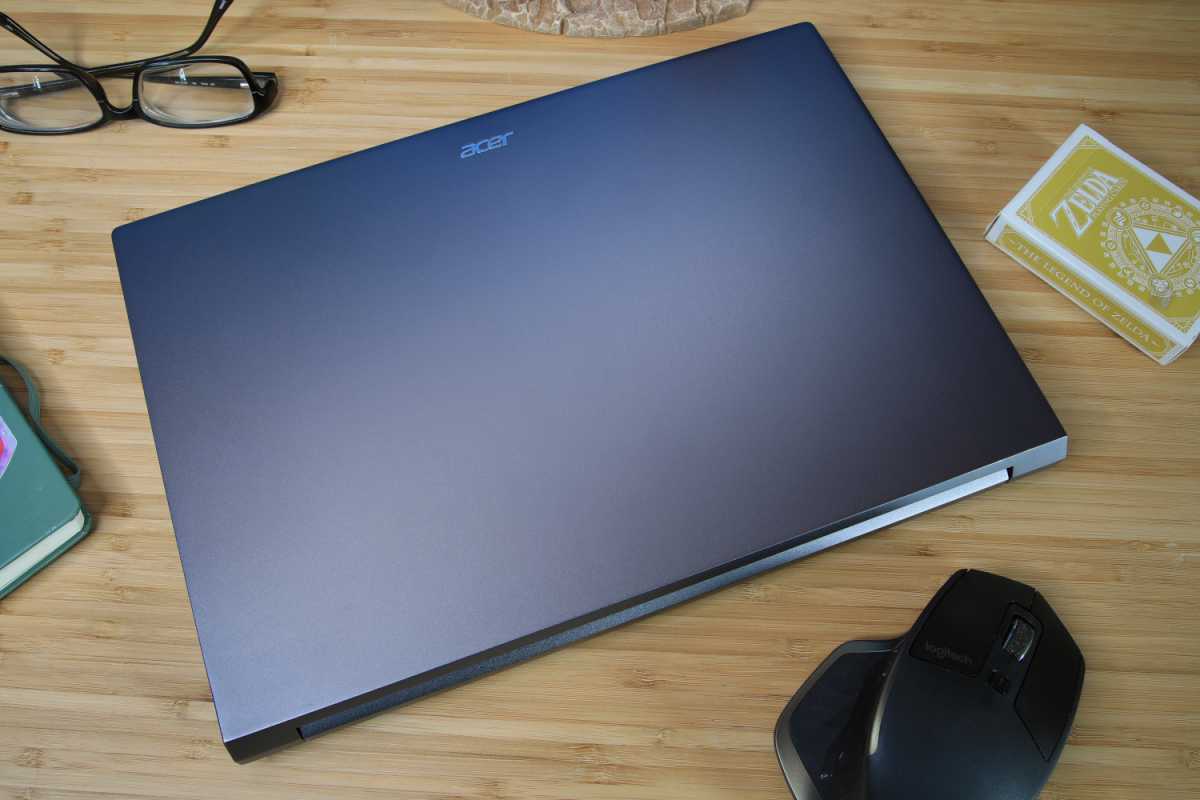 IDG / Matthew Smith
The Acer Swift X 14 doesn't stand out at a glance, though that's not to say it's unattractive. It has a simple gunmetal exterior with a touch of sparkle to its finish, but the laptop's boxy, generic profile is unremarkable. Don't buy this laptop if you want your friends to notice your new rig.
A combo of plastic and material lines the Swift X 14's exterior and, once again, proves adequate but unexceptional. The laptop's lower half feels rock-solid when handled and the display allows minimal flex while it's opened or closed, but the materials used don't have the thick, sturdy feel found with Apple's MacBook Pro or Lenovo Slim Pro 7.
However, the Swift X 14 is rather compact for a laptop with its specifications. It's just 12.9 inches wide and .7 inches thick, which makes it roughly similar in size to a MacBook Pro 14 or Lenovo Slim Pro 7, and it's lighter than both at just 3.31 pounds. That's good news if you want a laptop with powerful hardware that remains easy to throw in a bag for a quick trip across town.
Acer Swift X 14: Keyboard, trackpad
IDG / Matthew Smith
Acer provides a spacious, comfortable keyboard for the Swift X 14. It has a conventional layout with space to provide large keys across most of the keyboard, though the left-side Ctrl and Alt keys are perhaps a tad small. The keyboard is center-aligned and positioned well back in the laptop, which offers ample space for your palms.
Key feel is solid, too, with long key travel and a crisp bottoming action. There is room to further improve key feel, as the rebound action feels a bit vague to my fingers, but this is a nitpick. The keyboard feels great while touch-typing and proved comfortable. The Swift X 14 faces tough competition from alternatives like the Lenovo Slim Pro 7 and MacBook Air 13/15, which also have excellent keyboards (and I do slightly prefer these alternatives), but Acer keeps itself in the running.
I can also happily report that Acer's new Swift X 14 fixes a personal pet peeve I've remarked on with some recent Acer laptops: the keyboard is black, rather than silver or gray. The contrast of a black key finish against a silver or gunmetal chassis provides a premium look, so I'm happy to see Acer make this change.
The spacious touchpad is another strength. It measures roughly five and a half inches wide by three inches deep, providing plenty of space for Windows' multi-touch gestures. Acer also serves up a comfortable, luxurious, and responsive glass finish that feels wonderful to use. As true of the keyboard, the Swift X 14 doesn't defeat its toughest competitors, but it's a great experience for the price.
Acer Swift X 14: Display, audio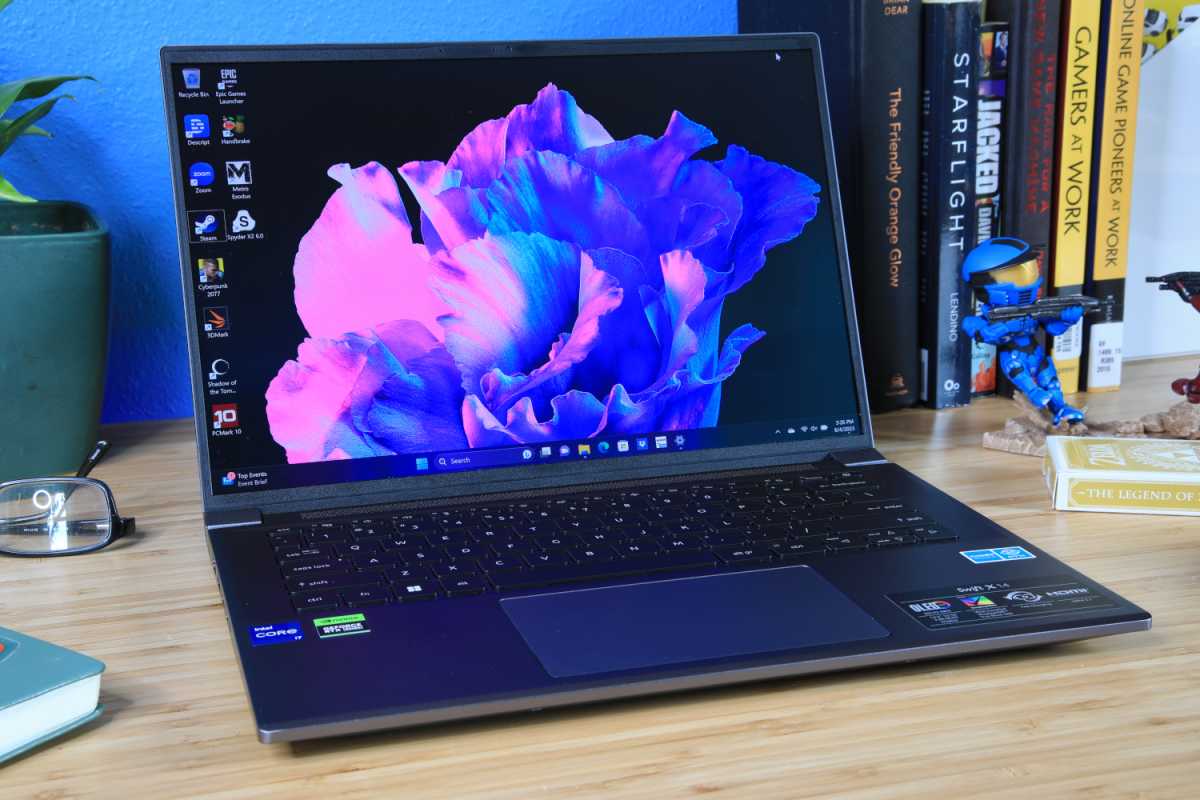 IDG / Matthew Smith
Every Acer Swift X 14 with Nvidia RTX 4050 graphics has a 14.5-inch, 2,880 x 1,800 OLED display with a maximum refresh rate of 120Hz. It's an excellent display that looks great no matter the content you throw at it.
Contrast is a traditional strength of OLED panels, the Acer Swift X 14's display is no different. It provides an effectively infinite contrast ratio and achieves a minimum luminance of zero nits in dark content. It provides excellent detail in dark, shadowy scenes, and a superb sense of depth to brighter, more dynamic content. This makes it great for movies, streaming shows, and games. This is a strength of the Acer Swift X 14 over the base Dell XPS 13, Lenovo Slim Pro 7, and Acer MacBook Air 13/15, all of which have less contrast-rich IPS LCD displays.
Color performance is excellent, too, as the display's color gamut spans 100 percent of DCI-P3 and 94 percent AdobeRGB. These results are typical for an OLED panel in a modern laptop, but still great, and generally better than the best LCD IPS laptop displays. Colorful content looks vibrant, and the display's color accuracy is suitable for photo and video editing.
Brightness is a weak point, though, as the display reaches a peak brightness of 365 nits and has a glossy display coat. The display is usable even in a brightly lit room, or near a sunlit window, but glare can prove distracting if a light source is directly behind you. HDR can increase this to 522 nits which, although not as high as the 700 nits available from a Mini-LED laptop like the Razer Blade 16, is substantial and delivers punch in HDR content.
The display's maximum resolution of 120Hz, as well as OLED's low pixel response times, makes for great motion clarity in games. Fast-moving objects show good detail and quick camera pans resist becoming a smudgy mess. Small, fast-moving text or tiny, detailed objects will still seem a bit vague, but that's true of all displays south of 240Hz.
While the display is excellent, the speakers are just ok. They provide good volume at their maximum and are placed above the keyboard, which means they won't sound muffled when the laptop is used on your laptop. However, they offer a narrow soundstage and can become muddied when bass creeps into a track. The speakers are broadly comparable to most 14-inch laptops available today but a step behind the Lenovo Slim Pro 7 and a leap behind the MacBook Pro 14 or Lenovo Yoga 9i.
Acer Swift X 14: Webcam, microphone, biometrics
Acer packs a 1080p webcam into the Swift X 14's slim top bezel. It provides a strong, crisp with good color reproduction and is generally a nice upgrade over any laptop with a 720p webcam. It's not the best 1080p webcam I've tried (once again, alternatives from Lenovo and Apple tend to be better), but it's great for Zoom, Google Chat, Teams, and other video conferencing apps.
A dual-microphone array is provided alongside the camera. Its performance is a bit less remarkable, as audio recordings aren't the strongest or clearist I've heard, but it remains fine for video and audio conferencing. Your voice will be clear and most background noises will be obscured, though any that happen to be in the same room as you are likely to come through.
Acer doesn't support biometric login on the Swift X 14. That's a minor knock against it, as many of the laptop's competitors will offer either a fingerprint reader, facial recognition login, or both.
Acer Swift X 14: Connectivity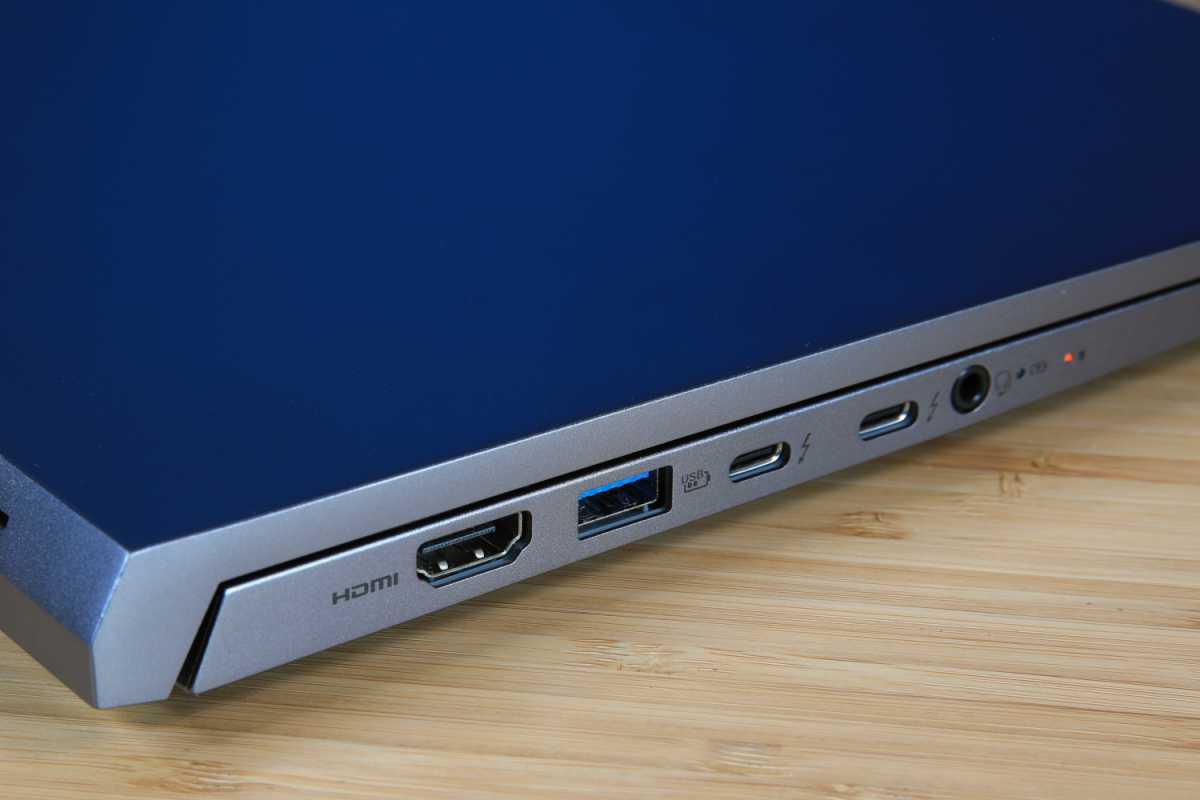 IDG / Matthew Smith
The Acer Swift X 14 provides an excellent mix of modern and legacy connectivity that's generally superior to many of its competitors.
A pair of two USB4 / Thunderbolt 4 ports have modern peripherals and gadgets covered. Both support DisplayPort Alternate Mode and provide enough USB Power Delivery to match the maximum provided by the laptop's power brick (which is 100 watts). That means both ports can be connected to an external monitor or charge the laptop.
Older peripherals are supported by two USB-A ports, one HDMI, and one 3.5mm combo headphone/microphone audio jack. There's also a MicroSD card reader, which is handy if you own a device (like a handheld gaming device or camera) that uses MicroSD cards.
There's just one thing Acer could handle better, and that's the location of the ports. The Acer Swift X 14 positions its ports near the middle of the laptop, rather than towards the rear, so wired connections may look a bit awkward and take up excessive desk space.
Still, the Swift X 14's connectivity is excellent. Many competitors provide USB4 / Thunderbolt 4, but most don't pair that with both USB-A and HDMI, and Acer throws in MicroSD as a bonus.
Acer Swift X 14: Performance
Acer's Swift X 14 isn't a large laptop, but it packs a punch. It equips Intel's Core i7-13700H processor, which has a total of 14 cores (six performance cores and eight efficient cores) alongside Nvidia's RTX 4050 graphics. A 1TB solid state drive and 16GB of DDR5 memory come standard, as well.
IDG / Matthew Smith
PCMark 10, a holistic system benchmark, puts the Acer Swift X 14 off to a strong start. It achieves a score of 6,805, which beats both the Lenovo Slim Pro 7 and, more surprisingly, the larger Dell XPS 15, though the Samsung Galaxy Book Ultra3 zooms ahead with a score of 7,111.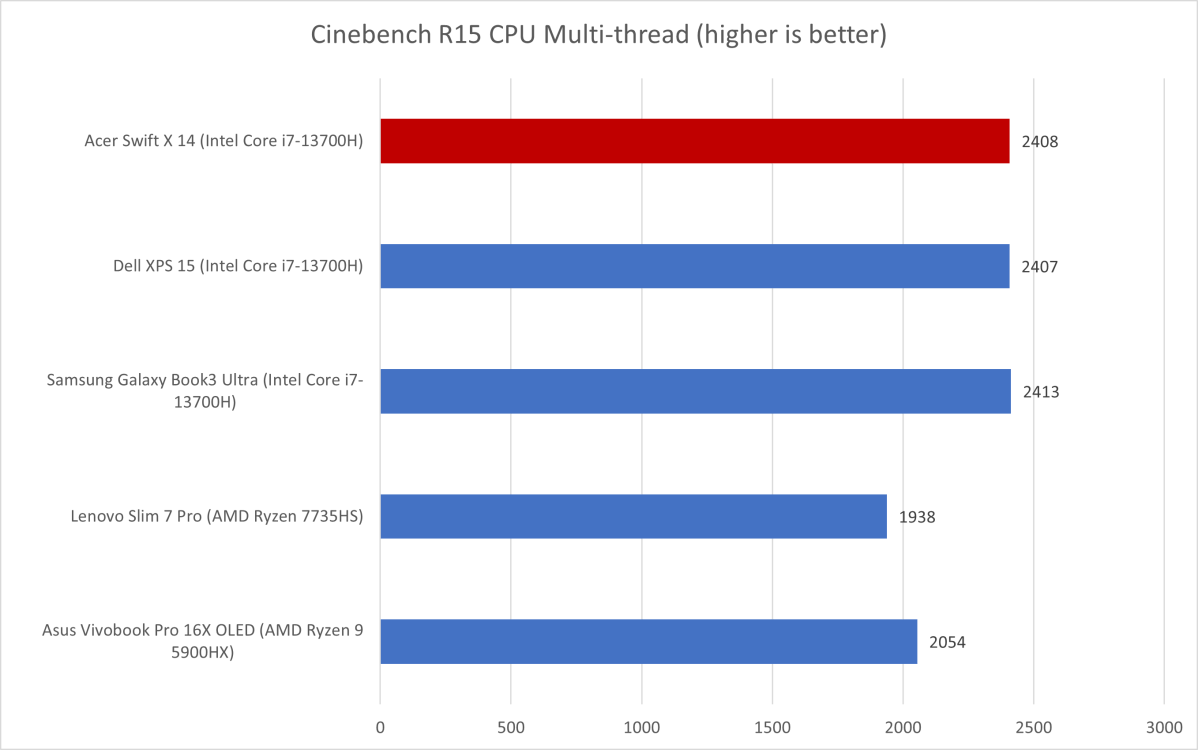 IDG / Matthew Smith
Cinebench R15 provides another strong result for the Acer Swift X 14, where it goes toe-to-toe with other Core i7-13700H laptops. While the Acer doesn't beat the average, it's worth remembering the Slim X 14 is more similar in size to the Lenovo Slim Pro 7, so its relative performance is impressive.
IDG / Matthew Smith
And that remains true in Handbrake. While the Acer Swift X 14 slides a bit behind its Core i7-13700H brethren here, it still lands well ahead of the Lenovo Slim Pro 7. That's a great result. I lauded the Slim 7 Pro for its CPU performance when I tested it, as it defeats many 13-inch and 14-inch laptops, so it's wonderful to see the Acer Swift X 14 give it a thumping.
IDG / Matthew Smith
Now we move on to 3D performance, where the Nvidia RTX 4050 becomes more relevant. It's worth mentioning that Acer's implementation of the RTX 4050 has a maximum graphics power of 50 watts, which is towards the low side of what's possible (the maximum per Nvidia's specifications is 115 watts).
Even so, 3DMark Time Spy provides a reasonably optimistic result of 5,644. That's much better than older Nvidia RTX 3050 laptops, and not too far behind some laptops with Nvidia RTX 4060 or RTX 4070 graphics. However, the Samsung Galaxy Book 3 Ultra, which has an RTX 4050 with a maximum graphics power of 60 watts, pulls out a significant win.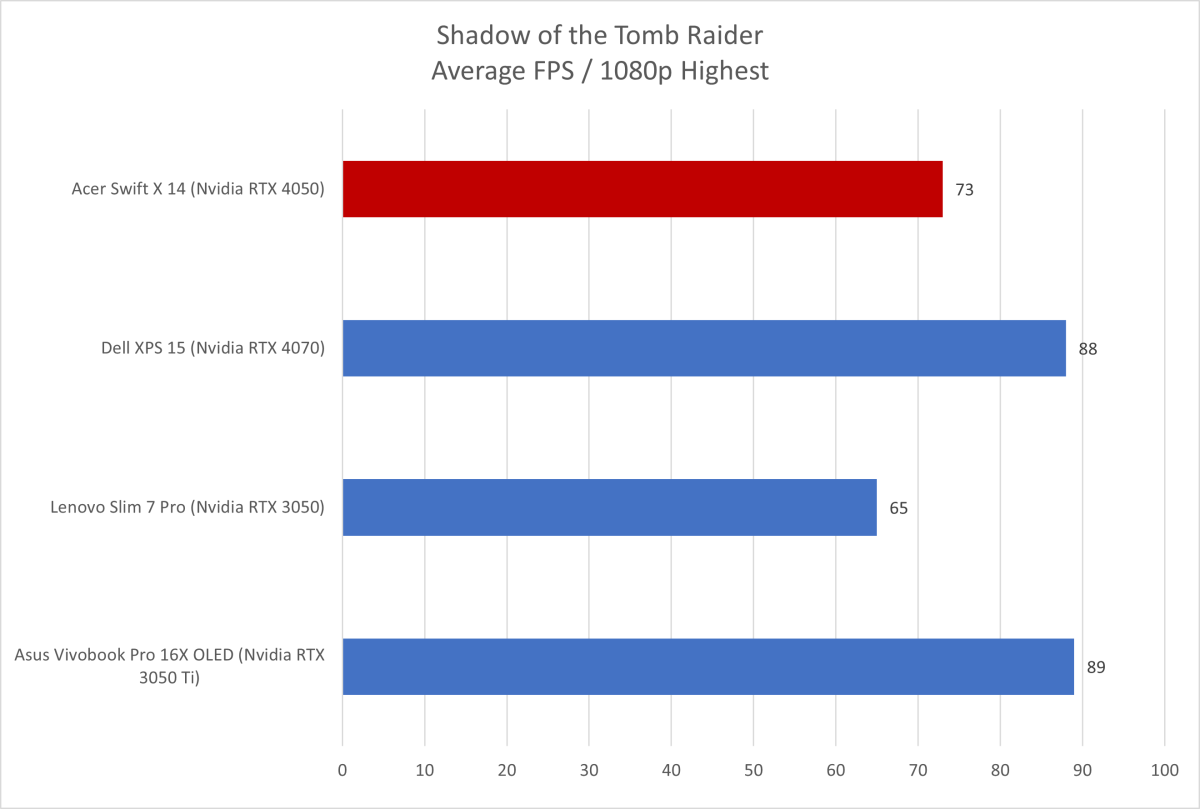 IDG / Matthew Smith
Shadow of the Tomb Raider, a game which represents the cutting edge of graphics in the PlayStation 4 and Xbox One era of console games, returns a playable but modest average of 73 frames per second at 1080p resolution and Highest detail settings. That's not bad, but it's a step behind laptops with more watts available to the GPU.
IDG / Matthew Smith
I wasn't expecting a lot from our excessively tasking Metro Exodus benchmark. Launching the benchmark at 1080p resolution and Extreme detail results in a mere 26 frames per second, even without ray tracing enabled. That's not really playable, but also not too far behind other laptops with RTX 4060 and 4070 hardware. Knocking down the game to its still-beautiful High detail is much better, however, with an average of 56 frames per second.
I also fired up Cyberpunk 2077, a notoriously demanding game that remains taxing for many laptops. The game averaged a respectable 53 frames per second at 1080p and Ultra detail and ray tracing off, but only achieved 15 frames per second with Ultra ray tracing turned on. However, Nvidia's DLSS 3 frame generation saves the day, boosting performance back up to a playable 46 FPS. That's not comparable to a larger gaming laptop, of course, but it's a good result for a 14-inch laptop.
Acer Swift X 14: Battery life
The Acer Swift X 14's 76 watt-hour battery seems suited to its task, as it's similar in size to the battery found in Lenovo's Slim Pro 7, the Dell XPS 13 Plus, and the Apple MacBook Pro 14. Unfortunately, real-world results fall short.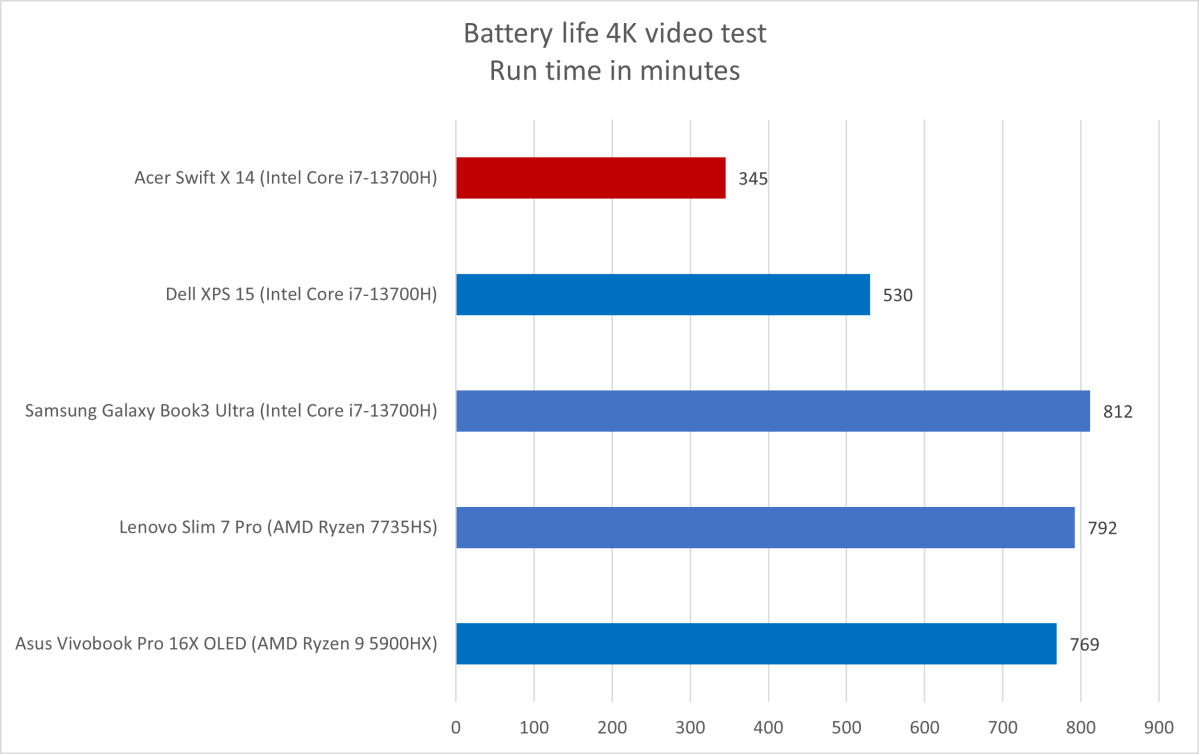 IDG / Matthew Smith
Blame the Nvidia RTX 4050 or, to be more precise, the way Acer implements it.
Laptops with Nvidia discrete graphics can achieve excellent battery life when Nvidia Optimus is used to disable the GPU when its performance isn't required. Lenovo's Slim 7 Pro is an example of this in action. The Acer Swift X 14 doesn't support Optimus, however, so it continues to drain the battery even when browsing the web or writing in Word.
The impact on battery life is rather dire. The Acer Swift X 14 doesn't exceed five hours of battery life in our standard battery benchmark, which loops a 4K file of the short film Tears of Steel.
It's the same story when browsing the web or using basic productivity apps like Word and Excel. The laptop chewed through the battery at a rate of roughly 25 percent per hour, leaving it flat in about four hours. That's not great.
Acer Swift X 14: Should you buy it?
Acer's Swift X 14 is a solid choice for anyone looking to purchase a compact, powerful laptop at a reasonable price. It provides strong CPU and GPU performance, a spacious solid state drive, excellent OLED display, and even has a pleasant keyboard and touchpad. Battery life is the only serious problem (and, make no mistake, it is a problem). Still, the Swift X 14 could be an alluring value if your journeys take you to a local coffee shop instead of the airport.
Best Prices Today: Acer Swift X 14