After nearly 18 months of blown deadlines, layoffs, receding earnings and a declining user base it all comes down to Wednesday for Research in Motion. During a press event in New York City, RIM will show off the near-final version of BlackBerry 10, an overhauled, touch-centric version of the BlackBerry OS.
The company will also introduce the first two BlackBerry 10 devices at the event. One device is expected to be a traditional BlackBerry device with a physical keyboard; the other will be a touchscreen device primed to compete with the iPhone and Android and Windows Phone devices.
RIM hopes that the event will signal a new start for BlackBerry. Once the must-have smartphone brand, BlackBerry has steadily declined in popularity since the iPhone debuted in 2007, followed soon after by Google's Android platform.
[RELATED: What you need to know about BlackBerry 10 ]
BlackBerry in November accounted for 7.3 percent of smartphone users in the U.S., according to the most recent numbers from metrics firm comScore. That's a massive drop from January 2010, when comScore said 43 percent of American smartphone fans were using RIM handsets.
RIM has a long way to go if it hopes to regain the top spot in the hearts of American smartphone users. The reality is that RIM's best shot right now is a comfortable third place position behind Android, which has 53.7 percent of the market, and iOS, which controls 35 percent.
On the bright side, RIM has managed to maintain user and media interest in BlackBerry 10 for several months as users look for a viable third alternative to Android and iOS. Could Wednesday turn RIM's smartphone fortunes around?
To find out, you can follow all the action Wednesday with the PCWorld/Techhive live blog of the event starting at 10 a.m. Eastern/7 a.m. Pacific.
Until then, here's a preview of what to expect and what some of the latest rumors have pegged for BlackBerry 10.
BlackBerry 10 basics
BlackBerry 10 is the first version of RIM's smartphone platform designed for touch devices; previous versions, such as BlackBerry 7, were optimized for non-touch handsets with physical keyboards. The new platform is a combination of BlackBerry's own technology and elements from QNX, a software company RIM acquired in 2010.
Perhaps the most noticeable feature of the new OS is its Flow interface, which uses a card-like metaphor for fast app switching. BlackBerry 10 is also taking a cue from Windows Phone with a new feature called BlackBerry Hub. Similar to how Windows Phone centralizes data in one spot with its People and Pictures hubs, BlackBerry Hub lets you view e-mail, SMS, BlackBerry Messenger, and social networking updates inside one universal inbox.
Other nice additions to BlackBerry 10 include an adaptive software keyboard that adjusts to your typing style over time and a predictive word suggestion feature that can add words to your messages with a quick gesture. There is also a new camera that offers features such as composite photos that snap several images in quick succession so you can merge them into one idealized photo. A great tool for, say, creating a group photo that doesn't have anyone caught mid-blink. Windows Phone 8 offers a similar feature called Smart Group Shot.
BlackBerry 10 will also have some new enterprise features including Balance, which creates two "personas" on a BlackBerry device, one for work and one for personal use.
Rumored device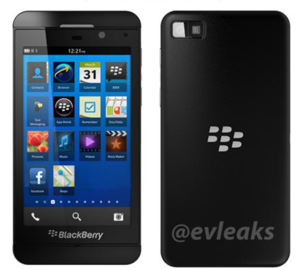 One rumored device expected Wednesday is the Z10, a 4G BlackBerry 10 device featuring a 4.2-inch display with 1280-by-768 resolution, a 1.5GHz processor, an 8 megapixel rear-facing camera, and 16GB of onboard storage. RIM plans to roll out at least six BlackBerry 10 devices in 2013 at various price ranges, according to an earlier report from Fierce Wireless.
Movies, music and apps
You can't win the smartphone wars with just nice phones and a snazzy new OS; you also need content for people to load onto their device. RIM has been busy beefing up its app store for BlackBerry 10 with a number of developer events encouraging app makers to port their programs to the OS. RIM's app store is expected to debut with about 70,000 BlackBerry 10 apps.
[RELATED: For best price, sell older BlackBerrys before RIM BlackBerry 10 announcements ]
The company also recently renamed BlackBerry App World to BlackBerry World, in a nod to the fact that the smartphone vendor will also offer music and movies in addition to apps. RIM said Monday that BlackBerry World will include an "extensive catalog of songs as well as movies and TV shows." It's not clear just what the BlackBerry entertainment catalog will look like, but RIM says it will have video content from major studios, broadcasters and independent producers such as 20th Century Fox, ABC, CBS, Lionsgate, MGM, Paramount Pictures, Sony Pictures, Starz, Walt Disney and Warner Bros.
Carriers
RIM and its U.S. carrier partners have yet to officially announce rollout dates for BlackBerry 10, but RIM's new smartphones are expected to be available on all major American carriers in 2013. The four carriers pretty much confirmed to Reuters earlier in January they would carry BlackBerry 10. What's not clear is which networks will carry the first two devices and when other carriers will follow suit.
The latest rumors claim the Z10 will show up on Verizon first, according to Twitter user evleaks, an oft-cited source of tech leaks.
February release?
The first BlackBerry 10 phone, expected to be the Z10, will be available in February, according to a Bloomberg report. A February release date isn't much of a stretch considering there are only two full days left in January. But it's not clear how deep into the second month of the year BlackBerry fans will have to wait. It could be a while, given that the software is still not in its final build.
PCWorld/Techhive will be live blogging RIM's BB10 event Wednesday starting at 10 a.m. Eastern/7 a.m. Pacific, with hands-on reports, first impressions, and lots of analysis to follow.
This story, "RIM's BlackBerry 10 launch: A rundown of what to expect" was originally published by TechHive.