LG is hot on the heels of Samsung's Note family with the introduction of its own supersized smartphone, the LG Optimus G Pro.
The Optimus G Pro will go on sale Wednesday in South Korea for 968,000 won (US$898). LG said the Optimus G Pro is headed to North America in the second quarter of this year, but did not announce a precise launch date or carrier partners.
LG plans to demo the Optimus G Pro at the Mobile World Congress in Barcelona this week, and released a core set of specs for the smartphone that position it head-on with the leader of the so-called phablets, the Galaxy Note II.
Samsung carved a successful niche in the market with its smartphones with displays larger than 5 inches. The original Note sold more than 10 million and the Note II has sold more than 5 million units already.
LG looked to upstage the Note II in many ways with the Optimus G Pro, which matches the Note II 5.5 inch display size. The Optimus G Pro, however, has a much higher resolution display at 1920 by 1080 pixels (full HD), compared to a standard 1280 by 720 pixels on the Note II. This gives the Optimus G Pro a display density of 400ppi, almost 50 percent more than the 267ppi display on the Note II. In context, the Optimus G Pro has a higher pixel density screen than the iPad 4 or the Nexus 10 tablet, which are both under 300ppi.
On the outside, the LG is slightly shorter and narrower, and both phones are equally thin at 0.37 inches. So far, LG has not mentioned whether the Optimus G Pro comes with a bundled stylus, like the Note II. Inside, both phones come with 2GB of RAM and quad-core processors, and LG announced its phone will run Android OS 4.1.2 Jelly Bean on a 1.7GHZ Qualcomm Snapdragon 600 processor. The Note II runs on a 1.6GHz quad-core processor.
Meanwhile, LG equipped the Optimus G pro with a 13-megapixel camera on the back and 2.1 megapixels on the front, while the Note II clocks just 8 megapixels. LG says its phone will allow dual video recording with both the rear and front cameras simultaneously "for a unique picture-in-picture experience."
LG hasn't released some key details about the Optimus G Pro. Besides revealing pricing and availability in the U.S., it's unclear whether the phone will have 4G LTE connectivity, how much the phone weighs, and what kind of Wi-Fi and Bluetooth connectivity it features. Even without this information, considering its large high-resolution display and amped-up camera, LG has a strong contender against the best-selling Galaxy Note II from Samsung.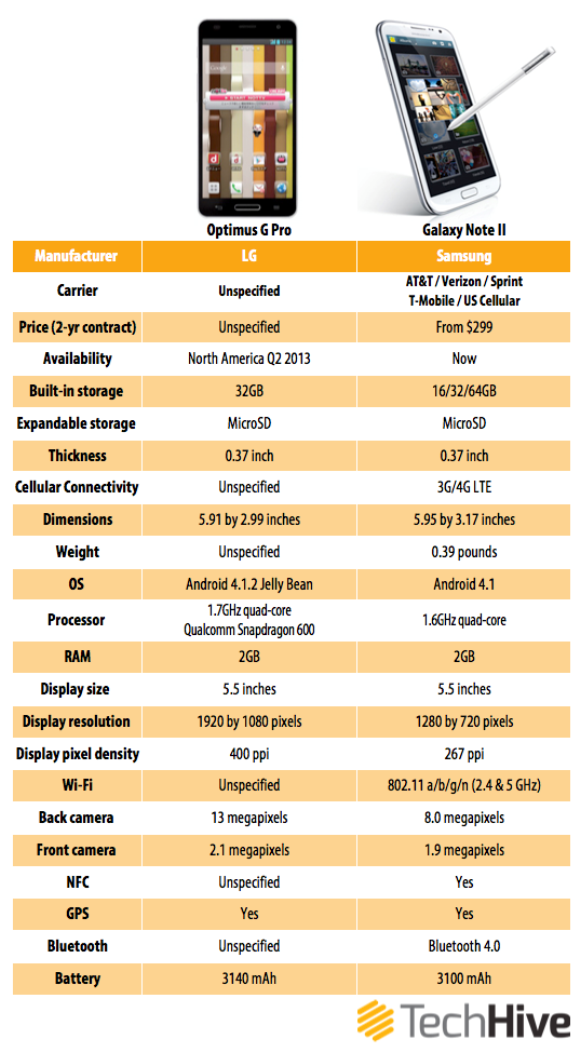 Yewon Kang of the IDG News Service contributed to this report.