Smartphone plans are expensive—but they don't have to be. While they're not nearly as astronomical as when they first launched, signing up for a plan with one of the major carriers still costs around $60 per month (before taxes!) for a single line.
Sure, you can sign up for a family plan to cut costs, but those generally default to an unlimited plan, which you might not need. Or you don't have enough people to form a big enough family ("family") to see substantial savings. Good news is that there's another way to save major cash, and it's the route I took years ago—prepaid cell phone plans.
Further reading: The best cheap cell phone plans
Enter Mobile Virtual Network Operators
For a long while, prepaid plans were kind of terrible. You typically put down a certain amount of money, then paid a fixed amount for every minute of calling, each text message sent or received, and each kilobyte (yes, kilobyte) of data used. Rates were generally pretty bad, too—like 25 cents per minute or text.
But slowly, mobile virtual network operators (MVNO) gained in the U.S. These companies lease the right to use the big carrier's networks, and then entice customers with a bigger and cheaper variety of smartphone plans. You want an unlimited plan, but for less? Lots of options for that. Prefer to skate by with a much slimmer bucket of minutes, text, and data? Also a route you can take.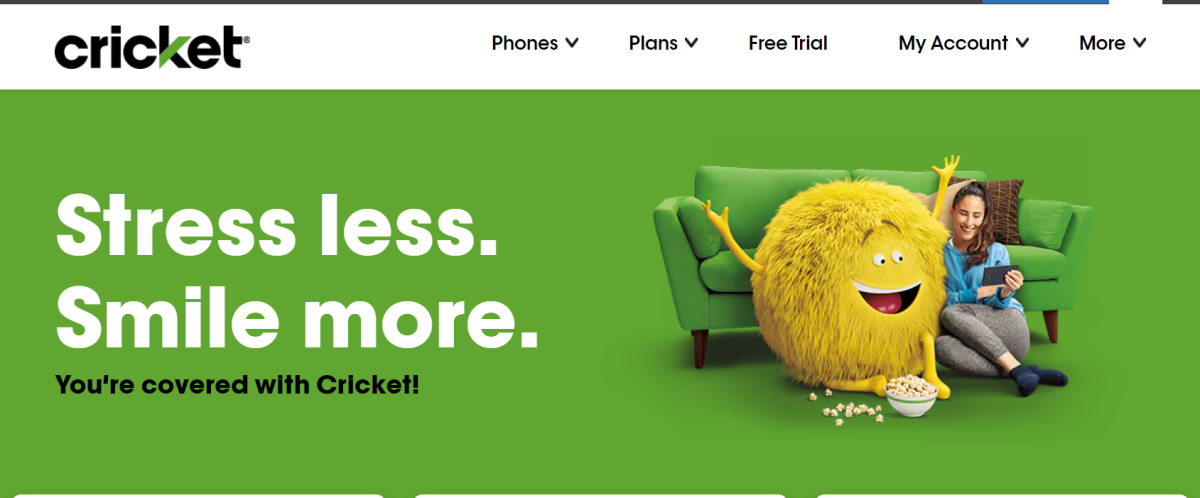 You can find more than one MVNO for every network—so if you get your best reception through AT&T, T-Mobile, or Verizon, you don't truly need to leave. And each MVNO has its own agreement with the network operator, so ones with better terms may offer customers a better network experience.
But we'll dig into those particulars more in a little bit. First, let's cover the numbers. (Also known as what everyone usually asks me about.)
How I slashed my cellphone bill by 75 percent
My first cell phone plan cost me about $65 per month, inclusive of taxes, after an employee discount on the family plan I was part of. I had a set pool of talk minutes, texts, and fairly limited data.
Eventually I discovered a special T-Mobile prepaid plan (which no longer exists). For $30 per month, I got 100 talk minutes, unlimited text (!), and 5GB of high-speed data. Given how little I talked on the phone, it was perfect. The sweetest part was that cost was all-inclusive: no additional taxes. I dropped my bill by over 50 percent, and I also never again worried about unexpected overage charges. With prepaid, you pay upfront. If you run through your allotted minutes, text, or data, you have to top up with more (for reasonable prices). Otherwise, it stops working.
When my calling started to increase, I switched to a MVNO that had a plan with similar data but more minutes. It offered a sizable discount for prepaying a whole year upfront. My cost dropped again to a little under $15 per month.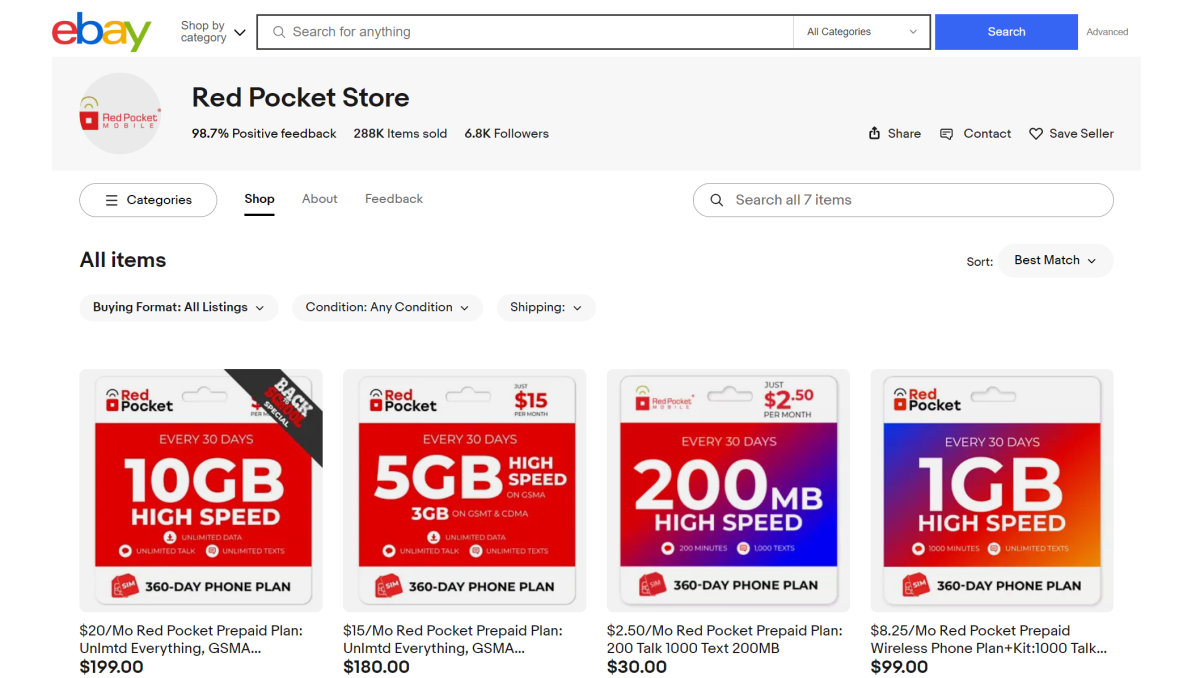 As someone who is going it solo with her cell phone plan, this is a huge win. If I were still part of a family plan, I could probably get an unlimited plan for around $30 per month, all-inclusive. But that's additional logistical headache, plus I don't need that. I'm happy to save the extra $180 per year.
The fun part is that if your usage is even lighter than mine, you can still find a right-sized plan for you. Two of my older relatives? For the longest time, they paid $8 per month through Red Pocket because their data usage was so low. I have yet another that I hooked up with a (now sadly more expensive) Tracfone plan that offered 1200 talk, text, and megabytes of data for a whole year. Total cost? $30 on sale (formerly $60 regular price).
The caveats
We cover these points in more depth in our article on the best cheap cell phone plans, but prepaid cell phones require a little more research to ensure you get a good experience.
First, there are tons of prepaid plans, and not all of them are priced competitively. Weigh pricing and perks carefully, and be ready to wade into the fine print. An "unlimited" plan with one MVNO may throttle your data speeds much sooner than another MVNO, for example. Or your video stream quality may be capped at much lower resolutions.

You should also find out what other people say about the reception in your area. Because even if, say, T-Mobile is your best bet among the post-paid carriers in your area, not all T-Mobile MVNOs perform just as well. There's a hierarchy when a phone connects to a cell tower, and prepaid plan subscribers don't all fall in the same tier. Naturally, they all come behind postpaid customers, who get first priority when calling, texting, or using data. But for some networks, a subsidiary of the company (e.g., AT&T's Cricket Wireless) and/or one of their own prepaid plans will be further ahead in line than an MVNO.
(Speaking of: The only times I really notice a difference in reception quality with my current plan is in locations with extremely high congestion, like a densely packed stadium or trade show. But it's usually not an issue.)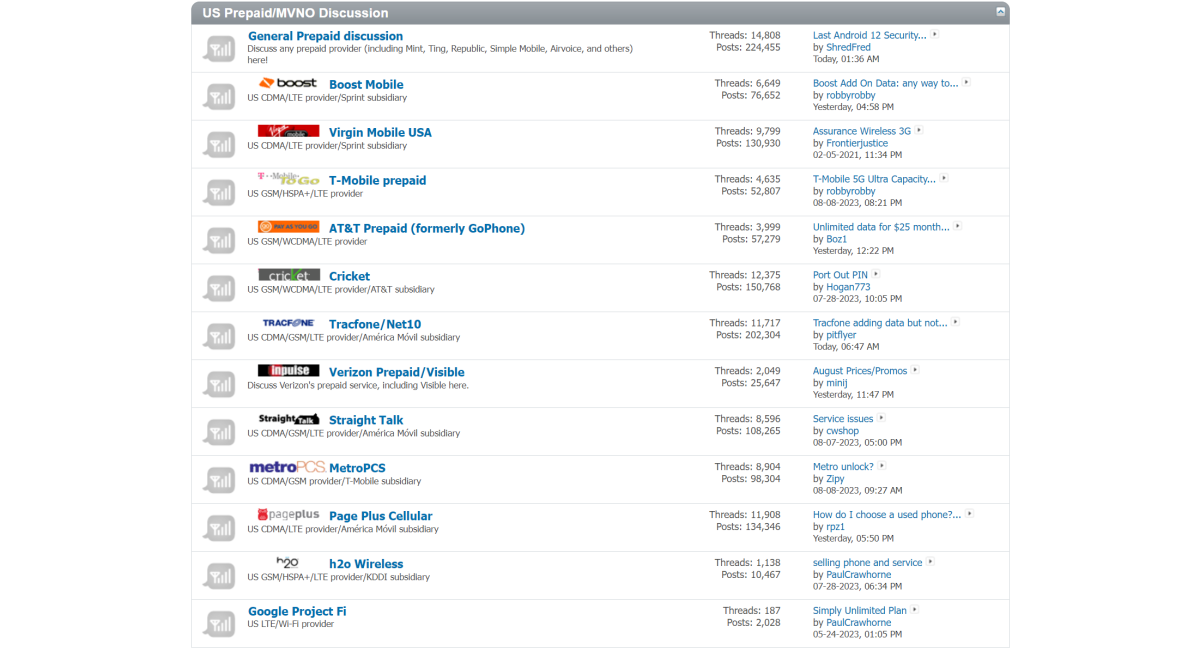 You can find all this information online (sites like Reddit and HowardForums are especially helpful), but it takes a little digging around. Skipping this research can lead to a bad experience with a prepaid plan, since every area has different reception per network and different levels of saturation (number of customers on the network). If you're lucky, you'll have several strong options for MVNO and direct prepaid plans for where you live, work, and travel.
How to get in on this
Don't have time to pick through all the particulars of every plan and its benefits? You can get a jump start on your research with our best cheap cell phones guide, which lists our top picks for different scenarios—including international roaming. You'll still need to make sure that the reception quality for those plans works out for your area, but we can help get you on your way to big savings faster.