At a glance
Expert's Rating
Pros
Thin and light for 15 inches
Good battery life
Cons
Weak performance
Pale display
Rather plasticky
Our Verdict
As far as specifications and quality go, this is the weakest of the Samsung computers I've tested this year. However, it's not an outright failure, as it's pretty lightweight for a 15-inch laptop.
Price When Reviewed
$999.99
Best Prices Today: Samsung Galaxy Book3
Samsung has had great success with its Galaxy Book computers in recent years. Several of them have received top marks in my tests and I run the lively, luxurious and above all wonderfully light OLED 13-inch Galaxy Book 2 Pro from 2022 as my own laptop.
The Galaxy Book3, released in late winter, doesn't have much in common with it, apart from the manufacturer and the name. This is a significantly simpler built computer that, despite a similar price, does not live up to my high expectations at all. It is indeed relatively thin and light, at least for a 15-inch computer, weighing only 3.46 pounds.
But where you usually see luxurious light metal chassis in Samsung's laptops, the Galaxy Book3 is a mix of aluminium and plastic. And it feels plasticky in the "wrong" places, like in the suspension and hinges for the screen, as well as in the unusually dumb keyboard.
Otherwise, the keyboard is neat and tidy, with a compact numeric keypad on the side, and an on button with a built-in fingerprint reader in one corner, where it's not likely to be accessed accidentally. On the narrow sides are what I'd call a standard set of external connections, two type c and two type a USBs, an HDMI port and a 3.5 mm common headphone and microphone port.
Looking for more options? Check out PCWorld's roundup of the best laptops available today.
Samsung Galaxy Book3: Specifications
There's no Thunderbolt 4 functionality on the Type-C ports like some other new laptops, but you get the main features, support for charging, USB docking and display port. A compact mobile phone charger is included. Here's the list of specs at a glance:
Processor: Intel Core i5-1355U, 2pcs Performance up to 4,6 GHz + 8pcs Efficient up to 3,4 GHz
Graphics: Intel Iris Xe
Memory: 16 GB ddr4
Storage: 512 GB ssd, slot for micro sd card
Display: 15.6″ matte IPS, 1920×1080 pixels
Webcam: 720p
Connections: 2 pcs usb 3 gen 1 type c with displayport, 2 pcs usb 3 gen 1 type a, hdmi, headset
Wireless: Wifi 6, bluetooth 5.1
Operating system: Windows 11 Home
Other: Fingerprint reader, backlit keyboard, numeric keypad
Noise level: 0-39 dBa
Battery life: 1 hr 50 min (high load), 17 hr 30 min (low load)
Size: 35.7 x 22.9 x 1.54 cm
Weight: 1.57 kg
Price: $999.99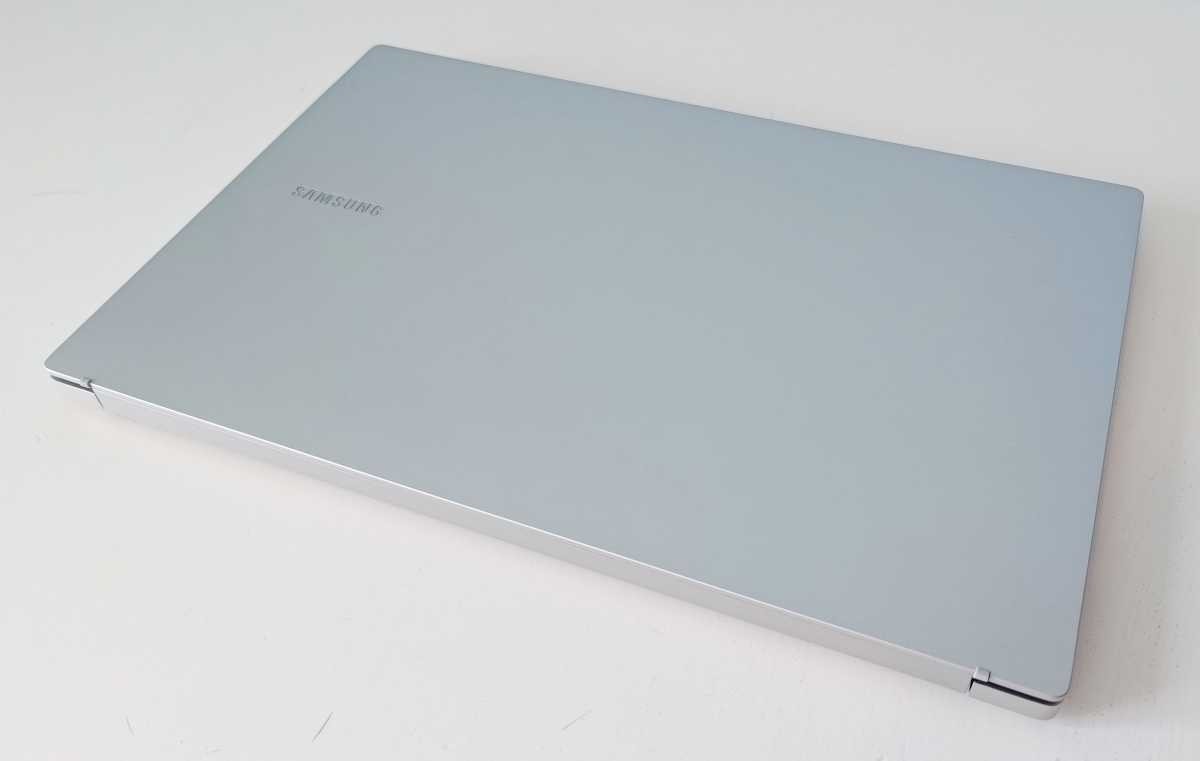 Mattias Inghe
The computer is equipped with a 13th generation Intel processor. But it's one of the weaker ones, a Core i5-1355U, built for cooler and more power-efficient operation than for sustained high performance. It's great for browsing and running Office, but challenging it with high-resolution photo editing or video editing will be a challenge, and it can be a bit of a drag. Although it is possible. But with only two so-called performance cores to handle the most demanding processes, it's not ideal.
The processor, with a moderate 15 watts of base power, does a good job of keeping power consumption down when it's not maxed out. A full working day of browsing, Excel work, emailing, and occasional video streams is enough for the battery without much trouble. And packing the small charger for emergencies is easy.
Samsung Galaxy Book3: Display, audio
A contributing factor to good battery life is an energy-efficient screen. It can light up to about 300 cd/m2, which isn't quite enough for daylight outdoors, but is more than enough for indoors. And if you turn down the brightness a bit, it doesn't strain the battery more than marginally. But then again, it's a pretty simple monitor. 1080p resolution, 60 Hz frame rate, and no great color space to speak of. It can handle just over 60 percent of the srgb color scale, so other than web and office graphics, the experience is limited.
Black surfaces are not as deeply black as some better IPS and PLS panels can manage, and there is some white point shifting at different viewing angles. However, if you don't have high demands on colour and dynamics, this is a pleasant, flicker-free screen you can spend many hours in front of.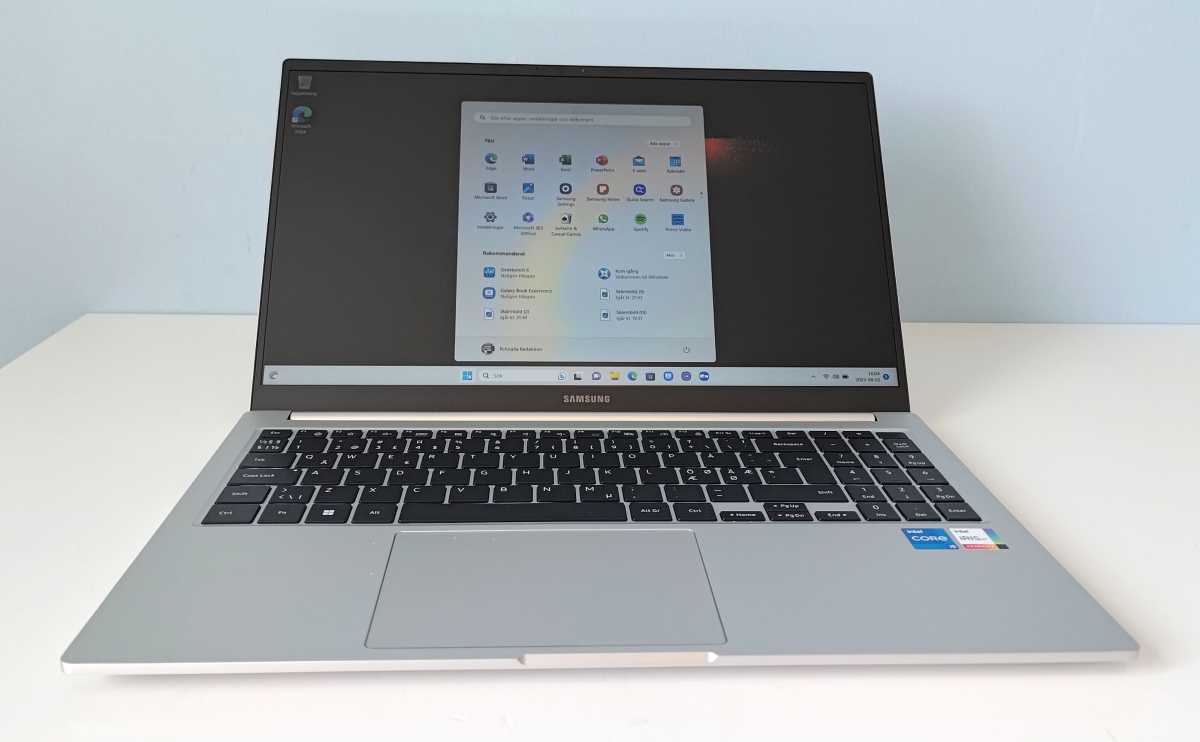 Mattias Inghe
The sound is also acceptable, but not in the higher divisions. It is pleasant, provides good stereo and good balance between bass, midrange and treble. But without much pressure in either. It drops out small details in music I play, and effects and rumbles in film trailers are reproduced correctly, but without any real weight. You can get audio enhancement with Dolby Audio, but it's off by default. Turning it on provides some equaliser control, but the hardware is the limit.
Samsung Galaxy Book3: Galaxy ecosystem
Samsung is keen to make the Galaxy Book computers part of its ecosystem of Galaxy mobiles, tablets and accessories. So there's a bunch of apps and features that enable this. You can quickly share media with other Galaxy devices, expand the screen of a Galaxy tablet, and control different devices from each other.
It's smart and convenient if you have the right gadgets around. I tested several of the features with a Galaxy Z Fold 5 I have in for testing, and they work as promised. I still haven't figured out how to use them, but perhaps my lack of imagination is the limit.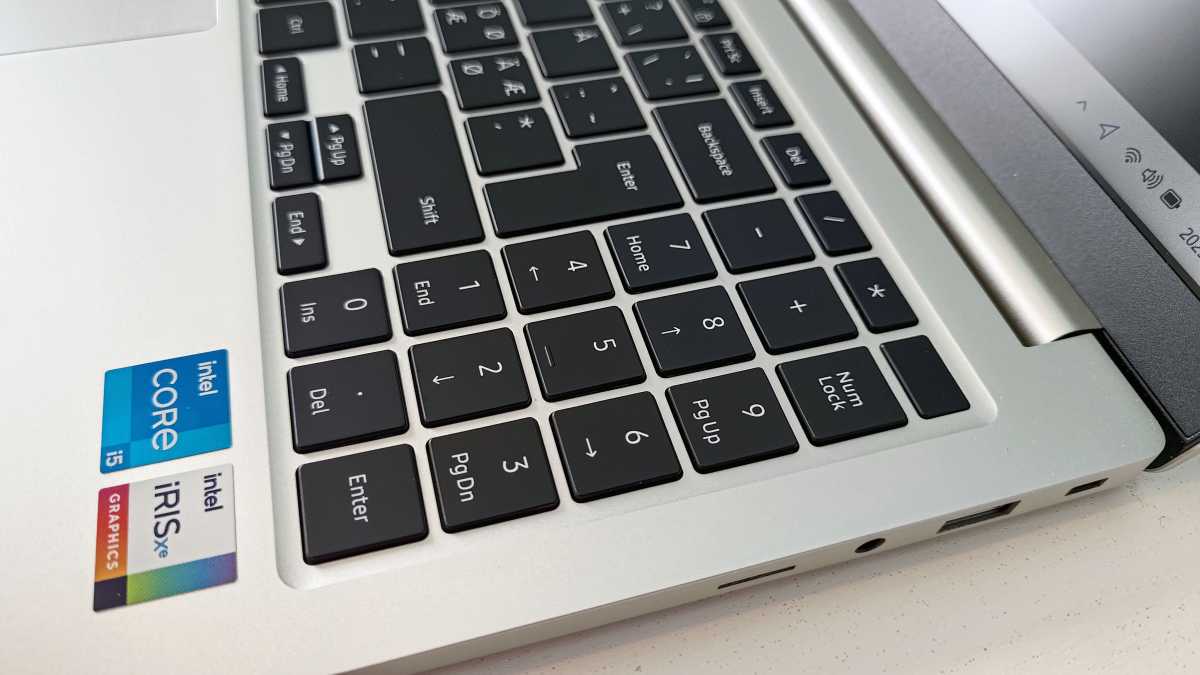 Mattias Inghe
Samsung also has its own suite of programs that are intended to add value to the computer, but I'm more doubtful about what they actually add. Samsung Gallery is an image viewing program where Windows already has two good ones. Samsung Studio Plus allows you to edit video, but the value of that add-on has diminished as Clipchamp is now part of Windows. I can also do without the search function and Bixby support. In any case, there is no significant bloatware in the computer, except for the frequent 30-day McAfee Livesafe, and an Amazon link.
Samsung Galaxy Book3: Performance
Cinebench R23, CPU: 7,427 points
Cinebench R23, CPU and core: 1,661 points
Geekbench 6, CPU: 8,460 points
Geekbench 6, CPU and core: 2,223 points
Geekbench 6, GPU: 15,314 points
Disk read: 2,199.18 MB/s
Disk write: 1,194.66 MB/s
The pricier Book3 ultra is a beautiful beast of a laptop
Samsung Galaxy Book3 Ultra
Price When Reviewed:
From $2,099.99
This review was translated from Swedish to English and originally appeared on pcforalla.se.
Best Prices Today: Samsung Galaxy Book3